11 Best Organic Body Washes Of 2023 The best organic body wash is free of synthetics soaps that strip your skin dry and have other harmful side effects. Our cosmetics, including soaps and body washes, are often loaded with chemical ingredients. This is especially true for those washes that have artificial fragrances. Thankfully, brands now offer chemical-free products that have natural and organic formulations. In this article, we have listed the best organic body washes that keep your skin healthy and safe. So, go ahead and check them out now!
Top 11 Organic Body Washes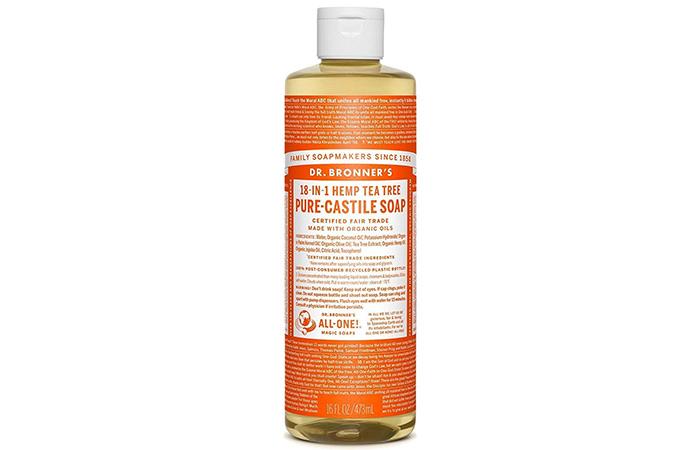 Product Claims
This medicinal liquid soap is best suited for acne-prone skin. You can use it to wash your face, body, and hair. You can also use it on your pets as it doesn't contain any synthetic chemicals. Use it as it is or prepare DIY body washes with it.
Pros
Biodegradable
No chemicals
100% recyclable packaging
No parabens and SLSNo artificial fragrance
Cons
The Pharmacopia Natural And Organic Body Care removes dirt and impurities, refreshing the skin. It is formulated with aloe vera, orange, lemon, chamomile, and green tea that help moisturize and soften your skin. This organic body wash with potent antioxidants and therapeutic fragrance help energize your skin and uplift your mood.
Pros
Vegan
Paraben-free
Cruelty-free
Sulfate-free
Phthalate-free
Pleasant scent
Cons
None
Product Claims
The St. Botanica Mandarin & Cypress Luxury Shower Gel is a unique high-quality product that is made from natural, active plant-based ingredients. The shower gel is designed to nourish and heal your skin. The shower gel cleanses skin without drying it out. It leaves the skin feeling refreshed and invigorated.
Pros
Refreshes and invigorates skin
Enriched with pure essential oils
Paraben-free
Mineral oil-free
No harmful chemical derivatives
Cons
Product Claims
This rich, thick, and creamy body wash is a pure indulgence for your skin. It is the best organic body wash for sensitive skin. It has a unique formula that contains shea butter and aloe vera. This keeps your skin moisturized and healthy.
Pros
USDA certified
Cruelty-free
Gluten-free
Non-drying
Non-irritating
100% vegan
Cons
None
Product Claims
This moisturizing body wash contains aloe vera and white tea extracts that keep your skin soft, clean, and hydrated. It revitalizes your skin after every shower and doesn't make it feel tight and dry.
Pros
Cruelty-free
Biodegradable ingredients
Certified B Corporation
Paraben-free
No harmful chemicals
Cons
None
Product Claims
This luxurious shower gel awakens your senses the moment you spread it on your skin. It contains calming lavender extracts along with vanilla, eucalyptus, and palo santo. It also contains rainforest-grown rahua and sacha inchi oils, which are rich in essential fatty acids and antioxidants. It has an invigorating smell that will transport you directly to the lush rainforests of Amazon.
Pros
Suitable for all skin types
Vegan
No harmful chemicals
Toxin-free
100% natural
Cons
Product Claims
This is the body wash you need to unwind at the end of a hectic and tiring day. It is enriched with soothing passion fruit, calming Hawaiian papaya, and pineapple extracts, and is no less than a tropical treat for your skin.
Pros
Hypoallergenic
No animal testing
100% vegetarian ingredients
No synthetic fragrance
No parabens, sulfates, and phthalates
Cons
None
Product Claims
This is a gentle body wash that feels as delicate as a rose on your skin. It contains Moroccan rose otto oil that has a soothing and calming effect on your skin, and the fragrance will leave your mind refreshed. It is a perfect way to de-stress your mind and skin every day.
Pros
Cruelty-free
Recyclable
Dermatologist tested and approved
Mild and heavenly fragrance
Cons
None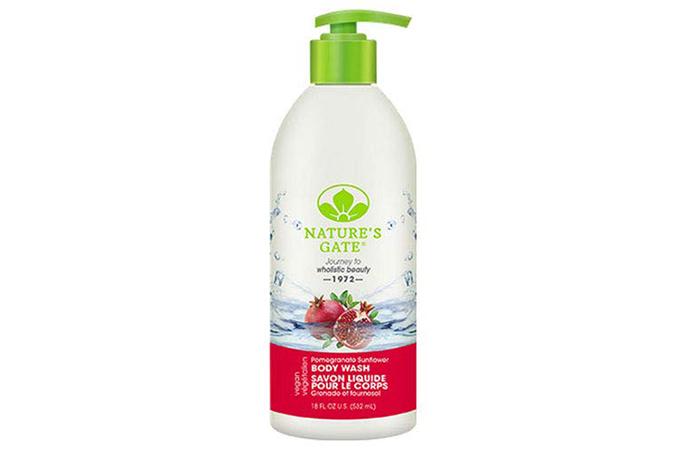 Product Claims
Want to treat your skin to some fruity delights? Then, this pomegranate and sunflower body wash should be your go-to body wash. It has a refreshing fragrance that awakens your senses immediately. Apart from sunflower and pomegranate extracts, it contains jojoba oil that makes your skin soft.
Pros
No parabens
No formaldehyde
Hydrating
Cons
Some people may find the smell off-putting.
Product Claims
This ultra-hydrating body wash contains the goodness of lavender, blueberries, and shea butter. It is like a pick-me-up for your skin every morning and when you are back home after a tiring day.
Pros
95% natural
No petroleum
No parabens or SLS
Cruelty-free
Pleasant fragrance
Cons
The packaging is not good.
The ST. D'VENCÉ Tea Tree Body Wash is a refreshing formula with antibacterial and antifungal properties. It contains organic aloe vera, tea tree oil, peppermint oil, and eucalyptus oil that combat fungal infection and eliminate body odor. The natural antiseptic oils help reduce acne, clear blocked pores, and control excess oils without heavy residue.
Pros
Sulfate-free
Paraben-free
Mineral oil-free
No artificial fragrances
Hypoallergenic
Cons
Now that you know about all the top-rated organic body washes of this year, you are just one step away from making the purchase of your next favorite product. The next step is to go through the below buyer's guide for the things to keep in mind while shopping for an organic body wash.
Things To Consider When Buying An Organic Body Wash
Choose your product according to your skin type. Like every other skin care product, body washes come in different variants according to skin type. Moreover, natural ingredients can cause an allergic reaction too. Therefore, read the label to check the skin type that the body wash is made for to enjoy the best results.
Take a couple of minutes more to go through the ingredient list. You may want to try certain ingredients like turmeric, honey, shea, olive, or avocado oil, which are extremely beneficial for your skin. Also, remember to look for harmful chemicals like GMOs, pesticides, fertilizers, and artificial colors or fragrances to avoid such products.
Choosing the right brand for organic products is crucial. Any company can use just one organic ingredient and claim that the finished good is organic. This is a ploy many commercial brands use.
Hence, we suggest you look for the certifications held by the brand as proof of its authenticity. This means the brand has gone through a paid third-party test to verify the quality of their ingredients and has met a strict criterion to call it organic. Please note that different certifications have different criteria for eligibility.
There are many body washes available out there to cater to your exact skin concern. There are body washes that have a divine smell and elevate your mood, and ones with mild particles to work as a scrub. You can choose a hydrating body wash to leave your body clean as well as moisturized. Look for the perfect match for your skin concern when you shop for an organic body wash.
Fragrances play a major role in elevating your mood. They can even have a calming effect on your nerves and soothe your stress and worries. There are many heavenly fragrances to choose from – lavender, green apple, etc. An organic body wash should only contain natural colors and fragrances.
Body washes help maintain the skin's pH balance and keep the skin germ free. Investing in these organic body washes help in reducing body acne, preventing dryness, and healing your skin. These body washes revitalize your skin and provide you healthy glowing skin. Most of these organic body washes are cruelty-free, paraben-free, and hypoallergenic. However, some products may have a strong fragrance and dry out the skin. Our buying guide will help you pick the best organic body washes based on your skin type.
Recommended Articles:
The following two tabs change content below.