11 Best Organic Cotton Bras In 2023
Innerwear that keeps you comfortable and offers the right support and coverage for all attires.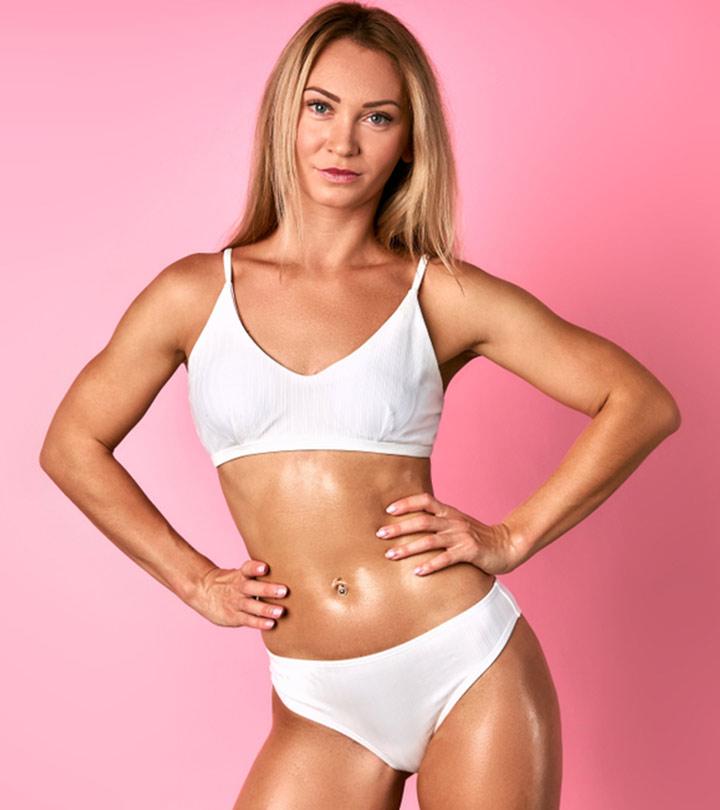 Lingerie is an important part of our wardrobes. To stay comfortable all day, you must try the best organic cotton bras available right now. Finding the right bra size and fit is just half the job done. The other half is to ensure that you have the right material that keeps you dry and comfortable throughout the day.
Organic cotton bras are soft and do not irritate your skin, unlike synthetic material bras. This is especially important for people with sensitive skin. You must have a few of these bras to go through the day without having itchy skin and rashes. The online market has multiple brands that offer the best organic cotton bras. To help you out, we have provided the reviews of the best-selling options below. Keep scrolling to find out more about these bras that have performed well in our functionality and fashion analysis.
11 Best Organic Cotton Bras That Are All About Comfort And Sustainability
Calvin Klein is known for its curated collection of sustainable, eco-friendly, ethical, and organic lingerie, including this simple yet cute bralette. It is made from pure organic cotton, minimizing its environmental impact. It has lightly lined fabric, molded cups, and criss-cross back straps for added chest support and contour. Many reviewers agree that this is one of the best non-toxic organic materials that is made with light, breathable, and anti-bacterial material. Additionally, you can choose from a variety of colors to wear under your clothes. Now enjoy a 100% organic cotton bralette that is crafted consciously with sustainable practices.
Pros
Breathable
Racerback straps
Molded cups
Lightly lined
Cons
Some may not find the material very stretchable
Warner's invisible bra is known for its unique shape. The fabric is made from organic cotton. It is free from any harmful or toxic chemicals or carcinogens, making it safe for sensitive skin. Furthermore, this chemical-free organic cotton bra provides much-needed support and lift due to its inner panel's side support feature, as attested by many reviewers. You can choose from a range of sizes that go from XS-XL, and you can select from various colors, from toasted almond to light grey.
Pros
90% cotton and 10% spandex
Hook and eye closure
Stretchable
The inner panel provides side support
All-inclusive cup sizes
Cons
Must not be machine washed
These simple yet effective bralettes are perfect for teens and young adults. The bralettes are made from 90% cotton and 10% spandex, making them soft and suitable for sensitive skin. They provide solid coverage and support, along with 2ply for modesty. The bralette pattern is unlined and wire-free—features that have garnered positive reviews on Amazon as they make the bra lightweight and breathable. Furthermore, this organic cotton full-coverage bra has built-up front straps and a hook and eye closure, which makes it easy to wear or remove.
Pros
Machine washable
Wire-free
Lightweight
Built-up front straps
Cons
It may not be suitable for large bust sizes
Suppose you are looking for something that provides optimal shape, support, and a feminine silhouette. In that case, this bra is a great choice. This durable organic cotton bra is made from 80% bamboo viscose, 13% nylon, and 7% spandex, making the bra wonderfully comfortable and supportive. The sustainable fabric is considered a great alternative to cotton, as it is breathable and moisture-wicking. With this undergarment, you don't have to worry about padding, fasteners, or underwires, as it provides a suitable lift without looking over the top.
Pros
Soft and comfortable
Underwire-free
Suitable for sensitive skin
Sustainable alternative to cotton
Cons
It may not be suitable for pregnant women
This ultra-soft maternity lingerie is perfect for women of all ages, especially pregnant women. The bra is made from 90% organic cotton and 10% spandex, making it comfortable and stretchy. It has no hooks or clasps and an easy pull-on style, making it the perfect addition to your maternity/postpartum wardrobe. The organic cotton nursing bra is suitable for all activities, and it offers wire-free support, which is ideal during nursing sessions. In addition, since the organic cotton maternity bra is stretchable. This wire-free organic cotton bra is made for fluctuating breast sizes. Therefore, this natural material is perfect for your pregnancy journey.
Pros
Stretchable
Easy pull-on style
Suitable for nursing sessions
It can be worn all-day
Cons
The thread may start unraveling after initial washes
The Aisilin Wireless Cotton Bra is available in sizes ranging from 34B to 48G. It is perfect for women whose breast sizes tend to fluctuate. This plus-size bra offers maximum coverage and can be worn under any casual attire, like t-shirts; it is also a sustainable fashion that provides great support, especially at the sides, which prevents any kind of spillover. This versatile organic cotton bra has non-padded cups, so you will get a smooth and natural-looking silhouette under your tops. In addition, the adjustable straps prevent any added stress to your shoulder, you don't have to worry about them digging into your delicate skin or causing any kind of pain.

Pros
Adjustable straps
Plus size bra
Non-padded cups
Wire-free
Cons
It may not be true to size, and you will have to size up to find the perfect fit
This lightweight and breathable number is perfect for everyday wear. It is made from premium quality organic cotton, which is comfortable and offers light support. The pattern provides generous coverage on all sides. This elegant design has a tag-free elastic band that prevents any skin irritation. This skin-friendly organic cotton bra doesn't have any padding and provides a natural, feminine shape. The racerback design ensures that your bra stays in place as you go about your day. You can choose from sizes that range from XS to XL. Moreover, the bra is expert-approved as it is developed and tested by the Olympic athlete Stina Troest.
Pros
Tag-free elastic band
Suitable for sensitive skin
Provides good coverage
Suitable for daily wear
Cons
It may not be suitable for high-intensity workouts
This supportive lingerie is made from eco-friendly fabric and offers a flexible fit. The design focuses on support and lifts without the need for uncomfortable wires, hooks, or clasps. This sustainable bra is made from 91% cotton and 9% lycra, suitable for sensitive skin. This non-irritating organic cotton bra has a pull-on style that makes it easy to wear and it helps boost your body confidence. So, if you are looking for basic undergarments that are functional and have a minimal style, this is the bra for you. You can choose from black and white shades and from sizes that range from medium to 2XL.
Pros
Flexible fit
Eco-friendly
True to size
Hook and clasp-free
Supportive underband
Cons
It may not be suitable as a nursing bra
Stay fresh and dry with this hypoallergenic bra. This is one of the best organic cotton bras for all-day comfort and it is perfect for the summer because it is breathable, lightweight, and suitable for sensitive skin. It has nickel-free snaps that secure the bra, keep it in place the whole day, and prevent any direct contact with your skin. Numerous reviewers on Amazon have appreciated this soft organic cotton bra for its latex- and spandex-free lower band. The band doesn't dig or rub against your skin and result in a nasty rash. In addition, the 100% cotton keeps moisture at bay, so you will stay dry and happy all through the day.
Pros
Latex and spandex- free band
Nickel-free snap closures
Hypoallergenic
100% cotton
Cons
Some may find that the stitching is uneven
This cute and stylish bralette is made from 90% organic cotton and 10% spandex and appeals to women of all ages. The soft fabric is made to suit sensitive skin types and provide maximum comfort throughout the day. This stylish collection of bras provides much stretchability and offers loungewear comfort, so you won't feel restricted and can raise your arms freely. The double-ply fabric ensures that you get plenty of support and lift without the hassle of clips and wiring. This natural organic cotton bra has a smooth finish and super soft neckline ensuring that the bra provides a stunning silhouette under your shirts.
Pros
Stretchable
Double-ply fabric
Soft neckline
Smooth finish
Cons
It may not be suitable as a sleeping bra
This organic cotton bralette is perfect for women who have small or medium-sized busts, as it provides a fuller appearance. The fabric is made from 95% organic cotton and 5% spandex, which won't irritate sensitive skin. This bralette makes for a great training bra because it has double-ply fabric, which provides a decent amount of coverage and light support without the discomfort of underwiring, as noted in the reviews. In addition, this seamless organic cotton bra has adjustable straps that are great for fluctuating breast sizes.
Pros
Adjustable straps
Underwiring
Double-ply fabric
Suitable to use as a training bra
Cons
It may not provide support for women with bigger bust sizes
*The prices provided in this article are based on the latest available information. However, they may vary due to changes in pricing by the seller and/or promotional offers.
Now that you know about the various organic cotton bras available online, you may want to know about some important features that make a good cotton bra. The buying guide listed below will help you choose the perfect one that meets all your needs. Keep reading to know more.
How To Choose The Best Organic Cotton Bras
There are various styles of organic cotton bras with support that you can choose from. Push-up bras are also known as lift-up bras. They bestow a fuller appearance. T-shirt bras, on the other hand, are ideal for daily use, and they are quite comfortable. You have to be mindful of the size when choosing the bra, and they are usually made from organic cotton.
Cups tend to hold your breast in place, and the lower band is responsible for apt support. So, if you are looking for good bras that provide support without wires, then look for lower bands that provide a good fit and won't slide down.
This is a crucial factor that will make or break the fit of your organic cotton bra. First, you have to find the right size of your bra according to the shape of your breasts. The right size will provide you with the ultimate support and fit. It's advisable to consider bras from trusted brands that are known for testing their lingerie for quality to ensure better size accuracy. Also, go through the user reviews that address the sizing aspect for a more realistic fit assessment.
Why Trust StyleCraze?
Priyam Gupta is a fashion buff who loves writing reviews about different products. She has carefully selected the best organic cotton bras after closely reviewing user feedback on multiple forums and brand websites. The cotton bras listed in this post are soft and do not irritate your skin, unlike synthetic bras.
Frequently Asked Questions
Is a cotton bra good for the breast?
Yes, a cotton bra is best especially, for sensitive skin. These bras let your skin breathe and do not irritate it.
Which type of bra is good for daily use?
Breathable t-shirt bras or cotton bras are good for regular use. As they are very comfortable to wear.
Which bra is best for daily use in summer?
Cotton and organic cotton bras are best for daily use in summer. They are breathable, comfortable, and do not irritate the skin.
How tight should a bra be?
A bra should fit you snugly but not tight enough to cause discomfort or shoulder and rib pain.
Are T-shirt bras good for everyday use?
Yes, T-shirt bras offer a seamless look because of their molded cup design and can be worn under any clothes. They are also breathable and comfortable for daily use.
Recommended Articles: