15 Best Organic Dry Shampoos Of 2023 + Buying Guide
Say goodbye to the product buildup on your scalp and achieve shinier tresses.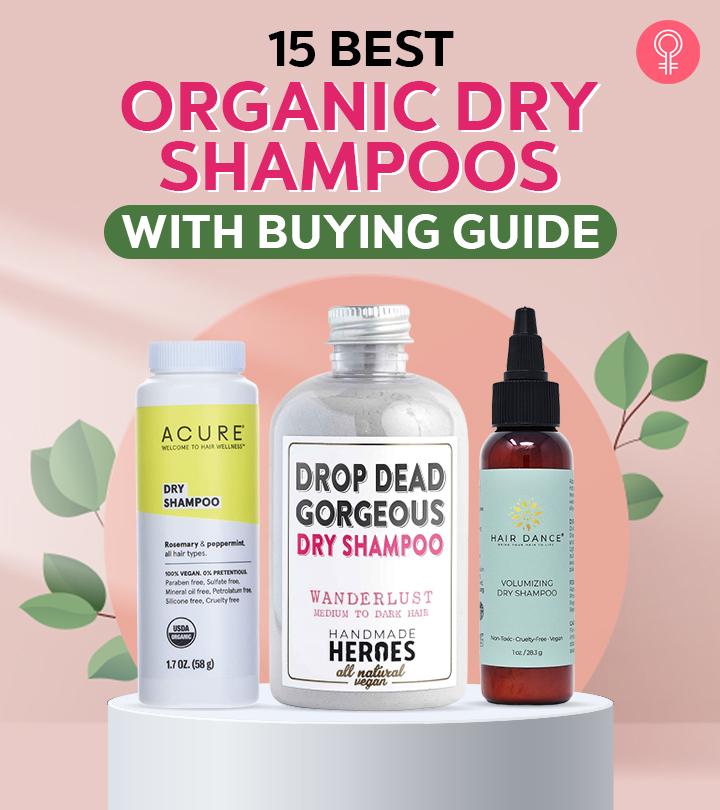 Some shortcuts are worth trying, and using dry shampoo is one. And what could be better than the best natural dry shampoos to help push back your wash day. Just a few spritzes of these organic shampoos are all you need to get refreshed hair. Rather than using aerosol sprays filled with harmful chemicals, natural dry shampoos are packed with organic and cruelty-free ingredients. Scroll down for a list of the best organic dry shampoos for a quick scalp cleansing, and take your pick!
Does Natural Dry Shampoo Really Work?
Natural dry shampoos eliminate oil, dirt, sweat, and grease from your hair and scalp. They do not need to be washed out of your hair and are used between shampoo sessions. The active ingredients soak up excess oil and shine from your hair and make it appear fresh and clean. You can use a dry shampoo to extend your salon blowout look or get rid of your sweaty scalp after workouts
However, dry shampoos are not replacements for hair washing. Continue using your regular shampoo as per your hair needs to avoid any buildup.
Scroll down to check out the 15 best organic dry shampoos you can buy online.
15 Best Organic Dry Shampoos
The Hair Dance Volumizing Dry Shampoo is loaded with all-natural, nourishing ingredients, which absorb oil, residue, and sweat, leaving your hair refreshed. You will get volumized hair during your travels or post-workout. The rice starch and non-crystalline silica help eliminate excess oil and provide fullness. Olive leaf extract protects your hair from environmental factors. The lavender scent help calm your senses and uplift your mood. This product claims to extend two to nine days between shampoo washes.
Key Ingredients: Organic rice starch, Colloidal oatmeal, Olive leaf extract, and Silica
Pros
Lightweight
Blends easily
Non-GMO
Aerosol-free
Talc-free
Vegan
Paraben-free
Cruelty-free
Sulfate-free
Silicone-free
Phthalate-free
DEA-free
Alcohol-free
Petroleum-free
No artificial fragrance or color
Eco-friendly
Cons
Give that little oomph your hair deserves with this vegan dry shampoo from Handmade Heroes. It is infused with 100% natural ingredients that instantly volumize and refresh your hair. The activated coconut charcoal powder eliminates foul odor and offers a clean feel. This chemical-free dry shampoo is also enriched with rice powder that controls excess sebum and oil, and the lavender and geranium oils uplift your mood with their smooth, floral scents.
Key Ingredients: Activated coconut charcoal, Geranium oil, Lavender oil, and Rice Powder
Pros
Aerosol-free
Vegan
Travel-friendly packaging
Cruelty-free
Paraben-free
Preservative-free
No synthetic chemicals
Cons
This fast-acting dry shampoo from ACURE is made of cornstarch, arrowroot powder, and kaolin clay that absorb excess oil, sweat, and dirt from the scalp. It contains baking soda that cleanses your hair and scalp, keeping them healthy. The peppermint and rosemary extracts refresh your hair and promote hair growth. This dry shampoo works quickly and offers you oil-free hair that smells minty fresh. Here's a review video to help you get a better understanding of the product based on the tester's experience with it.
Key Ingredients: Corn starch, Arrowroot powder, Kaolin clay, Rosemary oil, and Peppermint oil
Pros
Sulfate-free
Silicone-free
Suitable for all hair types
Vegan
Cruelty-free
Paraben-free
Mineral oil-free
Petrolatum-free
Formaldehyde-free
Environmentally friendly
Cons
Leaves an ashy green tint
The Beauty By Earth Dry Shampoo & Volume Powder is made with 100% natural ingredients for maintaining and balancing your hair's natural oils. It prevents stripping of moisture and nutrients from the hair. This dry shampoo powder is infused with cornstarch and kaolin clay, which help remove excess oil, grease, and dirt from your scalp. It preserves the melanin in your hair and prevents premature graying. The gentle formula eliminates sweat and odor, tames frizz, and offers you healthy, luscious hair. Reviews on Amazon have indicated that the non-toxic product makes your hair voluminous and easy to style, reducing teasing and blow-drying time.
Key Ingredients: Kaolin clay, Corn starch, and Baking soda
Pros
No fillers
Paraben-free
Sulfate-free
Non-GMO
Gluten-free
Cruelty-free
Travel-friendly size
Easy to use
Cons
This texturizing dry shampoo spray from Pureology with Antifade Complex protects your hair color from fading and heat damage. It contains vitamin E and sunflower seed extracts, which fight external, environmental color-fading factors and makes your hair shiny. This dry shampoo is infused with rice starch and the aromatherapy blend of tuberose, almond milk, and cedarwood. Reviewers on Amazon have noted that the product absorbs excess oil, dirt, and buildup from your hair and adds volume without drying it out.
Key Ingredients: Antifade complex and Rice starch
Pros
Lightweight
Non-drying formula
Color-safe
Vegan
Sulfate-free
Paraben-free
Mineral oil-free
Cruelty-free
Cons
This natural dry shampoo from Love Beauty and Planet instantly cleanses and refreshes your hair during non-wash days. It removes excess oil and impurities from the hair and creates bounce. You will get the perfect body for your fine hair with this volumizing shampoo. Additionally, no animal testing is conducted on the product, which makes it ideal for people seeking ethically conscious hair care options.
Key Ingredients: Grapefruit
Pros
Lightweight
Vegan
No visible residue
Safe for colored hair
Silicone-free
Cruelty-free
Dye-free
Phthalate-free
Suitable for all hair types
Cons
If you are looking for a dry shampoo in a gel formula, try the Taliah Waajid Protective StylesRefresh & So Clean Dry Gel Shampoo. It refreshes the scalp without disturbing your weaves, crochets, braids, updos, and twists. This dry shampoo is formulated with a rich blend of witch hazel, peppermint, and avocado oils, which help condition and nourish your hair. The SciNatranol Peptide Fortifying Complex with biotin, basil, and bamboo provides essential nutrients to your hair and helps moisturize it. Need more information? Watch this video that details a reviewer's experience with the product before making a purchasing decision.
Key Ingredients: Bamboo, Witch hazel, Peppermint, and Avocado
Pros
Ideal for protective hairstyles
Moisturizes the hair
Soothes the scalp
Gentle and quick-absorbing formula
Dries quickly
Can be used daily
Suitable for all hair types
Cons
Contains artificial fragrance
TheAct+Acre PlantBased Dry Shampoo is infused with natural ingredients like rice and tapioca powder that alleviate excess oil and odor and blends easily onto your hair and scalp. It is also enriched with fulvic acid that detoxifies your scalp and helps to deliver 65 minerals to your hair. This plant-based dry shampoo revives your hair instantly without leaving a white residue. It helps minimize sweat, neutralizes odor, and adds texture and lift to your hair.
Key Ingredients: Rice powder and Fulvic acid
Pros
Talc-free
Alcohol-free
Gluten-free
Aluminum-free
Cruelty-free
Aerosol-free
Paraben-free
Sulfate-free
Phthalate-free
Safe for colored and chemically-treated hair
Cons
The Lulu Organics Hair Powder Dry Shampoo is infused with corn starch, white clay, aluminum-free baking powder, and organic horsetail powder, which eliminate oil and dirt from your scalp and hair. This revitalizing product helps balance the oil production on the scalp and fights dandruff. It also contains moisturizing and nourishing ingredients like jojoba oil and sunflower oil that make your hair appear shiny and voluminous, without any product buildup. Finally, the therapeutic essential oils help relieve stress and soothe the scalp.
Key Ingredients: Organic corn starch, White clay, Baking soda, and Rice powder
Pros
Lightweight
Vegan
Gluten-free
Talc-free
Cruelty-free
Paraben-free
Oil-free
Suitable for all hair types and colors
Cons
None
This talc-free dry shampoo from Captain Blankenship is suitable for all hair types. It is formulated with organic kaolin clay and sustainable plant-based ingredients like arrowroot powder for its grease and oil-absorbing qualities. The aluminum-free baking soda helps absorb oil, grease, and odor from your scalp and freshens your hair. This dry shampoo blends easily into the hair without any residue. It adds body and texture to your hair, making it easy to style. This product helps build volume instantly on your thin, flat hair. It contains essential oils of rose, palmarosa, and geranium that leave your hair smelling floral. If you need further convincing, check out this YouTuber's review.
Key Ingredients: Arrowroot, Aluminum-free baking powder, and Kaolin clay
Pros
Aerosol-free
Suitable for all hair colors
Vegan
Paraben-free
Sulfate-free
Talc-free
No synthetic fragrance
Cruelty-free
Residue-free
Cons
None
The light citrus scent of this purifying dry shampoo helps uplift your senses and offers a refreshing feeling. It is loaded with charcoal powder that removes impurities, and the ultra-fine rice starch absorbs excess oil, odor, and sweat from your hair. This product adds volume and softness to your hair, leaving it clean without any residue.
Key Ingredients: Charcoal powder and Rice starch
Pros
Lightweight
Long-lasting
Paraben-free
Gluten-free
Phthalate-free
No artificial colors
Sulfate-free
Cons
None
If you are looking for an alternative to powder formulas, go for this dry foam shampoo. The Innersense Refresh Dry Shampoo contains tapioca and cornstarch that eliminate excess sebum from your scalp. It cleanses your scalp and removes dirt and product buildup. This dry shampoo contains hydrolyzed extracts of rice and quinoa, which nourish your hair. Rice proteins promote hair growth, and witch hazel acts as a conditioning agent. Pullulan, derived from a larch tree, offers a shiny and flexible hold to your hair.
Key Ingredients: Witch hazel, Tapioca starch, and Pullulan
Pros
Suitable for all hair types
Non-GMO
Paraben-free
Sulfate-free
Gluten-free
Cruelty-free
Cons
The Rahua Voluminous Dry Shampoo is made with 100% natural organic ingredients grown in rainforests. These plant-based ingredients cleanse your hair and scalp thoroughly. Fuller's earth conditions your hair, and tapioca root starch remove excess oils, dirt, grime, sweat, and impurities from your scalp. Star anise with antimicrobial properties improves scalp health. This dry shampoo builds volume and holds the texture of your hair, making it easy to style.
Key Ingredients: Organic tapioca starch, Fuller's earth, and Star Anise
Pros
Suitable for all hair types
Synthetic-fragrance
Cruelty-free
Paraben-free
Gluten-free
Silicone-free
Aerosol-free
Cons
Refresh your hair instantly with this plant-based dry shampoo. It is subtly scented and offers volume to your hair with a matte finish. This dry shampoo is infused with nourishing and moisturizing ingredients like tea tree oil, argan oil, shea butter, and coconut. It also contains vitamin E, which provides deep hydration and helps revive damaged hair. This product removes excess oil and dirt from your hair, making it appear fresh, clean, and healthy.
Key Ingredients: Tea tree oil, Argan oil, Shea butter, and Coconut
Pros
Hydrating formula
Gluten-free
Aluminum-free
Dye-free
Propyl glycol-free
Sulfate-free
Cruelty-free
Paraben-free
Phthalate-free
Formaldehyde-free
Cons
None
The Briogeo Scalp Revival Dry Shampoo contains Binchotan charcoal that detoxifies your scalp by removing builup, dirt, sebum, and oil. The naturally derived ingredients like tapioca and clay absorb impurities and bacteria. Witch hazel balances oil production so that your hair does not look limp and greasy. Biotin promotes hair growth and provides nutrients to your hair, enhancing its thickness. This dry shampoo refreshes your hair, nourishes your scalp, and extends the life of your blowout. It can be used safely on chemically-treated, colored, relaxed, and keratin-treated hair.
Key Ingredients: Binchothan charcoal, Biotin, Clay, Tapioca, and Witch hazel
Pros
Vegan
Gluten-free
Cruelty-free
Sulfate-free
Silicone-free
Paraben-free
Phthalate-free
Dye-free
DEA-free
Safe for colored and chemically-treated hair
Cons
None
Dry shampoos are a must-have to keep your hair clean and fresh between your hair wash days. Let's explore why you should use organic dry shampoos in the following section.
Benefits Of Organic Dry Shampoos
Add volume and bounce to your hair.
Extend the time between your hair wash days.
Keep your hair dirt- and oil-free without rinsing it.
Act as a touchup to maintain your blowout hair look.
Prolong the life of your hair color without losing its radiance.
Refresh your hairstyle and perk up flat waves and curls.
Help soothe your irritated scalp after dyeing or relaxing treatments.
These are some of the benefits of organic dry shampoos. But, how do you use dry shampoo? Scroll down to learn more about the process.
How To Use A Natural Dry Shampoo
Hold your dry shampoo about 6 inches away from your scalp.
Spray a small amount onto the hair roots. Apply only to the areas which are likely to accumulate dirt and appear oily.
Massage the product onto your hair using your fingers. Run a comb through your hair if you observe too much residue.
Use a blow dryer to add some bounce and volume to your hair.
Note: The amount of the product required depends on your hair type and the oiliness of the scalp. Do not go overboard to avoid buildup and dryness.
Rebekkah O'Neill, master stylist in hair and beauty, says, "Opting for more natural shampoos with not only help with aiding your hair but will also cut down any risk of reactions. Shampoos that are filled with chemicals can irritate the scalp and damage the hair."
Here are some of the best hair care tips for using dry shampoos. Take a look.
Best Hair Care Tips For Using A Dry Shampoo
Use dry shampoos in limited quantities and not more than required. Excessive usage may lead to product buildup on your scalp and clog the pores, preventing hair growth.
Always read the product labels to understand the best methods of usage.
If you have oily hair type, look for a dry shampoo with good absorbents to soak up excess oil. For people with curly hair, an organic dry shampoo with moisturizing ingredients is recommended.
Apply dry shampoo, not more than once or twice a week to maintain hair health. However, it also depends on your hair needs and type.
Use a clarifying shampoo while rinsing your hair to wash out the dry shampoo and cleanse any residue.
Consider the following points while buying an organic dry shampoo to make the ideal choice.
How To Choose The Best Organic Dry Shampoo
Always choose your organic dry shampoo based on your hair type. If your hair is very dry and unmanageable, opt for products with argan oil, shea butter, and olive oil, which can help moisturize your hair. For oily hair types, choose mattifying formulas that contain tea tree, baking soda, aloe vera, or fuller's earth. You may opt for expert-recommended products if you have sensitive hair and scalp.
Your dry shampoo should not contain any harmful chemicals like sulfates, parabens, alcohol, and artificial dyes. Even for all-natural hair care products, conduct a patch test before using them to avoid allergic reactions. You can opt for dermatologically approved ingredients to remain safe, especially if you deal with excessive itching and irritation on the scalp.
Several dry shampoos claim to be suitable only for particular hair shades – blonde, red hair, dark brown, and light-colored hair. A dry shampoo that does not match your hair color may form a white residue on your hair or scalp. Hence, consider your natural hair color while choosing dry shampoos to achieve the best results.
Why Trust Stylecraze
Shiboli Chakraborti is a hair care enthusiast whose reviews are trusted due to the extensive research involved in creating the content. In this article, she has listed the best natural and organic dry shampoos that are lightweight and have good cleansing properties. These shampoos have nourishing ingredients and are commended by many online sources. The post mentions the factors to consider while choosing a dry shampoo and answers a few most asked queries. There is also a buying guide to help you choose the best product.
Frequently Asked Questions
What can I use if I have no dry shampoo?
There are many alternatives for dry shampoos like baby powder, paper towels, cornstarch, cheesecloth, apple cider vinegar, baking soda, oatmeal, and dry clay.
Are there any side effects of dry shampoos?
No. However, overusing dry shampoos can cause product buildup on your scalp and clog hair follicles. They can also make your hair too dry or oily, leading to damage.
Can dry shampoo cause gray hair?
No. Dry shampoos do not cause grey hair.
Is powder dry shampoo better than spray?
Yes. Powder dry shampoo is better because sprays do not last long.
Is dry shampoo good for your hair?
Yes. A dry shampoo comes in handy when you do not have time to wash your greasy hair. Using a dry shampoo ensures the oil and dirt is absorbed, making your hair look neat and clean.
How often should I use natural dry shampoo?
You can use a natural dry shampoo not more than twice weekly between washes if you have a very oily scalp.
Can using natural dry shampoo cause hair loss?
No. Using a natural and organic dry shampoo does not cause hair loss. However, wash the dry shampoo the next day to avoid product buildup.
Do you use natural dry shampoo on wet or dry hair?
Always use a dry shampoo on dry hair only.
Recommended Articles