7 Best Organic Dry Shampoos – 2021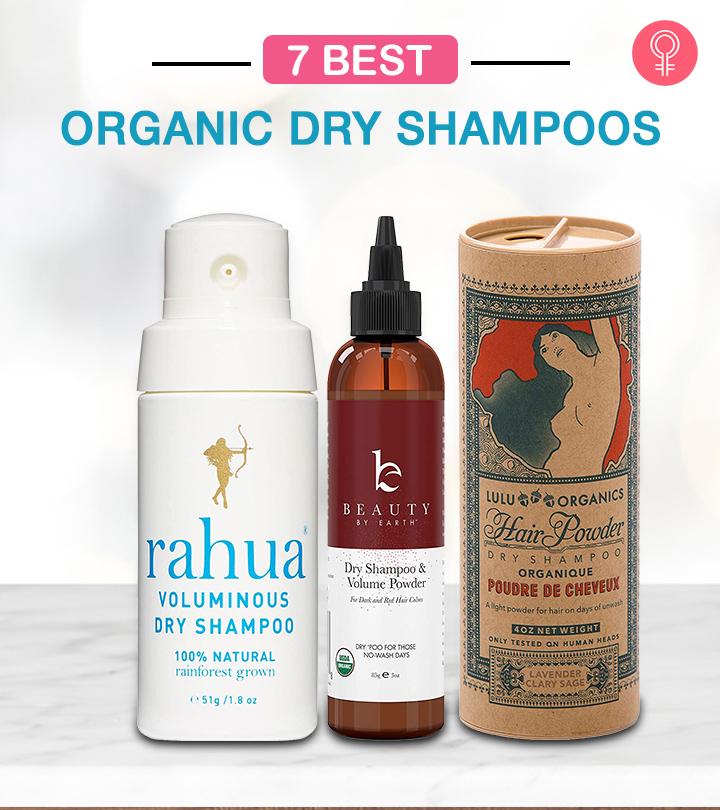 Dry shampoo makes your life easier on no-wash days. Greasy, limp hair can be revived in minutes by using dry shampoo. It is easy to apply, effective, and save loads of time. It comes in handy in situations when you don't have the time or energy to wash your hair.
Organic dry shampoo absorbs excess oil, dirt, and sweat from the scalp. It has hydrating and nourishing natural ingredients that prevent the loss of natural oils, moisture, and nutrients from your hair. It also adds volume and texture to your hair.
Washing your hair too frequently can make it look dull, lifeless, and rough. It can also lead to premature greying of the hair. Substituting with dry shampoo can help in such cases.
In this post, we have compiled a list of the 7 best organic dry shampoos available right now. Check them out below!
7 Best Organic Dry Shampoos
Rahua Voluminous Dry Shampoo is made with 100% natural organic ingredients grown in rainforests. These plant-based ingredients cleanse the hair and scalp thoroughly. It contains Fuller's earth that naturally cleanses and conditionsyour hair.
Fuller's earth and tapioca root starch absorb excess oils, dirt, grime, sweat, and other impurities from the scalp. Star anise has antimicrobial properties that improve scalp health. This dry shampoo also contains minerals that nourish and moisturize the hair follicles, leaving your hair clean and healthy.
This dry shampoo builds volume and holds the texture of the hair, making it easy to style. Its packaging is also environment-friendly as it comes in a non-aerosol dispenser. This certified organic shampoo has a light scent of vanilla and star anise. It does not contain parabens, gluten, silicones, or synthetic fragrance. It is also vegan and  cruelty-free.
Pros
100% natural ingredients
Adds volume
Cleanses and refreshes the scalp
Adds texture to the hair
Preps the hair for styling
Cruelty-free
Vegan
Free of parabens, gluten, silicones, and synthetic fragrance
Aerosol-free squeeze bottle
Cons
Expensive
Dispenses too much product at a time
Acure Dry Shampoo is made of corn starch, arrowroot powder, and kaolin clay that absorb excess oil, sweat, and dirt from the scalp. It contains sodium bicarbonate (baking soda)that cleanses the hair and scalp. This dry shampoo is easy to use and effective. It does not contain harmful chemicals and toxins like parabens, sulfates, mineral oil, or silicone.
The peppermint and rosemary extracts in it refresh your hair and promote hair growth. They also have antimicrobial properties that keep your scalp clean and healthy. This dry shampoo works quickly and gives you oil-free hair that smells minty fresh.
Pros
Absorbs oil
Removes impurities
Easy to use
100% vegan
Does not contain formaldehyde
Certified organic
Paraben-free
Cruelty-free
Suitable for all hair types
Cons
Lulu Organics Hair Powder Dry Shampoo is easy and convenient to use. It contains corn starch, white clays, aluminum-free baking powder, and organic horsetail powder that absorb oil and dirt from the scalp and hair. This helps in extending your wash time. This certified-organic dry shampoo also contains moisturizing and nourishing ingredients like jojoba oil and sunflower oil. Your hair looks shiny and voluminous after using this dry shampoo. It also makes styling your hair easy and quick.
The blend of therapeutic essential oils like jasmine, sandalwood, cedar wood, geranium, black pepper, patchouli, and coriander used in this dry shampoo helps in relieving stress and soothing the scalp. They also help in balancing the oil production on the scalp and fighting dandruff. The other ingredients in this organic formula include frankincense, myrrh, and vetiver. The main notes in this dry shampoo powder are those of the intoxicating lavender and invigorating clary sage!
This dry shampoo does not contain any talc and is suitable for both blonde and dark hair. It comes in an economical 4 oz. bottle that can be used for 500 applications! Lastly, this dry shampoo also doubles as a body powder.
Pros
Cleanses the hair
Certified organic, vegan, and cruelty-free
Moisturizes the scalp and conditions the hair
Gluten-free
Long-lasting
Soothes the scalp
Multipurpose
Suitable for all types of hair
Cons
May dry out keratin-treated hair
Expensive
Beauty By Earth Dry Shampoo & Volume Powder is made with 100% natural ingredients and is certified organic by the USDA. This volumizing dry shampoo makes sure that your hair's natural oil balance is maintained. It prevents stripping of moisture and nutrients from the hair. It gently cleanses the dirt and excess oil from your hair. It preserves the melanin in your hair, thus preventing premature graying.
This dry shampoo powder coats the hair strands, giving them volume and making it easy to style your hair. It builds volume and body even on thin, fine hair, reducing teasing and blow drying time. This dry shampoo does not contain any harmful chemicals like parabens and sulfates that can dry out your hair. It is non-GMO and free from gluten.
Pros
Adds volume
Prevents premature graying
Reduces styling time
Does not strip away oil, moisture, and nutrients
Cruelty-free
Travel-friendly
Cons
Suitable for dark and red hair
Captain Blankenship Mermaid Dry Shampoo is suitable for all hair types. It is made with sustainable plant-based ingredients. It contains organic kaolin clay, arrowroot powder, and aluminum-free baking soda. This dry shampoo absorbs oil and grease from the scalp effectively. It blends easily into the hair without leaving behind any residue. It also adds body and texture to the hair, making it easy to style. It builds volume instantly even on thin, flat hair.
This dry shampoo contains essential oils of rose, palmarosa, and geranium that leave your hair smelling fresh and floral. It is safe to use as it is free from artificial fragrances and chemicals. It is Leaping Bunny-certified and does not contain parabens, talc, or sulfates.
Pros
Made with sustainable plant-based organic ingredients
Absorbs oil from the hair and scalp
Adds texture and volume to the hair
Naturally scented
Vegan
Paraben-free
Sulfate-free
Talc-free
No synthetic fragrance or chemicals
Cruelty-free
Cons
Briogeo Scalp Revival Dry Shampoo contains Binchotan charcoal that detoxifies the scalp by removing deep-rooted toxins, dirt, bacteria, and oil. Its naturally-derived ingredients like tapioca and rice starch absorb excess oil and cleanse the scalp. The witch hazel normalizes oil production so that your hair does not look limp and greasy. It fights pimples and dandruff in the scalp with its antimicrobial properties. Biotin helps in hair growth. This dry shampoo provides nutrients to the hair follicles and helps in  increasing the thickness of the hair. It also lowers inflammation and soothes the scalp.
Briogeo Scalp Revival Dry Shampoo can be used safely on chemically-treated, color-treated, relaxed, and keratin-treated hair. It is free from toxic chemicals and irritants like parabens, sulfates, phthalates, silicones, and artificial dyes. It has been certified by the Leaping Bunny Program as cruelty-free, which means it is not tested on animals.
Pros
Detoxifies the scalp
Removes dirt and impurities
Nourishes the scalp
Absorbs excess oil
Vegan
Travel-friendly packaging
Cruelty-free
Gluten-free
Free of silicones, parabens, sulfates, and phthalates
Cons
Innersense Refresh Dry Shampoo contains tapioca and cornstarch that help in eliminating or absorbing excess sebum and oil from the scalp. It cleanses the scalp by removing dirt and product build-up. Hydrolyzed extracts of rice and quinoa nourish the hair. Rice proteins promote hair growth and improve its quality.
Organic ingredients like honey, vitamin B5, and glycerin moisturize the hair and form a protective coating on the hair strands. Vitamin B5 (panthenol) binds to the hair follicles and seals the moisture in the hair strands. This prevents your hair from looking dry, dull, and unhealthy. Honey and panthenol build volume and impart a healthy shine to the hair.
This dry shampoo also contains witch hazel, eucalyptus, ginkgo biloba, and chamomilla extracts that protect your hair and prevent dandruff. They have antibacterial properties that help in keeping your scalp free from acne and inflammation. Witch hazel also regulates the oil production in the scalp.
This natural dry shampoo is easy to use and does not contain any toxic chemicals like sulfates, phthalates, and silicones. It is gluten-free, cruelty-free, and non-GMO and does not contain artificial dyes or fragrances.
Pros
Absorbs excess oil
Adds texture
Cruelty-free
Non-GMO
Free of gluten, sulfates, and silicone
Free of artificial dyes and synthetic fragrances
Cons
Dry shampoos are useful hair care products to have in your beauty cabinet. They come in handy when you don't have enough time, water, or energy to wash your hair. They cleanse and condition your hair quickly.
Comment below and let us know which of these organic dry shampoos you would like to try out!
Recommended Articles