The 9 Best Organic Face Masks Of 2023 For Naturally Glowing Skin
Exfoliate your skin and get rid of impurities with natural and hydrating face masks.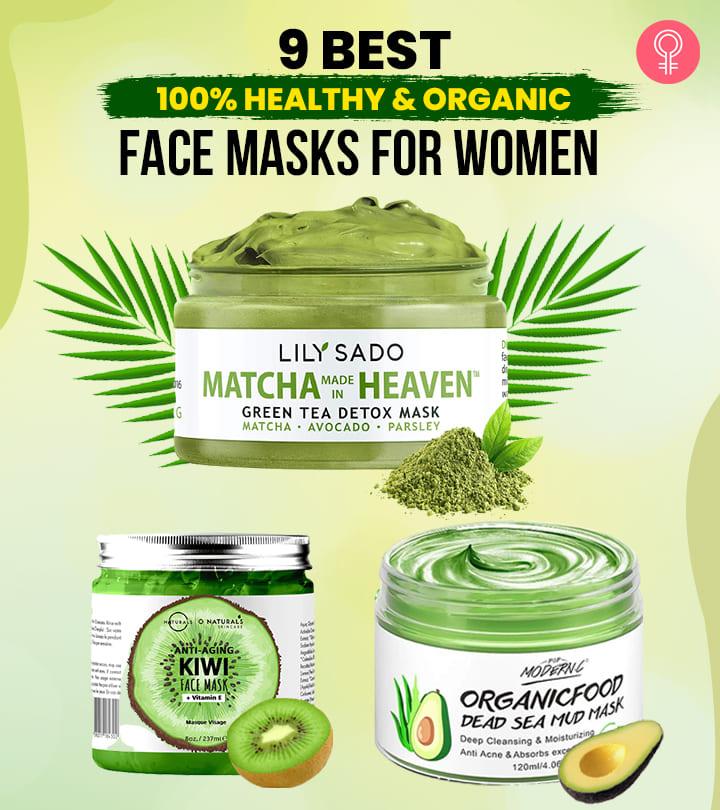 If you love your skin unconditionally, it is time that you make a switch to the best organic face mask. While we all believe in shopping carefully and picking organic ingredients for our meals, we easily overlook the ingredients incorporated in our face masks. Our skin absorbs the face mask ingredients, and using an organic face mask means nourishing your skin without exposing it to chemicals. Here's a list of the best face masks with organic ingredients for you to choose from. So, go ahead and give your skin the love and care it deserves.
Top Picks
9 Best 100% Healthy And Organic Face Masks For Women
Pros
 Removes blackheads
 Moisturizing formula
 Vegan
 Pleasant fragrance
 Suitable for all skin types
 Comes with a brush and blackhead extractor
Cons
Price at the time of publication: $13.99
This brightening kiwi face mask from O Naturals Skincare is an anti-aging formula that hydrates the skin. It is infused with antioxidants from kiwi fruit extracts. Kiwi protects the skin from oxidative stress, rejuvenates the skin, and boosts cell renewal. It also neutralizes free radicals and reverses damages caused by UV rays.
The soothing formula contains apple, spirulina, chamomile, lavender, and neem. The neem oil extracts reduce scarring and balance your skin tone, apple extracts lend anti-aging benefits, while green tea reduces irritation. Calendula and chamomile reduce acne, inflammation, and breakouts.
This hydrating mask also contains cucumber and hyaluronic acid, which firms the skin, imparting a radiant glow. The essential vitamins and minerals, along with retinol, provide nourishment to the skin.
Key Ingredients: Kiwi, Vitamin E, Cucumber, Chamomile, Lavender, Neem, Spirulina extract, Calendula, Green tea, and Apple fruit extract.
Pros
 Vegan
 Paraben-free
 Petroleum-free
 Cruelty-free
 Sulfate-free
Cons
Price at the time of publication: $9.99
The Lily Sado Matcha Made In Heaven Green Tea Detox Mask, with its antioxidant-rich ingredients and antibacterial properties, prevents acne, wrinkles, and blackheads. Green tea matcha fights free radicals and toxins, improves skin elasticity, and enhances skin tone. Avocado produces collagen to offer plump skin, and parsley purifies the skin and removes blackheads and whiteheads.
This anti-aging face mask reduces puffiness, inflammation, and skin sagging. Licorice root and cypress wood oil prevent dark circles and age spots, regulate oil production, hydrate the skin, and fight environmental stressors. Coconut and aloe prevent acne, blemishes, and blackheads. This product nourishes and soothes dry, damaged skin. It reduces pore size and makes the skin youthful and radiant.
Key ingredients: Green tea matcha, Avocado, Parsley, Licorice root extract, Coconut, Aloe, and Cypress wood oil
Pros
 Vegan
 Paraben-free
 Phthalate-free
 Cruelty-free
 Sulfate-free
 Non-GMO
No fillers
Cons
Price at the time of publication: $18.95
The Zakiyas Morocco Ghassoul Organic Clay Mask is an anti-aging formula that treats dull and damaged skin. It promotes skin elasticity and minimizes blackheads, acne, and blemishes. This detoxifying and highly absorbent clay mask removes impurities and excess oil without drying or flaking the skin. It is helpful for people with dry skin conditions like psoriasis and eczema. Ghassoul clay, super-rich in minerals, promotes collagen production and makes the skin tighter, brighter, and more youthful. This Moroccan facial treatment can also be used for your hair.
Key Ingredients: Ghassoul natural clay
Pros
 Fragrance-free
 Hypoallergenic
 Can be used for the hair and body
 Suitable for all skin types
 Long-lasting
 Value for money
Cons
None

Price at the time of publication: $9.99
This soothing face mask from Blossom Hill Beauty is an organic clay facial treatment. It is a deep cleanser, exfoliator, and hydrator for the body and face. This clay mask minimizes redness and inflammation and makes the skin refreshing and bright. It is infused with moisturizing ingredients like organic aloe, organic coconut oil, and botanical hyaluronic acid. Organic aloe promotes cell growth, soothes the skin, and enhances the skin's healing process. Coconut oil acts as a moisturizer, reduces inflammation, and protects your skin from harmful bacteria. Hyaluronic acid rejuvenates and replenishes the cells and plumps our skin to offer natural radiance.
Key Ingredients: Organic Aloe, Coconut oil, Kaolin clay, and Botanical Hyaluronic acid
Pros
 Paraben-free
 Sulphate-free
 No artificial colors
 Cruelty-free
 Vegan
 Non-GMO
 Gluten-free
 Suitable for all skin types
Cons
None
Price at the time of publication: $16.99
The Matykos Supreme offers a set of two face masks for day and nighttime use. The day mask is enriched with the goodness of matcha, avocado extracts, green tea, spirulina, and chlorella. It cleanses and detoxifies the skin.
The night mask contains black tea and volcanic soil. The lightweight formula eliminates toxins and sebum from the skin's inner layers. This face mask combo exfoliates the dead cells and leaves the skin feeling clean and nourished. The active antioxidants protect the skin and repair damages caused by UV rays and pollution. This face mask reduces the appearance of pimples, wrinkles, fine lines, and age spots.
Key Ingredients: Green tea, Matcha extract, Avocado extracts, Spirulina, and Chlorella,
Night Mask: Volcanic Soil, Black Tea, and Hyaluronic Acid.
Pros
 Vegan
 Petroleum-free
 Paraben-free
 Sulfate-free
 Phthalate-free
 Coal tar-free
 Oxybenzone-free
 Triclocarban-free
 Triclosan-free
 Formaldehyde-free
 Fragrance-free
 Cruelty-free
 Alcohol-free
 No PEG
Cons
None

Price at the time of publication: $9.95
Pros
 Non-toxic
 No fillers
 Suitable for all skin types
 No artificial colors and fragrance
Cons
Price at the time of publication: $68.0
The Tree Of Life Tropical Facial Mask is enriched with tropical fruits like pineapple, papaya, and aloe vera extracts. These ingredients moisturize, brighten, and rejuvenate the skin. Your skin feels plump, smooth, and supple. This face mask relaxes the mind and body and offers a spa-like treatment.
Key ingredients: Papaya, Pineapple, and Aloe
Pros
 Pleasant fragrance
 Paraben-free
 Cruelty-free
 Suitable for all skin types
 Long-lasting
Cons
Price at the time of publication: $12.95
The LIVYUYAO Matcha Green Tea Clay Mask offers deep cleansing and purifies the skin by eliminating toxins and impurities. It combats acne, blackheads, and wrinkles. The matcha infuses moisture, reduces inflammation and acne, and brightens your skin. Aloe vera extracts soothe sunburn, reduces signs of aging, and prevents blemishes and acne. The clay removes dead skin and acts like a magnet to draw out the excess oil and tighten the pores. This mask penetrates the skin and improves elasticity. It helps smoothen and even tone the skin.
Key ingredients: Green Tea Matcha, Aloe vera, Volcanic mud, Tea-tree oil, and Vitamin E
Pros
 Moisturizing formula
 No synthetic fragrance
 Cruelty-free
 Suitable for all skin types
 Comes with an applicator brush and facial sponge
Cons
None
Price at the time of publication: $9.99
Face masks help in soothing, nourishing and healing our skin. But how to choose which organic face mask is best suitable for your skin? Check out this buying guide to know the important factors to take into consideration while picking the best organic face masks for naturally glowing skin.
Things To Consider While Buying The Best Organic Face Masks For Naturally Glowing Skin
Ingredients and Skin Concern
One of the first steps to consider while picking an organic face mask is the ingredients list. Additionally, decide on your skincare goals and the skin concern you want to target and choose the product accordingly.
Aging Skin: Pick products that contain ingredients like apple fruit extract, kiwi extract, vitamin E, chamomile, lavender, neem, calendula, or green tea extract. These reduce fine lines and wrinkles, and dark spots caused by the sun.
Acne Prone Skin: If you are looking to fight acne or blemishes, pick ingredients like green tea extract, green tea matcha, licorice, dead sea mud, aloe vera, kale extract, avocado extract, calendula, or chamomile.
Dry Skin: The best ingredients for dry skin are botanical hyaluronic, coconut oil, or kaolin clay. These moisturize and rejuvenate the skin.
Redness and Inflammation Prone Skin: Pick soothing ingredients like kaolin clay, organic aloe vera extract, coconut oil, pink clay, green tea clay, or ghassoul natural clay. These cater to minimizing redness with their antioxidant and anti-inflammatory properties.
Dullness, Dark Spots and Pigmentation: If you are looking to minimize sun damage, dullness or soothe hyperpigmentation, pick ingredients like pomegranate enzymes, dead sea mud, kiwi extract, beet root extract, pink clay, or white willow bark.
While organic formulas are naturally made and are safe for skin, it is best to do a patch test first to avoid any skin allergies. For utmost safety, pick a formula that is hypoallergenic, oil-free, non-comedogenic and non-acnegenic. Avoid any product that contains toxins like methylparaben, petroleum, sulfates, alcohols, parabens, mineral oils, artificial fragrances, extracts or dyes. These have a serious side effect on your skin and lead to redness and rashes.
A wide range of masks are available in the market, however neither the most expensive or affordable masks is your best option. Make sure to pick the one with the right ingredients best suited for your skin.
Why Trust StyleCraze?
The author, Shiboli Chakraborti, is a certified skin care coach and a huge advocate of organic beauty and skin care products. She recommends using organic face masks as the skin can readily absorb the masks' ingredients. To curate the most suitable options available on the market, she went through many product reviews and closely researched the products, considering the ingredients, formulation, and affordability. Thus, the products on this list can nourish and rejuvenate the skin without exposing it to harmful chemicals.
Frequently Asked Questions
Can we use organic face masks every day?
No. Do not use organic face masks daily to prevent drying your face. Excessive use of face masks can rob your skin of essential nutrients and leave it looking dull. Use them once a week.
When should I apply an organic face mask for the best results?
Apply organic face masks after showering if you have oily skin. The hot shower opens up your pores, letting the ingredients penetrate and cleanse them. But, if you have dry skin, apply the mask before showering to lock the moisture in your skin.
How long should you leave an organic face mask on?
Leave the organic mask on your face for 10 to 20 minutes to moisturize and replenish your skin while detoxifying it.
Do you use face wash after using an organic face mask?
No. Applying face wash after an organic mask can dry your skin and reduce your elasticity. Instead, rinse your face with clean water after using an organic face wash.
What is the best natural face mask for aging skin?
The O Naturals Skincare Anti-ageing Kiwi Face Mask is the best natural face mask for aging skin. It is infused with apple extracts that combat aging signs and reduce scarring. In addition, the mask offers hydrating benefits.
Can we apply a serum after applying an organic face mask?
Yes. Apply serum after using an organic face mask to lock the healthy ingredients in the skin and rejuvenate it further.