14 Best Eco-Friendly Hair Products That You Must Buy In 2023
Give your tresses the salon-worthy care they need with the top natural ingredients.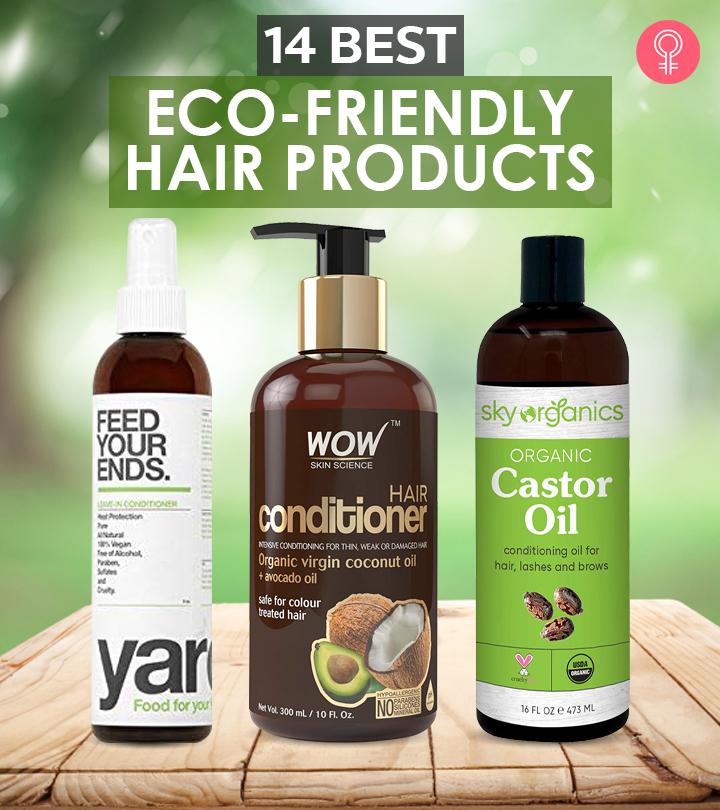 With so many chemicals damaging your hair, it is time for you to say hello to the best eco-friendly hair products. These mild and natural products will maintain your hair health and keep it beautiful naturally.
These products are formulated with ingredients that nourish the hair while adding softness and shine. These are free from harsh chemicals that rip off the hair's natural moisturizer, leaving it brittle and dry. "For those of us who are concerned about the ingredients used in our beauty care, no matter what you read, always take the time to research the product of interest. There is a lot of greenwashing and clean washing going on. Shop smart" says Cosmetologist Lindsay Loo.
So, we have listed the 14 best eco-friendly hair products for you to try. Have a look!
Best All-Natural Hair Products
The Viva Naturals Organic Extra Virgin Coconut Oil hydrates your hair without making it greasy. It is obtained from cold-pressed fresh and organic coconuts. This extra virgin coconut oil smoothens and softens your hair and adds shine. It also acts as an organic conditioner that penetrates the hair to nourish it. This high-grade oil is GMO-free, gluten-free, USDA certified, and does not contain harmful additives. Check out the detailed review of the product in this video.
Pros
Non-sticky
Gluten-free
Substantially harvested
USDA certified
GMO-free
Cons
Price at the time of publication: $7.96
The SkyOrganics Castor Oil is 100% pure and makes your hair healthy and fuller-looking. It comes from a cold press of castor seeds that are rich in fatty acids and moisturizing agents. This oil can also be used on the brows and lashes for volumizing them. It combats dryness and enhances your hair texture. This product helps nourish the strands and scalp. It is free of alcohol, preservatives, and fragrances. Watch this video of the product for more information.
Pros
Moisturizes the hair
Hexane-free
USDA certified
Fragrance-free
Alcohol-free
No preservatives
Cons
Price at the time of publication: $9.99
The Hair Thickness Maximizer All Natural Hair Growth Oil prevents hair fall, balding, hair thinning, breakage, and receding hairline. It contains only organic and pure ingredients that activate hair growth and nourish the hair. The first cold press of rosehip, jojoba, tea tree, lemongrass, peppermint, argan, black castor, and Ginkgo Biloba extracts thicken and strengthen your hair.
Pros
Strengthens the hair
Nourishes the scalp
Hexane-free
Reduces hair breakage
Cons
Price at the time of publication: $14.95
The WOW Hair Conditioner is a one-stop-shop for all your hair concerns. It combats frizziness, breakage, split ends, and hair fall to give you nourished, healthy, and manageable hair. This organic hair repair conditioner contains virgin coconut oil that reverses hair damage by fighting bacteria and viruses and hydrates the hair.
Wheat protein volumizes the hair, smoothens hair cuticles, and repairs hair shafts. Avocado oil prevents breakage, split ends, and hair damage from the sun while vitamins E and B5 support healthy hair growth. This product is free of sulfates and parabens that strip the natural oils of the hair and make it weak and dry.
Pros
Suitable for all hair types
Thickens the hair
Adds luster
Smoothens the hair
Strengthens the hair
Sulfate-free
Paraben-free
Cons
Price at the time of publication: $324
The LuxeOrganix Biotin Shampoo And Conditioner Set softens and nourishes your hair, making it healthy. This cruelty-free set contains a botanical blend of rosemary, mint, and tea tree that thickens the hair by healing and rejuvenating it. The bio hair products improve the blood circulation of the scalp, wipe away buildups and dandruff, and soothe the scalp. They are free of sodium chloride, alcohol, gluten, and sulfates. This set of shampoo and conditioner is also suitable for keratin and color-treated hair.
Pros
Alcohol-free
Gluten-free
Relieves itching
Soothes the scalp
Prevents dandruff
Cruelty-free
Suitable for keratin and color-treated hair
Cons
The conditioner is thick.
Price at the time of publication: $24.97
The Yarok Feed Your Ends Leave-In Conditioner also acts as a detangler and heat protector. It contains vitamins and essential oils of primrose, jojoba, and grapeseed with essential minerals that nourish, soften, and strengthen your hair while protecting it from damage. The organic olive oil heals damaged hair, tames frizz, and moisturizes the scalp. The grapeseed and evening primrose oils are high in essential fatty acids that help prevent hair loss. This cruelty-free conditioner is vegan and does not contain parabens, sulfates, gluten, and harmful chemicals.
Pros
Detangles the hair
Pleasant smell
Moisturizes the scalp
Vegan
Cruelty-free
Paraben-free
Sulfate-free
Gluten-free
Cons
None
Price at the time of publication: $32
The Truu Me Anti-Hair Loss Shampoo promotes hair growth and prevents hair loss while making your hair thick, shiny, and healthy. It contains safe and natural ingredients like old ginger, pomelo peel, sodium hyaluronate, and polygonum multiflorum, which moisturize and strengthen your hair. These natural ingredients also enhance blood circulation to the scalp and prevent hair breakage. This shampoo blocks DHT, which weakens the hair and leads to hair loss and thinning.
Pros
Promotes hair growth
Gentle formula
Pleasant fragrance
Suitable for all hair types
Prevents split ends and breakage
Unisex
Cons
Price at the time of publication: $22.89
The Argan Oil Hair Masque prevents hair damage, promotes hair growth, and imparts shine to the hair. It contains jojoba oil, aloe vera, rosemary extracts, chamomile essence, keratin, and Japanese edelweiss that nourish and repair the hair. These natural ingredients supply proteins, vitamins, and amino acids to the hair to strengthen it and prevent frizz. The Moroccan argan oil penetrates the hair to restore damage due to chemicals and sun exposure. This nourishing and restoring hair mask is unisex and suitable for all hair types.
Pros
Suitable for all hair types
Unisex
Prevents split ends
Hydrates the hair
Strengthens the hair
Cons
Price at the time of publication: $9.99
The Beauty By Earth Sea Salt And Texturizing Spray give you gorgeous beachy waves. It volumizes lusterless and flat hair. This hairspray contains safe and natural ingredients like aloe vera, sea salt, and argan oil that help revive and boost the hair texture. It also contains raspberry fruit extracts, green tea, and algae, which make your hair appear thicker and fuller. This product is suitable for all hair types and free of parabens, alcohol, and fragrances.
Pros
Lightweight
Volumizes the hair
Adds shine
Alcohol-free
Paraben-free
Fragrance-free
Suitable for all hair types
Cons
Price at the time of publication: $19.99
The Design Essentials Natural Honey & Shea Edge Tamer is a hair gel for curly hair. It delivers long-lasting hold to coily or curly hair while adding shine and preventing flakes or buildups. This hair gel contains moisture-rich ingredients like honey and shea butter that control frizz. It provides heat protection, enhances the curls, and restores them to their original form. This gentle formula is free of parabens and mineral oils.
Pros
Long-lasting
No residue or flakiness
Moisturizes curls
Easy to apply
Paraben-free
Mineral oil-free
Cons
Price at the time of publication: $16.2
The YesTree Organic Bamboo Hair Towel Wrap is made of super-absorbent microfiber, which cuts down hair drying time while keeping your hair smooth, shiny, and frizz-free. It dries up your hair faster than the regular towels without any damage.
This hair towel wrap comes with a button design that fixes the towel on your head firmly to prevent slipping and dripping. The natural bamboo-based fiber technology provides a safe and healthy way to protect your hair as it eliminates the need for hair dryers. This towel can also be used for bathing, washing the face, and removing makeup. It is also suitable for all hair types.
Pros
Easy to use
Anti-slip design
Suitable for all hair types
Cons
Price at the time of publication: $12.99
The terra ties Elastic Hair Ties are eco-friendly and biodegradable. They are made of organic rubber and cotton, which are odorless and 100% recyclable. These long-lasting hair ties offer perfect hold without slipping and hair-pulling.
Pros
No creasing
No snagging
Firm hold
Compostable
Eco-friendly
Biodegradable
Long-lasting
Cons
Not suitable for thick hair
Price at the time of publication: $14.95
The Feed Your Roots Mousse treats thin and limp hair with essential oils and vitamins. It transforms dry, damaged, and lifeless hair into healthy, luscious, and voluminous hair. This hair mousse manages curls and adds a beachy wave texture to your hair without weighing it down. It prevents flakiness and is suitable for all hair types. This product is free of parabens and alcohol.
Pros
Lightweight
Controls frizz
Pleasant fragrance
Paraben-free
Alcohol-free
Suitable for all hair types
Cons
Makes the hair stiff and greasy
Price at the time of publication: $32
The CARELAX Hair Brush & Comb Set is made of natural and organic bamboo that does not cause static and is gentle on the scalp. It is created using a traditional woodwork technique, which keeps the brush and combs warm in winters and cool in summers. This product can be used in a humid environment owing to its slip-free and comfortable grip. It prevents hair fall, tangling, and roughness.
The comb has a combination of wide and thin teeth. The brush has evenly distributed bristles that massage the scalp and help enhance blood circulation. The bamboo is rich in natural minerals, which improve hair and scalp health.
Pros
Durable
Non-toxic
Static-free
Suitable for all hair types
Cons
The comb's teeth have splinters.
Price at the time of publication: $9.99
Why Trust StyleCraze?
Shiboli Chakraborti is a certified skin care coach who is well-versed in hair care. According to her, you do not have to sacrifice your healthy hair for effective but harsh chemicals; you can achieve the hair of your dreams with eco-friendly products as well. She meticulously researched the formulations of the above products before creating this list of eco-friendly hair products. Maintaining your hair health and natural beauty is easier with these mild and natural products.
Frequently Asked Questions
Are organic hair products better?
Yes, organic hair products are better than regular hair products, which are full of harmful chemicals. The artificial additives in standard products cause dryness, irritation, and hair breakage. They are also not biodegradable and cause environmental pollution. In contrast, organic products nourish the hair and scalp without any adverse effects.
What makes a hair product organic?
Organic hair products are made of natural and safe plant-based ingredients. These ingredients are gentle on the hair and scalp and do not pollute the environment. The natural ingredients help mitigate hair issues and do not strip the natural oils of your hair.
Is organic shampoo better for your hair?
Yes. Organic shampoos are better for any type of hair as they contain raw and natural ingredients. These ingredients are not only safe but also help maintain hair health. They do not cause irritation or allergies and help balance the pH of the scalp and hair. Chemical-based shampoos can disturb their natural pH, leading to itchiness, dryness, and flakiness.
Is baking soda good for hair?
Yes. Baking soda is effective in removing buildup from the scalp. However, it dries the scalp and hair. It is fine to use baking soda once in a while, but regular use might strip your hair's natural moisturizers and oils.
Is there a hair dye without chemicals?
Yes. There are several hair dyeing products that claim to be organic or natural but might contain chemicals in minimal amounts. Henna is a safe, natural, and chemical-free hair dye but be careful as it is permanent and is incredibly hard to remove from the hair.
Is turmeric good for hair?
Yes. Turmeric is great for hair loss and thinning. Adding a bit of turmeric to your shampoo and conditioner can help reduce hair loss and breakage. It also thickens your hair and revitalizes the scalp.
Is lemon good for hair?
Yes, lemon is good for dandruff and hair fall. It is rich in vitamin C, which helps enhance collagen production to promote hair growth and prevent dandruff. The citric acid strengthens the hair roots to reduce hair fall. Lemon also unclogs the pores and prevents flakiness.
Is onion good for your hair?
Yes. Onion juice is useful for hair growth. Regular application of onion juice followed by a hair massage helps enhance blood circulation and promotes hair regrowth. Its antibacterial properties keep the scalp healthy by preventing infections and bacteria that damage the hair and cause hair loss.
Recommended Articles