13 Best Organic Hair Serums For Healthy And Lustrous Hair
Try the godsend hair serums to save you from bad hair days with frizzy, unruly hair.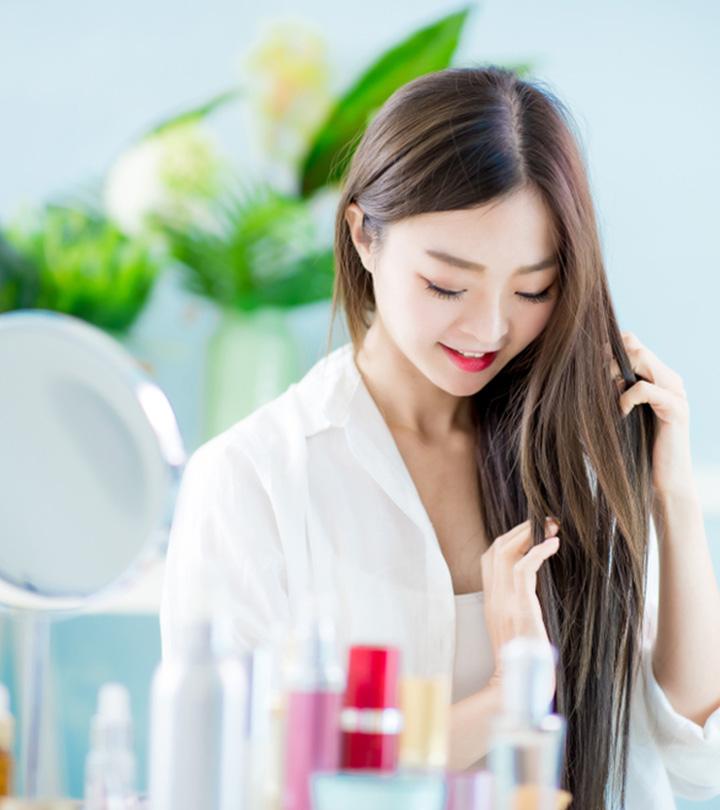 The best organic hair serums are great for quick fixes for frizzy hair and a great styling product. It will work well to not only maintain the health of your hair strands but it will also make your hair lustrous and smooth; thanks to its natural ingredients. It is true when people say that your hair completes the look or breaks it entirely. Most of us do an excellent job of shampooing, oiling, and conditioning, but all these steps cannot guarantee a perfect head of hair that is in-place 24*7. There is always that one or multiple strands of hair that ruin your blow-dried hair or waves.
That's when the hair serum steps in to help you fix your hairstyle plus have a good hair day. A few drops are enough to leave you with sleek, smooth, and shiny hair that will leave you feeling refreshed to the aroma and texture. Its sole purpose is not only to keep your hair frizz-free but also to form a layer that protects your hair from outdoor pollution. It tames the split ends, and your hair smells terrific. So here are the 13 best organic hair serums for that luscious look.

Top Picks
13 Organic Hair Serums You Would Want Right Now!
Pros
Suitable for all hair types
Nourishes hair follicles
Suitable for curly hair
Boosts hair growth
Cons
May take time to show results.
Price at the time of publication: $19.49
No products found.
This essence hair serum makes your hair smoother, silkier, and shinier after the very first use. It contains angelica extract, which improves blood circulation, nourishes your hair, making it bright and dark. The ginger extract stimulates hair follicle tissues and puts a stop to hair loss. The metabolism in your scalp and hair gets heightened, leading to thicker and healthier locks you'd love. As per Pdoo, if you religiously use the product for a month or more, it won't be long before you proudly own the gorgeous and stunning hair you always wanted. Say bye-bye to grey hair with Pdoo Hair Growth Essence.
Pros
Prevents hair loss
Increases metabolism in your scalp
Rejuvenates hair roots
Activates hair follicle tissues
Cons
It may take more time to show results in some cases.
Price at the time of publication: $19.99
Pros
Tames frizz and flyaways
Adds shine while intensifying color
Averts breakage and split ends
Color-safe
Vegan
Cons
Some may find the fragrance too strong.
Price at the time of publication: $8.52
We present a hair serum that answers all your prayers regarding the most fundamental hair problems you may face! Toullgo's Advanced Hair Growth Serum consists of vital bio-active nutrients that regenerate the hair and scalp health, creating a suitable environment for hair growth. This organic tonic serum for hair claims to treat slow hair growth, easily tangled hair, breakage, dry and unruly hair, and likewise. It spurs and nourishes the hair follicles, efficiently speeding up regrowth and fostering stronger, longer, and more abundant hair. Just mix every 100ml shampoo with 6 ml essence of this product.
Pros
Fortifies external protection
Increases nutritional supply
Improves hair circulation
Repairs hair follicles efficiently.
Cons
Some may not like the smell.
Price at the time of publication: $18.99
Produced by Genius Labs, this organic hair shine serum steps up your hair growth, fixes split and weakened hair subdues thinning, and excessive hair loss. Popular among both men and women, the product contains natural bioactive components, namely biotin, that give your hair strength your hair right from the roots. Crafted to seep into the hair shaft, it wakes the hair follicles to deliver noteworthy outcomes. Now, flaunt your soft and silky hair with Genius Stem Biotin Hair Growth Oil.
Pros
Moisturizes hair and protects it from further damage
Vegan
Cruelty-free
Inhibits dandruff
Enables more elasticity to your hair
Gentle on your hair
Cons
It may feel slightly greasy in the beginning.
Price at the time of publication: $91.9
Pros
Hair becomes softer and less dry.
Increases blood circulation around the scalp area
Prevents and reduces dandruff
Protects against hair loss
Cons
Some may find it slightly greasy.
Price at the time of publication: $19.99
Pros
Vegan
Cruelty-free
Repairs and restores damaged hair
Suitable for all types of hair
Cons
Some may find it slightly greasy.
Price at the time of publication: $9.95
Pros
Stimulates and nourishes hair follicles
Revitalizes hair roots
Preserves and strengthens existing follicles
Works against broken, dry, frizzy, brittle hair, dry scalps, and dandruff
Cons
It may not be suitable for some hair types.
Price at the time of publication: $22.84
Pros
Nourishes and protects your hair
Fights frizz and the like
Repairs damaged hair
Contains argan oil
Cons
Colorants may be subject to side-effects.
Price at the time of publication: $91.9
This 7-day organic hair growth serum is a product that vows to show results within 7 regular application days. It is composed of activated herbal oils that start the treatment from its very first use! Other ingredients include old ginger extract, ginseng, polygonum multiflorum, angelica, black sesame, vitamin E, ginkgo, and water. Together, they bring a stop to thinning hair, hair loss, pamper and nourish existing hair follicles, and repair damaged hair. Not only that, this oil serum is a perfect choice for all hair types! When are you getting yours?
Pros
Nourishes the scalp
Effectively repairs damaged hair
Averts hair loss
Inhibits thinning of hair
Cons
Unsuitable for people with ginger allergy
Price at the time of publication: $10.99
It's the blessings of nature and the power of science coming together to ensure you get the tresses you deserve! Bid farewell to the frizz and flyaways for good with the all-new Focus Perfect Hair Coconut Oil Hair Serum. This organic hair serum for curly hair reduces hair breakage as it seeps into the hair follicles and deeply conditions your hair right from the roots to its tips. Moreover, this quick and hydrating solution not only repairs damaged hair, but it's advanced formula also efficiently fortifies it. Other ingredients such as sweet almond oil, olive oil, aloe vera extracts, and keratin offer an extra layer of protection while providing abundant moisture and shine.
Pros
Rejuvenates and repairs
Natural ingredients
Lightweight formula
Generously nourishes your hair.
Cons
Price at the time of publication: $19.99
Pros
Nourishes scalp
Repairs hair thinning
Healthier looking hair
Contains coconut oil
Cons
It takes time to show results.
Price at the time of publication: $12.71
Pros
Removes buildup
Induces shine
Softens and smoothes your hair
Plant-based ingredients
Cons
Some may find the scent unpleasant.
Price at the time of publication: $8.37
Ready to get your hands on one of the 13 best organic hair serums on our list? Before you do so, do take a quick look at this buying guide.
Factors To Keep In Mind Before Picking The Best Hair Serum
Hair and scalp requirements
First things first, identify the needs of your hair. Is it breakage, split ends, hair growth that doesn't match the speed of your falling hairs, dullness, etc.? For instance, essential oils would be the best option for dull and frizzy hair. If you want nourishment and moisturization, go for one with coconut oils. If all you need is some sun defense, look for a serum that offers heat protection. There are ample other options available, such as serums that repair damaged hair, treat split ends, and the like. So, observe your hair and choose accordingly.
The product's components go a long way to determine what the result of the usage will be. Certain ingredients may do your hair a lot of harm instead of otherwise. Take sulfate, for example. Try to avoid products containing this ingredient. Also, you may be allergic to ginger. Hence, products containing ginger may cause an allergic reaction to your scalp. If you are still unsure, hair serums' safest choice would include almond oil, coconut oil, jojoba oil, etc. They wouldn't irritate your hair, be gentle on your scalp and provide a slight bounce to your cherished tresses.
If you are new to the product, it is always wise to purchase the minimum possible amount. Give it a fair trial, and if you find that it loves your hair, go for a larger quantity the next time.
There is no need to strain your purse and buy an expensive product. Always keep your budget under consideration. You can always find products that would meet your requirements and, at the same time, wouldn't tug at your funds.
It is always better to be 100 % sure about your purchases, especially if it's a product meant for your skin or your hair etc. Go through a substantial number of reviews and then make your choice.
How To Use An Organic Hair Serum?
Squeeze a little serum into your palm and rub your hands together. The rubbing would cause friction and heat the serum a little, which would lead to a slight reduction in the stickiness. Then start applying to the tips and work your way up. Do not use it on the scalp or the roots. For smooth hairs, one little squeeze may be sufficient. You may need 2-3 pumps of the bottle for denser hair.
Benefits Of Natural Hair Serum
The immediate answer would be natural hair serums to a great extent, avoid the use of any chemicals. Chemicals, as we know, may initially give you results, but in the long run, there will be side-effects. While we cannot entirely avoid it in our lives, we can try to ensure the quantity is pushed to a bare minimum. With the natural hair serums, you can be assured that the harms would be far lesser, if at all, than those containing chemicals. Most ingredients would be derived from plants or plant products, ensuring your hair is treated with care.
Why Trust StyleCraze?
Vaishnavi Kothuri, who authored this article, is a haircare enthusiast and she enjoys helping her readers purchase suitable haircare products. With that interest, she conducted extensive research and compiled a list of the best organic hair serums. These products that have been listed down can control your frizz and protect your mane from pollution. With only a few drops, you can get sleek and shiny hair.
Frequently Asked Questions
Does serum cause hair loss?
Usually, a serum is used to prevent hair loss. But if the product contains ingredients like silicone, which is meant to add shine to your hair. However, in the long run, silicone can harm your hair, causing hair fall and breakage.
Can a hair serum be used daily?
Although hair experts do not advise the use of hair serums daily, people with untameable and frizzy hair may use an oil-based serum for daily use. In normal circumstances, try to restrict the use of serums to the days you wash your hair.
Is a serum necessary?
Since conditioners aren't enough to ensure sealing your cuticle; a serum layer is mandatory. Especially if you heat style your hair regularly, it is advised to make serums an essential part of your hair care regime. Serums shield the hair from damage and nourish your hair.
Is hair serum better than oil?
It would be unfair to pitch the two against each other as it would be like comparing apples to oranges. While hair serums are typically used to enhance your hair's look, the most fundamental duty of hair oil is to feed the hair plenty of nourishment.
Is it better to apply the serum on wet or dry hair?
For best results, always use a serum on wet, freshly washed hair. It then works as a shield that protects your hair against dust and pollution.
Can we apply hair serum on the scalp?
No. It is advised not to use hair serum on the scalp and the roots. It may look greasy on the hairline, plus if you apply it on the bases, it may clog your follicles, resulting in permanent hair damage.
Does hair serum help hair grow?
Yes, the existing elements found in a hair serum nourishes the roots of your hair and scalp. Hence, this initiates new hair growth amidst the dead or dormant hair follicles.
Do hair serums have side effects?
While the hair serum is not associated with any existing side-effects so far, try to steer clear of products with silicon, as it can cause your hair plenty of harm in the long run. Also, ascertain if you are allergic to any ingredient used in the product.