10 Best Organic Lipstick Brands You Can Try Today
Are you fed up of all those chemical-based lipstick brands out there? How about laying your hands on those brands that are totally organic? If that is what you want, then look no further.
Here, we have ten organic lipstick brands that you can consider the next time you go shopping. Would you like to know what they are? Read on!
Why Organic Cosmetics:
A girl's makeup box is filled with a variety of cosmetics suited to every occasion. However, each one of these is a potential hazard as it is a store house of chemicals. Unfortunately, there is no regulatory framework that effectively controls what chemicals go into the making of these products (1). Ingredient like paraben, sulphate, phthalate, triclosan and others, are unsafe to consume. As a lipstick inevitably finds its way onto the lips, a naturally made organic lipstick brand would be a great way to look pretty without feeling bad.
Here are ten brands of organic lipsticks that you can look out for.
1. Ecco Bella:
This is one of the 'most organic' lipstick brands of all. Cosmetics from Ecco Bella brand are free from gluten, dyes and preservatives. Available especially to moisturize the lips like a lip balm, the brand's lipsticks are safe and clean.


[ Read: Best Herbal Lip Balms ]
2. Coastal Classic Creations Canyon Lipstick:
Canyon lipstick from Coastal Classic Creations contains ingredients certified by the USDA. It has a hazard rating that is one of the lowest according to the Skin Deep Database. The Canyon lipstick is also of a reddish brown color that renders a warm hue to your lips.
3. Gabriel Lipstick:
Gabriel Lipstick is a cruelty-free brand, a brand that has a wide range of natural makeup products. All Gabriel cosmetics contain healing ingredients, making them a great option for the next purchase. The lipsticks are smooth and the colors varied.


4. Hemp Organics Rose Petal Lipstick:
The Hemp Organics lipstick is made with ingredients certified as 95% organic. Moreover, the product has no petrochemicals, and also has a very low hazard rating. The Rose Petal lipstick has a luscious hue with a slightly matte finish.
5. W3ll People Nudist Colorbalm Stick:
W3ll People offers soothing lip balms in wonderful colors that spice up your lips without harming them in any way. The Nudist Colorbalm Stick protects the lips with its rich content of organic omega oils and aloe.


[ Read: Herbal Cosmetic Brands Available In India ]
6. Jane Iredale Lip Fixation:
Jane Iredale Lip Fixation is two products in one. It is both a lip gloss and a lip stain in complementary colors. These lipsticks last longer than others due to their dual nature, all at no cost to your health.


7. Lavera Organic Lipstick:
Lavera is a German organic cosmetics brand with high standards of quality for its natural products. Their makeup is not only organic, but also vegan. Highly popular in Europe, Lavera's cosmetics are cruelty-free and have certified organic ingredients. Lavera offers several 100% natural and organic lip products.


8. Bare Minerals:
Bare Minerals is another organic brand that is ideal for the health conscious. The brand's Marvelous Moxie lipstick is filled with many healthy minerals. The lipstick has antioxidant and nourishing properties.


9. Ilia Tinted Lip Conditioner:
Ilia is an all-natural makeup brand with lipsticks formulated with 85% bioactive natural ingredients. The Ilia Tinted lip conditioner hydrates the lips with long lasting color.


[ Read: Vegetarian Cosmetic Brands ]
10. Josie Maran:
Josie Maran's brand wants you to have the luxury of looking good without compromising on your conscience. They are fair-trade, women empowering, and eco-friendly. The Josie Maran Argan Color Stick has argan oil that has a replenishing effect on the skin.


*Subject to Availability
These are some of the best organic lipstick brands available. If you have more to share, please leave a comment in the box below. We would love to hear from you!
Recommended Articles:

The following two tabs change content below.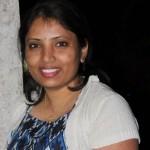 Latest posts by Sruthi Chowdhry (see all)