10 Best Organic Self Tanners – 2020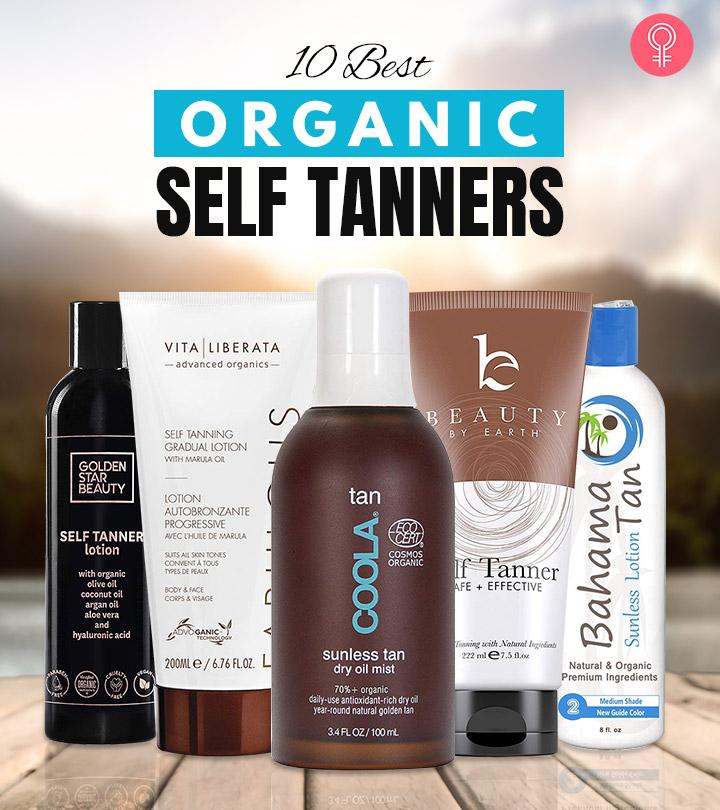 Organic self tanners are one of the safest ways to get that sunkissed look! Tanning beds expose you to harmful toxins while sunbathing can cause sunburns. In extreme cases, these methods for tanning can even lead to skin cancer. Organic self tanners are made with natural tanning ingredients that give you a healthy tanned look. Most of these tanners contain moisturizing and anti-aging ingredients that help your skin look young and supple. They also contain powerful antioxidants that protect your skin from sun damage. An organic self tanner is a great product to include in your clean beauty routine if you are environmentally conscious.
We have compiled a list of the ten best organic self tanners available right now that are eco-friendly and easy to apply. There is something for everyone to choose from, depending on your skin type and budget. Check them out!
10 Best Organic Self Tanners
Beauty by Earth's Self Tanner is made with organic natural ingredients. This sunless tanning lotion is a perfect alternative to chemical-filled tanners. It gives you a sunkissed glow without any sunburn, premature signs of aging, or risk of skin cancer. Its regular application gives you a bronzed tan look as it contains DHA (a natural omega-3 fatty acid), which is the active tanning ingredient. This tanner also contains moisturizing ingredients like shea butter, argan oil, aloe vera, jojoba oil, coconut oil, green tea, and witch hazel. It has a light lotion-like consistency that spreads evenly, giving you a smooth and natural tanned look.
Key Features
Natural moisturizing ingredients like shea butter.
Pure oils like coconut oil, argan oil, and organic jojoba oil.
Pros
Moisturizes skin
Does not give you an orange tinge
Vegan
Cruelty-free
Non-toxic
Cons
May leave streaks on the skin
4-hour wait period before water exposure
Unpleasant fragrance
This amazing self-tanner is a 100% natural and safe organic tanner mousse. It is especially good for people with pale or light skin. It gives you a warm bronze glow that lasts for almost a week. It also protects your skin from the harmful UV rays that can cause wrinkles and even lead to skin cancer. It contains extracts of natural ingredients like goji, acai, and vanilla bean that leave your skin soft and nourished. It also contains essential oils of lavender oil, orange peel, and shea butter that moisturize and soothe the skin. This tanning mousse gives you a gorgeous glow without streaks, blotches, or an unnatural orange tint. It is so light that it can be applied under makeup, and it does not cause acne or breakouts. This self-tanner is also non-toxic.
Key Features
Contains soothing ingredients.
Natural plant and fruit extracts from acai berry, goji, lavender, orange peel, and vanilla.
Pros
Sulfate-free
Paraben-free
Aerosol-free
Dye-free
Non-irritating formula
4 to 8 full body applications per bottle
Cons
Expensive
Takes 8-12 hours to dry
May stain clothes and sheets
Coola's Sunless Tan Dry Oil Mist is very convenient to use as it sprays evenly and dries quickly on the skin to create a natural golden tan. The dewy glow lasts for three days, but it can be used every day as it is formulated for all-round the year, daily use. It contains natural DHA derived from sugar beets and antioxidants that protect your skin from cellular damage. This dry oil mist contains argan oil, vitamin C, and hibiscus and chamomile extracts that calm and soothe the skin. They moisturize your skin and protect it from the harmful UV rays. Use Coola Sunless Tan Dry Body Oil for that medium to dark sunless tan!
Key Features
Chamomile extract calms and soothes skin.
Bergamot extract purifies and tones the skin.
Pros
Buildable color
Lightweight
Fast-absorbing
Can be used with other tanners
Streak-free
Transfer-resistant
Reef-friendly
Cons
May dry out your skin
Strong fragrance
You can customize the color of your tan by diluting Bahama Tan Self Tanning Lotion with some moisturizer for a lighter subtle glow or build it up for a more sunkissed look. This flexibility helps you use this self tanner according to your mood and need. It contains ecologically-certified and approved DHA that gives a tinted tan and full coverage that lasts from 4 to 7 days. This natural tanner is made with food-grade preservatives and organic ingredients like shea butter, coconut oil, argan oil, and Monoi de Tahiti oil that moisturize your skin deeply and improve its texture. It is suitable for people with sensitive skin.
Key Features
Thick and creamy.
Skin-friendly ingredients such as shea butter and argan oil.
Contains an ecologically-certified tanning agent.
Can be customized for both light and medium skin tones.
Pros
Does not give you an orange tinge
No blotchiness
No streaking
No toxic chemicals
Paraben-free
No dyes
Cons
Thermalabs Natural Self Tanner gives you a tan in four hours and lasts up to two weeks! It contains organic ingredients like aloe vera, chamomile extracts, green tea, rooibos tea, and linden blossom that soothe your skin while nourishing it. Rooibos tea and green tea are powerful antioxidants that protect the skin from the harmful UV rays that can cause sunburns, redness, and skin cancer. It also contains Melissa extracts that impart a freshness to the skin, leaving it feeling silky soft and beautiful.
Key Features
Moisturizing compounds like aloe.
Antioxidants like rooibos tea and green tea.
Pros
Does not give you an orange tinge
Moisturizes the skin
No streaking
Cruelty-free
Naturally scented fragrance
Cons
Difficult to apply
Not suitable for all skin types
This self-tanning lotion contains organic ingredients that offer anti-aging benefits to the skin apart from imparting a beautiful golden glow. Vita Liberata Self Tanning Gradual Lotion has an ultra-hydrating formula with ingredients like shea butter and aloe vera that keep your skin hydrated for up to three days. It is a good option for people with dry or sensitive skin. It also contains marula oil, which has omega-6 and omega-9 fatty acids that improve the elasticity of the skin. The certified botanical extracts of lychee, licorice root, and raspberry help your skin look soft and supple. It also uses Odour Remove Technology to ensure that this tanner smells wonderful.
Key Features
Contains marula oil, a powerful anti-aging ingredient.
Shea butter and aloe vera that hydrate your skin.
Pros
Moisturizes the skin
Prevents the signs of aging
Transfer-resistant
Paraben-free
Alcohol-free
Toxin-free
Fragrance-free
Cons
Requires multiple applications
Fades quickly
Golden Star Beauty Self Tanner Lotion is made with certified organic oils such as argan oil, coconut oil, olive oil, jojoba oil, and avocado oil. It helps in gradually developing a healthy-looking tan. This tanner also helps fight sunburn, the early signs of aging, and skin cancer. It contains intense moisturizers like organic aloe vera and hyaluronic acid that hydrate the skin. It comes with a reusable soft tanning mitt for easy and flawless application. The lightweight, stain-free lotion dries quickly too.
Key Features
Contains hyaluronic acid that helps the skin look supple and plump.
Contains organic plant oils like olive oil, argan oil, and jojoba oil.
Pros
Moisturizes the skin
Paraben-free
Dyes-free
Gluten-free
Vegan
Transfer-resistant
Cruelty-free
Cons
Leaves an orange tinge
Splotchy spots
This eco-certified brand has won an ethical award for the organic and natural ingredients it uses in its products. TanOrganic Self Tan Oil contains orange peel extract, aloe vera, borage seed, and argan oil that moisturize the skin, giving it a healthy and beautiful glow. The Citrus aurantium dulcis peel oil is anti-inflammatory in nature. It detoxifies and clears the skin from impurities and toxins. It also soothes dry, irritated skin that is prone to dermatitis or acne. As it stimulates collagen production, it promotes healthy and younger-looking skin. It fights the signs of premature aging like fine lines and wrinkles. This eco-friendly anti-aging self tanner is definitely a good bargain for a subtle healthy glow.
Key Features
Contains Citrus aurantium dulcis peel oil that boosts the skin's elasticity and makes it look soft and young.
Environment-friendly product.
Pros
Does not stains clothes
Vegan
Cruelty-free
Paraben-free
Fragrance-free
Cons
None
9. Botanic Tree Self Tanner
Botanic Tree Self Tanner contains 100 % organic ingredients and has a quick-drying formula specially formulated for people with sensitive skin. It contains botanical extracts from apricot, grapeseed, passion fruit, moringa, linseed, coconut, avocado, vanilla, rosemary, arnica flower, and avocado. The shea butter in this tanning lotion provides moisture to the skin. This clean and natural self-tanner also doubles as a bronzer! It is one of the most affordable natural self tanners available right now.
Key Features
Self-tanning lotion for sensitive skin.
Contains potent plant and fruit extracts that soothe and calm the skin.
Pros
100% vegan
Does not stain clothes
Cruelty-free
Non-greasy
Paraben-free
Cons
Blotchy and uneven tanning
No gradual build up
Bahama Tan Control Your Glow Gradual Self Tanner helps you controls the intensity of your tan. The customizable aspect of this tanner makes it a popular option in the market for that perfect natural tan. It is made with pure natural and organic ingredients such as safflower seed oil, babassu oil, shea butter, and argan oil. These ingredients moisturize and nourish the skin for a healthy and flawless look. It also contains DHA, a natural tanning agent that is Eco-Cert approved. Thus, this tanner is great for all skin types, including sensitive skin.
Key Features
Helps you control the intensity of your tan.
Suitable for sensitive skin.
Pros
Lanolin-free
Paraben-free
Formaldehyde-free
Non-comedogenic
Cruelty-free
No mineral oils
Suitable for sensitive skin
Cons
May cause irritation
Blotchy and uneven results
When purchasing a self tanner, keep in mind that there are some toxic and harmful ingredients that can damage your skin and the environment. Therefore, we have put together a list of harmful chemicals and toxins that you should avoid when you are buying a self tanner.
Ingredients To Avoid In An Organic Self Tanner
1. Parabens
Parabens can weaken the immune system and also cause cancer! They are used as preservatives to inhibit the growth of bacteria. They are also estrogenic, which means they can interfere with your reproductive system.
2. Mineral Oil
Mineral oil, a petroleum byproduct, causes dryness and impairs the development of skin cells. It is comedogenic and carcinogenic. The thick consistency of mineral oil also clogs the pores and can lead to acne. It contains many toxic chemicals that can harm your skin and cause premature aging or even cancer.
3. Sodium Hydroxymethylglycinate
Apart from clogging pores and causing cancer, this toxin releases an even more toxic substance called formaldehyde. Formaldehyde is banned from skin care products due to its carcinogenic and poisonous nature.
4. Synthetic Fragrance Or Dyes
Synthetic fragrances and dyes contain chemicals that cause allergic reactions and irritation, especially on the skin and in the lungs. Artificial fragrances are also derived from petrochemicals and may cause cancer in extreme cases.
5. Amyl Acetate
This is another harsh bleaching agent that can harm your skin. Please avoid using products with amyl acetate in them.
6. Isopropyl Myristate
This is another compound that clogs your pores and causes acne. It can also irritate your eyes and skin.
7. Octyl Stearate
This ingredient is particularly bad for the skin. It can cause acne and aggravate contact dermatitis. It might lead to severe allergic reactions as well.
You have read about what chemicals to avoid in self tanners. Now, let us take a look at some of the ingredients that you should look out for in a good organic self-tanning product.
What To Look For In A Natural Self-Tanner
1. DHA
Dihydroxyacetone is a sugar that binds to the pigment in your skin. This reaction changes the color of the skin to give you that coveted tanned look. While all tanning products use DHA, natural tanners use DHA derived from plant sources.
2. Green Tea
Green tea has many health benefits. It is loaded with antioxidants that protect the body from free radicals. It is particularly good for the skin as it nourishes and protects the skin cells.
3. Beta Carotene
Beta carotene is a plant-based antioxidant that gives an orangish-yellow color to the plants. This pigment is responsible for the orange color of carrots. It is used in a diluted form in self tanners to create that bronze glow.
4. Argan Oil
The hydrating and moisturizing benefits of argan oil for skin and hair are quite popular. It is also a powerful antioxidant that protects the skin from sun damage and helps it look soft and smooth.
5. Rooibos Tea
Rooibos tea contains a natural pigment that imparts a deep reddish-brown color when it comes in contact with your skin. It is used in self-tanners for that beautiful hue. It also softens the skin and protects it as it contains antioxidants.
Organic self tanners have become very popular these days. They contain ingredients that are organically sourced. They are free of harmful chemicals, dyes, and preservatives. They are a safer alternative to sunbathing and tanning beds. Pick one from this list, try it out, and let us know about your experience in the comments section below!
Recommended Articles