20 Best Natural, Organic, And Non-Toxic Self Tanners – 2023
Give your skin a natural-looking tan with these self-tanners made from natural ingredients.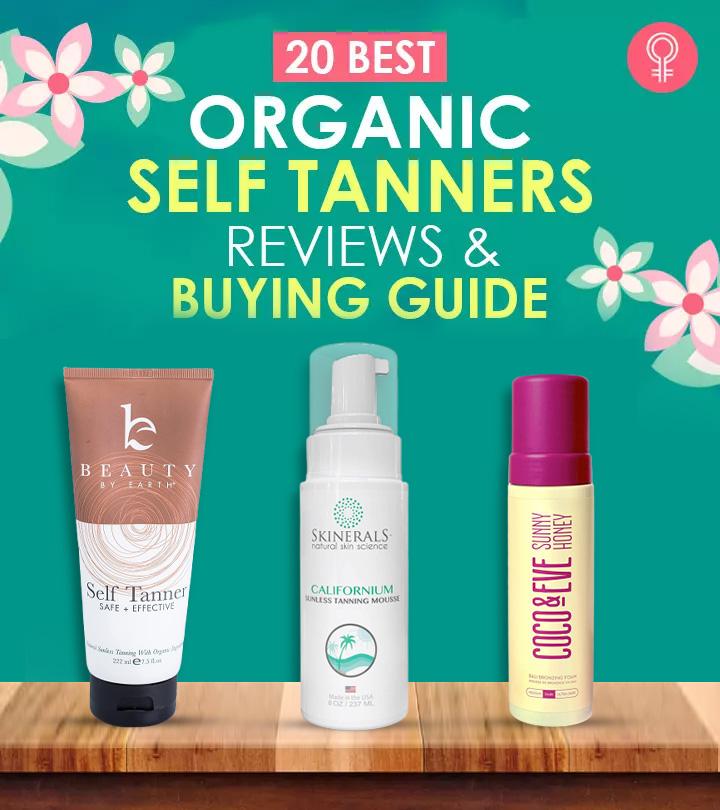 Staying in the sun for hours to get the perfect tan is no longer the best way to get tanned. Why roast yourself out for hours when you can do skin tanning in under an hour with the best organic self-tanners for your face and body? If you are new to self tanners or wash-off tanners, be aware that they take a while to get used to, and your skin may even have reactions.
A safer option is to try organic self tanners that have natural, plant-based ingredients as they do not pose the risk of radical damage to your skin. Most of them are made without any harmful or toxic chemicals and do not transfer onto your clothes or the sink/tub while offering you a natural glow! So, go ahead and check out the 20 best organic self tanners right now.
Is Organic Self-Tanner Safe?
Organic self-tanners as personal care products are considered safe for use because they are primarily formulated with natural and plant-based ingredients. But, if you are spending extra to buy organic and sunless tanning products, make sure you're getting what you paid for. Though self-tanners claim to be "organic," they have up to 30% synthetic materials. The best way to verify is that they have the USDA Organic Seal on the label. This seal guarantees that all the ingredients are free from all the synthetic and harmful chemicals. It will also help you judge whether an organic self-tanner is safe or not.
To make sure that your favorite self tanner is organic and uses a safe tanning formula, here is a list of ingredients that you need to avoid.
Ingredients To Avoid In An Organic Self Tanner
Parabens are used as preservatives in cosmetics but they can cause various bad health issues! They also sensitize the skin, causing allergic reactions.
Mineral oil, a petroleum byproduct, causes dryness and impairs the development of skin cells. In addition, it is comedogenic and carcinogenic. The thick consistency of mineral oil also clogs the pores and can lead to acne. In addition, it contains many toxic chemicals that can harm your skin and cause premature aging or even cancer.
Sodium Hydroxymethylglycinate is infamous for clogging pores. This toxin releases an even more toxic substance called formaldehyde. Formaldehyde is dangerous in skincare products due to its carcinogenic and poisonous nature.
Synthetic fragrances and dyes contain chemicals that cause allergic reactions and irritation, especially on the skin and lungs. Artificial fragrances are also derived from petrochemicals and may cause cancer in extreme cases.
This is another harsh bleaching agent that can harm your skin. Please avoid using products with amyl acetate in them.
This is another compound that clogs your pores and causes acne. It can also irritate your eyes and skin.
This ingredient is particularly bad for the skin. It can cause acne and aggravate contact dermatitis. It might lead to severe allergic reactions as well.
Now that you're aware of the ingredients that should be avoided, let's look at specific things you need to consider before buying an organic self-tanner.
What To Look For In A Natural Self Tanner- Buying Guide
Though there are many decent options available in the market, choosing an organic self-tanner can be tricky as you need to focus on the ingredients list thoroughly. Make sure that the product you purchase is devoid of all the harmful ingredients listed above. It should be formulated mainly with natural and plant-based ingredients. Here are the ingredients that you can look out for:
Dihydroxyacetone is a sugar that binds to the pigment in your skin. This reaction changes the color of the skin to give you that coveted tanned look. While all tanning products use DHA, natural tanners use DHA derived from plant sources.
Green tea has many health benefits. It is loaded with antioxidants that protect the body from free radicals. In addition, it is perfect for the skin as it nourishes and protects the skin cells.
Beta carotene is a plant-based antioxidant that gives an orangish-yellow color to plants. For example, this pigment is responsible for the orange color of carrots. It is used in a diluted form in self-tanners to create that bronze glow.
The hydrating and moisturizing benefits of argan oil for skin and hair are pretty popular. It is also a powerful antioxidant that protects the skin from sun damage and helps it look soft and smooth.
Rooibos tea contains a natural pigment that imparts a deep reddish-brown color when it comes in contact with your skin. It is used in self-tanners for that beautiful hue. It also softens the skin and protects it as it contains antioxidants.
The best part about self-tanners is that they are available in different formulations and consistencies. There are self-tanning lotions that start working typically after 6-8 hours of use, and it is also an excellent option for everyday use. There are in-shower tanning lotions too that need to be used when your body is wet. Tanning mists are perfect for all the hard-to-reach areas. Just evenly spray it all over your body by keeping it 12 inches away, and you'll get desirable coverage within a few hours. Self-tanner towelettes which are pre-soaked with self-tanners. You just need to unfold it and wipe it across for an even glow. Other than these, there are self-tanner mousse, serums, and drops available with a lightweight formula that gets instantly absorbed and gives you the perfect glow. With so many options, you can choose a formulation according to your preference.
In the following section, you'll learn about the 20 best self-tanners that are worth trying. Keep scrolling and read ahead!
Best Organic Self Tanners
Pros
  Buildable
  Works on all skin types
  Vegan
 Gluten-free
 Cruelty-free
 Non-toxic
Cons
 May leave streaks on the skin
Pros
 Non-irritating
 Suitable for all skin types
 Sulfate-free
 Paraben-free
 Phthalate-free
 Gluten-free
 Petroleum-free
 Aerosol-free
 Dye-free
Cons
Pros
 Fast-drying
 Streak-free application
 Non-sticky
 Fast results
 PETA approved
 Cruelty-free
 Silicone-free
 Gluten-free
 Vegan
 Paraben-free
 Toxin-free
Cons
If you want that perfectly sun-kissed complexion for your face, try out the St. Tropez Self Tan Purity Bronzing Water Face Mist. It offers instant hydration all year-round. It contains hyaluronic acid to hydrate the skin, hibiscus extract for its antioxidant properties, and green mandarin water to refresh and revive the skin. In addition, this face mist allows a streak-free application, does not have a self-tan smell, and does not rinse off. Just spritz this spray under, over, or without makeup, and you're good to go! Look at this video for the tester's experience and an honest review of the St. Tropez Self Tan Purity Bronzing Water Face Mist.
Key Ingredients: Hyaluronic acid, Hibiscus extract, and Green mandarin water
Pros
 Lightweight
 Streak-free
 Transfer-proof
 Non-comedogenic
 Easy to use
 Vegan
 Cruelty-free
Cons
None
Pros
 Easy to use
 Fast absorbing
 Non-sticky
 Cruelty-free
 Vegan
 Phthalate-free
 Mineral oil-free
 Paraben-free
 Artificial colorant-free
Cons
None
Pros
 Streak-free
 Non-sticky
 Lightweight
 Paraben-free
 Dyes-free
 Gluten-free
 Formaldehyde-free
 Vegan
 Transfer-resistant
 Cruelty-free
Cons
Pros
 Fast-absorbing
 Streak-free
 Cruelty-free
 Paraben-free
 Sulfate-free
 Gluten-free
Cons
None
You can customize the color of your tan by diluting Bahama Tan Sunless Lotion with any moisturizer for a lighter subtle glow or build it up for a more sun-kissed look. This flexibility helps you use this self-tanner according to your mood and need. It contains ecologically certified organic self-tanning product and approved DHA that gives a tinted tan and full coverage that lasts from 4 to 7 days. This natural tanner is made with food-grade preservatives and organic ingredients like shea butter, coconut oil, argan oil, and Monoi de Tahiti oil that moisturize your skin and improve its texture. It is suitable for people with sensitive skin.
Key Ingredients: Shea butter, Coconut oil, Argan oil, and Monoi de Tahiti Oil
Pros
 Suits all skin types
 Streak-free
 Non-GMO
 Vegan
 Gluten-free
 Formaldehyde-free
 Paraben-free
 Dye-free
 Fragrance-free
Cons
Botanic Tree Self Tanner contains 100 % organic ingredients and has a quick-drying formula specially formulated for people with sensitive skin. It contains botanical extracts from apricot, grapeseed, passion fruit, moringa, linseed, coconut, avocado, vanilla, rosemary, arnica flower, and avocado. The shea butter in this tanning lotion provides moisture to the skin. This clean and organic self-tanner for sensitive skin also doubles as a bronzer! It is one of the most affordable natural self-tanners available on the market.
Key Ingredients: Apricot, Grapeseed, Passion fruit, Moringa, Linseed, Coconut, Avocado, Vanilla, Rosemary, Arnica flower, and Avocado
Pros
 100% vegan
 Non-staining
 Cruelty-free
 Non-greasy
 Paraben-free
Cons
 Blotchy and uneven tanning
The Naturena Self Tanner Mousse has a lightweight formula that offers a long-lasting tan. It is enriched with argan oil, jojoba oil, coconut oil, rosehip oil, grapeseed oil, and avocado oil that hydrates and nourishes the skin. Its Advanced Color Complex gives the skin a flawless, sunkissed, bronze finish. This mousse leaves no streaks, blotches, or orange tones after application. This long-lasting organic self-tanner also does not have any fake tan smell.
Key Ingredients: Coconut oil, Rosehip oil, Grapeseed oil, and Avocado oil
Pros
 Lightweight
 Streak-free
 No blotches
 Vegan
 Paraben-free
 PETA approved
Cons
None
Pros
 Offers hydration
 Streak-free
 Non-staining
 No odor
 Travel-friendly
 Vegan
 Cruelty-free
Cons
None
This self-tanning lotion contains organic ingredients that offer anti-aging benefits to the skin while imparting a beautiful golden glow. Vita Liberata Self Tanning Gradual Lotion has ingredients like shea butter and aloe vera. It is a good option for people with dry or sensitive skin. It also contains marula oil, which has omega-6 and omega-9 fatty acids that improve your skin's elasticity. This self-tanning lotion delivers 72 hours of hydration and works as a daily moisturizer for soft and nourished skin.
The certified botanical extracts of lychee, licorice root, and raspberry have anti-inflammatory and antioxidant properties that help your skin look soft and supple. It also uses Odour Remove Technology to ensure that this tanner smells lovely. Use this daily to get your desired shade of tan.
Key Ingredients: Aloe vera, Shea butter, Lychee, Licorice, Raspberry, and Marula oil
Pros
 Anti-aging
 Transfer-resistant
 Paraben-free
 Alcohol-free
 Toxin-free
 Fragrance-free
Cons
The Invisi Foaming Tan Water by Vita Liberata has an organic formula that offers a natural-looking tan without any risk of transfer. It is infused with organic botanical extracts that leave your skin hydrated and nourished. On application, it gets quickly absorbed into the skin and dries fast. It contains glycerin, aloe vera, raspberry, licorice root extract, pomegranate, ginkgo, cucumber, witch hazel, papaya, bladderwrack, melon, grape, vitamin E, and hyaluronic acid.
These ingredients have antibacterial, anti-inflammatory properties, and are rich in antioxidants that reverse signs of aging, offer nourishment, hydration, make the skin firm, and improve your skin's overall appearance. The is a natural-looking organic self-tanner as well as a fast-drying formula that locks moisture for 72 hours. As a result, it provides a long-lasting tan that lasts for up to 7 days.
Key Ingredients: Glycerin, Aloe vera, Raspberry, Licorice root extract, and Pomegranate
Pros
 UV protection
 Non-sticky
 Transfer-resistant
 Fast-drying formula
Cons
None
Pros
 Buildable
 Lightweight
 Fast-absorbing
 Streak-free
 Transfer-resistant
 Reef-friendly
Cons
The Caribbean Sol Beach Colours Natural Self Tanner is packed with moisturizing ingredients and the goodness of natural DHA that helps produce a natural-looking tan. The fragrance-free organic self-tanner formula is enriched with aloe leaf extract, organic shea butter, organic squalene oil, cucumber, mandarin oil, natural sorbate, and natural vitamin E from corn. However, you need to exfoliate your skin for the best results before applying this self-tanner and keep reapplying every 2 days to enhance the tan.
Key Ingredients: Aloe leaf extract, Organic shea butter, Organic squalane oil, Cucumber, Mandarin oil, and Vitamin E
Pros
 Biodegradable
 Chemical-free
 Cruelty-free
 Gluten-free
 Paraben-free
 Dye-free
 Fragrance-free
Cons
If you want an indulgent experience, try out the Josie Maran Argan Liquid Gold Self Tanning Oil that adds the perfect glow to your skin. The formula is a unique blend of 100% pure argan oil that offers intense nourishment to the skin. In addition, natural DHA gives a healthy-looking, bronzed glow with a semi-matte finish.
It comes with a luxurious, plush mitt that gives you a blissful and streak-free application experience. In addition, it has a natural fragrance that feels refreshing.
Key Ingredients: Aloe leaf extract, Argan oil, Green tea extract, Coconut fruit extract, and Apricot kernel oil
Pros
 Long-lasting
 Streak-free
 Vegan
 Cruelty-free
 Paraben-free
 Sulfate-free
 Gluten-free
 Phthalate-free
 Formaldehyde-free
 Mineral oil-free
 Synthetic fragrance-free
 PEG-free
Cons
None
Bahama Tan Control Your Glow Gradual Self Tanner lets you control the intensity of your tan. The customizable aspect of this tanner makes it a popular option in the market for that perfect natural tan. It is made with pure natural and organic ingredients such as safflower seed oil, babassu oil, shea butter, and argan oil. These ingredients moisturize, hydrate, and nourish the skin for a healthy and flawless look. It also contains DHA, a natural tanning agent that is Ecocert approved. Thus, this organic self-tanner for all skin types is great in what it does. In addition, this self-tanner has a natural coconut scent that refreshes your senses. The tan lasts for 4-7 days without leaving any blotches or orange color.
Key Ingredients: Shea butter, Safflower seed oil, Argan oil, and Babassu oil
Pros
 Streak-free
 Lanolin-free
 Paraben-free
 Formaldehyde-free
 Vegan
 Gluten-free
 PABA-free
 Non-comedogenic
 Cruelty-free
 Filler-free
 Mineral oil-free
 Fragrance-free
 Suitable for sensitive skin
Cons
True Natural Self Tan is a go-to product meant for both face and body. This self-tanner is all-natural and free from toxic chemicals. Its formula is enriched with certain fruits, veggies, and naturally occurring sugars to react with the amino acids in your skin… If you're looking for a deeper tan, reapply after every 3-4 hours until you get the desired results.
The tan appears within 3-4 hours and lasts anywhere from 3 -10 days. It also contains natural anti-aging ingredients to help protect your skin. In addition, it hydrates your skin with jojoba oil, aloe vera, and green tea extracts while protecting your skin from environmental damage.
Key Ingredients: Jojoba oil, Aloe vera, Lavender, and Green tea extract
Pros
 Non-streaking
 Cruelty-free
 Vegan
 Paraben-free
 Formaldehyde-free
 Mineral oil-free
 Synthetic color-free
 Petrolatum-free
Cons
None
The Whish Self Tanner is a body butter with natural and skin firming ingredients that keep your skin moisturized. On application, it leaves your skin with a luscious coconut oil smell. It is enriched with goji berry, soap bark extract, and organic pomegranate extracts. It also contains organic shea butter, mango butter, and aloe vera. Kigelia African fruit, seaweed extract, and coffee arabica extracts in the product increases the firmness of your skin. This self-tanner offers a streak-free and radiant glow. Its 2-in-1 formula works gradually to tighten and moisturize your skin.
Key Ingredients: Goji berry, Soap bark extract, Aloe vera, Pomegranate, and Shea butter
Pros
 Suitable for all skin tones
 Cruelty-free
 Paraben-free
 Phthalate-free
 DEA-free
 TEA-free
 Petrochemical-free
 Sulfate-free
Cons
Pros
 Natural fragrance
 Non-streaking
 Cruelty-free
Cons
*The prices provided in this article are based on the latest available information. However, they may vary due to changes in pricing by the seller and/or promotional offers.
This was our list of the 20 best organic self-tanners. Now, here are a few steps on how you can apply a self-tanner.
How To Apply A Self Tanner?
Irrespective of the formula that you choose, the rules of getting an even, sun-tanned glow are the same. The steps are as follows:
Before applying a self-tanner, use a washcloth to exfoliate the skin. An exfoliating product will help you get rid of all the dead skin cells. Thoroughly exfoliate the areas where your skin is thickest, especially on the elbows, knees, and ankles.
After exfoliating and washing your skin, use a towel to pat dry. Drying your skin before you apply a self-tanner allows even application.
Apply the self-tanner in separate sections (such as the arms, then legs, followed by the torso). Then, massage it gently on your skin in a circular motion.
 Wash your hands after each section
Avoid getting orange-colored palms by washing your hands with soap and water after applying the self-tanner to each section of your body.
 Blend at your wrists and ankles
If you want a more natural and even look, lightly extend the tanner from your wrists to your hands and from your ankles to your feet.
Dilute the self-tanner on the knees, ankles, and elbows as these areas absorb more self-tanner than the rest of the skin. Lightly rub those areas with a damp towel or apply a thin layer of lotion on top of the self-tanner.
 Give your skin time to dry
Applying a self-tanner requires time. Wait for at least 10-15 minutes before getting dressed. For the next 3 hours, preferably wear loose clothing and try to avoid sweating.
 Apply sunscreen every day
You still need to protect your skin with sunscreen. Be sure that your sunscreen has SPF 30 or higher, broad-spectrum protection (UVA/UVB protection), and is water-resistant.
Why Trust StyleCraze?
The author of this article, Shiboli Chakraborti, is a certified skin care coach. She loves using organic skincare products and conducted thorough research to compile this list of the best organic self-tanners. She also went through brand websites to study user reviews and analyze the ingredients to pick the perfect ones for her readers. These products are safe and offer a natural-looking glow to the skin.
Frequently Asked Questions
Which organic sunless tanner is the best for me?
Beauty By Earth Self Tanner, Skinerals Californium Sunless Tanning Mousse, and Coco & Eve Sunny Honey Bali Bronzing Foam might be some of the best options to choose from when it comes to organic sunless tanners.
Will these tanners make you look darker over time?
Whether your skin will become darker over time depends on the kind of tan that you're looking for. There are various products to give you a golden or a bronze glow. Some also require reapplication within 2-3 hours to get a buildable tan. Usually, a fake tan lasts for 4-7 days before it fades off.
How long does it take for natural self-tanners to work?
Self-tanners usually take around 8-12 hours to work.
Does fake tan age your skin?
No, fake tanning or using self-tanners in limited amounts does not age your skin. Fake tanning involves 'low level' oxidation that will not cause skin damage and cell aging unless you go overboard. Also, fake tanning products do not harm your skin as long as you do not inhale or ingest the spray.
Does organic self-tanner affect hormones?
No. However, when used excessively (3 to 4 times a week), organic self-tanners containing parabens may cause hormonal imbalances and lead to early puberty or cancer.
Is it safe to use a self-tanner every day?
No. It is safe to use a self-tanner to keep the gorgeous glow, but apply it not more than once a week.
Do self-tanners cause infertility?
No. Although self-tanners are a safe alternative to sunbeds, products with harmful chemicals may pose a health risk.