11 Best Organic Sheet Masks Of 2021 For Hydrated And Plump Skin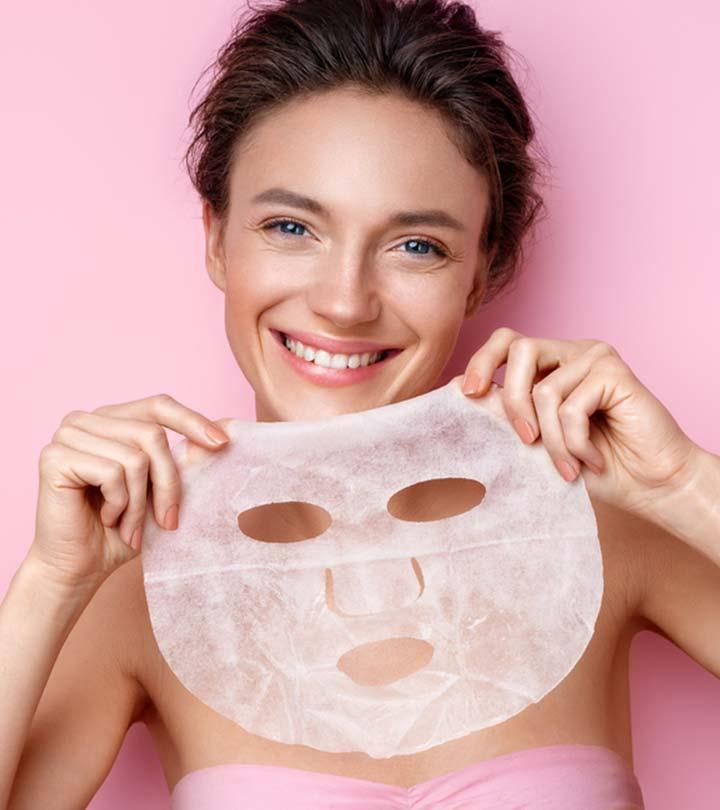 Organic sheet masks are the latest craze in the skincare routine world. For those who may not be rolling with the times, these masks are face-shaped and steeped in nutrition-packed serum, and are typically made from paper, gel, or fiber. In a world of instant gratification, you couldn't ask for anything better as you just have to let it sit on your face, remove it after a few minutes and pat the extra serum on your face till it gets absorbed. Now, who wouldn't want something so convenient and easy to use?
Sheet masks started gaining momentum in countries like Japan and Korea and you will find a  mask for any skin care goal that you wish to achieve.They moisturize, soothe, and soften the skin and some can even exfoliate or clarify your skin, but a sheet mask primarily hydrates your skin. Some masks may contain harmful chemicals, which people are unaware of and that's why it's important to buy sheet masks with organic ingredients. To find the best and safest sheet masks for your face, do check out our reviews of the 11 best organic sheet masks of 2021.
11 Best Organic Sheet Masks Of 2021 For Healthy And Happy Skin
If you thought bright, radiant skin was an impossible dream, get ready to change your mind. This organic sheet mask instantly hydrates and brightens your skin with plant-derived stem cell extracts, hyaluronic acid, and peptides. These ingredients along with vitamin C and E, aloe vera, tomato, edelweiss, and purslane extracts, moisturize and hydrate your skin, leaving it softer, smoother, and healthier. Packed with the benefits of collagen peptides, extracted from seaweed, this natural sheet mask helps to boost skin cell turnover and regeneration. Infused with the nutrients of chamomile extract and ascorbic acid, this beauty face mask helps reduce redness and blemishes, treats acne and inflammation, and soothes your skin. 
PROS:
Cruelty-free
Vegan-friendly
Natural ingredients
Paraben-free
Sulfate-free
Oil-free
Alcohol-free
cGMP-certified
Hypoallergenic
Suitable for all skin types
Made of biodegradable microfiber

CONS:
May not be suitable for super-sensitive or inflamed skin
This cruelty-free sheet mask from Korea repairs your skin and boosts collagen production, which reduces the appearance of fine lines and wrinkles. This product comes in a pack of 8 organic sheet masks. Every pack has 2 aloe, 2 honey, 2 pomegranate, and 2 green tea masks, each of which performs a specific function. Full of vitamin C serum and collagen essence, these masks soothe, moisturize, nourish, rejuvenate, calm, and smooth your skin. They are not sticky and retain moisture for a long time. These masks are ideal for daily use and sensitive skin and should be stored in the refrigerator for best results and to give you the 'spa experience'.
PROS:
Paraben-free
Cruelty-free
Alcohol-free
Fragrance-free
Mineral oil-free
No artificial pigments

CONS:
May leave a residue on the skin
If dry, dull skin has been the bane of your life, don't despair. This hydrating face mask sheet will refresh and moisturize your skin by completely rejuvenating it. These soft and silky bamboo sheet masks are made with natural moisturizing and hydrating ingredients of pineapple, orange, and rose that make your skin supple and radiant. These skin-hugging sheet masks with hyaluronic acid deliver an extra surge of sodium hyaluronate and fruit extracts for that ultimate glow. Each mask is infused with almost an ounce of concentrated serum to pamper your skin. Suitable for all skin types and ages, this organic sheet mask comes in a pack of 5 masks. 
PROS:
No synthetic fragrances
No artificial dyes
Paraben-free
PEG-free
Phenoxyethanol-free
Mineral oil-free
Silicon-free
Sulfate-free
Phthalate-free 
CONS:
May not be suitable for over-sensitive skin
Pining for that dewy glow? Try this nourishing sheet mask out! The Orgaid organic sheet mask is an anti-aging and moisturizing mask that hydrates, balances, and plumps the skin, while combating fine lines and wrinkles. Infused with the goodness of antioxidants, vitamin B3, hyaluronic acid, collagen, aloe vera, and green tea, it works like magic on your skin. It uses the newest generation of ecoderma sheet technology, a hybrid of fabric and hydrogel. This unique and efficient formula by Dr. Baek has been designed after years of research in biomaterial science. 
PROS:
Cruelty-free
Gluten-free
No parabens
No phthalates
No alcohol
No fragrance
No sulfates 
CONS:
Some may find the sheet masks ill-fitting
One of the best hydrating sheet masks, this product comes in a set of 5 masks and improves the elasticity, health, and clarity of your skin. It restores and revives your skin reducing skin fatigue. This organic mask boosts collagen production to fight wrinkles, fine lines, dark spots and crow's feet and improves firmness of skin and complexion. Hyaluronic acid hydrates, soothes and tightens the skin increasing its radiance and resilience. Natural tangerine is a powerful antioxidant, which brightens your skin and reduces redness. Spinach strengthens and renews skin, and revives and repairs damage while blueberry reduces wrinkles and age spots.
PROS:
Organic
Natural ingredients
Vegan
Cruelty-free
No sulfates
No parabens
No phthalates
CONS:
The holes of the eyes are too big
Craving for silky, velvety, and nourished skin? This pure natural sheet mask that comes in a set of 5 masks, helps combat skin discoloration, soothes acne, eczema, and dryness, and tackles wrinkles and age spots. This turmeric mask combines some of nature's best ingredients like collagen, honey extract, ginseng root, licorice root extract, and soybean extract to name a few. Turmeric is known for its anti-Inflammatory properties and also reduces dark circles, protects against sun damage and aging, and reduces the appearance of stretch marks. It stimulates blood circulation to the skin and reduces puffiness of the face, so that you don't wake up in the morning looking like a complete mess. 
PROS:
Cruelty-free
Natural ingredients
No toxic chemicals
Especially good for acne-prone and dry skin
CONS:
This Korean organic sheet mask gives your skin a dewy glow with its powerful hydration that makes your skin moist, supple and smooth. This 95% organic sheet mask is infused with aloe vera leaf extract, pelargonium graveolens oil, bergamot fruit oil, lavender oil, xanthoxylum piperitum fruit extract, pulsatilla koreana extract, usnea barbata extract, lemon peel oil and is designed to boost collagen production and help in tightening your pores. It also helps in combating dark circles, sun damage, wrinkles, and fine lines. These all-natural tencel sheets are more absorbent than cotton and softer than silk and are 100% biodegradable. 
PROS:
Vegan
Cruelty-free
No toxins
Paraben-free
No synthetic preservatives
No artificial fragrance
Suitable for all skin types
CONS:
Some may find it slightly greasy
Be the most beautiful version of yourself with this pack of all-natural sheet masks. You can choose between 3 rose serum masks that contain rose extract and trehalose or 3 hyaluronic acid serum masks that are infused with panthenol. To nourish, brighten and improve your complexion there are 3 vitamin C serum masks that contain 3-o-ethyl ascorbic acid and citric acid. And finally, 3 retinol serum masks infused with betaine that have firming and anti-aging properties. These organic facial masks are made of Japanese ultra-fine fiber membrane cloth that is light, breathable, silky, and absorbs a lot of serum. The plant extracts in this mask solve the problem of dry, dull skin, restore the  elasticity, and moisturize and repair the skin. These masks effectively remove roughness and fine lines caused by dryness. 
PROS:
Vegan
Hypoallergenic
Cruelty-free
Alcohol-free
Non-greasy
Absorbs quickly
CONS:
Some may find the scents intense
If your skin has been letting you down, fret no longer and instead try this black carbon facial mask which comes in a pack of 10. This organic Korean sheet mask contains natural bletillae, a high-grade natural antioxidant, considered to be 34 times better than ginseng and organic rose extract. Its creative DIP-soft tech allows the serum to be absorbed quickly, improving skin health, while reducing fine lines, wrinkles, dark and sun spots, and maintaining the balance of water and oil, making your skin glow. Made from Japanese black carbon fiber film cloth, it absorbs excess oil, detoxifies skin, and removes blackheads. The soft and breathable microporous film of the mask can absorb upto 20 times its own weight and is able to hold a lot of serum. 
PROS:
Vegan
Paraben-free
No heavy metals
Cruelty-free
Alcohol-free
No surfactants
Hormone-free
Preservative-free
CONS:
May not be best suited for those suffering from eczema or inflamed skin
Get ready for a rosy, fresh look with this natural organic face mask that contains rose flower extract, corn gluten amino acids, sodium hyaluronate, and natural fruit oils rich in vitamins. This mask provides abundant moisture and nutrition to your skin, making it soft, smooth, bright, and resilient. It effectively neutralizes and repairs the damage caused by free radicals and the harmful UV rays of the sun. It improves the elasticity of the skin by boosting collagen production resulting in firmer skin and a more youthful appearance. Get ready to greet the world with roses in your cheeks! 
PROS:
Cruelty-free
Organic
Natural ingredients
Suitable for all skin types
CONS:
Some may not find the fragrance desirable 
We don't always have the time or resources to go for an indulgent spa treatment, so do try one of the best sheet masks for dry skin for a very similar experience. Myrrh essential oil, since ancient times has been known for its detoxifying, purifying, and anti-inflammatory properties. Clary sage extract too is considered magical for its skin-calming properties. Betaine, a sugar beet extract, helps skin capture and retain moisture while linseed extract is a powerhouse of skin-nourishing omega-3 fatty acids, vitamin B, proteins and minerals. This organic sheet mask hydrates your skin intensely and softens rough, tight, and dehydrated skin, making it an excellent mask for dry climates. The sheet masks are crafted from certified-organic cotton and are extremely absorbent so every last drop of serum is soaked up. Suitable for all skin types, this product rejuvenates and invigorates your skin. 
PROS:
Cruelty-free
Toxin-free
Vegan
Paraben-free
Sulfate-free
Phthalate-free
Fragrance-free
Gluten-free
CONS:
Now that you have been through our reviews of the 11 best organic sheet masks of 2021, here are a few pointers on how to choose the best organic sheet mask for yourself. 
How To Choose The Best Organic Sheet Mask 
For any skin care product, it's extremely important to first identify your skin type,otherwise you might do yourself more harm than good.
For dry skin, a face mask with honey, glycerin, lecithin, propylene glycol, and hyaluronic acid would work wonders as it draws water into the outer layer of the skin.
For acne-prone skin, calming ingredients like aloe vera and oatmeal would help control sebum, which would mean less pimples and acne for smoother skin.
Those with oily skin should opt for sheet masks with kaolin clay, tea tree, charcoal and citrus essential oils.
If you have normal skin, treat yourself to something brightening, like masks that incorporate fruits like papaya, pineapple, and lime and also nutrients like vitamin C, azelaic acid, and kojic acid.
For sensitive skin it's advisable to choose herbal ingredients such as aloe vera, and green tea .
The material of the mask adds to the sensory experience. All materials do not hold the serum as well as others. A serum with a creamier and thicker texture would not hold well in a thin cotton sheet mask, and the mask might just disintegrate. Masks made of gel or plant pulp adhere better to the face and do not drip serum all over the place. Some Korean masks are made of materials like cupro fibers, which work much better than regular cotton masks.
How Sheet Masks Work
A sheet mask is steeped in concentrated serum, which consists of many beneficial ingredients such as hyaluronic acid and vitamins. These ingredients are dissolved in a water base and the sheet prevents the quick evaporation of the liquid and thus extends the time that the ingredients can be absorbed into the skin. This is what makes them so effective and convenient to use. It shows almost immediate results as the serum is packed with various vitamins and minerals, and doesn't dry out the skin as compared to regular face masks. The sheet helps the serum to soak into your skin and brighten and firm your skin. Sheet masks are much cheaper as compared to going to a spa while it gives you the same results.
Instant gratification is what you get with organic sheet masks. It takes your skin from being lifeless and dull to hydrated and glowing in just a few minutes. This makes them ideal for a quick fix just before events or to just boost your look for your regular day. But they do offer long-term benefits too.They contain a potent mix of ingredients that moisturize, soothe, and soften the skin. They are perfect for any time of day and can be applied even before or after removing makeup. Of course, there are different sheet masks for different skins and different problems that you are targeting, and we hope our review will help you make the right choice.
Frequently Asked Questions
Do sheet face masks really work?
This would totally depend on the ingredients in the mask. And it would also depend on the particle size of the ingredients, and its concentration, and whether it can be absorbed by the skin. Sheet masks work well because they prevent the quick evaporation of water and so the ingredients stay on the skin longer and there is better absorption and hydration.
Can you use sheet masks everyday?
Yes, sheet masks can be used daily but it depends on the ingredients in the mask. A mask containing glycolic acid should not be used everyday. It is always best to follow the instructions given on the product.
Can sheet masks clog pores?
Some ingredients like coconut oil or eggs may clog your pores. Sheet masks in general cause occlusion or sealing of the skin. When this happens, the sheet masks can increase the temperature of your skin, which is not desirable if you are prone to breakouts.
The following two tabs change content below.