15 Best Organic Toners Of 2022 For Healthy And Bright Skin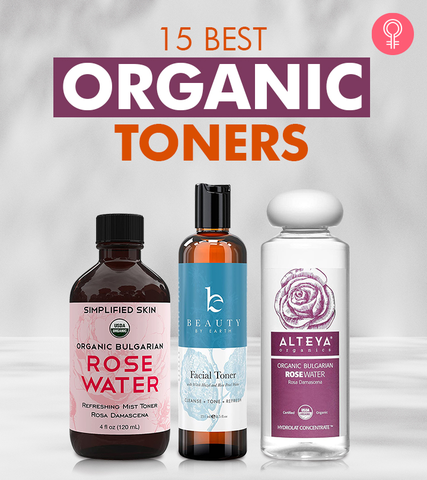 Toners are water-based skin care products essential for your skin care routine and improving overall skin health. A good toner helps restore the pH balance, minimizes pores, and adds a layer of protection. Many people nowadays are making conscious choices about their skin care and beauty products; it is time for you to ditch your regular toners and switch to the best organic toners. Organic toners are enriched with natural and botanical extracts, and they have a lightweight and soothing formula that delivers essential nutrients to your skin while keeping it hydrated. Here, we have curated a list of the 15 best organic toners that are an absolute must-have. Keep scrolling!
15 Best Organic Toners
The anti-aging Simplified Skin Organic Bulgarian Rose Water is free from allergens and drying alcohol. This toner naturally hydrates your skin and maintains its pH levels. It is rich in antioxidants that revitalize and moisturize your skin, leaving a refreshed look. The toner contains USDA-certified 100% organic rose water. It soothes the skin and can be used for aromatherapy, as a makeup setting spray, and as a natural makeup remover.
Skin Type: Oily, Dry, Normal, and Combination
Pros
pH Balancing
Non-irritating
Cruelty-free
Paraben-free
Sulfate-free
Gluten-free
Artificial fragrance-free
Cons
None
The Revive TrueSkin OM Ocean Minerals Supertoner is dermatologically tested and formulated with antioxidants that give refreshed, healthy skin. It has ingredients like MSM, a sulfur compound that increases collagen production and improves skin elasticity. The toner has glycolic acid that exfoliates the skin, and vitamin C neutralizes free radicals and boosts skin radiance. In addition, aloe vera and witch hazel nourish your skin, while Matrixyl 3000 promotes skin elasticity. This toner is enriched with ocean minerals to revitalize your skin.
Skin Type: Dry, Normal, Oily, Combination, and Sensitive
Pros
Cruelty-free
Dermatologically tested
Vegan
Paraben-free
Sulfate-free
Phthalate-free
PEG-free
Cons
None
The therapeutic Alteya Organics Bulgarian Rose Water is formulated by a unique distillation technique that preserves the essence of the organically grown and ethically harvested rose petals. The rose water rejuvenates, energizes, and uplifts your skin and can be used after cleansing, exercising, or sun exposure. It is an ideal toner to soothe and calm sensitive and irritated skin.
Skin Types: All
Pros
USDA certified
pH balanced
Anti-aging
Vegan
Gluten-free
BPA-free
Cons
Contains artificial fragrance
Expensive
The soothing and antioxidant-rich Poppy Austin Rose Water Hydrating Toner is a perfect addition to your skin care regimen. It is made of pure, organic, distilled, and unrefined Moroccan rose water, reducing redness and irritation. It also cleanses excess oil from your skin and gives an even skin tone. It unblocks stubborn pores and diminishes blackheads and pimples. The chemical-free formulation of the toner is ideal for sensitive skin and people with conditions like eczema and rosacea. In addition, this toner gives a natural, healthy, and dewy glow.
Skin Type: Combination, Dry, Oil, and Normal
Pros
pH balanced
Handmade
100% organic
Vegan
Cruelty-free
Cons
The Beauty By Earth Facial Toner is formulated to make your skin feel refreshed and blissful. It contains witch hazel, rose water, glycerin, aloe vera, and cucumber that soothe your skin, moisturize, and promote cell regeneration. It balances your skin's pH level and has anti-inflammatory properties to nourish the skin and improve its texture. The toner also reduces redness and inflammation, leaving a fresh, spa-like feel.
Skin Type: Acne-prone and Oily
Pros
pH balanced
Paraben-free
Gluten-free
GMO-free
Cons
None
Are you looking for an all-in-one toning solution? The Insta Natural Age-Defying & Skin Clearing Toner is a multipurpose toner that reduces fine lines, unclogs pores, and preps your skin for maximum serum absorption. It has tea tree essential oil, niacinamide, and MSM to target breakouts and balance excess oil. The toner contains vitamin C and hyaluronic acid to hydrate and brighten your skin. In addition, this purifying facial mist reduces blemishes, discolorations, and redness.
Skin Type: Acne, Oily, and Combination
Pros
pH balanced
Cruelty-free
Paraben-free
SLS-free
SLES-free
Mineral oil-free
Petroleum-free
Synthetic-free
Polyethene glycol-free
Formaldehyde-free
DEA/MEA/TEA-free
Cons
None
The Ecla Skin Care Rose Water Spray Mist moisturizes and revitalizes your skin. It is made of organic Moroccan rose water, a natural astringent that strengthen and regenerate skin cells. It reduces puffy eyes and dark circles. The argan oil and rose water in the toner reduces acne and soothes your skin. The formula refines your complexion and enhances the effectiveness of skin care products. This antioxidant-rich toner strengthens your skin's barrier and protects it from damage.
Skin Type: All
Pros
Lightweight
GMO-free
Cruelty-free
Chemical-free
Cons
Contains propylene glycol
The Art Naturals Skincare Vitamin C Toner hydrates and brightens your skin. It contains witch hazel and vitamin C that exfoliates your skin and tightens the pores while combating free radicals and aging signs. It also has tamanu oil, carrot oil, and noni extracts to balance your skin's pH levels and tighten it. The toner controls excess sebum production and refreshes your skin. Aloe vera in the toner soothes dehydrated skin and leaves it soft and refreshed. The toner does not contain any harmful chemicals or harsh ingredients that can damage or irritate your skin.
Skin Type: Dry, Oily, Normal, and Combination
Pros
Cons
The SVA Organics Rose Water has excellent calming and nourishing benefits. It keeps your skin fresh, glowing, youthful, soft, and supple. The toner contains 100% natural rose water that minimizes the appearance of pores, eliminates excess oil, and preps your skin for better absorption of moisturizer or serum. This rose water has therapeutic qualities and can be used as a great makeup remover.
Skin Types: All
Pros
Cons
None
The Mamonde Rose Water Toner has a lightweight formula suitable for all skin types. This Korean skin care product soothes and calms the skin. Its main ingredient is rose damask water that improves overall skin health. In addition, its anti-inflammatory properties refresh, purify, and rejuvenates your skin. The toner also contains lactic acid that reduces hyperpigmentation and age spots to brighten the skin.
Skin Types: All
Pros
Vegan
Alcohol-free
Mineral oil-free
Polyacrylamides-free
Imidazolidinyl urea-free
Triethanolamine-free
Synthetic Colorant-free
Silicone-free
Paraben-free
Cons
None
The vitamin C and witch hazel enriched Body Merry Super C-22 Toner has a skin brightening effect. Its non-oily formula gets easily absorbed into your skin. The toner contains green tea, aloe vera, and MSM to detoxify, cleanse, and hydrate your skin. Vitamin C in the toner gently removes excess oil and dirt, leaving youthful skin. It rejuvenates dull and tired skin by restoring pH levels. This cruelty-free product gives you soft, supple, brighter, and clearer skin.
Skin Types: Dry and Acne-prone
Pros
Oil-free
pH balanced
Cruelty-free
Cons
None
The Cocokind Raspberry Vinegar Toner is specifically formulated for oily and acne-prone skin. It has raspberry vinegar that heals your skin and controls excess sebum. The acetic acid in the toner has anti-microbial properties and soothes common skin issues. The toner is rich in antioxidants that reduce irritation and inflammation. It purifies and unclogs pores by removing excess oil from your skin. This toner does not strip away the natural moisture from your face and provides light hydration.
Skin Types: Oily and Acne-prone
Pros
Cons
None
The dermatologically-tested Humphreys Witch Hazel Organic Toner is an excellent product for refining and restoring your skin. It has witch hazel that cleanses clogged pores and gives you clear skin. It removes excess oil and gives you clean and balanced skin.
Skin Types: All
Pros
Mild
Dermatologist tested
Fragrance-free
Soap-free
Dye-free
Paraben-free
Sulfate-free
Phthalate-free
Gluten-free
Cons
None
The Pura d'or Professional Organic Rose Water has a fresh scent and offers you radiant and moisturized skin. It is made of the finest quality of roses that are cultivated in plantations at high altitudes. This product gives you flawless, youthful skin by repairing your damaged skin and reducing the visible signs of aging. It cleanses pores and reduces blackheads and acne. You get moisturized, pH-balanced skin with regular usage of this toxin-free product.
Skin Types: Acne-prone
Pros
Cons
None
The dermatologically-tested Melixir Vegan Balancing Toner contains green tea leaf extract to maintain your skin's pH balance. It soothes and hydrates your skin, reduces redness, and calms irritated skin. In addition, it repairs uneven texture and offers vibrant and youthful skin.
Skin Types: Sensitive
Pros
Vegan
Dermatologically- tested
Sulfate-free
Phthalate-free
Paraben-free
Cons
Read the next sections to learn the advantages of using an organic toner.
What Are The Benefits Of Using An Organic Toner?
Organic toners are free from harmful chemicals that can irritate your skin. They have a pH-balanced formula that helps maintain your skin's optimal pH. Other benefits of organic toner include hydration, rejuvenation, minimizing pores, and getting rid of your skin's excess dirt and oil. A good toner helps in preparing your skin so that other products can absorb easily into your skin.
If you want to know how to use an organic toner, keep scrolling,
How To Use An Organic Toner
Step 1. Washing your face with a good cleanser and pat it dry.
Step 2. Pour the toner on a clean cotton ball or pad.
Step 3. Pat the cotton ball or pad on your skin. Do not rub.
Your skin is now ready to absorb other skincare products. Given below is the list of ingredients to avoid in toner.
Ingredients To Avoid In Organic Toner
Alcohol denat
Paraben
Sulfate
Synthetic preservatives
Heavy metals
Pesticide
Artificial dye and fragrance
Phthalate
Polyethylene glycol
Formaldehyde
Triclosan
There is no perfect way to choose the best organic toner, but consider the following pointers before choosing an organic toner for themselves.
How To Choose the Best Organic Toner
1. pH Balanced Formula
The healthy pH for skin is 5.5. So, choose a pH-balanced toner and helps maintain the acid mantle of the skin.
2. Check Ingredients
Choose a plant-based formula that can soothe and hydrate the skin. You can look for ingredients like witch hazel, tea tree, rose water, and aloe vera. These ingredients cleanse your pores, reduce sebum production, inflammation, and can help calm irritated, acne-prone, and oily skin.
3. Avoid Chemicals
Avoid alcohol-based toners, as they dry out your skin and strips off the moisture. Excessive dryness often triggers sebum production and leads to breakouts. Avoid harsh chemicals such as parabens, sulfates, artificial fragrances, dyes, and silicones.
Why Trust StyleCraze?
Shiboli Chakraborti, the author of this article, is a certified skin care coach. Her passion lies in reading and creating comprehensive beauty content to help her readers find the best products for their skin. Her extensive research about organic toners and their user feedback has helped her choose the best options available in the market. These natural toners are lightweight and have a soothing formula.
Recommended Articles