12 Best Oribe Products For Styling Your Hair – Top Picks Of 2023
Unlock clean, refreshed, and bouncy mane with this range of hair care products.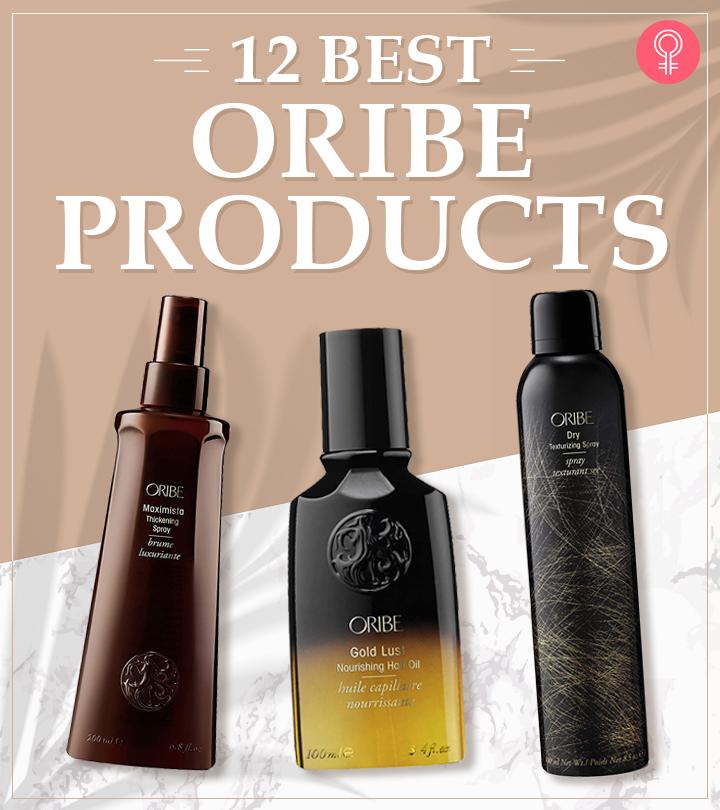 If you are stuck in a dilemma about which brand to trust for taking care of your delicate tresses, Oribe products are your sweet answer. The best Oribe products are formulated using high-end ingredients so that hair is left looking clean, refreshed, and full of life. From shampoos, conditioners, hair sprays, and more, their line of dermatologist-tested hair care products ensures your locks are taken care of. It is not only a celebrity favorite but hairstylists all over the globe also swear by them. If you too can't wait to get your hands on these clinically-tested products, check our list of the 12 best products by Oribe right away so that your hair looks like you just walked out of the salon after a glam pampering session.
12 Best Oribe Products For Styling Your Hair
If your hair needs some extra texture and hold, try out the Oribe Dry Texturizing Spray. It acts as a dry shampoo and absorbs the excess oil from your roots. It is a lightweight volumizing spray that is formulated with patent polymers, antioxidants, mango extract, and aloe extract that leave your hair perfectly styled for days. Pro-vitamin B5 effectively thickens and conditions your hair. This spray is safe to use on colored and keratin-treated hair. It helps your tresses stay voluminous, silky, and smooth throughout the day. Watch this video to learn about the reviewer's experience of the product.
Pros
Adds volume and texture
Absorbs excess oil
Lightweight
Long-lasting
Vegan
Paraben-free
Sulfate-free
Cons
Price at the time of publication: $24.0
Get irresistible fullness in your hair with the Oribe Maximista Thickening Spray. This concentrated volumizing hairspray is infused with amino acids that add volume to thin and damaged hair instantly. This Oribe spray also protects your hair from the harmful UV rays.
Pros
Adds volume instantly
Offers thermal protection
Protects hair from the harmful UV rays
Safe for chemically treated hair
Suitable for thin and damaged hair
Cons
Price at the time of publication: $39.0
Take your hair to new heights with the Oribe Gold Lust Repair & Restore Conditioner. This repairing conditioner works well on all hair types. It transforms your frizzy and damaged hair into smooth and shiny tresses with a formula enriched with argan oil, biotin, niacinamide, amino acids, and Mediterranean cypress extracts. This hair smoothing conditioner provides restorative care and deep moisturization, strengthens the roots, and adds a healthy shine to your mane.
Pros
Reduces frizz
Treats damaged hair
Offers deep conditioning
Protects hair from the UV rays
Smoothens hair cuticles
Reduces split ends
Cruelty-free
Suitable for all hair types
Cons
Price at the time of publication: $182.0
Using a good hair oil is the best way to provide your scalp with some intense nourishment. The Oribe Gold Lust Nourishing Hair Oil profoundly conditions and nourishes your hair and imparts a healthy shine to it. It is formulated with natural ingredients like jasmine, edelweiss flower, lychee, sandalwood, cassis, bergamot, argan extracts, and shea butter.
This nourishing, shine-enhancing hair oil is a Winner of the Knot's Beauty Awards for Anti-Frizz in 2013 and Health.com's Health Beauty Awards for the 8 Best Hair Products of 2013. The formula works effectively on damaged and color-treated hair. It also acts as a shield to protect your hair against all the harmful environmental pollutants and UV rays. This video will give you more insights into this award-winning product and the tester's experience of using it.

Pros
Lightweight
Adds shine
Premium ingredients
Strengthens the hair
Nourishes the hair
Sodium chloride-free
Cons
Price at the time of publication: $57.0
Oribe Signature Shampoo is housed in a shiny black bottle. It is gentle on your scalp and ideal for daily use. Its silky, smooth formula glides effortlessly through the strands and leaves your hair feeling supremely soft and manageable. This damage repair formula is infused with nourishing ingredients like herbal extracts, amino acids, shea butter, keratin, jojoba, and panthenol that combat frizzy and damaged hair while preventing further damage. To make an informed decision before buying, you can check out this video and learn about the tester's experience of using the product.

Pros
Softens the hair
Makes hair manageable
Prevents further hair damage
Repairs and protects the hair
Cons
Not suitable for all hair types
Price at the time of publication: $46.0
Oribe Foundation Mist is a lightweight hair spray that is perfect for styling and exploring new hair looks. This conditioning spray is enriched with green tea extracts, pro-vitamin B5, geranium, lavender, and chamomile extracts that build hair shine and detangle the strands effortlessly. It also provides anti-static thermal protection. Its multi-layered UV Protection System delivers long-lasting UV protection and protects your gorgeous locks from the sun's harmful rays.
Pros
Lightweight
Conditions the hair
Offers thermal protection
Reduces frizz
Provides long-lasting UV protection
Cons
Not suitable for curly hair
Price at the time of publication: $32.0
Give your hair intense moisture and control with the Oribe Cleansing Creme For Moisture & Control. It has a non-foaming formula that settles on your hair and gently cleanses the scalp. Your scalp gets that ultra-pampered feeling. Its creamy formula includes purifying oils, citrus fruit extracts, and refreshing water-mint essence. This cream effectively protects your hair from frizz and damage, keeps the hair color intact, and restores moisture. Reviewers on Amazon praised the product for its ability to restore moisture into the hair and eliminate frizz simultaneously.
Pros
Non-foaming formula
Frizz control
Nourishes the hair
Removes build-up
Offers UV protection
Dermatologist-tested
Cons
Price at the time of publication: $46.0
Oribe Masque For Beautiful Color is a hydrating hair mask. It has a potent formula that contains ceramides, watermelon extracts, edelweiss flower extracts, wild mango butter, and keratin. It is formulated for damaged and frizzy hair. It also offers color protection, cuticle-enriching conditioning, and UV filters. Get salon-quality hair in the comfort of your home with this hair mask.
Pros
Conditions the hair
Provides color protection
Protects hair from sun damage
Suitable for damaged and frizzy hair
Cons
Price at the time of publication: $63
Do you have gray or white hair? Get more vibrant and radiant locks with the Oribe Silverati Shampoo. Its concentrated formula includes a blend of blue and silver pigments that brighten gray locks. It also contains nourishing ingredients such as watermelon, lychee, and edelweiss flower extracts, coconut oil, and antioxidants rich in keratin that protect your hair from free radical damage. Based on various Amazon reviews, the product has received positive feedback for making the hair look more vibrant.
Pros
Gently cleanses the hair
Does not dry out the hair
Brightens gray hair
Protects hair against environmental pollutants
Cons
None
Price at the time of publication: $46.0
Maintaining curly hair can be tricky, and not every product suits this particular hair type. Oribe Curl by Definition Crème is here to be your savior. The silky, jelly-like texture of this hair cream gives you manageable curls. Its formula contains macadamia, neem, and apricot oils that provide intense moisturization and detangle your strands. This hair cream does not make your hair feel crunchy, and it prevents further breakage. A minimal amount of this moisturizing cream gives you ultra-shiny, well-defined curls.
Pros
Suitable for curly hair
Locks in moisture
Tames frizzy curls
Prevents breakage
Offers UV protection
Dermatologist-tested
Cons
Oribe Sculpting Cream is suitable for both men and women. It offers medium-to-firm hold and works ideally for all hair types, be it loose waves or tight curls. Its formula is non-sticky, and it does not leave your hair with a crunchy feeling after application.
Pros
Offers UV protection
Suitable for both men and women
Lightweight
Offers humidity resistance
Non-sticky
Cons
Not suitable for professional styling
Do you want your beautiful red, blonde, or brown highlights to look stunning all the time? Oribe Glaze For Beautiful Color has got you covered. This color-safe product instantly adds shimmer and shine to your highlighted strands and smoothens them from the roots. Its formula is a gentle combination of quinoa protein, Brazil nut, watermelon, lychee, and Edelweiss flower extracts.
Pros
Suitable for highlighted hair
Adds shine
Gentle formula
Smoothens the hair
Cons
None
Price at the time of publication: $58.0
Oribe hair products offer many benefits. Expert hair professionals rely on Oribe products as they are formulated with natural ingredients and do not contain any harmful chemicals. "I love the color shampoo and conditioner. The dry shampoo is AMAZING! I can go on and on raving about this brand's product lines," says Alicia Igess Jones, a professional hairstylist. Check out all the benefits of Oribe products in the next section.
Benefits Of Using Oribe Products
Oribe hair sprays add instant volume to your hair. They work like dry shampoo and absorb all the excess oil from your scalp. You can use these volumizing sprays before styling your hair. They also make your hair manageable and smooth.
Oribe products – like the Maximista Thickening Spray – lift your hair from the roots and hold it in place all day long. They also do not damage your hair.
Suitable For Working Professionals
If you work a regular 9-to-5 job, you may not have enough time to pamper or style your hair in the morning. Oribe hair products act as a quick-fix. They tame frizz and flyaways in minutes, Oribe products will help you.
Takes Proper Care Of Your Hair
Oribe has a range of products for every hair type and hair problem. Their range of products includes hair oils, shampoos, hair masks, conditioners, and sprays. Each of these dermatologist-tested products makes your hair shiny, bouncy, and smooth and shows visible results within weeks of regular usage. Plus, this hair care brand does not use ingredients or products that are tested on animals.
Oribe hair products can be used to create multiple hairstyles – be it long, short, or medium and straight, curly, or wavy hair. We have listed some tips on how to use Oribe hair products for creating different hairstyles. Check It out below!
How to Style Your Hair With Oribe Hair Products
Step 1 – Wash Your Hair With Oribe Shampoo And Conditioner
Before you begin trying out new hairstyles, wash your hair with an Oribe shampoo and conditioner. Pick the products according to your hair type. However, it is always suggested to do a patch test before using the formula to avoid any potential allergic reactions.
Step 2 – Prep Your Hair
Use the Oribe Foundation Mist to prep your hair before you proceed with styling. This mist will hold your hair in place for a long time. It also provides UV protection.
Step 3 – Use An Oribe Styling Cream
Oribe Creme For Style works like a leave-in conditioner for thick and heavy hair. It is a lightweight cream that adds firm and flexible hold and volume to your hair. This product also provides UV protection.
Now you can use a blowdryer, curling iron, or straightener to style your hair. But, don't forget to pair your styling tool with the Oribe Maximista Thickening Spray. This spray will improve your hair texture and add extra volume. Divide your hair into small sections, spray it from the roots to the tips, and style accordingly.
Frequently Asked Questions
Is Oribe cruelty-free?
All Oribe products are 100% cruelty-free and vegan. They stand against animal testing.
What is the best Oribe shampoo?
Oribe Signature Shampoo is one of the best shampoos.
Do all Oribe products smell the same?
All Oribe products contain the same signature scent – Côte d'Azur. It is an exclusive scent that leaves your hair smelling sensuous.
Does Oribe have protein?
Yes, Oribe contains plant-based proteins. For instance, the Oribe Glaze for Beautiful Color has quinoa protein.
How often should you use Oribe shampoo?
Use Oribe shampoo 1-3 times a week to remove excess buildup from the scalp and nourish the hair.
What is the PH level of Oribe shampoo?
The pH level of the Oribe shampoo is between 4.5 to 5.5.
Do Oribe products contain silicone?
No, Oribe products do not contain silicones or sulfates.
Is Oribe sustainable?
Yes, Oribe products are made with sustainable packaging. They have refills to cut down excess plastic usage.
Recommended Articles