Best Oriflame Lip Glosses Available In India – Our Top 10
Highly glistening formulas that glide easily and offer baby-soft lips.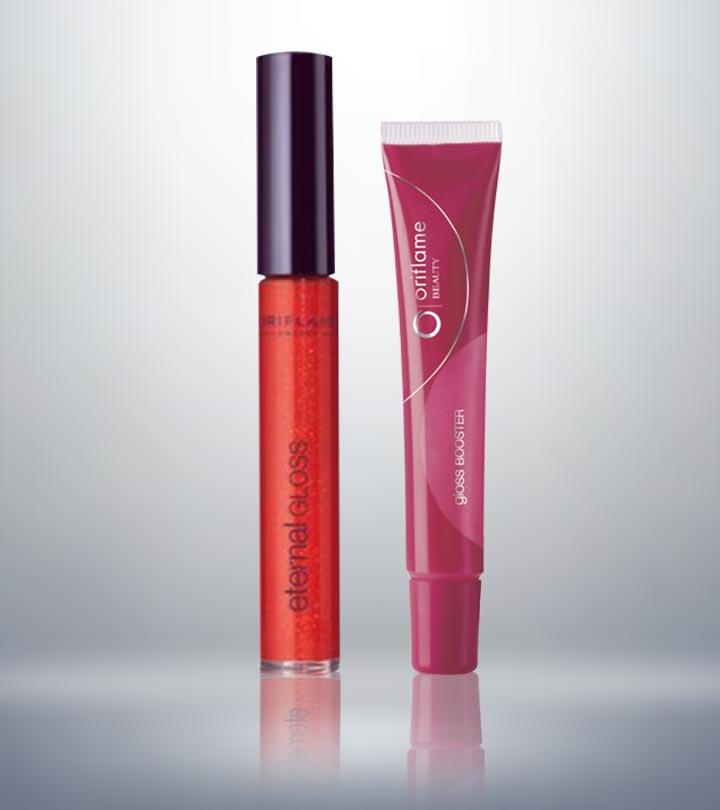 Applying lip balm, lipstick and then a top sheer coat can be really crazy but not anymore as Oriflame has some amazing lip gloss range which can give you lipstick like pigmentation, lip balm like moisturizing and top-coat like shine. Not only that the oriflame lip gloss shades are also any and appealing!
Here we are presenting top-10 Oriflame lip gloss from their different ranges.
Coral is the latest craze that is getting popular amongst ladies and this lip gloss from Oriflame is a reddish shade of orange as the name suggests. The packaging is very elegant and it is highly pigmented and one swipe is enough to get the desired color. It adds sheen to lips and gives shiny finish to them. If you are coral fan then this is worth trying.
Finding the perfect red color is really difficult but not anymore as Oriflame has introduced their new lip glosses and it is available in red color too. The color is 'blood red' as the name says and it gives glossy finish to lips and is highly pigmented. The staying power is just amazing and it stays for 5-6 hours without fading, which is commendable. The packaging is really good and it comes with a flocked doe-foot applicator that gives a flawless touch.
3. Oriflame Very Me Click it Lip Gloss-Raspberry:
This lip gloss is of pinkish shade as the name says and it glides smoothly on lips. The applicator is of good quality and it helps in application. It stays for 4 hours on lips and then it leaves a pink tint behind. It is creamy but doesn't bleed or settle in fine lines. It adds shine to lips and also contains light shimmers which are not over powering at all.
4. Oriflame Very Me Liptastic:
This lip gloss comes in a cute tube packaging and the fragrance is similar to strawberry. It adds shine to lips and keeps them moisturized. It is a sheer gloss so you can use it with any of your lipstick to add an immense shine. It stays for 5 hours and you cannot expect more from a sheer lip gloss.
5. Oriflame Maxi Lip Gloss Pink:
This gloss from Oriflame comes in a classic packaging with a wand applicator which is easy to handle. It gives a subtle pink color to lips which makes it perfect for daily use. It stays for 3 hours and keeps lips moisturized for 5 hours which is quite amazing. It also gives plumping effect to lips and comes at an affordable price.
As the name says, it is a red color lip gloss which is pigmented and will cover pigmented lips in just one single swipe. The texture is creamy and thus it glides smoothly on lips and does not settle in fine lines. It stays for 3 hours but keeps lips hydrated for more than 4 hours which is really amazing. If you're looking for a red lip gloss then your search can end here.
7. Oriflame – Very Me Oh My Lipgloss in Sweetie:
This gloss shade is 'light coral' which can be buildable according to your preference. It moisturizes your lips and keeps them hydrated for 3 hours. The gloss adds an immense shine to lips and it also contains light shimmers which are not over the top. The formula is light weight and non-sticky.
8. Oriflame Gloss Booster Sugar Glaze:
This lip gloss shade is sheer and thus it can work as a top coat for matte lipsticks or you can wear it alone too. The fragrance is mouth watering and it gives glossy finish to lips. It stays for 3 hours and is perfect for creating nude looks as it makes lips look fuller and healthy. The packaging is done in tube which is travel friendly.
9. Oriflame Beauty Power shine-soft Coral Lip Gloss:
The lip gloss comes in a transparent cylindrical tube which is travel friendly and looks chic. The shade is sheer and if you swipe it multiple times, you can see a 'light pink' shade. It stays for 2-3 hours without meals and adds a healthy shine to lips. It smells of watermelon juice and the fragrance stays for quite some time. It also contains glitter but they do not look OTT.
10. Oriflame Power Shine Lip gloss – Trendy Berry:
This oriflame gloss comes in a glass packaging with a glossy silver cap which looks attractive and classy. It has a gorgeous berry shade with lots of shimmer in it but it doesn't look over-the-top or tacky. The formula is creamy and thus it also moisturizes lips. This lightweight lip gloss does not feel sticky on lips. It stays for 4 hours with light meals in between which is really good.
*Subject to Availability
Have you tried any Oriflame lip gloss? Do comment! Stay gorgeous.
Frequently Asked Questions
What are the key benefits of using Oriflame Lip Glosses?
The key benefits of using Oriflame Lip Glosses include high shine for a glossy finish, moisturizing properties to keep lips hydrated, a wide range of colors for diverse looks, and the inclusion of some formulations that may contain nourishing ingredients like vitamins or oils.
Do Oriflame lip glosses have a wide applicator for precise application?
Yes, the wide applicator helps to evenly distribute the gloss, ensuring an even and consistent coverage. This also makes it easier to apply lip gloss without the need for additional tools like lip brushes.
Are Oriflame lip glosses suitable for sensitive lips?
The products are formulated to be gentle on the lips, making them suitable for sensitive lips. However, make sure to check individual product ingredients if you have specific sensitivities or allergies.
Are Oriflame Lip Glosses long-lasting and smudge-proof?
Oriflame Lip Glosses are long-lasting and smudge-proof but their longevity may vary depending on the specific formulation. For instance, the Oriflame Beauty Power Shine may last up to 4 hours, while the Oriflame Eternal Gloss Timeless Red may last up to 6 hours.
Are there any potential drawbacks or cons associated with using Oriflame Lip Glosses that I should be aware of?
While the brand generally offers many advantages, potential drawbacks could include stickiness or a heavy feeling on the lips, and some formulations might require more frequent reapplication compared to other lip products. Try product samples to find the best fit for your preferences.
Recommended Articles
The following two tabs change content below.