11 Best OTC Acne Treatment Products That Reduce Breakouts – 2023
For the beautiful, flawless skin of your dreams, you must have the right ingredients at hand,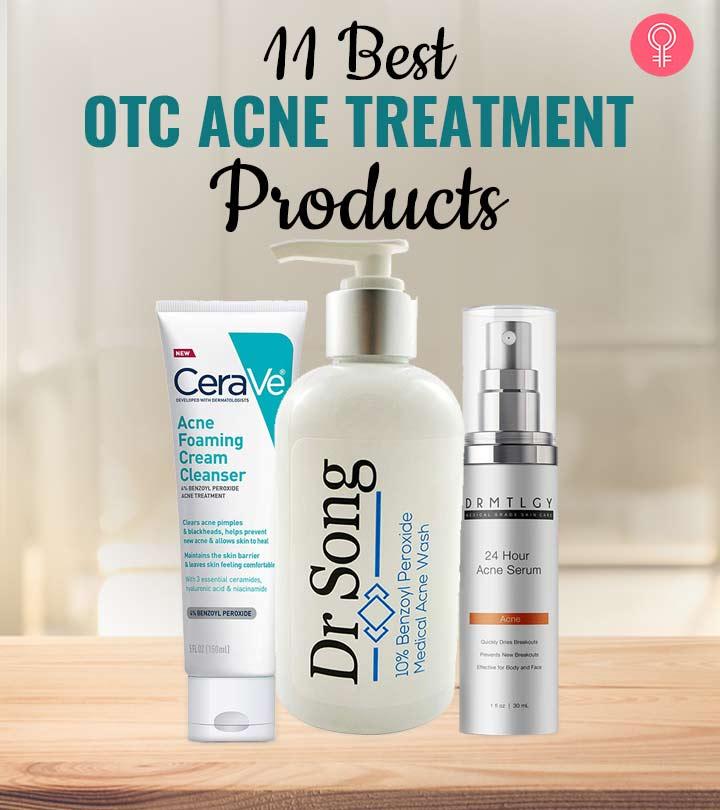 Dealing with acne can be frustrating physically, emotionally, and mentally. You might even be in a constant search for the best OTC acne treatment products. While natural home remedies and medical treatments are also available, we look at some of the OTC acne products available online. These products manage and reduce your breakouts. Keep reading to discover the top 11 over-the-counter acne products that will relieve your skin and decrease acne breakouts. Scroll down and make an informed choice.
Top Picks
How to Choose An OTC Acne Treatment Product
OTC acne medication is available in the form of cleansers, toners, astringents, lotions, creams, gels, and ointments. Anti-acne cleansers rid your face of dirt and impurities that lead to clogged pores. Toners are excellent for calming inflamed skin. Leave-on medicated treatments are most effective because they remain on your skin for longer. However, they may also irritate your skin more than cleansers and toners.
Dr. Schwarzburg, MD, expert in cosmetic dermatology, suggests, "Before starting a new product, always do a patch test to see how your skin responds to it to avoid irritation or an allergic reaction."
It is vital to categorize your skin type – whether dry, oily, combination, or sensitive. This will help narrow down your product choices. Astringents, foaming cleansers, and oil-free lotions and gels work best for oily skin. With dry skin, it is preferable to use non-foaming or cream-based cleansers, alcohol-free toners, as well as creams, lotions, oils, and ointments.
Look at the active ingredients in different products to figure out what might work best for you. Dermatologists prefer products that contain salicylic acid, benzoyl peroxide, glycolic acid, or retinoids like adapalene. Salicylic acid works well for mild breakouts and blackheads, while benzoyl peroxide is better suited for treating mild to moderate acne. Other potent anti-acne ingredients include sulfur, tea tree oil, witch hazel, and resorcinol. Non-comedogenic products are preferable since they don't block pores and compound the existing acne.
Once you have identified an active ingredient that you feel would help your acne issues, choose what strength you want that active ingredient to be. For salicylic acid, the range is 0.5% to 2%. Higher concentrations are most effective, but do keep in mind that if your skin is easily irritated, you could do better with a lower concentration. Benzoyl peroxide is available in 2.5 to 10% strength, but again, higher concentrations come with more side effects, such as dryness and scaling. If you are confused, try starting with a lower concentration to be safe. If you are not satisfied with the results, you can slowly work your way up to a stronger strength.
Let's now check out the 11 best OTC acne treatment products that are worth trying out. Read on to find some gems that actually work.
Top 11 OTC Acne Treatment Products
Pros
Contains 10% benzoyl peroxide
Can be used on face and body
Gentle on sensitive skin
Shows visible results
Made in the USA
Paraben-free
Cruelty-free
Affordable
Cons
None

Price at the time of publication: $24.92
Pros
Suitable for oily and combination skin
Contains benzoyl peroxide acne medication
Toner contains glycolic acid
3 products in 1 kit
Starter kit lasts one month
Provides gentle exfoliation
Dermatologist-tested
Shows visible results
Cons
Price at the time of publication: $35
Pros
Can be used on the face and body
Dermatologist-tested
Paraben-free
Sulfate-free
Formaldehyde-free
Fragrance-free
Cruelty-free
Vegan
Cons
May not be as effective on all skin types.
Price at the time of publication: $24.95
Pros
Packed with all-natural ingredients
Effective on cystic acne
Made in the USA
Cruelty-free
Vegan
Paraben-free
Palm oil-free
Non-GMO
Cons
Price at the time of publication: $19.95
Pros
Suitable for all skin types
Contains 5% benzoyl peroxide
Contains glycolic acid
Reduces acne scarring
Paraben-free
Sulfate-free
Cruelty-free
Travel-friendly packaging
Cons
May irritate sensitive skin.
Price at the time of publication: $22.99
Pros
Shows results in 3 days
Dermatologist-recommended
Suitable for oily skin
Soothes inflammation
Unclogs pores
Softens skin
Affordable
Cons
Price at the time of publication: $15.97
This one from Acne Treatment Inc is a natural solution for dealing with cystic acne and the resulting scars. It contains 100% natural ingredients, such as aloe vera extract, organic arnica, and tea tree oil. The potent antibacterial compounds fight severe acne to show results within five days. The formula also contains bentonite clay that purifies the skin, along with rosemary and coconut oils, to provide nourishment and hydration.
Pros
Contains natural ingredients
Soothes inflammation
Non-drying
Effective on cystic acne
Reduces scarring
Non-irritating
Made in the USA
Cons
Not effective on all skin types.
Price at the time of publication: $20.89
Pros
FDA-approved
Developed by dermatologists
Contains prescription-strength retinoid
Reduces 87% acne in 12 weeks
Effective on cystic and hormonal acne
Reduces inflammation
Boosts cell turnover
Cons
Contains parabens.
May dry out the skin.
Price at the time of publication: $25.49
Pros
Dries breakouts quickly
Prevents new breakouts
Effective on cystic acne
Non-greasy
Gets absorbed quickly
Paraben-free
Cruelty-free
Cons
Expensive
Inconsistent results
Price at the time of publication: $21.95
Pros
Gentle formula for sensitive skin
Contains 4% benzoyl peroxide
Keeps the skin hydrated
Soothes inflammation
Fragrance-free
Paraben-free
Non-comedogenic
Cons
Can cause bleach stains on towels.
The runny texture doesn't lather well.
Price at the time of publication: $13.27
Pros
 Lightweight
 Natural ingredients
 Suitable for all skin types
 Non-drying
 Shows quick results
Cons
 Might not be safe for breastfeeding and pregnant ladies
Price at the time of publication: $17.57
Why Trust StyleCraze?
Sakshi Bahal, the author of this article, is a skin care enthusiast. She knows the acne woes and has made it her job to find a solution for this common skin problem. After going through numerous user feedback and reviews available online, she compiled a list of the best OTC acne treatment products for her readers. The recommended products are lightweight, made of natural ingredients and are mostly free of harmful chemicals.
Frequently Asked Questions
Does over-the-counter acne treatment work?
Yes, over-the-counter acne treatments work, mostly for mild acne cases. They may take three to four months to completely help you get rid of stubborn acne.
Which OTC acne product is considered a first line treatment?
Products with benzoyl peroxide, especially Dr. Song 10% Benzoyl Peroxide Wash is considered first line of treatment for acne.
Can salicylic acid cause more acne?
Yes, salicylic acid may cause more acne as it generally causes skin purging.
How can you determine which acne treatment is best for you?
Begin with low-impact acne treatment to understand whether the ingredients are suited to your skin. Start with treatments that contain benzoyl peroxide, adapalene, or both. Keep checking for visible results and keep reporting them to your dermatologist.
Are acne treatments safe during pregnancy?
No, some acne treatments may cause complications during pregnancy. Consult your doctor before committing to any of them.