11 Best Outdoor Ceiling Fans Of 2020 – A Complete Guide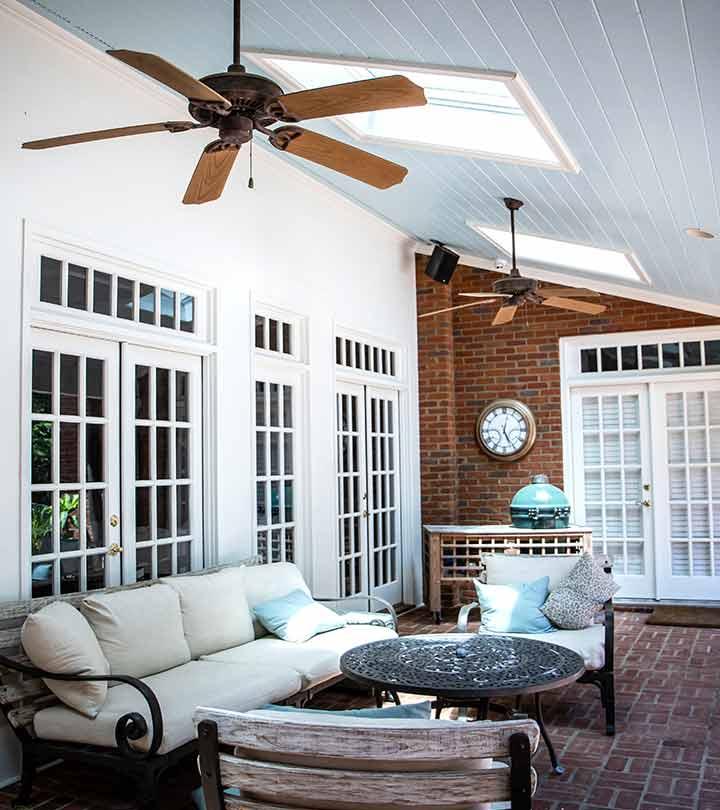 If you are on the hunt for an outdoor ceiling fan for your porch, veranda, or deck, look no further. We list down the best outdoor ceiling fans that will keep you cool and comfortable through the sweltering summer days. Unlike handheld fans that could cause muscle cramps and standing fans that take up a lot of space, ceiling fans have an added advantage of being installed overhead so that there is plenty of room for you to relax while you enjoy the cool breeze.
When looking for an outdoor ceiling fan, it's important to determine the size of your outdoor space. For instance, if you have a covered outdoor area, one fan would do the trick. But in case your patio is quite huge or is not enclosed, it's best to go for a high-powered option or even better, install 2 ceiling fans. However, shopping for an outdoor ceiling fan might be tedious since most of you may not know what to look for. Hence, we put together a list of the 11 best outdoor ceiling fans and an in-depth guide on how to buy one.
11 Best Outdoor Ceiling Fans Of 2020
Looking to give your patio a touch of coastal flair? This outdoor ceiling fan is certainly the one you should consider! The blades of this fan have a weathered zinc finish similar to that of a rustic Beachwood finish and include a lantern-style integrated light kit, which adds a timeless touch to your patio's decor. Ideal for 9 to 11-foot high ceilings, this 5-blade fan includes 2 and 3-inch downrods that help maintain a correct distance from the ceiling for excellent air circulation. All while the pull chains allow you to control the fan's speed and switch the light on and off. It is to be noted that this fan is ETL damp-rated, meaning it is perfect for spaces exposed to moisture and humidity. With its 13-inch blade pitch and reversible, WhisperWind motor, this stainless steel outdoor ceiling fan is ultra-powerful (offering high wind speed)and delivers ideal cooling without the disturbing noise.
Pros
3-position mounting system
Rust-resistant stainless steel hardware
Whisper-quiet performance
Includes an LED light bulb
Outdoor ceiling fan with lights
The light kit comes with a painted cased white glass
The damp rating makes it ideal for garages and bathrooms
The direction of the fan can be changed to updraft mode during winter and downdraft during summer.
Cons
Might be difficult to install
An award-winning product, this masterpiece ceiling fan is known for its high-performance and outstanding design. It is well-built to last a lifetime and beautifully constructed for an eye-catching look. It features dual fan heads with 6 brown wicker blades that deliver optimum air movement while the reversible AC motor makes it suitable for any season. This 74-inch dual fan provides 3-speed settings that can be controlled via remote control or the pull chain and has a maximum airflow of 4,450 cubic feet per minute (CFM). Plus, it is best suited for rooms that are extra-large or up to 400 square feet in size. With oil-rubbed bronze finish blades and light kit with frosted glass shades, it lends a stylish appearance.
Pros
ETL damp-rated
Quiet motor technology
Also ideal for indoor use
Suitable for extra-large rooms
3-speed settings
Includes a 4-inch L downrod
The integrated light kit offers warm, bright glow
Cons
The light from the incandescent bulb might be too dim.
Are you on the lookout for an outdoor ceiling fan you can use all year round? This 5-blade fan, which has a reversible motor, allows you to change the direction of the fan so that you get cool air during summer and warm air in winter (rotates warm air in the room). Made of metal and wood and featuring oil-rubbed bronze finished blades, this adds a contemporary touch to your outdoor space. This 52-inch outdoor ceiling fan is perfect for gazebos, patios, pergolas, and breezeways. Plus, since it is ETL damp-rated, it works well in humid areas.
Pros
Has 3-speed settings
12-degree blade pitch
Easy to install
Ideal for medium to large-sized rooms
Quiet reversible motor
3 different mounting options
Provides airflow up to 5070 CFM
Includes pull chains to switch it on and off and adjust the speed
Cons
The airflow might be little, even at a high-speed setting.
Its show-stopping modern industrial design is what will grab your attention. This ceiling is remote-controlled and has ergonomically designed solid wood blades with a bronze finish that adds an elegant touch to any outdoor space. With 52 inches blade span and 9-degree blade pitch, this fan can deliver a maximum airflow of 5723 CFM. This 3-bladed fan is UL listed for damp locations, which means it should not be installed in places where it will be exposed to saltwater and moisture. Although it is fitted using the included 6-inch downrod, you could opt for an extension kit if you think it's needed.
Pros
Quiet, reversible motor
3 solid wood blades
Manually adjust the 3-speed options
Comes with a handheld remote control
Has maximum slope of 26 degrees
Cons
Might slightly wobble at high speed
This sleek Maverick Outdoor Ceiling Fan by Monte Carlo will make a great addition to any modern-looking patio. Combining form and function, this outdoor ceiling fan runs on an energy-efficient and quiet DC motor and features 3 blades with a 60-inch diameter that provides plenty of powerful airflow. The blades and the DC motor together can offer 50% energy savings. Plus, the blades are designed in a way that prevents any wobbling or rattling. It features hand-carved balsa wood blades and a matte black finish housing. This fan is damp-rated so make sure to install it in covered outdoor spaces and indoors.
Pros
6-speed reversible motor
13-degree fan blade pitch
Fluorescent lamp lighting
Includes a 6-inch downrod
Suitable for 350-400 sq ft rooms
Softly curved blades amplify airflow
Wobble-free and quiet operation
Cons
A small room with a low ceiling needs a small fan, but that doesn't mean you have to sacrifice on the power front. Thankfully, this 5-blade white ceiling fan is powerful enough to cool down the room so that you can relax peacefully. Its 48-inch wide size blades and 13-degree blade pitch combined together ensure optimized airflow, while its low profile housing almost hugs the ceiling, perfect for rooms with ceilings less than 9 feet. It is ETL damp-rated, so it is safe to install in covered areas that are exposed to moisture and humidity, such as the patio, sunroom, or bathroom. It has a pull chain control and offers 2 types of mounting options.
Pros
Reversible blades
Sleek finish with clean lines
Adjustable 3-speed function
Ideal for rooms with a low ceiling
WhisperWind motor ensures quiet performance while offering optimal wind speed
Pull chain controls the fan and adjusts the speed
Suitable for indoor and outdoor use
Cons
Airflow might be less in downrod mounting
This giant fan, measuring a total of 72 inches, is excellent for cooling down large outdoor spaces and lofts, especially when the temperature is high. The 8 blades are made of composite material and coated with a weather-resistant coating, meaning it is safe to put in spaces where it might snow or rain. Rest assured, unlike other traditional fans, this ceiling fan won't sag or bend. This fan provides exceptional cooling and comfort, thanks to its 8 blades that produce a maximum airflow of 10,484 CFMs. Despite its high air movement capacity, this fan runs on only 31 W even on high settings since it uses an energy-efficient DC motor, which is known for consuming less energy. It features a 14 W LED bulb and comes with a hand-held remote control that allows you to control the speed and dim the light.
Pros
9-speed DC motor
Wet rated ceiling fan
Easy to install
Ideal for indoor and outdoor use
Weather-resistant maple blades
Variety of mounting options
Dome style light kit with a frosted glass cover
Cons
The blades might be too thin and light.
Brighten up your covered gazebo, porch, or pool room with this Home Abner ceiling fan by Prominence Home. This fan comes with a light kit featuring an integrated LED clear schoolhouse globe that uses 1 Edison bulb. With a beam angle of 270%, this is powerful enough to light up a huge outdoor space but, at the same time, can be dimmed to your liking. If vintage style is your jam, this fan is made for you as it adds a rustic charm to your outdoor decor with its 5 dual-finish steel blades and a warm espresso body. This stainless steel outdoor ceiling has 3 mounting options— 4-inch downrod, close mount, or angled.
Pros
52 inches wide
Rustic farmhouse design
ETL damp-rated
Reversible blades with dual finish
Reversible, 3-speed motor
Adjustable Edison LED light
Pull chain lets you control the fan speed and light
Cons
Tends to wobble sometimes
Outdoor ceiling fans with light instantly transport you to your favorite tropical setting. This particular one features 5 blades shaped to look like giant palm leaves. This tropical-style 5-blade fan features a distressed bronze finish and has a more natural, old-world charm. The blades come equipped with a weather-resistant coating that makes this fan best-suited for outdoor spaces exposed to rain or snow. All while the leaf-like design, along with the 52-inch blade sweep, ensures excellent airflow. This fan has an integrated glass light fixture to illuminate your outdoor area beautifully at night.
Pros
Weather-resistant construction
5-inch downrod
4-speed settings
Reverse circulation
Includes remote control with receiver
Comes with 3 medium base compact fluorescent bulbs
Cons
Might be difficult to install
If you have a massive outdoor room, you will want to give this 96-inch industrial ceiling fan a try. While this sleek, modern-looking fan is excellent for industrial spaces and barns, it can also be used in residential spaces like your covered gazebo or breezeways. This silver colored fan includes 9 blades with a large diameter to deliver maximized cooling, while the 6-speed setting allows you to adjust the airflow according to your preference. It is highly efficient yet consumes less energy as it is equipped with a DC motor.
Pros
Damp-rated
Large outdoor ceiling fan with 96-inch diameter blades
Reversible blades
Suitable for any season
High volume air circulation
Low motor noise
Available in other colors
Can be operated via included remote control
Cons
One of the best rated outdoor ceiling fans, Honeywell Duvall Tropical Ceiling Fan features 5 bronze finish wicker blades that are ETL wet-rated, making this fan ideal for any outdoor space exposed to the elements. With its 4-speed setting and reversible blades, it will provide cool and breezy air during summer and help rotate the warm air from the heater during winter. This 52-inch blade fan is ideal for medium to large-sized rooms while its tropical design adds a touch of chic to your decor. Plus, it uses 'Quick 2 hang' technology to help you attach the fans to the housing quickly, making assembling a breeze.
Pros
ETL wet-rated wicker blades
Decently quiet during operation
Easy to assemble
Reversible motor
3-position mounting system
Includes a pulling chain to control the speed
Has an airflow capacity of 5022 CFM
Cons
Only the blades may be wet-rated.
When it comes to choosing the best outdoor ceiling fan, there are few important points that need to be considered.
Features To Look For When Choosing An Outdoor Ceiling Fan
Installation: One of the most important points you need to consider when choosing an outdoor ceiling fan is the installation. And we aren't talking about the actual set up process, but about the wiring, UL listing and other safety concerns. First and foremost, remember to get a licensed electrician to install the fan outdoors because they would know better if the wiring is good enough or if your fan needs to be mounted differently based on the ceiling. When installing the fan outdoors, you need to make sure there is adequate distance between the bottom of the fan housing and the flooring, which may be at least 84 inches. But if you have a low profile ceiling, you could opt for a flush mounting. Also, you need to make sure there is approximately 24 inches from the tip of the blade to the nearest wall and 12 inches from the ceiling to the blades. However, these values may differ depending on the brand.
Material and color: Outdoor ceiling fans are made of various materials – stainless steel, aluminum, plastic, and powder-coated metal. No matter what material you choose, make sure they are durable and capable of withstanding the weather elements. For example, aluminum blades are the best if you are residing in a humid environment since it is a non-reactive material and does not rust. As for the color, you can pick anything that complements your home decor.
Speeds: Most outdoor fans are equipped with 3-speed settings, but some others can have 6-speed options, too. So pick a product based on your requirements.
Energy-efficient: Ceiling fans are equipped with either a DC or an AC motor. DC motors consume less energy and produce less heat in comparison to AC motors.
Style: Take a look at these popular styles of outdoor ceiling fans and pick the one that best suits your home decor.
Cottage style: These fans are usually white powder-coated and have nickel hardware. They generally have white filigree accents or natural wood finishes. Their graceful design and clean lines complement any Cottage style decor.
Rustic style: A rustic-style ceiling fan can complement traditional or vintage decor because they have an old-world charm. They are generally made of natural wood and feature earthy colors and natural brown finishes. Plus, most of these fans come with candelabra style bulbs that elevate the whole look of your outdoor space.
Tropical style: Tropical style fans, also referred to as coastal style fans, feature an oil-rubbed bronze finish or use natural woods. This fan style usually has palm leaf-shaped blades that give them a more tropical vibe. They match well with decor that's more modern or contemporary and are great options for beach houses. However, if these fans will be installed in an open area, make sure the UL rating is wet. 
Fan Dimensions: Another essential feature you need to consider when purchasing an outdoor ceiling fan are the dimensions such as the blade width, blade pitch, and fan size. Let's learn a little more about these features below:
Blade width and length: The width and length of the blades not only determine how much air they can push to achieve maximized cooling, but they also enhance the aesthetics of the fan. For instance, some fans have palm leaf-like blades, while others have long and slender blades. So pick a fan that best suits your style and your patio or gazebo. Besides, some fans also have reversible blades to provide increased air movement.
Blade pitch: Blade pitch is nothing but the angle at which the fan blades tilt. It is said that the steeper the tilt, the more air the fan will move. If you want more air movement, you would want to consider fans with blade pitch between 9 and 20 degrees.
Fan size: The fan size varies from one brand to another. Not all fan sizes are suitable for all rooms. A fan that measures 42 inches or less is ideal for small rooms, 44 to 55 inches fit well in 255 sq ft size rooms, and over 55 inches are perfect for large rooms (over 300 sq ft).
The number of blades: It is said that the more blades the fan has, the quieter it is during operation since it circulates less air. However, most fans manufactured these days, whether they have 3, 4, or 5 blades have similar functioning because they come equipped with more efficient motors and technology.
Lighting features: When looking for a light kit for your outdoor ceiling fan, LED light is one of the best choices. This light fixture is durable, low-maintenance, bright, and consumes less power. Rest assured, you won't have to worry about changing the bulb now and then. Additionally, also look for dimmable lighting. A dimmable light kit that can be controlled with a handheld remote control will allow you to set the light according to your mood and the outdoor setting.
Extras: You could also check if your outdoor ceiling fan comes with additional features. Not everyone may be comfortable with using a pull chain because you have to continuously go to the fan every time you want to change the speed. In such cases, you could see if the fan comes with a remote control. This will let you control the fan settings conveniently, without you having to move from your place. Another great feature you could look for is an integrated light source. This will work well if you have a tiny space, and you want the light fixture to be installed in the same place as your fan. 
Types Of Outdoor Ceiling Fans
Belt-driven: Belt-driven ceiling fans have been around since the 20th century. Although they may not be a popular choice, you could opt for this style if you are looking for something antique or unique. This fan usually works from an independent motor, which would be connected to 2 or 3 other fans in the room via belt. When the motor spins, the belt turns, which propels the fans. These fans are mainly considered for their elegant design rather than their function because they are not efficient enough to produce a higher level of air movement.
Bladeless: Don't be fooled by the name. Though they are called bladeless, they do have a small bladed fan in their housing. They are capable of moving large volumes of air, thanks to their air multiplier technology. However, they might lean slightly towards the expensive side.
Chandelier: Chandelier fans combine both cooling and lighting in one. If you are confused between having an overhead ceiling fan or light, we suggest you go for these fans. It is designed to look more like a traditional house fan, which is mounted on the ceiling, but it does not have a wide sweep that is generally associated with a conventional ceiling fan. These fans can add a touch of elegance to your outdoor space.
Decorative: Decorative ceiling fans come in a wide range of designs and stunning color options. If you want to make a statement, this is the style you should go for. From basketball-inspired fans to palm leaf designs, there are a lot of options to choose from.
Dual fans: Also known as dual head ceiling fans or twin motor fans, they have blades on each head, which move air in multiple directions. With double motors, they create extra airflow needed for rooms that are larger or have high ceilings.
Understanding UL Ratings For Ceiling Fans 
Underwriters Laboratories or UL is an independent product safety organization in the US that tests samples of products and indicates whether they have met the product safety standards. Some ceiling fans have Edison Testing Laboratories or ETL-listing, which use the same testing procedures and standards as UL. These organizations categorize ceiling fans according to different ratings – dry, damp, and wet fans.
Dry rating: A ceiling fan that is tagged as UL-listed comes under the dry fans category. This type of ceiling fan should be installed in enclosed spaces that are not prone to dampness or moisture for a long period of time. They are recommended for bedrooms, dining rooms, kitchens, and living rooms. 
Damp rating: When you see that a certain ceiling fan is termed as UL-listed for damp location, it means that it is suitable for areas exposed to moisture and humidity. Damp-rated ceiling fans can only withstand limited amounts of liquids and are approved for covered spaces such as covered porches, sunrooms, or pool rooms. 
Wet rating: Wet-rated ceiling fans are approved for areas where liquids can come in direct contact with the electrical components. This means that this ceiling fan can be installed anywhere outdoors or open spaces like open gazebos, pergolas, or patios.
DC vs. AC Motors 
Outdoor ceiling fans use 2 different types of motors – DC and AC. Before you pick a ceiling fan, you need to learn about the advantages of each of the motors.
They are more efficient, sometimes 70% more efficient than AC motors.
They use less energy during operation
They are quieter when the fan is running
They are lighter and compact, which also makes the housing smaller.
They respond to speed changes faster.
They start and stop quickly
They can be controlled with a remote control
They are inexpensive
They are easy to control
They can be controlled from wall switches that you might have already fitted
The Difference Between Indoor And Outdoor Ceiling Fans
Indoor ceiling fans: Indoor ceiling fans are the most common type of ceiling fans found in most homes. These fans are dry rated and are meant to be used only indoors. They cannot handle long-term exposure to water and moisture and are strictly not recommended for outdoor environments. If the electrical components of these fans come in contact with water, they can break or cause a short circuit.
Outdoor ceiling fans: Outdoor ceiling fans are specially designed to be installed in outdoor spaces such as balconies, gazebos, patios, and porches. These fans are divided into 2 categories – damp-rated and wet-rated. Some of the outdoor ceiling fans can also be used indoors. 
Whether you want to upgrade and beautify your outdoor space or just want enough air to keep yourself cool when you lounge outside on a sunny day, an outdoor ceiling fan is your best bet. Outdoor ceiling fans come in numerous sizes, styles, and finishes, making it easy for you to pick something based on your home decor. These fans not only keep you cool all summer long but can also distribute warm air during chilly winter months. From 5-bladed designs to fans that come with light fixtures, we have put together a list of the 11 best outdoor ceiling fans. Make sure to go through the detailed buying guide section and choose the right type of fan for the given space. Which of these ceiling fans caught your attention and why? Let us know in the comments below!
Expert's Answers for Readers Questions
Can I use an outdoor ceiling fan indoors?
Yes, most outdoor ceiling fans can be used indoors since they can withstand most elements. But make sure they are the right size for the room. If big fans that move more air are installed in small rooms, they can make the room colder and make you feel uncomfortable.
Do outdoor ceiling fans keep flies and mosquitoes away?
Yes, outdoor ceiling fans can help keep flies and mosquitoes away when used at high speed.
Can I use a 14-2 wiring to install an outdoor ceiling fan?
Yes, you can use 14-2 wiring as long as you use it with a ground.
For how long can I keep an outdoor ceiling fan on without damaging It?
In general, outdoor ceiling fans can last a lifetime, provided they are of high quality and are installed properly.
Are outdoor ceiling fans effective?
Yes. Outdoor ceiling fans are designed to cool any outdoor space down. But the speed and volume of air produced will vary from one model to another.
What is a good CFM for an outdoor ceiling fan?
A good CFM ranges from 4000 to 6000.
Are 3-blade ceiling fans better than 4 or 5-blade fans?
As a general rule, the more the number of blades, the less air will be circulated. So 4 or 5-blade fans may push air slower than 3-blade fans. But 4 or 5-blade fans are less noisy than the 3-blade ones. So we can't say which is better because it comes down to an individual's taste.