11 Best Outdoor Tanning Lotions To Attain A Healthy Tan In 2023
Achieve a bronzy glow without sitting uncomfortably under the sun for hours!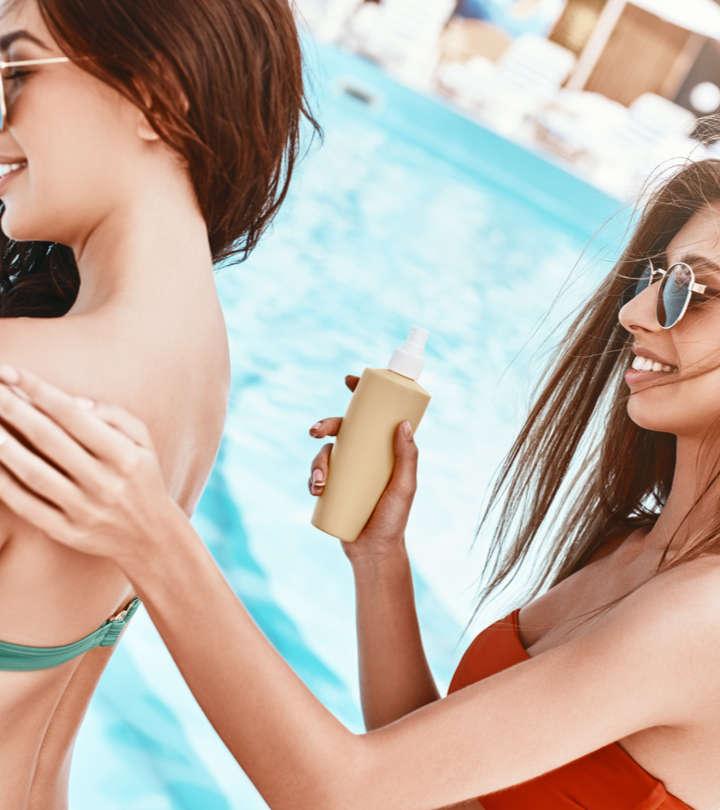 Who doesn't love a good tan that makes us look like we've just visited a tropical island? However, spending hours under the sun may not be everyone's cup of tea. A convenient and quick solution to this problem is purchasing the best outdoor tanning lotion! A superior alternative to a natural suntan, these lotions give you an even bronze glow that is gorgeous and stunning. This UVA/UVB protection tanning lotion can also help you avoid the sun's harmful rays that may even cause cancer.
Now that you're convinced you need an outdoor tanning lotion, we've carefully curated a list of our top favorites. Not only will they give you the tan you were looking for, but they will also effectively hydrate and moisturize your skin.
What Do Outdoor Tanning Lotions Do?
Outdoor tanning lotion protects the skin against the harmful effects of the sun. These are especially formulated products that promote the tanning process and help you attain glowing, sun-kissed skin in a very short span of time. From moisturizing the skin to keeping aging issues under control, a good outdoor tanning lotion has many benefits to offer.
To make things simpler for you, we have brought to you a list of amazing outdoor tanning lotions from the top brands here. Take a look-
11 Best Outdoor Tanning Lotions Reviews & Buying Guide Of 2023
This lotion from Devoted Creations is the one of the most suitable outdoor tanning lotions for sensitive skin. Induced with all-natural shea butter, this skincare product is hydrating and nourishing for the skin. This tanning oil helps you attain a beautiful bronze look that makes your skin attractive while you are laying under the sun on the beach. It has active anti-aging ingredients like Matrixyl Synthe 6 that helps reduce wrinkles on the skin. Whether it is about protection of your tattoo or protecting skin from issues like skin cancer, this high-quality tanning lotion does it all. It is reasonably priced and thus, is an amazing option.
Pros
 Great fragrance
 Gives smooth skin
 Adds sun-kissed glow to the skin
 Suitable for sensitive skin
Cons
Price at the time of publication: $25.88
Wish to attain that radiant tan with a few sprays and look stunning? If yes, then this has to be your top choice. Made with vitamin-rich plant extracts like avocado, hazelnut and kukui, this serum helps you keep your skin nourished and soft. It serves as a perfect skin moisturizer and adds a soft, healthy glow to your tanned skin. Being a lightweight formula, it gets easily absorbed into the skin and keeps dryness at bay. The vitamin E content helps with deep skin care and prevents aging of the skin. If you have dry skin, this tanning oil is simply the best.
Pros
Fast-acting tanning lotion
No streaks
Non-greasy tanning lotion
Provides long radiant tan
Cons
 Some may find the smell too strong
Price at the time of publication: $34.99
We all dream of a Sun God like appearance with the glamorous tan and beautiful shine, but only a few know the secret behind attaining that look. This secret product is from the brand Australian Gold. It is surely a simple product, but the results are beyond our imagination. This accelerator tanning lotion cum bronzer helps you attain a beautiful tan while enjoying at a beach or pool. With a fine blend of healthy vitamins like vitamin A, E and natural Australian oils, this professional-grade sun tanning lotion has amazing moisturizing qualities. It also contains the antioxidant power derived from tea tree oil and passion fruit which keeps the skin hydrated, protects the skin against sun damage and lets you enjoy damage-free tanned skin.
Pros
 Fast and visible results
 Beautiful fragrance
 Keeps the skin smooth
 Protects against skin aging
Cons
Price at the time of publication: $22.0
A hydrating tanning lotion like Dolce Black Bronzer Tanning Lotion, which is all-natural and gives you long-lasting results, is a product that every person desires. All you need is to buy this product and with every application, get amazing blotch-free skin with a subtle golden glow. There are no orange tones imparted to your skin, as this formula is anti-orange. Made with natural oils, this bronzing tanning lotion proven to deliver visible results, gives your skin the ultimate nourishment it needs. In order to last longer, the product is given the power of superior quality soft silicone formula. To keep your tattoo's color safe, this product is enriched with color protectors. For a wonderfully tanned skin along with super cool bronzing effects, apply this formula for around 2 hours, and you are all set to leave everyone in awe.
Pros
 Vegan
 Toxin-free
 Cruelty-free
Easy to use
 Fast drying formula
Cons
 Might be extra dark for some
Price at the time of publication: $34.95
This is a wonderful natural tanning lotion that works just right to get a perfectly even-toned beach body. Infused with the goodness of both coconut milk and oil, this indoor/outdoor tanning intensifier is one of the most hydrating skin products. Loaded with the power of exotic botanicals
Like seaweed, hibiscus extract and vitamins A and C, this product helps in reducing body toxins, enhancing skin firmness and protecting against skin damage. The natural ingredients improve the life and shine of your tan and tattoos. With no use of bronzing agents, this product adds a beautiful dark golden tint to your tan.
Pros
 Light texture
 Increases skin elasticity
 Reduces the appearance of cellulite
 Contains color fade protector
Cons
 Some may not like the peculiar smell
Price at the time of publication: $28.69
Sun Day Fun Day Tanning Cocktail is definitely a professional choice when it comes to skin tanning lotions. With the fine quality formula and enriching ingredients, the tan enhancer lotion takes good care of the skin while imparting a ravishing tan on the body. The hydrating ingredients like cocoa, shea butter, coconut oil and vitamin E, help in deep nourishment and make the skin soft and supple. And not just that, tester's experience online reveals that the ingredients help in slowing down the process of aging and reducing the appearance of fine lines and wrinkles. The presence of multiple accelerators helps target melanin production with proven efficacy.
Pros
 No orange tints
 Good for dry skin
 Keeps the skin smooth
 Fast, dark tanning results
Cons
Price at the time of publication: $17.5
Millenium Solid Black Coconut Vibes Tanning Activator is a very easy-to-use product to feel the summer vibe intensely. Infused with coconut oil, oleracea fruit oil, pecan seed, banana fruit and camellia oleifera leaf extract, this organic tanning lotion is loaded with anti-aging properties. According to the reviews online, it is a popular choice for tanning lotion with water-resistant qualities. Due to the thin consistency, the product spreads easily and gets easily absorbed without making you feel greasy. Suitable for both indoor and outdoor tanning, this results-driven lotion is ideal for all skin types. Apply it once and enjoy the tanning effect with a bronzing shine.
Pros
 Long-lasting tan
 24 hours hydration
Waterproof tanning lotion
 Has ultra advanced 100x silicone bronzer
 Infused with auto-darkening technology
Cons
 Might not be good for people with nasal allergies
Price at the time of publication: $32.98
That's What Sea Said is a tattoo-friendly tanning lotion that improves your summer body by stimulating melanin in your skin. Formulated with hibiscus extracts, the product nourishes and evens out the skin texture. It also contains passion fruit and coconut extract that locks in moisture in skin and helps you maintain a golden glow on skin. The antioxidant power derived from seaweed extract adds skin elasticity and helps fight signs of aging. Known for its special blend of Tyrosines, this dark sun tan lotion speeds up the natural tanning process.
Pros
 Vegan
 Dye-free
 Paraben-free
 Cruelty-free
Cons
Price at the time of publication: $28.95
Loaded with strong tanning intensifiers and premium natural bronzers, this non-greasy tanning lotion is one of a kind. It does not use DHA and still provides a stain-free bronze look. The perfect blend of quad tyrosine and melanobronze enhances the tanning process with melanin formation. Enriched with coconut water and oil, it is undoubtedly very good at hydrating the skin. Also popular for its body fit technology, this tanning product reduces the appearance of cellulite. In case you want a matte look with no traces of greasiness, this is the ideal product as it contains BB cream that primes, mattifies and ensures a non-greasy look. When looking for one of the most effective outdoor tanning lotions, this can totally be counted on.
Pros
 Anti-aging formula
 Aqua kiss fragrance
 Indoor/outdoor formula
 Good for skin firming
 DHA-free
Cons
 Some may not find it enough moisturizing
Price at the time of publication: $28.99
Snooki Shore To Please Tanning Bed Lotion is a perfect option for both indoor and outdoor tanning. With a unique blend of pearl and Buriti fruit oil, this tanning bed lotion helps you hydrate your skin. It contains caffeine for improved firmness of the skin and boosts skin health. When you wish to get that flawlessly toned tan skin, this product has to be your top choice. From making your skin smooth to adding a beautiful bronzing color to your skin, this affordable option is capable of doing it all.
Pros
 Paraben-free
 No harsh preservatives
 Makes skin soft and supple
 Has sweet floral magic fragrance
Cons
 Some may find the fragrance too strong
Price at the time of publication: $19.99
The beautiful dark tropical color that makes people drool over your skin color is something that every beach lover wants. This tanning accelerator lotion from Happy Hour gives you the tanning that you want. Especially formulated to keep your indoor, outdoor tanning requirements sorted, this beach lotion protects from dehydration and tans properly. With a perfect blend of nourishing ingredients like aloe and coconut oil, this moisturizing tanning lotion hydrates the skin and helps you attain a smooth, even-toned look. This hydrating formula also covers the anti-aging problems and helps in firming the skin and lending a youthful look. Altogether, this Happy Hour tanning accelerator lotion gives you a beach perfect body along with the goodness of natural ingredients.
Pros
 Works fast
 Effective formula
 Gets absorbed quickly
 Pleasant coconut rum cocktail fragrance
Cons
Price at the time of publication: $12.95
Having read about the best tanning lotions, here are some points that might help you in choosing the best option as per your need. Please take a look-
Types Of Outdoor Tanning Lotions
Tanning lotions can be broadly categorized into three major categories-
Bronzers as the name suggests have the power to provide a beautiful bronze glow along with a fully tan body. Offering immediate results, outdoor tanning lotions with bronzer come with DHA for stunning tan.
Accelerators simply boost the process of tanning and lead to dark tan in a short span of time. These types of natural tanning lotions are usually blended with nourishing ingredients that are great for reducing aging issues. Outdoor tanning accelerator lotions are suitable for those who wish to get quick tanning results.
A tingle lotion works on the principle of bringing the blood closer to the surface of skin to magnify the effect of UV rays. It comes with a tingling feeling, hence named after it.
How To Choose Outdoor Tanning Lotion?
Choose an outdoor tanning lotion on the basis of following grounds-
Skin Type
For dry skin, look for tanning lotions with nourishing oils in them like coconut or tea tree oil. In case you have oily skin, look for tanning lotions that have active ingredients like aloe in them and are made from an oil-free formula. Products that have thin consistency and are non-greasy in nature are great for people with oily skin. People with sensitive or dry skin should look for products that are gentle on the skin. Also, products with ingredients like shea butter do a great job at keeping dry skin nourished. Outdoor tanning lotions for pale skin must be used to add a healthy glow to the skin. Products with light mineral oil and vitamins can help in reducing dullness from the skin.
Impact
For deep impact, choose tanning lotions that contain vitamin A. DHA is another ingredient known for its dark tanning results. For relaxing the skin after a long sunbathing session, opt for products with aloe in them. Not only are these gentle on the skin but are also soothing and prevent sun burns. In order to prevent wrinkles and other signs of aging, opt for products with vitamin E in them. Such compositions help in making the skin smoother and radiant.
Fragrance
Generally, outdoor tanning lotions are induced with wonderful fragrances which are pleasant for all. But if you're sensitive to any type of fragrance, make sure you use a fragrance-free product. Check out the labels on the lotions and choose your product after reading carefully.
Sunscreen
Try to include an outdoor tanning lotion with SPF in your routine which also contains sunscreen in it. While basking under the sun, it is a wise decision not to ignore sunscreen.
How To Use An Outdoor Tanning Lotion?
 Choose a tanning lotion as per your skin type.
 Cleanse your face.
 Apply the lotion before stepping out in the sun as directed on the product.
 Check the span of time mentioned on the label and apply it accordingly to make the product effective.
Benefits Of Outdoor Tanning Lotions
 Outdoor tanning lotions help in sun protection.
 These are carefully curated for speedy tanning.
 Such products help in skin nourishment along with tanning.
 Outdoor tanning lotions are long-lasting.
 Some outdoor tanning lotions have antibacterial properties, which make the skin free from odor-causing bacteria.
Why Trust StyleCraze?
Srijita De is a beauty writer who is passionate about makeup. She has compiled this list of the best outdoor tanning lotions using her years of experience in this domain. She also checked user reviews and online feedback on the brand websites and other trusted online platforms. The above-listed products are recommended as they are great alternatives to a natural suntan and leave you with the perfect bronze glow.
Frequently Asked Questions
Does outdoor tanning lotion actually work?
Yes, a high quality outdoor tanning lotion actually works.
Does outdoor tanning lotion make you tan faster?
Yes, outdoor tanning lotions make you tan faster.
What's the difference between indoor and outdoor tanning lotions?
Indoor tanning lotions do not contain sunscreen while outdoor tanning lotions generally are sun-safe formulations.
Do indoor tanning lotions work outside?
Yes, indoor tanning lotions work outside, but these don't protect skin against the sun and might make your skin greasy.
Can you use outdoor tanning lotion in a tanning bed?
No. Outdoor tanning lotions contain mineral oil that can damage your skin and the bed when you use them on a tanning bed.
Is outdoor tanning better than indoor?
No. Indoor tanning exposes your skin to the healthy light spectrum necessary to get the required tanning. In contrast, outdoor tanning exposes your skin to harmful and uncontrolled UV rays that can increase the risk of cancer.
Recommended Articles
Best Tanning Lotions For Tattoos
Best Indoor Tanning Lotions For All Skin Types
Best Self-Tanners With Sunscreen To Buy Online
Best Jwoww Tanning Lotions For Sun-Kissed Skin