The 10 Best Oven Mitts – Reviews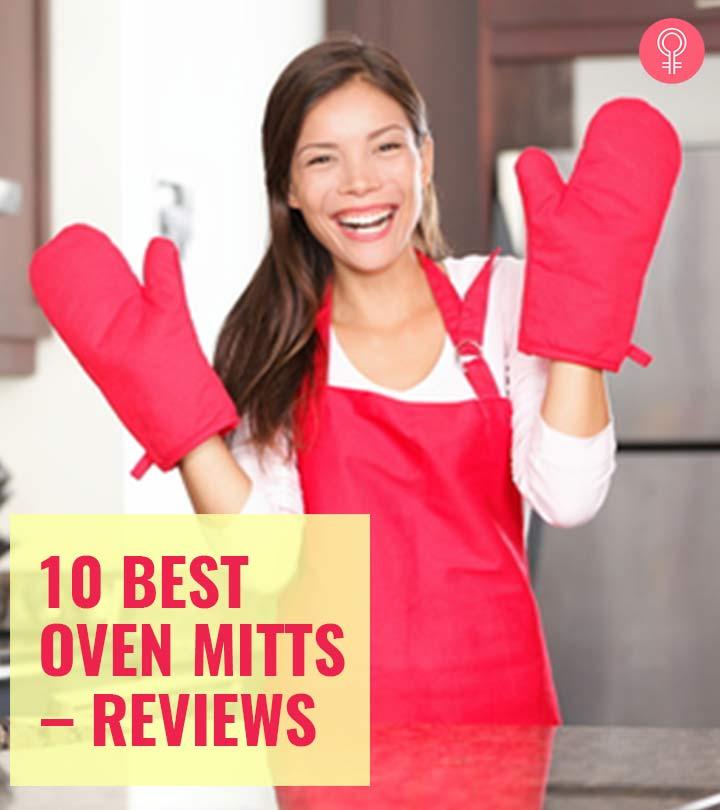 Whether you are a seasoned baker or a novice chef, oven mitts are an indispensable part of your kitchen. These gloves are usually made with an insulating material that acts as a barrier and protects your hands while handling hot objects or utensils. There are varieties of oven mitts on the market, depending on the material, construction, and size. To make it easier for you, we have compiled a list of the 10 best oven mitts available online. Scroll down to take your pick.
10 Best Oven Mitts
These 14.7-inch extra long oven mitts provide full protection to your hands and forearms. They let you grip cookware without any spills or slips. They are waterproof and prevent scalding while cooking or draining hot water. These mitts are made of commercial-grade and FDA-approved silicone and are heat-resistant up to 450℉.
The outside of the mitts has a non-skid textured pattern for better grip, while the inside is lined with polyester-cotton to provide additional protection and comfort. These mitts are stain-resistant and can be cleaned in the washing machine or using water and soap. They come with a cotton loop on the inside to be hung in a cabinet or pantry.
Key Features
Heat-resistant up to 450℉
Extra long
Waterproof
Textured grip
Easy to clean
Hanging loops
Specifications
Dimensions: 11 x 5.5 x 0.7 inches
Weight: 12 ounces
Material: Silicone
Pros
BPA-free
Comfortable
Machine washable
Anti-slip grip
Available in 6 colors
Durable
Cons
Too large for people with small hands
These oven mitts are made of 100% quilted cotton. They have a flame retardant coating that can resist flames for up to 10 seconds before catching fire. On the off chance that they happen to catch fire, they will self-extinguish within seconds of being taken away from the flame source. These oven mitts can withstand temperatures up to 425℉, making them suitable for most cooking activities.
These mitts are 16 inches long and cover most of your forearm to provide complete protection when handling larger dishes. They also have an additional terry cloth lining on the inside for utmost comfort. These mitts must not be machine washed as the flame-resistant coating will wash off; they must be cleaned in a targeted manner to remove stains.
Key Features
Flame retardant coating
Flame-resistant up to 10 seconds
Heat-resistant up to 425 ℉
Extra long
Terry cloth lining
Specifications
Dimensions: 16 x 6.7 x 1 inches
Weight:9 ounces
Material: Quilted cotton
Pros
Comfortable
Thick
Provide all-round protection
Cons
Too large for those with small hands
Cannot be machine washed
These oven mitts are just as their name suggests – they have a gorilla grip. They allow for a superior grip on any kind of hot utensil in your kitchen with their unique honeycomb pattern. These mitts are made with 100% durable BPA-free silicone and are highly flexible, heat-resistant, and water-resistant. This makes them suitable for any kind of cooking activity, whether it is baking, grilling, or BBQing.
The heat-resistant silicone provides maximum protection for up to 484℉. The water-resistant property of silicone also helps while dealing with steam. This property also allows the mitts to be easily cleaned by rinsing under water with soap. These mitts are 12.5 inches long, providing moderate coverage for your hands and forearms. They have a 100% cotton lining and 100% polyester fill for additional protection and comfort. The oven mitts each have a circular cotton loop to hang them by when not in use. They come with a 10-year guarantee, so if you are not satisfied, you can get them replaced at any time.
Key Features
Honeycomb anti-slip pattern
Heat-resistant up to 484℉
Water-resistant
Cotton lining and polyester filling
Hanging loop
Specifications
Dimensions:32 x 7.6 x 1.81 inches
Weight: 1 ounces
Material: Silicone
Pros
BPA-free
Durable
Easy to clean and store
Available in multiple colors
10-year guarantee
Cons
This sustainable pair of oven mitts from Big Red House is manufactured with recycled cotton with a soft terry cotton lining. The oven gloves have silicone strips running lengthwise to ensure comfort and flexibility, along with heat resistance and good grip. The silicone is BPA-free and FDA-approved, and these mitts can withstand high temperatures up to 480℉
The Big Red House Oven Mitts are 12.5 inches long, providing adequate protection to your forearms while being wide enough for those with any type of hands. They are washing machine safe and come with a loop, making them easy to maintain and store. These mitts also come with a full refund guarantee.
Key Features
Vertical silicone strips for extra protection
Terry cotton lining for comfort
Heat-resistant up to 480℉
Hanging loop
Specifications
Dimensions:5 x 7 x 2 inches
Weight: 6 ounces
Material: Cotton
Pros
Flexible
Comfortable
Sustainably made
Offer forearm protection
Easy to maintain and store
Available in 6 colors
Cons
These oven mitts are made of a special kind of fire-retardant material called Kevlar, a heavy-duty polymer used in apparel that firefighters wear. This material is woven into the fabric with a special reinforced WebGuard stitching, especially between the index and forefinger, enabling it to withstand temperatures up to 450℉ for up to 30 seconds.
Each mitt is 17 inches long and comes with an angled cuff for added flexibility, maneuverability, and full protection. They are ambidextrous, so you can wear either one on either hand. These oven mitts have a nonstick coating, making it easy to clean them with a damp cloth.
Key Features
Fire retardant
Heat-resistant up to 450℉
Angled cuff
Ambidextrous
Nonstick coating
Specifications
Dimensions: 13 x 2.8 x 2 inches
Weight: 2 ounces
Material: Kevlar
Pros
Heavy-duty
Universal size
Easy to clean
All-round protection
Easily maneuverable
Cons
Not durable
Not machine washable
These mitts from Frux Home and Yard are extra-long (13.4 inches), providing adequate protection for your forearms and hands. They are made with BPA-free and FDA-approved silicone and come with a raised X and O pattern on the surface for added grip and dexterity. The interior has a 50% polyester and 50% cotton lining for increased durability and comfort.
These oven mitts can withstand high temperatures up to 485℉. They are also waterproof and protect your hands from hot steam. The mitts are hand and machine washable. The inner quilted lining is sewn along the edges, and you can pull it out for cleaning. They come with loops for easy drying and storage.
Key Features
Lifted pattern for good grip
Heat-resistant up to 485℉
Waterproof
Stain-proof
Ambidextrous
Hanging loops
Specifications
Dimensions:5 x 5.5 x 1.5 inches
Weight: 8 ounces
Material: Silicone
Pros
All-rounded protection
Anti-slip
Durable
Easy to clean
Easy to store
Cons
Too bulky for small hands
Not flexible
The Ove Glove Hot Surface Handler is made of Kevlar material that is flame- and heat-resistant and can withstand extreme temperatures up to 540℉. The interior layer is made of soft double-knit cotton. The tough outer layer of the gloves forms a thermal isolation barrier to slow down the temperature increase in the interior layer. It does not melt or catch fire when exposed to an open flame.
The package includes two oven gloves that are comfortable and perfect for using during baking and cooking. They come with a 5-finger silicone flexi-grip that prevents slipping and offers a firm grip.
Key Features
Five-finger flexi-grip
Flame-resistant
Heat-resistant up to 540℉
Specifications
Dimensions:26 x 5.5 x 12 inches
Weight:6 ounces
Material: Kevlar 
Pros
Easy to hold
Durable
Great for grilling
Cons
These oven mitts and pot holders have a durable cotton shell and polyester-cotton interior lining. The mitts offer heat protection up to 392℉ and are flexible and do not hinder the natural grip of the hands. They are 13 inches long, providing all-round protection for your hands and forearms. They have a printed silicone design that provides a non-slip grip while handling pots and pans. The mitts and pot holders are washing machine and dryer safe and come with loops for easy storage.
Key Features
Heat-resistant up to 392℉
Non-slip silicone layer for better grip
Hanging loops
Specifications
Dimensions: 9 x 7.4 x 1.5 inches
Weight:4 ounces
Material: Cotton and silicone
Pros
All-round protection
Comfortable
Anti-slip
Easy to clean and store
Cons
The FERLLYMI Oven Mitts are made of heat-resistant and eco-friendly silicone. The inner lining is made of 50% cotton and 50% polyester, which offer protection and comfort. They also feature cotton cuffs. These oven mitts are incredibly heavy-duty and resist heat up to 500℉.
They are waterproof, cold-proof, and scald-proof, providing optimal protection for your hands for a range of activities, such as barbecuing, baking, steaming, etc. These oven mitts have a textured diamond pattern on the palms at an optimal 0.8 mm height, which offers a good grip. They are machine washable and anti-stain and come with a loop for ease of storage.
Key Features
Heat-resistant up to 500℉
Waterproof
Cold-proof
Textured diamond pattern for a good grip
Hanging loop
Specifications
Dimensions: 12 x 7.5 x 1 inches
Weight:8 ounces
Material: Silicone
Pros
Durable
Comfortable
All-round protection
Easy to clean
Cons
These high-quality oven mitts are made from 100% food-grade, FDA-approved, BPA-free silicone that can resist temperatures as low as -45℉ and as high as 425℉. This makes them suitable for a wide range of activities, such as baking, grilling, cooking, pot-holding, barbecuing, cleaning seafood, and working around freezers and blast chillers.
They are dual-layered with silicone on the outside and cotton on the inside to provide all-round protection. The inner cotton layer has moisture-wicking properties that keep your hands dry. The textured surface provides a superior grip while also helping you with other activities, such as unscrewing lids. The silicone surface is easy to wash, odor-free, mold-resistant, and stain-resistant and increases the durability of the oven mitts. They also come with loops for easy storage. 
Key Features
Resists temperatures from -45℉ to up to 425℉
Dual-layered
Non-slip design
Hanging loop
Specifications
Dimensions:17 x 7.87 x 3.35 inches
Weight:2 ounces
Material: Silicone
Pros
Toxin-free
Offer heat and cold protection
Multipurpose
Easy to clean, dry, and store
Durable
Odor-free
Stain-resistant
Cons
Good for only short periods
What must you keep in mind before buying oven mitts? Here's a guide to help you out.
How To Choose The Best Oven Mitts – Buying Guide
Oven mitts are made of different materials – cotton, silicone, Kevlar, and Nomex. Most of them come with a lining, usually made of terry cotton or polyester for additional heat resistance. The material determines not only the heat resistance but also the ease of maneuverability and maintenance. Silicone mitts are the most economical and durable ones. Kevlar and Nomex are polymers used in the apparel firefighters wear, but in the case of oven mitts, they are woven into the fabric. This ensures that the gloves are flexible while also resisting high temperatures.
The second most important thing to consider while choosing oven mitts is the size. The average oven mitt is about 12 inches long. While bigger gloves provide better protection, they can also be too loose. However, oven mitts are not made to fit your hands perfectly. Instead, they must be chosen based on whether they provide freedom of movement without falling off your hands or not.
The primary reason to buy an oven mitt is that you can carry hot utensils from the oven to the counter. Fabric oven mitts are usually suitable for holding utensils. Silicone oven mitts come with raised patterns to provide a superior grip and prevent slippage. The mitts should cover your entire hand and go up to your wrists, providing complete protection to your hands from hot vessels. A cotton cuff may offer more flexibility and easier maneuvering.
The heat resistance of the oven mitt depends on the material used. Cotton mitts usually have lower levels of heat resistance, while silicone mitts provide the widest range of resistance to temperature changes. Kevlar and Nomex offer very high heat resistance.
What are you using the mitt for? Are you a professional chef or an amateur home cook? Do you need it for baking in your home oven or a deeper pizza oven? Ask yourself all these questions before choosing the oven mitt. If you need it for home use, a commercial-grade oven glove should do the trick for you.
Oven mitts must be easy to maintain in terms of cleaning and storage. Most oven gloves are dishwasher and washing machine safe, but those that aren't are usually stain-proof, so they can be cleaned just by running them under the tap. An oven mitt with a hanging loop has an advantage over one that does not, in terms of storage.
If you are someone who spends a lot of time in the kitchen, oven mitts are a must-have. After all, it's your biggest organ they are protecting – your skin! Go through the points mentioned in the buying guide and get yourself a new pair of oven mitts today!
Expert's Answers for Readers Questions
Are silicone oven mitts better?
Yes. Silicone mitts are more heat-resistant, flexible, and easy to wash and maintain, making them better for oven usage. Silicone does not tear and is waterproof, unlike cotton. However, silicone gloves are a bit bulky and take some time to get used to.
Do you need one or two oven mitts?
Oven mitts usually come in pairs. You do not necessarily have to use both at once, but it is always better to be safe than sorry. If you choose to use only one at once, make sure to buy an ambidextrous pack, where both mitts will fit both hands.
What are the best heat-resistant gloves?
The best heat-resistant gloves are the ones that are made of BPA-free, food-grade silicone. But those made of Kevlar and Nomex offer superior heat protection.
What material is used for oven mitts?
Oven mitts can be made of cotton, silicone, Kevlar, or Nomex.
Can you wash silicone oven mitts?
Yes. Most silicone oven mitts are machine washable and dishwasher-safe.
How do oven mitts work?
Oven mitts act as a barrier between your hands and a hot vessel. They usually have a silicone exterior and a soft fabric interior for maximum comfort. This inner lining also prevents your hands from getting sweaty and provides additional insulation. The outside usually has raised patterns that ensure that the hot object can be gripped firmly.
Does the pot holder or oven mitt keep you from getting burned?
Oven mitts are usually more effective in keeping you from getting burned than pot holders. Silicone or Kevlar mitts are the most effective in this regard.
Recommended Articles
The following two tabs change content below.

Latest posts by Harini Natarajan (see all)

Harini Natarajan
As Chief Editor, Harini sets the tone and editorial direction for StyleCraze to deliver engaging, interesting, and authentic content revolving around women's health, wellness, and beauty. She has over 14 years of experience in content writing and editing for online media. She specializes in the areas of Beauty, Lifestyle, and Health & Wellness and is proficient in Medical Sciences (Biology, Human Anatomy and Physiology, and Biochemistry). Her background in Biomedical Engineering helps her decode and interpret the finer nuances of scientific research for her team. Harini is a certified bibliophile and a closet poet. She also loves dancing and traveling to offbeat destinations.