15 Best Overalls For Women in 2023 That Are Too Chic To Be Ignored!
Top selection of women's overalls that are fashionable, versatile, and comfortable.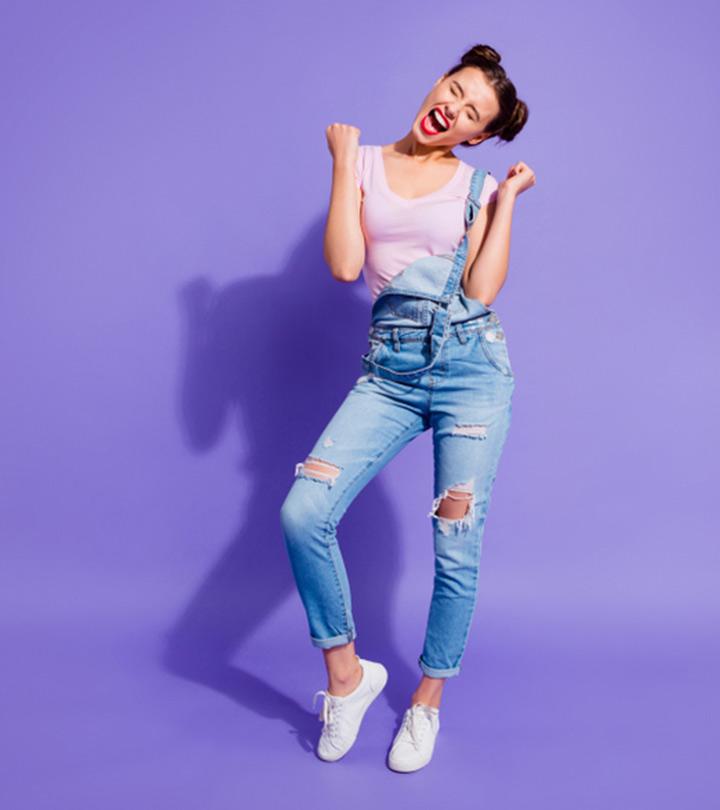 If you often get bored with your regular clothes and do not know how to mix and match, then you must try out the best overalls for women. Whether it's casual wear or haute couture, overalls are the most versatile way to style your clothes and feel comfortable. With so many fashion icons around us, we have seen overalls turning into runaway stunners, loose-fit, or vintage statements that have a different fan base altogether. And, let's be honest, we cannot resist them at all.
The classic oversized, baggy, and even distressed overalls of the 90s have made it back to our fashion trend with a bang! They look great with a casual white top during the day or with a party top with frills at night. That is why women swear by overalls, as they never fail to be stunning and comfy at the same time. However, finding the best overalls for women can be quite a task, with multiple brands hovering around the market. So, we have listed the 15 best overalls for women below. Scroll down and take a peek.
Suit Up With The 15 Best Overalls For Women In 2023
Winters are incomplete without overalls, and here's an insulated bib pair that'll keep you warm and cozy with its roomy fit. Designed with thermalock and thermatech insulation, these work overalls for women ensure durability and protection from freezing temperatures as low as -35°. Also, the suspenders are adjustable and the side gussets are stretchable, making them comfortable. Moreover, they are suitable to wear with boots as the boot gaiters seamlessly integrate around the ankles to keep you warm and the moisture out.
Pros
Machine-washable
Lightweight material
Prevents everyday wear and tear
Features a convenient O ring for gloves, keys, and more
Water-resistant
Wind-resistant
Adjustable suspenders
Cons
Price at the time of publication: $44.98
These good ol' carpenter bib overalls can never go out of style! Roomy, cozy, and convenient, Dickies is known for their superior comfort, fit, and high functionality. A must-try whether you want to wear them at home or run errands, these 100% cotton-denim fashion-forward overalls are designed with ScuffGard for long-lasting durability. It features adjustable suspenders and the pair has 1 bib pocket and 2 large-sized pockets to fit in everything from a smartphone to carpentry tools conveniently.
Pros
Machine-washable
Triple-stitched
Ensures an snug fit over the boots
Snag-resistant and tear-resistant
Multi-compartment bib pocket
Breathable, lightweight, and soft material
Flexible suspenders
Cons
Not ideal if you need deep pockets
Price at the time of publication: $47.99
These vintage overalls will amp up your style quotient instantly! Whether you pair them with a casual top or opt for a breezy look with a crop top, they ensure a snug fit with adjustable straps and a hook and eye closure. It's made of cotton and polyester to provide a comfortable and cozy experience effortlessly. Moreover, it comes with belt loops, which means you can wear it as regular denim jeans.
Pros
Machine-washable
Breathable and soft material
Features 1 bib pockets and 2 large side pockets for convenience
Suitable to wear at work, outdoors, or as evening wear
Cons
Not ideal if you prefer a stretchy material
Price at the time of publication: $34.99
Here's a pair of overalls that screams weekend vibes and will look uber cool when paired with striped shirts. A combination of a jumpsuit and overall, these baggy overalls for women are ideal for summers and for both indoors or outdoors. Also, did you notice the giant pockets? These relaxed fit cotton-linen overalls come with 5 pockets. Moreover, the wide-leg fit ensures unparalleled comfort and the straps are adjustable with button closure.
Pros
Lightweight summer overalls
Suitable for daily wear
Machine-wash friendly
The pockets are deep and convenient for storage.
Patch pockets
Affordable
Cons
Not available in bright colors
Price at the time of publication: $22.49
How about you give those denim pants a break this summer? This overall dress by Romwe is not only high on style but comfortable too. And as for the pinafore pleats, they will make you want to twirl in them all day! Made of polyester and spandex and with invisible zipper closure to give you a secure fit, this overall dress is what you need to stay chic and trendy this summer. Available in a host of eye-catching designs and colors, the comfortable overalls dress is cute, trendy, and features an invisible zipper back.
Pros
Features adjustable straps
Ensures optimal comfort with stretchable fabric
Suitable to pair with most of the tops and shirts
Zipper closure
Cons
May not offer a good fit or very tall women
Price at the time of publication: $23.99
The baggier the overall, the trendier it looks! And these boyfriend-style cropped pants will awaken the hippie in you. With a hand-printed design and distressed look to add a touch of the wilderness, they are made of 100% cotton denim and ideal for all-day wear. Besides this, the thin straps are adjustable and the loose-fitting gusset area ensures a roomy fit. The leg cuffs feature fringes to add a subtle feminine touch!
Pros
Ultra-comfy and loose overalls for women
Features 4 roomy pockets for convenience
Suitable to wear during summers and winters
Functional wear
Cons
May not be machine-washable
Price at the time of publication: $54.99
Whoever said overalls are not fashion-worthy hasn't tried this skinny pair by Twiin Sisters! A must-try if you are a fan of the classic, body-hugging fit, this trendy and slim overall will contour your curves like no other. Made of cotton-spandex material, the brand claims the fabric is stretchy and comfortable to wear. Yep, put them on with your favorite tank top and watch the distressed look chic up your OOTD instantly! And if denim isn't your cup of tea, you can always try this pair in a wide variety of color choices.
Pros
Machine-washable
Side buttons ensure a secure fit
Features 5 pockets for convenience
Suitable to wear during summers and winters
The straps are adjustable.
Cons
May be slightly uncomfortable for those with a large chest
Price at the time of publication: $34.99
Looking for quick and easy ways to make summers bearable while keeping your style meter high? Get ready to fall in love with this pair of ultra-comfy and baggy overalls this season. Designed with wide leg cuts, they are made of high-quality linen fabric, which is soft on the skin and ensures a comfortable fit whether you wear it indoors or outdoors. Also, the straps are easy to adjust with a tie-up closure, thus making them look ultra-chic and trendy.
Fashion designer Raluca Oita says, "Baggy overalls are a stylish and comfortable solution for surviving the summers with ease. These overalls are designed to keep you cool and comfortable in the hot weather while still keeping your fashion game on point.The adjustable straps feature a tie-up closure, adding an extra element of chic and trendiness to the overall design. So, if you are looking for a quick and easy way to beat the heat this summer while staying stylish, these overalls are a must-have in your wardrobe!"
Pros
Durable fabric
Resistant to wear and tear
Breathable, stretchy, and lightweight
Features 2 front pockets for convenience
Cons
Some may find the straps slightly uncomfortable
Price at the time of publication: $24.99
A classic style reinvigorated, this bib overalls by Carhartt is a staple for women who prefer comfort over anything, but can't entirely style either. You can pair it with a simple white top, and you'll have a look to flaunt through all seasons. Made of 100% cotton and featuring a pull-on closure, the overall is designed to deliver high functionality. It comes with storm flaps from the hip to the ankle and multiple pockets for convenience! Moreover, the gusset area is roomy to ensure a comfortable fit while working.
Pros
Machine-friendly
Features a zipper pocket inside
The leg openings are adjustable too.
The adjustable straps have an elastic extension.
Cons
Price at the time of publication: $109.99
Just the pair you need to make a statement wherever you go, this decadent, distressed, and boyfriend overall will make you stand out with its classy fit. Roomy and versatile, you can wear it indoors, outdoors, while traveling, on holiday, or as casual wear, the secrets in the styling. Designed with adjustable straps, these stylish and modern overalls for women have belt loops and side buttons for secure closure. This overall is also available in a host of other denim styles and multiple sizes.
Pros
Soft fabric
Machine washable
Ripped and chic style
Features 5 convenient pockets
Cons
Some may find the fit around the hip area slightly loose
Price at the time of publication: $44.99
With a trendy-chic appeal, you'll never go wrong with this classic pair of snug fit overalls in your closet. Ideal for pairing with anything and everything, the back straps are adjustable and low cut starting from the hips, so you can explore and experiment with different styles. Besides this, the overall ensures comfort with its cotton, polyester, and spandex material. As for the fit, watch it contour your curves beautifully without compromising on comfort.
Pros
Stretchable fabric
Machine-washable
Easy to slip on and slip off
Ensures a secure fit with side buttons
Features multiple pockets for convenience
Cons
Some may find that it ends slightly above the ankle area
Price at the time of publication: $45.74
For all the souls out there looking for vintage-inspired overalls, this Levi's overalls would be gold. Yep, whether you want to channel your goody-two-shoes vibes or need them as workwear, this versatile relaxed fit overall will not disappoint. Also, no snagging or tightness around the waist as this high-rise design sits above the hips to deliver optimal comfort. Just the pair you want to pull on when on garden duty or to run errands, these 100% cotton overalls are great to cozy up in during winters too.
Pros
Soft fabric
Roomy gusset area
Stretchable straps with hook and eye closure
Ensures secure fit with side buttons
Cons
May be too long for petite women
Price at the time of publication: $62.65
The perfect match for summer, these cute overalls for women are making comfort look chic and fashionable at the same time. More like a contemporary twist on the vintage fit, the oversized design is ideal for those looking for a no-snug and all-comfort (yet trendy!) outfit to flaunt this summer. The straps are adjustable and designed with hook and eye closure. Also, you can leave it to the crop tops and tank tops to make these overalls look trendier! Do you think you can handle the compliments?
Pros
Machine and hand-washable
Ultra-soft
100% cotton
Features multiple pockets for convenience
The loose fit ensures optimal comfort.
Cons
Price at the time of publication: $39.99
Are you looking for plus-size bib overalls? If yes, you must give these loose denim overalls from Dickies a try! Not only do they have a relaxed fit, but the traditional utilitarian appeal makes them ideal for working in it without feeling any discomfort. It comes with multiple utility pockets to store all your essentials easily. Moreover, the straight-cut fits like a glove on boots, making this 100% cotton overall suitable for all seasons!
Pros
No-fur overalls
Machine-washable
Ensures optimal comfort
Highly durable with ScuffGard on heels
Suitable for gardening, carpentry, snow clearing, etc.
Cons
Price at the time of publication: $41.99
Style up for your snow adventures in these bold print bib overalls! A great option for fashion enthusiasts, this 100% polyester snow pant is high on functionality and ensures optimal protection from freezing temperatures. Additionally, it has a jacket-to-pant zipper design for easy pull-on and pull-off, mesh-lined zippered vents to control internal temperature, and V-science waterproofing to keep the water and moisture out. Besides this, the boot gaiters with lace hooks will snug around your boots efficiently.
Pros
Durable and sustainable
Slim fit with the triple-reinforced rise
Adjustable straps with hook and eye closure
Designed with hand-warming tricot-lined pockets
The stretchable fabric ensures increased mobility.
Cons
Price at the time of publication: $160.74
Can't wait to cozy up in these, right? There you go, those were the 15 best overalls for women to flaunt this 2023. Do you still need assistance with choosing the best overalls? Or wondering what you can pair with them? Check out our buying guide for all the tips and tricks!
How To Select The Best Overalls For Women
Shopping for the best overalls can be a task however, you can look out for these features in the product before buying:
Finding the right size can be tricky, especially if you want to experiment with the baggy or oversized look. It is recommended that you check out the size chart and pick the one that falls closest to the regular size you wear. However, if it's your first time, go for a loose fit or select a size bigger than your usual size for the baggy look.
Yes, bulky overalls can be uncomfortable if you wear them for prolonged hours. Hence, if you are looking for a lightweight pair to wear during summers or while working, cotton overalls are ideal, whereas the ones made of polyester and spandex are great for winters.
Overalls are now available in multiple forms, from vintage, straight-cut, baggy to oversized! Moreover, the utilitarian fit is available with a high-rise and low-rise as well, so before you buy one, check if the design is suitable for you.
If you are looking for workwear overalls, functionality and comfort should be a priority. Look out for a wear-and-tear-resistant pair for long-lasting durability. Also, workwear overalls should be roomy around the waist for maximum mobility.
Lastly, when we say convenience, we mean pockets! Also, there's no such thing as too many pockets when it comes to overalls. If you are looking for winter overall options, pick the one designed with hand-warming pockets for maximum benefits, and as for workwear, deep pockets are a must for holding tools and essentials.
What To Wear With Overalls?
Everything and everyone looks good in overalls! A multi-seasonal outfit, here's what you can pair them with:
Wear it with a tank top, crop top, or a classic solid color T-shirt to beat the heat, the trendiest way.
Denim overalls with a white shirt (button down) and boots are great for informal gatherings.
Turtleneck top, sleeveless turtleneck with a coat or blazer and jumpers are great go-to for your winter OOTDs.
Vintage denim overalls with a hoodie are the best way to keep it trendy and comfy at the same time.
Are you planning an evening outfit with overalls? Pair it with a collared blouse, bell-sleeve top, or go all-out with an oversized coat to make a fashion statement.
Why Trust StyleCraze?
Srijita De is a fashion enthusiast and a product writer passionate about researching the latest trends. After analyzing a wide selection of items and scanning through numerous online reviews, she has compiled this list of the finest overalls for women. This collection includes various patterns and styles, ranging from classy oversized and baggy overalls to smart and tailored denim overalls. The post also includes a shopping guide to assist you in selecting the best overalls.
Frequently Asked Questions
Are overalls still in style in 2023?
Yes, overalls are back in style with some more popular and unique designs to try out. They are best styled with basic t-shirts and minimalistic gold jewelry.
Is 50 too old to wear overalls?
No, overalls work fine for every age group, and you can easily wear a stylish overall in the 50s.
Do you wear pants under overalls?
If you are wearing overalls as typical protective gear, wear them over your regular clothing, including your pants. However, if you are wearing it as a fashion choice, wearing pants under it is optional.
Do overalls look good on pear-shaped women?
Yes, overalls look quite flattering on pear-shaped bodies. Black or dark-colored overalls with tight-fitting tops are the best for this body shape.
What's the difference between overalls and coveralls?
Unlike overalls, coveralls are not a part of the fashion world (not yet, at least). They are worn over your regular cloth to protect them from dirt. They cover much more than overalls, which only contain the bib and the leggings part.
Recommended Articles: