15 Best Overnight Masks For Healthy Skin – 2023
Say goodbye to dullness and nourish and brighten your skin with a radiant glow.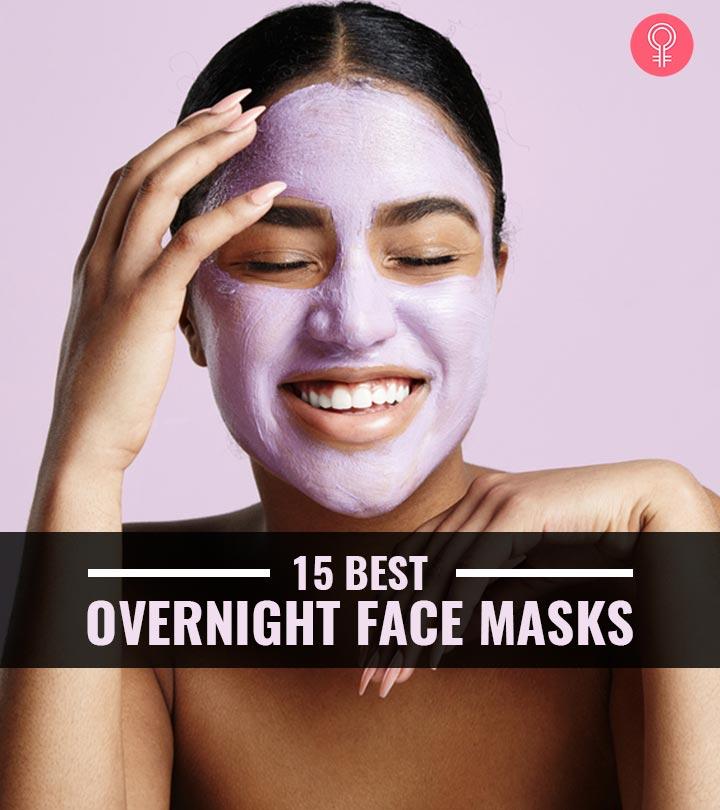 All you need overnight skincare products to achieve a radiant and flawless complexion. Products like repairing overnight masks work better at night as your skin is in repair mode, giving way to better absorption. They are also a great solution to restore tired, stressed, and dehydrated skin. To help you get your hands on the perfect one, we have compiled a list of the 15 best overnight masks that you can apply for glass-like skin. Keep reading to know more!
15 Best Overnight Face Masks
The Olay Luminous Overnight Mask is a gel-based formula that hydrates the skin to restore a vibrant glow. This drugstore overnight face mask rejuvenates the skin throughout the night and makes it look refreshed. It is formulated with vitamin B3, mulberry extract, and humectants to nourish the skin. Vitamin B3 helps improve the skin tone, mask fine lines and wrinkles, and restore the skin's hydration. Mulberry extract and humectants fade dark spots and increase the skin's moisture level by several folds.
It is also infused with vitamins E and B5. Vitamin E is an antioxidant that protects the skin from damage. Vitamin B5 penetrates deep into the skin and improves skin barrier function, protecting it from the adverse effects of toxins. The Olay non-peel overnight gel mask is absorbed quickly into the skin while you sleep and works at the cellular level to brighten it. Take a look at this video to explore a reviewer's experience with this product.
Specifications: Vitamin B3 and Mulberry extract
Suitable For: All skin types
Pros
Softens and smoothens the skin
Non-peel off mask
Releases toxins
Quickly absorbed
Imparts a healthy, youthful glow
Reduces fine lines and wrinkles
Fades dark spots
Cons
May dry out the skin.
May cause allergic reactions.
The Acure Resurfacing Overnight Glycolic Treatment Mask resurfaces, refines, and hydrates all skin types. It helps improve the uneven skin tone and texture for dewy finish. This lightweight hydrating cream is formulated with glycolic acid, lactic acid, and alpha-hydroxy acid (AHA) to provide gentle exfoliation, reduce pigmentation, and blur age spots. It also contains true unicorn root, hemp seed oil, and moonstone extract to refine and hydrate the skin. The product has not been tested on animals.
Specifications: Alpha-hydroxy acid (AHA), Glycolic acid, and Lactic acid
Suitable For: Normal, oily, and combination skin
Pros
Lightweight
Improves skin tone
Provides a mirror finish
Skin texture improvement
Reduces hyperpigmentation
Vegan
Cruelty-free
Sulfate-free
Paraben-free
Mineral oil-free
Petrolatum-free
Formaldehyde-free
Cons
May cause irritation.
Not suitable for sensitive skin.
If you want a spa effect in the next morning, the COSRX Ultimate Nourishing Rice Overnight Spa Mask is the ideal pick. It is enriched with 68% rice extract to provide intense hydration and deep moisturization throughout the night. Rice extract is rich in amino acids, vitamin E, and ferulic acid – vital nutrients to hydrate, nourish, and rejuvenate the skin. It helps to even out the skin tone and lend a radiant complexion. You will wake up to soft, smooth, and supple skin. Check this video to explore a tester's experience with this product.
Specifications: Rice extract
Suitable For: Dry and combination skin
Pros
Ultra-nourishing
Brightens the complex
Even out skin tone
Softens the skin
Smoothens the skin
Lightweight
Reduces acne scars
Cons
The Origins Drink Up Intensive Overnight Mask is ultra-moisturizing. It provides 72-hour hydration and keeps the skin soft, smooth, and supple. The overnight restorative face mask is a blend of Swiss glacier water, hyaluronic acid, and avocado butter to lock in the extra nourishment overnight. Another wonder ingredient is the Japanese seaweed that helps in skin repair, preventing dehydration and signs of premature aging. This intensive revitalizing, anti-aging overnight mask can be used on dry, thirsty hands as a moisturizing hand mask or cream. Check out this video to learn more.
Specifications: Hyaluronic acid and Avocado butter
Suitable For: Dry skin
Pros
Provides 72-hour hydration
Evens out the skin tone
Alleviates dry skin
Reduces fine lines and wrinkles
Prevents premature signs of aging
Restores skin elasticity
Refreshing aroma
Cons
Sticky texture
May feel heavy on the skin.
If you want to add antioxidants to your night skin care routine, the St. Botanica Antioxidant Boost Night Mask is the right pick for you. This gel-based night cream contains aloe vera, menthol, cucumber, green tea, vitamin C, and retinol to rejuvenate the skin. The antioxidants in green tea and retinol blur the fine lines, and wrinkles and protect the skin from aggressors. The skin-friendly, cooling ingredients, like aloe vera, methanol, and cucumber, refresh the skin and restore youthful radiance. It provides long-lasting nourishment and super-food infused hydration throughout the night.
Specifications: Green tea, Vitamin C, and Retinol
Suitable For: All skin types
Pros
Paraben-free
Sulfate-free
Mineral oil-free
Silicone-free
Cruelty-free
Reduces fine lines and wrinkles
Blurs blemishes and imperfections
Easy to use
Protects from UV damage
Long-lasting effect
Cons
None
The Vichy Laboratories Aqualia Thermal is an ultra-hydrating overnight formula that infuses moisture into your skin, making it soft, fresh, and healthy. It is formulated with 97% natural ingredients like hyaluronic acid, Vichy-15 mineral-rich volcanic water, and plant sugar to lock in 48 hours of dynamic hydration.
Hyaluronic acid is an emollient that deeply hydrates, rejuvenates, and heals the skin. Plant sugar is a high-performance hydrating ingredient to strengthen the skin's moisture barrier and prevent water loss, making the skin radiant and plumped with moisture. Vichy-15 mineral-rich volcanic water protects the skin from chemical and environmental aggressors. This dermatologist-tested mask contains fortifying oils that nourish your skin without feeling heavy. 9 out of 10 women who have tested this product testify that it imparts visible results.
Specifications: Vichy-15 mineral-rich volcanic water, Hyaluronic acid, and Plant sugar
Suitable For: Dry, Normal, Sensitive skin
Pros
Long-lasting
Lightweight
Dermatologically-tested
Provides a healthy skin
Charged with 15 essential minerals
Suitable for sensitive skin
Protects the skin
Paraben-free
Hypoallergenic
Reduces dullness
Refreshes the skin
Luxurious formula
Cons
None
The Renew Overnight Mask is a lightweight, non-greasy overnight mask that works great for normal, dry, and combination skin types. It is formulated with aloe vera and hyaluronic acid that deeply moisturize and hydrate the skin. This mask works both as a barrier and a sealant that prevents pore-clogging while helping skin products penetrate the skin effectively for best results. This all-natural formula absorbs quickly without leaving behind any sticky residue.
Specifications: Aloe vera, Hyaluronic acid, and Green tea extract
Pros
Natural
Vegan
Cruelty-free
Fragrance-free
Non-sticky
Lightweight
Paraben-free
Cons
None
The MISSHA Super Aqua Cell Renew Snail Sleeping Mask works like a miracle. It tones, smoothens, and hydrates the skin and offers a refreshed feeling. It is infused with 30% snail slime extract, baobab extract, deep seawater, and botanical callus extract.
Snail slime extract promotes the production of elastin and collagen that fade sunspots, repair sun-damaged skin, smooth out creases and wrinkles, and heal acne scars, redness, and dull skin tone. It improves the elasticity of the skin which helps in firming and tightening of skin. Baobab extract and deep seawater are packed with vitamins and minerals for deeply nourishing and moisturizing the skin and activating energy inside the skin. The botanical callus extracts deeply clean and clear the skin by controlling blemishes. It is free of animal testing.
Specifications: Snail slime extract, Baobab extract, and Deep seawater
Suitable For: Normal to dry skin (20-30 years) and oily skin
Pros
Works on fine lines
Removes dead skin
Refreshes the skin
Improves damaged skin
Relieves stress
Refreshing smell
Cons
The Glow Recipe Watermelon Glow Sleeping Mask is breathable and refreshing. It spreads on the skin quickly and does not get transferred to the pillow. This lightweight glow-boosting face mask boosts the skin's natural radiance with a hybrid formula that contains watermelon extract, hyaluronic acid, and alpha-hydroxy acids (AHAs). The watermelon extract is rich in amino acids, vitamins, and minerals to hydrate, soothe, and protect the skin from damage. The anti-acne overnight mask is loaded with hyaluronic acid, AHA, and pumpkin extract slough out dead skin cells by providing gentle exfoliation and brightening the skin tone. These clinically backed skincare ingredients have proven efficacy in imparting an even skin tone. The product delivers visible results and promotes glowing, soft skin after 4 weeks of use. The powerful natural botanical extract blends leave your skin nourished and soft.
Specifications: Watermelon extract, Hyaluronic acid, and Alpha-Hydroxy Acid (AHA)
Suitable For: Dry skin, acne-prone skin, and sensitive skin
Pros
Paraben-free
Sulfate-free
Mineral-oil free
Free from sulfate
Phthalate-free
Dye-free
100% vegan
Cruelty-free
Alcohol-free
Bouncy, watery gel
Cons
Wake up to hydrated, supple, refreshed skin with the Neutrogena Hydro-Boost Hydrating Overnight Gel Mask. This hydro-gel formula is infused with hyaluronic acid, a moisturizing ingredient to keep your skin soft, smooth, plump. It also helps reduce visible lines and wrinkles by locking in hydration levels. This powerful hydrator acts like a sponge to quench the dryness by reinvigorating and revitalizing the skin. It is dermatologist recommended and non-comedogenic.
Specifications: Hyaluronic acid
Suitable For: Dry skin
Pros
Dermatologist recommended
Non-comedogenic
Long-lasting
Zip-lock moisture level
Cons
The Bliss Reviving Overnight Mask provides a powerful boost of nutrients to bring dull, stressed skin back to life. The hydrating nutrient-rich veil of watermelon extract balances the skin to calm and destress it while hydrating each cell deeply. It is rich in vitamin C, amino acids, lycopene to promote cell regeneration and hydrate and protect the skin. It also contains aloe vera, cucumber, and oat kernel to soothe inflammation, redness, and irritation. Hyaluronic acid soothes and plumps the skin. You will wake up to refreshed, vibrant, and supple skin.
Specifications: Watermelon extract
Suitable For: All skin types
Pros
Paraben-free
100% vegan
Cruelty-free
Removes dead skin and toxins
Imparts a dewy complexion
Boosts skin defense
Softens the skin
Heals the skin
Cons
None
The Body Shop Tea Tree Skin Clearing Night Mask is specifically formulated to hydrate and nourish oily skin. It is infused with potent BHA salicylic acid and community trade tea tree oil to blur imperfections. Salicylic acid sheds dead skin cells from the top layer and heals inflammation and redness. It decreases the occurrence of pimples and speeds up the healing process. Tea tree oil is a potent antioxidant, and its antimicrobial properties reduce acne scars to make the skin smooth and clear.
Specifications: Salicylic acid and Tea tree oil
Suitable For: Oily skin
Pros
100% vegan
Soothes the skin
Heals inflammation
Alcohol-free
Does not stain pillows
Clears the skin
Removes dead skin
Ultra-refreshing
Alcohol-free
Cons
The Burt's Bees Hydrating Overnight Mask replenishes moisture while you sleep and keeps your skin refreshed and hydrated skin. It is formulated with 99% naturally extracted formulae like avocado oil, superfruits rich in fatty acids, and prebiotics for intensely hydrating the skin. The beta-carotene, protein, lecithin, fatty acids, and vitamins found in avocado oil deeply moisturize the skin and protect it from toxins and environmental aggressors. Prebiotics are important for recalibrating the skin's microbiome. This overnight mask provides 24-hour hydration and restores the skin's moisture barrier. It is also dermatologist-recommended.
Specifications: Avocado oil
Suitable For: Dry skin
Pros
Paraben-free
Phthalate-free
SLS-free
Petrolatum-free
No synthetic fragrances
Cruelty-free
Long-lasting hydration
Refreshes the skin
Maintains the skin's microbiome flora
Cons
The Sulwhasoo Overnight Vitalizing Mask is a Korean medicinal herbal formula for radiant-looking and hydrated skin. This K-beauty formula is infused with Scutellaria root, walnut extract, and Angelica Acutiloba for balancing the skin's moisture level. Scutellaria root, the main ingredient of K-beauty has antibacterial, anti-inflammatory, anti-allergic, and antioxidative properties to protect the skin from damage and heal acne scars.
Acute lobed Angelica and pomegranate are rich in antioxidants and help to brighten the skin tone. Walnut and mulberry extracts deliver essential nutrients to restore the skin's vitality. This hydrating Korean beauty mask features an innovative Organic Respiration Layer (ORL) technology that makes it breathable and safe for overnight use.
Specifications: Scutellaria root, Walnut extract, and Angelica acutiloba
Suitable For: Dry and sensitive skin
Pros
Breathable
Heals acne scars
Reduces inflammation
Ultra-nourishing
Moisturizing
Refreshes the skin
Cons
None
The Drunk Elephant F-Balm is a cooling, refreshing, quenching overnight mask that plumps and balance the electrolytes for strengthening the skin cells. A blend of nicotinamide, sodium PCA, five forms of ceramides, powerful antioxidants, and tiny beads of vitamin F rehydrates, restores, rehabilitates, and revitalizes the skin, making it soft and supple. The four electrolyte blend (coconut water, sodium PCA, magnesium PCA, pear extract) is rich in antioxidants and is a powerful humectant that maintains the skin's hydration levels, calming redness and irritation.
Nicotinamide or vitamin B3 helps to build a ceramide barrier by locking in moisture. It helps in pore refinement, heal redness, inflammation, and protect the skin from damage. The power beads of vitamin F (linoleic and linolenic fatty acids) deeply nourish the skin, retain the moisture level, and deliver extra-soothing hydration.
Specifications: Nicotinamide
Suitable For: Dry skin
Pros
No essential oils
Alcohol-free
Silicone-free
No added fragrances or dyes
SLS-free
Nourishes deeply
Reduces redness and inflammation
Minimizes the pores
Ultra-moisturizing
Cons
None
These are the top 15 ultra-hydrating overnight face masks for healthy skin available online. But are you curious to know how they work on your skin? The next section will help you.
What Does An Overnight Mask Do?
Overnight masks are engineered to penetrate deeply into your skin as you sleep. The thin film prevents dust and dirt from clogging the pores, and locks the active ingredients in to nourish the skin. At night, the skin undergoes a circadian rhythm and repairs DNA damage (1).
An overnight mask with natural ingredients and hyaluronic acid balances the skin's hydration, delays aging, and blurs the fine lines and wrinkles. Applying an overnight mask adds an extra layer of nourishment and makes your skin feel refreshed and rejuvenated.
Read on to know how to use an overnight mask.
How To Use An Overnight Mask
Using an overnight mask is not as easy as going to sleep. There are certain steps that you must follow for a refreshing feel.
Start your night-time skin care routine by cleaning your skin with a skin-friendly natural cleanser.
Layer on a night serum. Serums are a great way to tackle your skin care concerns as they are concentrated liquids that target specific issues.
Apply a thin film of the non-peeling overnight mask, leaving your eye and lip regions. Wait for 30 minutes for it to get absorbed into your skin and prevent staining the pillow.
Leave this mask on overnight and wipe off the next morning for a radiant glow.
Before the final call, follow these tips while buying an invigorating face mask.
Tips To Choose The Best Overnight Mask – A Detailed Buying Guide
Choose The Ingredients As Per The Skin Type
If you do not know your skin type, consult a dermatologist.
If you have sensitive skin, choose a non-irritating mask that soothes your skin. It should contain anti-inflammatory and antibacterial ingredients like green tea, chamomile, white tea that heal redness. Moisturizing ingredients like glycerin, hyaluronic acid, cucumber, and aloe vera are skin-friendly and help to moisturize your skin effectively without triggering allergic reactions. Try to invest in dermatologically tested products with clinically tested ingredients to ward off the risk of allergies.
If you have dry skin, pick an overnight mask that contains invigorating blends of natural ingredients to add life to dull, dehydrated skin. Look for products with emollients. Emollients help to rehydrate dry, and flaky skin. They act as a protective barrier and restore skin moisture.
If you have oily skin, choose ingredients that will not clog your pores. Ingredients that manage sebum production and balance oil secretion would be the right pick for you. Glycolic acid helps dissolve sebum, clean up impurities and does not clog the pores.
Combination skin requires lightweight, oil-free ingredients to hydrate the skin and balance sebum production. An overnight mask with hyaluronic acid would be the right choice.
Environmental aggressors and hormonal imbalance may cause premature aging. An overnight mask with antioxidants helps reduce fine lines, wrinkles, and helps in blemish control. Antioxidants like retinol, vitamin C, peptides, nicotinamides, and tea extracts are beneficial for aged skin.
Beware Of Chemical Aggressors
Avoid overnight masks containing harmful chemicals like parabens, silicones, and sulfates. Instead, opt for toxin-free, scientifically formulated products with proven efficacy.
A naturally-derived, non-irritating, and refreshing fragrance uplifts your mood. Go for green tea and lavender aromas.
Gel and cream-based overnight masks are lightweight and moisturizing. But a gel-based moisturizing overnight mask is absorbed quickly, leaving a soothing and cooling effect, while a cream-based mask has thick consistency as it contains essential oils and thus takes a long time to get absorbed.
Why Trust StyleCraze?
Oyendrila Kanjilal, the author, is a certified skin care coach who believes that face masks should be a part of everyone's beauty regimen. Overnight face masks restore the skin's vitality after the day's struggles have taken their toll on it. After digging through all the available reviews online, she has assembled the list of the top overnight masks along with tips on how to get the most out of them. These face masks are full of ingredients that nourish and moisturize the skin.
Frequently Asked Questions
Can you use an overnight mask every night?
No, you cannot use an overnight mask every night as it may dehydrate the skin. Use it 2-3 times a week.
How long do I use this mask?
Apply a thin layer of an overnight mask before going to bed, leave it on throughout the night, and let it get absorbed naturally. Wash it off the next day after waking up.
What is the difference between an overnight mask and a moisturizer?
Both hydrate, nourish, and rejuvenate the skin. An overnight mask slowly and steadily detoxifies the skin for a fresh look the next day, while a moisturizer gets absorbed in the skin quickly, making it soft, smooth, and supple for a few hours.
Do I wash my face after an overnight face mask?
No, Do not wash your face after applying an overnight face mask because by doing so, you will lose the moisture and hydration from the face mask. Instead, leave it on overnight and wash it away the next morning.
Is it good to leave egg white on your face overnight?
No. Leave the egg white on your face for 10-20 minutes. Then wash it off with cold water to clean your face. Egg white helps to remove buildup and closes pores. It ios especially beneficial for people with sensitive and oily skin.
When should I apply an overnight mask?
Apply an overnight mask 15-20 minutes before bed.
Recommended Articles