10 Best Overnight Hair Mask (Treatments)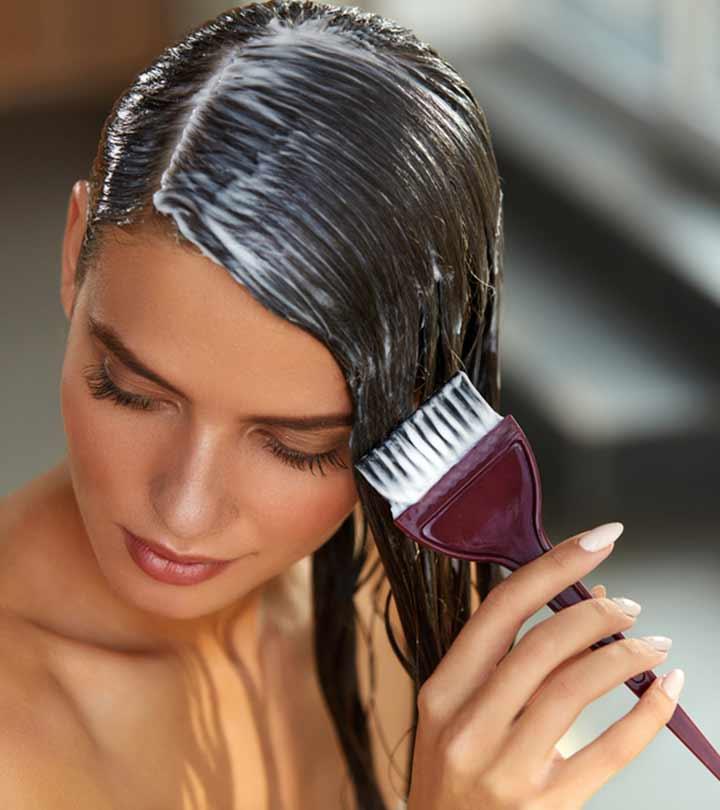 Just like your face, even your hair needs that extra TLC to deal with the damages and tackle all your hair concerns. While some hair masks need to be left on your hair only for 20-30 minutes, an overnight hair mask needs to be left on for the whole night. Much like how your skin rejuvenates itself while you snooze, overnight hair masks give your hair the beauty sleep it needs to be healthier, shinier, and stronger. These hair masks are formulated in such a way that you need to wear them on for long hours to combat dryness, damage, extra frizz, and split ends, all the while giving your hair the nutrient boost it needs. With the perfect overnight hair mask, you are only one sleep away from a healthy-looking mane. So, go ahead and try out our list of the best overnight hair masks to say goodbye to dull and damaged hair.
10 Best Overnight Hair Mask
Have dry, brittle, or rough hair? This overnight hair mask with saw palmetto extract, coconut, and sunflower seed oil moisturizes your locks to give you soft, smooth hair. It also addresses other hair concerns such as breakage, premature shedding, and split ends. Take a tiny amount in your hands and apply it throughout your hair covering your hair strands. There's no need to rinse it out in the morning as it can be applied as a leave-in hair mask. This moisturizing treatment will give your tresses the overnight boost they need to find the way to a frizz and tangle-free look. With this pick, you are sure to see amazing results in just 2 weeks.
Pros
No mineral oil or petrolatum
Prevents premature greying
Protects hair from split ends
Prevents breakage
Cons
If dry frizzy hair is driving you crazy, this overnight Night Spa Serum from Truss will be the perfect solution for your hair concerns. It is infused with vitamin E, which is known for its natural antioxidant properties that promote hair growth. Vitamin E also helps in moisturizing the hair strands and maintaining a healthy scalp. Crafted with bio cysteine and other vital nutrients, this serum has been formulated to increase your hair's resistance and elasticity. It uses 100% vegan myrica fruit wax and bio-affinity agents that help restore essential proteins and lipids into your hair. Blended with micro amino acids and  ceramides that restore softness and shine, this overnight serum is ideal for color-treated and chemically- treated hair
Pros
Uses 100% vegan wax base
Removes frizz and dryness
Color-treatment safe
Shine-enhancing
Infused with miracle oils
Chemical treatment safe
Cons
May not suit oily hair
Slightly on the expensive end
If you are dealing with hair loss and/or thinning of hair, then you need to focus on products that are specifically curated for the same. The Intensive Overnight Hair Serum from Keranique can hence be the overnight mask that you really need. It addresses all your hair fall concerns by nourishing the hair follicles and promoting hair growth. Infused with Keratin Amino Complex this serum boosts hair thickness and helps anchor the hair at its root. It also prevents split ends and repairs each hair strand by providing intensive nourishment and hydration. Moreover, the serum is crafted with copper peptides which nourish the scalp and improves the hair growth cycle.
Pros
Ideal for thinning hair
Repairs split ends
Stimulates hair growth cycle
Free of dyes
Free of sulfates and parabens 
Cons
The scent may not be pleasant for everyone 
Environmental factors such as heat and pollution can severely damage your hair. This, in turn, can lead to dull and weak hair. Kerastase Noctogenist Serum Nuit by L'oreal Paris is enriched with nocto-active complex that nourishes your hair and provides protection against daily wear and tear. It contains amino acids and vitamin E that help replenish its natural shine and strength. This overnight serum is also infused with hydrating ingredients such as niacinamide and avocado oil that prevents hair breakage and dullness. Apply this serum overnight to wake up to shiny soft manageable locks.
Pros
Prevents dullness and hair breakage
Works against dehydration
Protects from daily damage
Leave in serum
Cons
A bit on the expensive side
Our busy lifestyle can make it a little hard for some of us to find enough time to incorporate a routine for elaborate hair care. A perfect leave-in hair serum can hence make all the difference in the world for your hair in terms of texture and health. The overnight Hair Treatment Serum from L'emarie does just that. The serum provides intense moisturization leaving it soft and shiny. It also nourishes the hair by improving its strength and elasticity. This leave-in formula adds volume and softness to your hair without weighing it down. It also nourishes color-treated, damaged, and over-processed hair right down to the cuticle.
Pros
Lightweight formula
Leave in serum
Locks out humidity
Protects hair against the damage from heating and styling products
Cons
Particularly formulated for dry hair, this easy and invisible application works to bring back the softness and elasticity to your hair. It also works towards balancing out any hair deficiencies so you can wake up with soft and healthy hair. This hair mask can be left on for about 20 minutes, overnight, or all day. You won't have to worry about your hair drying out with this one. What more? This overnight hair mask also works for all hair types.
Pros
Works as a normal or overnight hair mask
Deals with hair deficiency
Pleasant fragrance
Intense moisturization 
Cons
Thicker hair needs more product and might be expensive for regular use
The Majestic Pure Avocado Hair Mask helps condition your hair and make itvisibly shiny overnight. It contains coconut oil, shea butter, avocado oil, and biotin that promote thick, healthy hair. The rich formula helps moisturize and smoothen your hair and tame frizz.
Pros
Cruelty-free
Silicone-free
Sulfate-free
Color-safe
Suitable for all hair types
Cons
If you are looking to add some fullness and volume to your hair while giving it that natural bounce, then you need something that is specially designed for it. Taya's overnight plumper is the perfect all-in-one formula for fine, thin, and weakened hair. Their unique innovation moisturizes every strand while effortlessly adding lift, dimension, texture, and volume to your lovely locks. Made with acacia collagen and amazon white clay, this fast-dry hair plumper of moussy consistency instantly adds plumpness by maximizing the volume of your hair whilst providing intense moisturization. It also contains raw avocado oil and croton lechleri resin to provide flexibility to your hair to create natural and bouncy looking styles. It's also a great pick if you are in search of products that are made with raw and natural ingredients.
Pros
Free of sulfates and harsh chemicals
No animal products
Not tested on animals
Leave-in formula
Great for fine, thin hair
Can be used any time during the day
Dime-size is enough
Allows you to apply other styling products after a few hours 
Cons
May not suit sensitive scalp
Who wouldn't love a hair serum that nourishes your hair while also ensuring high-quality sleep? Pequi,  jojoba oil, and monoi are added to the formula to deeply condition and repair dry, damaged hair. Infused with peppermint, tea tree, and lavender oil, this overnight therapy mask provides specialized aromatherapy while also engaging the senses with a mint-lavender fragrance. This product from Paul Mitchell gives you the experience of not just waking up with healthy-looking hair, but also a relaxed mind and spirit.
Pros
Paraben-free
Gluten-free
Color safe
Vegan
Pleasant aromatherapy experience
Infused with peppermint, lavender, tea tree oil
Cons
Hair wash before application is a must for better results
The scent may not be soothing for everyone
Sometimes your hair needs that light hydration to deal with all the mess that we put our hair through. Get acquainted with this overnight hair mask introduced by Aveeno that gently moisturizes your locks while you sleep. This lightweight moisture formula works great as a hydrating mask to promote nourished hair. This hair mask is infused with oats and almond milk that softens and provides balanced moisturization from roots to tip. Made from wholesome ingredients, the product will soothe and nourish your scalp and hair. It is suitable for all hair types and nourishes dry and damaged hair.
Pros
Sulfate-free treatment
Free of dyes and parabens
Suitable for all hair types
Ideal for color-treated hair
Infused with oat milk and almond milk
Cons
Finding the right hair mask is not easy, and we know that all too well. With our list of the best overnight hair masks, we hope that you would no longer have to waste your precious time searching for the right product.
Recommended Articles
The following two tabs change content below.