12 Best Oxford Shoes For Women That Are Comfy To Wear All Day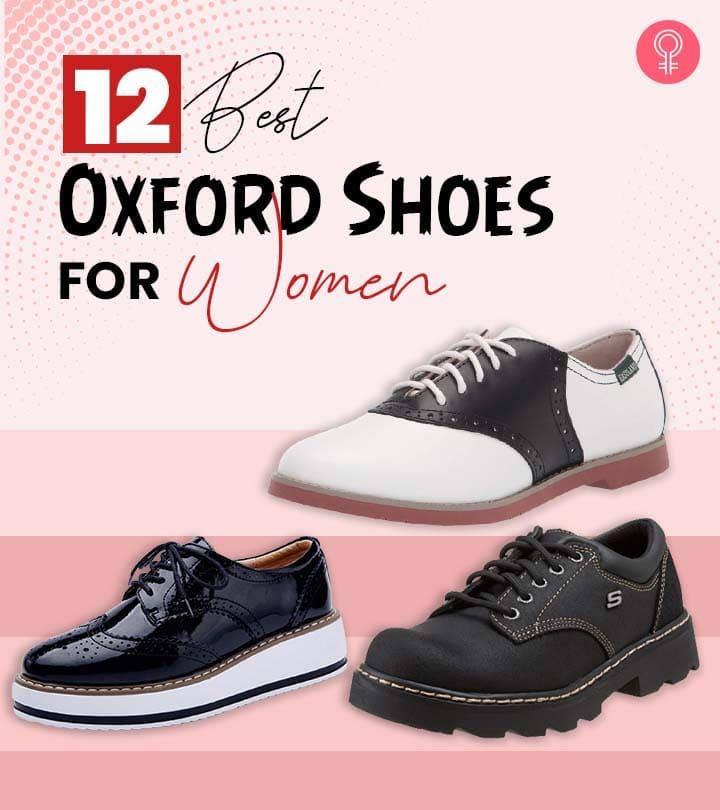 A pair of good Oxford shoes for women can be paired with both casual and formal wear. These shoes originated in Oxford, England, and have been enjoyed by men for a long time till they found their way to women's fashion. These shoes are extremely elegant and stylish.
Oxford shoes are comfortable enough for all-day wear and are available in leather or suede uppers for a soft, comfortable experience. If you are looking for a stylish pair of shoes that can be effortlessly worn at both day and night events, here are the 13 best Oxford shoes for women. Read on to find out in details.
12 Best Oxford Shoes For Women In 2022
The vintage-style footwear from Dadawen features adjustable lace-up closure that gives a comfortable grip. These leather shoes offer durability with a retro British brogue carved design. These non-skid shoes adjust themselves according to the surface conditions. Their high-quality pigskin inner lining is absorbent and breathable that prevent any foul smell. You can pair them with leggings and an oversized shirt for various occasions like dates, traveling, meetings, etc.
Specifications
 Color: Black
 Material: Leather
 Pros
 True to size
 Durable
 Sweat-wicking
 Retains shape
 Non-skid
 Waterproof
 Lightweight
 Breathable
Cons
None
These elegant Sketchers Parties-Mate Oxford Shoes are padded collar that gives you a cozy feeling and makes your feet stress-free. These lightweight shoes have an attractive contrast stitching pattern which enhances their looks and increases durability. They are cushioned with comfort insoles for stability and support and for reducing the pressure and pain from your feet muscles. These black suede leather fashionable shoes are an excellent choice for every season and can be worn on all occasions.
Specifications
 Color: Black
 Material: Suede Leather
 Pros
 Scuff-resistant
 Synthetic sole
 Casual lace-up
 Comfortable
 Lightweight
 Slip-resistant
 Cons
The leather upper of Eastland Women's Sadie Oxford Shoes comes with a two-tone design and perforated leather overlay. These shoes are built with an EVA outsole which delivers excellent comfort to your feet, keeping them stress-free. They have a soft lining with a comfortable footbed and a round toe which makes it ideal for all-day wear. Moreover, these shoes come with a lace-up closure so that you can secure them in a comfortable fit.
Specifications
 Color: Black/White
 Material: Leather
 Pros
 EVA outsole
 Durable
 Lightweight
 Comfortable
 Secure fit
Cons
None
Dr. Martens 1461 Leather Oxford Shoes are ideal for styling your office wear. These classic 3-eye shoes are designed with a slightly narrow toe area. The grooved edges of these shoes come with detailed yellow stitching. The shoes are made of smooth leather that is easy to clean. The outer body has a soft sheen that stays so even after long-term use. Further, these slip-resistant shoes have air-cushioned soles to support your feet and reduce any discomfort.
Specifications
 Color: Black Patent Leather
 Material: Leather
Pros
 Grooved edges
 Smooth leather
 Sweat-absorbing
 Slip-resistant
 Synthetic sole
 Cons
The Ollio Women's Oxford Shoes are designed with artificial material that pairs well with both modern and traditional attire. These lace-up oxfords are made with high-quality material so that you can wear them for a long duration. Their low-cut lace-up silhouette is rendered in a crisp fox suede with a classy wing tip that grabs everyone's attention. The low heel shoes have a rubber sole that makes them extraordinarily slip-resistant and fits perfectly without any discomfort. You can wear these comfortable shoes for a long walk, outdoor activities, and even to stand for long hours.
Specifications
 Color: Grey
 Material: Synthetic
Pros
 Synthetic sole
 Slip-resistant
 Available in multiple colors
 Lightweight
 Durable
 Slip-on
Cons
The Cole Haan Oxford Shoes features lace-up fastening that provides a proper fit. Their upper body is knitted carefully with high-quality synthetic material that ensures excellent cosiness and comfort. The original grand wingtip "stitchlite" knit at their upper provides perfect airflow keeping your feet dry. In addition, their EVA midsoles are cushioned with grand OS technology, which offers ultra-comfort to your feet. They are designed with a textile lining and foam footbed with a wingtip toe so that you don't feel tired even after standing for long hours.
Specifications
 Color: Black knit/ Optic white
 Material: Synthetic
Pros
 Slip-resistant
 Moisture-wicking
 Wingtip toe
 Snug fit
 Soft and comfortable
 Breathable
 EVA midsole
 Cons
The Footself Oxford Shoes, made from synthetic leather, are the best shoes for everyday use.  These shoes feature an easy-to-use lace-up closure that fits snugly. This footwear is made with a double padded footbed for additional comfort. The memory foam delivers a cushion on pressure points and releases all stress from your body. These slip-resistant shoes are made with a simple classic brogue design that suits all occasions and seasons. These versatile shoes have rubber outsoles that ensure comfort for a prolonged period.
Specifications
 Color: Berry brown
 Material: Synthetic leather
 Pros
 Durable
 Easy on/off
 Eco-friendly
 Lightweight
 Slip-resistant
Cons
The classic School Issue Saddle Oxford Shoes offer a good old vintage feel. They have synthetic and a wide toe area enough to fit you snugly. These shoes feature a lace closure with perforated overlays for a secure and adjustable fit.  Their outer body is designed with two tones (white/grey) that look great on youngsters to senior citizens alike. In addition, they have a textured rubber outsole with flex grooves and a light cushioned footbed to keep you comfortable all day.
Specifications 
 Color: White/Navy
 Material: Leather
Pros
 Lace-up front
 Smooth lining
 Cushioning insole
 Slip-resistant
 Adjustable laces
 Durable
 Cons
The Clarks Janey Mae Oxford Shoes are made with purposeful padding that surrounds your foot with extra softness. Their soft uppers offer you full flexibility and easy movement with every step you walk. In addition, these shoes have full-length cushioning to comfort your underfoot. Their lightweight ortholite footbed is breathable and offers sustainable support. These lightweight shoes with a hand-sewn look make you feel fashionable. In addition, it has arch support, which makes it ideal for everyday use and long walks.
Specifications
 Color: Beeswax
 Material: Leather
Pros
 Smooth suede upper
 Lace-up closure
 Synthetic lining
 Comfortable
 Lightweight
 Full-length cushioning
 Soft uppers
 Breathable
Cons
The Mona Flying Leather Shoes are made with luxury sheepskin at the outer body with brogue perforations that offer a superior wear experience with a chic look. These shoes are designed with breathable leather lining to provide moisture and softness to your feet. They feature irremovable leather-covered latex. In addition, they have a low-stack heel that causes less pain and looks perfect for everyday wear. They are tailored with a durable rubber sole with a leather welt to ensure stability. This brand makes all the shoes with a unique handcrafting technique.
Specifications
 Color: Multicolor options
 Material: Leather
Pros
 Breathable material
 Comfortable
 Durable
 Lightweight
 Ideal for everyday wear
 Cons
These smart and classic wingtip brogues can be paired with any dress, jeans, or shorts. The Odema PU Leather Oxford Shoes provide a 2.95-inch additional height with a comfortable broad heel. They keep your feet stress-free with cushioned pig leather, and you can wear them for a long time, stand or walk. In addition, the shoes come with an oil wax lace to fit your feet better. Moreover, these shoes are built with TPR to enhance the ground fiction and ensure stability.
Specifications
 Color: Black/White
 Material: Leather
 Pros
 Skin-friendly
 Comfortable
 Smooth texture
 2.95-inch heel
 Slip-resistant
 Durable
Cons
The fashionable Jabasic Shoes are super comfortable to wear and great for walking. These shoes are designed with a simple yet stylish retro brogue design that looks perfect with every outfit. The brand features an adjustable lace that is not easy to snag or pill. The non-slip outsole has low heels to ensure stability and durability. You can wear these shoes for any occasion like work, party, etc. This footwear is flexible and comfortable.
Specifications
 Color: Black
 Material: Rubber and synthetic
Pros
 Flexible
 Comfortable
 Easy to maintain
 Adjustable lace-up
 Non-slip
 Unique design
 Cushiony soft
Cons
The oxford shoes listed above are some of the best ones in this line. But what makes them the best and how can you ensure they make the best buy?
How To Choose The Best Oxford Shoes
 Size: Measure your feet length from toe to heel and find your size carefully on the size chart before purchasing. If you have narrow feet, choose the size you figured out by measuring from toe to heel. But if you have wide feet, then select a half/one size up.
 Material: Choosing a suitable material is very important as it plays a significant role in providing comfort and durability. Choose a shoe with soft, breathable leather as it maintains the moisture and runs longer than other materials. Do check the size of the lace, it should be long enough to tie two knots comfortably.
 Color: Look for a color that pairs with all your outfits and suits all occasions. A black, brown, or gray pair may suit most outfits.
The best Oxford shoes are made from high-quality fabric, rubber, and EVA to ensure comfort and durability. They are fashionable and comfortable. They are ideal for everyday use. So, hurry up and grab your favorite pair to add to your shoe collection.
Why Trust StyleCraze?
The author, Shalini Roy, is a style, and fashion enthusiast who believes in choosing products that are not only fashionable but also help add to your functionality. She loves to look stylish no matter where she is and what she is doing. That's why she has done an extensive review of the top rated stylish Oxford shoes for women to bring you nothing but the best. These are not only comfortable to put on and easy on your heels but also help you with the right grip, comfort, and durability.
Recommended Articles