11 Best Paddle Boards For Yoga To Pose Away During The Sunset – 2023
Improve your blood circulation by practicing yoga with the best equipment for balance.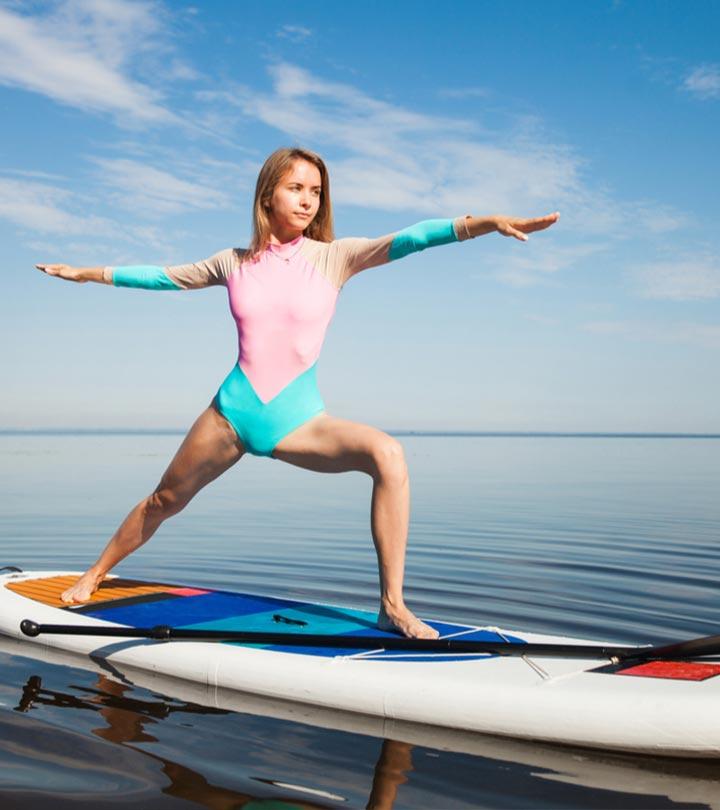 While yoga is loved by many around the world, even those that prefer high-intensity workouts turn to it once in a while. This low-impact activity is a great way to tune into your body, get your blood running, and soothe tired muscles gently. For those just getting into this practice, there are a couple of tools like straps, blocks, and wheels that can up the performance level. If you're a seasoned yoga enthusiast looking to diversify your skill set and try new things, we recommend taking a look at our list of the best paddle boards for yoga.
Looking similar to a surfboard, this gear is placed on calm water to help you practice balancing techniques. Trying out various poses on an unpredictable water body is sure to refine your posture so you can come off being able to do better on land. Paddle boards help stretch out tired and unused muscles as you try to find your balance. And with the serene nature around, paddle board yoga is also a great way to keep your stress levels in check!
Top Picks
11 Best Paddle Boards For Yoga That Are Stable And Supportive
Taking around 10 minutes for inflation and 5 minutes to deflate, DAMA's board also features steel rings and a grip handle for easy transportation. These rings are super versatile as they can be used to install a kayaking seat or connect the board with another so you can enjoy it with your friends. With a 3-piece adjustable paddle, this board also comes with a camera bracket mount, an ankle leash, and a removable fin. A hand pump with an air pressure gauge, waterproof bags, and a large backpack are also present. This video helps you know more about the product.
Pros
 Double handles on top and in middle
 Carrying shoulder straps
 8 D-rings for attachments
 Accommodates up to 330 pounds
 5-liter waterproof bag included
 UV-proof and anti-corroding surface
Cons
 Might not provide adequate stability
FBSPORT's yoga stand up paddle board is lightweight yet has the capacity to accommodate 280 pounds of weight. Its surface is soft and non-slip so you can perform all your favorite poses with security. To improve speed, 3 bottom panel fins of which one is removable, come into action. Deflating quickly to a tiny packable size, this board can follow you easily to any water body for recreational purposes.
Pros
 Available in 11 colors
 Soft non-slip surface
 Easy to install
 Coiled ankle leash for safety
 Paddle, pump, and backpack included
 Carries up to 280 pounds
Cons
 Some might find the print peel off with time.
Pros
 Anti-slip pad
 Adjustable aluminum paddle
 Available in 4 colors
 4-point bungee design for storage
 Lightweight
 Ankle leash
Cons
 Might undergo slow leakage
The GILI yoga stand-up paddle board is so versatile, you can place it on any water body and enjoy some stable stretches and poses. Cross-stitched and reinforced PVC is used in its construction which offers protection against any damage or dents. The extra-large diamond traction pad allows you to also bring a pet, and the center grabbing handle helps with easy maneuverability.
Pros
 Offered in 4 colors
 6-point bungee for storage
 Adjustable paddle
 Extra-large traction pad
 6 D-rings for kayak seat
 Accessories included
Cons
 Some might find the back fin to be flimsy.
Price at the time of publication: $400
Bringing to you the best inflatable paddle board for yoga, Mousa uses military-grade materials and a double-drop stitch core for maximum sturdiness. The dual PVC rail layers used keep the board competent and resistant to collisions and salt water. With a wide body, people of all frames and builds can have fun on the colorful and patterned surface. The EVA deck pad is anti-slip to secure your footing and the Sport Boost works to keep skidding, shock, and pressure at bay. Check out this video to know more about this product.
Pros
 Available in 3 colors
 Anti-collision
 Anti-slip deck pad
 Resistant to shock and pressure
 20% UV protection
 Pet-friendly
Cons
 The paddles might be too short for some.
Price at the time of publication: $299.99
Designed with a 6-point front bungee, Holoana's best inflatable paddle boards for yoga allows you access to a large amount of storage. For a solid and secure grip in the case of surfing, the neoprene-padded handle adapts to your hand conveniently. Whenever you want to rest, you can use the side rail straps to keep the paddle decked away. Diamond-shaped, the anti-slip deck pad extends comfort so you can deepen your stretches better.
Pros
 2 color options available
 6-point front bungee for storage
 Padded handle for grip
 Side paddle holder
 Anti-slip deck pad
 Carrying capacity of 300 pounds
Cons
 Some might find the seams to leak.
With PEXMOR's stand up paddleboard, yoga is about to become all the more fun and enjoyable! 2 layers of military-grade PVC combined with a drop stitch inner structure to lend durability for long time use. Holding up to 551 pounds effortlessly, the board has a soft non-slip deck that cushions your falls or skids. While the bungee helps secure on-board cargo, the D-ring is beneficial to attach an ankle leash for safety.
Pros
 Available in 4 colors
 Carrying capacity of 551 pounds
 Non-slip pad
 UV-resistant
 Tie-down bungee cords
 3 bottom fins
Cons
 Might not be resistant to damage by salt water
Price at the time of publication: $149.98
This inflatable stand-up yoga paddle board by Zupapa features 2 strong top layers which can hold up to 350 pounds of weight. As the surface is covered with EVA, you can also bring your pets in on the fun as there is no worry of them slipping. The removable kayak seat, footrest, and 2-way paddle that comes with the paddle board offer comfort when you want to switch the activity. Whether you're afloat in shallow water or like venturing into the deep end, the 3-fin system will surely come in handy.
Pros
 350-pound carrying capacity
 Pet-friendly
 Anti-slip EVA deck pad
 Removable kayak seat and footrest
 3 removable fins
 Comfortable shoulder strap
Cons
 The paddles might be difficult to work with.
Price at the time of publication: $299.99
Abahub makes yoga on paddle boards more successful owing to the laminated high-density drop stitch PVC core. The traction pad is made of soft brushed EVA and keeps you secure with no slippage or skidding. With a 3-layer sidewall, the chances of air leaking out are minimized to serve you well. If you're suddenly in the mood for a kayaking trip, the seat and paddle help transform the board. 14 D-rings allow for plenty of front and rear storage for longer trips out in the ocean.
Pros
 Available in 4 colors
 Soft anti-slip pad
 Kayaking accessories included
 14 D-rings for storage
 Carrying capacity of 370 pounds
 Storage with head and tail bungee
Cons
 The fins might be prone to bending.
Price at the time of publication: $459.99
For paddle boarding yoga, FUNPENY's product helps even beginners maintain balance with no extra effort. The PVC construction keeps the board from breaking or damaging easily even in the presence of high temperature. With the camera mount available, you can record your adventures for a memorable keepsake. The removable fin allows you to steer the board in whatever direction you like and ensure a smooth ride.
Pros
 310-pound carrying capacity
 Resistant to high temperature
 Camera mount
 Removable fin
 Anti-friction station board
 Lightweight
Cons
 The top coating might peel off.
This stand-up paddle board for yoga offered by Blue Water Toys features slip-resistant and UV-resistant EVA padding to keep you comfortable. The bungee double-cord system keeps all your essentials secure while you're out on the water. The wide body gives you enough room for even the most challenging of poses and also accommodates your pets so they don't miss out on a good time.
Pros
 2 color options available
 UV-resistant padding
 Anti-slip surface
 Easy to install
 Pump, gauge, backpack, and emergency kit included
 Holds up to 375 pounds of weight
Cons
 Might not be resistant to leakage
Now that we've looked at some of the best paddle boards for yoga available on the market, let's learn how you can choose the right one for yourself.
Things To Consider When Choosing Paddle Board For Yoga
Planing hulls are made to provide you with stability for yoga and are a good choice for beginners. Displacement hulls give you better speed at the cost of stability so if you're at an advanced level, this will be helpful.
Whichever paddle board you choose, it must be able to accommodate your weight along with the accessories that need to be attached. The weight limit must be at least 20% more than your bodyweight and the tools combined. As performing yoga on a paddle board can cause it to shift on water, the extra weight capacity will allow you to move around with ease.
The longer the board, the more space you will get to stretch and bend in ease. Paddle boards that are 10 to 11 feet long offer enough space for lying down and moving on your feet. Even once you're out of the water, this kind of length helps you maneuver easily.
Lumalia Emmy Armstrong, certified yoga and meditation teacher, says, "Paddle board width can also contribute to more stability. Having a little bit of a wider board than traditional paddle boards can really create more sturdiness as you switch asanas within your floating practice."
Paddle boards that are made with heavy-duty PVC ensure stability, sturdiness, and durability. This keeps the board rigid, and the top must be non-abrasive and soft for non-slip traction, made of EVA. Drop-stitch construction is what you should look out for when choosing a paddle board. You can avail a rigid structure which is also lightweight, giving you ease of handling.
A thickness of around 5 inches extends both buoyancy and stability. 30 to 34 inches of width gives you good room to stretch and move around with no restrictions.
A 6 or more bungee storage system is ideal to help you store your belongings safely when you're out on the water. Also look for D-rings so you can attach another paddle board, kayak seats, footrests, and other accessories for anchoring.
Some paddle boards come with all the accessories you need, and this is good for when you want a multipurpose usage. Paddles, safety ankle leashes, fins that help with tracking and stability, an inflating pump, and a spacious waterproof backpack with a large capacity are great features to look for.
Why Trust StyleCraze?
The author, Shreya Vishwanathan, is a fitness enthusiast who loves to review different products for her readers. She went through numerous testimonials on trusted online forums and websites to curate this list of the best paddleboards for yoga that can help you stretch tired and unused muscles as you try to find your balance. The shortlisted paddleboards have features like a non-slip surface, traction pads, and more.
Frequently Asked Questions
Can we do yoga on any paddle board?
Practicing yoga on paddle boards is a great way to enhance your technique and strengthen and develop new muscles. It improves your flexibility, posture, and is a good way to enjoy some nature.
Can we do yoga on any paddle board?
Yes, any paddle board can be used to perform yoga but a SUP board possesses the right width to allow freedom of movement.
Is paddle board yoga good for you?
Yes, paddle board yoga can strengthen your muscles, improve flexibility, and help you develop new skills. It can correct your breathing and helps relieve stress due to the time spent outside.
Why do people do yoga on paddle boards?
Performing yoga on paddle boards can help with flexibility and balance, leading to an improvement in your yoga practice. People also use this to enjoy some time out in nature.
How wide should a paddleboard be for yoga?
A paddleboard for yoga should be 32 to 36 inches.
Is paddleboard yoga hard?
No, paddle board yoga is easier than it appears.