15 Best Pajamas For Women To Snooze In Style – 2023
Slip into loose, comfortable wear at night for healthy, sound sleep.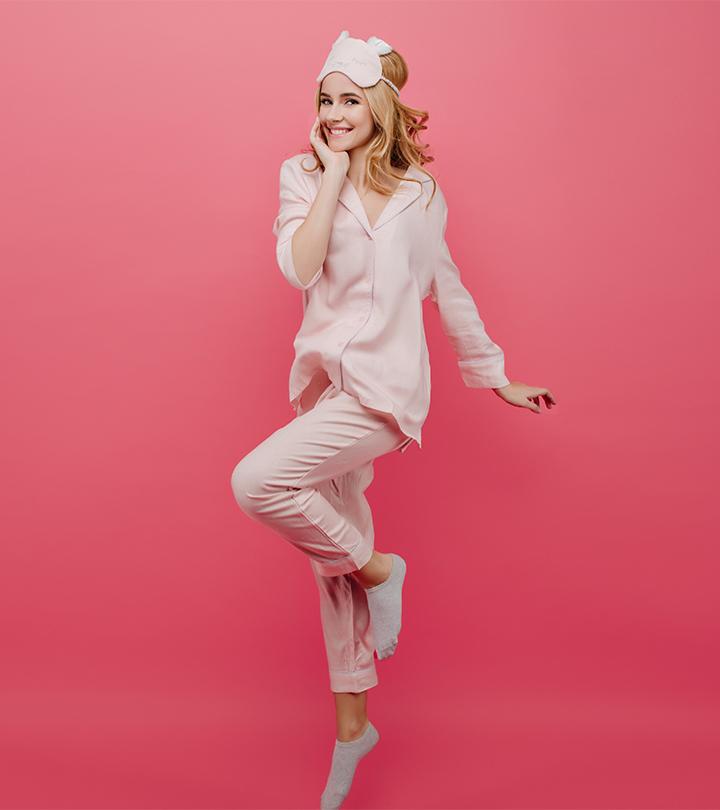 There is something uniquely comforting and satisfying about slipping into your favorite PJs. While some people love to go to bed wearing an oversized tee, you should upgrade your style to the best pajamas for women, and you will love it. With this addition, you can inject a little bit of luxury into your bedtime routine. Many brands have come up with multiple options, from luxurious silk and satin to plain and simple cotton ones. What's more? These pajamas are available in multiple designs, colors, and fabrics. You can also experiment with stripes, fancy colorful prints, and solid colors, and then you can finally get a comfortable sleep all night long.
Wearing the right sleepwear will keep you free from waking up constantly and also prevent you from getting sweaty on sultry days. Especially in the current WFH scenario, you can attend a quick meeting or work all day, relaxing in your favorite PJs. So, to help you feel cozy and comfortable in the best pair, we have listed some of the interesting pajamas available online. Keep scrolling!
15 Best Women's Pajamas For An Uninterrupted Slumber
One of the best pajama sets that deserves a place in your wardrobe is this one by DIDK, which is made of 95% polyester and 5% spandex. The 2-piece features a cute T-shirt and printed shorts that are super soft. Lightweight and breathable, these top-rated women's pajamas will keep you cool while you sleep without feeling stuffy. With up to 33 color and design options, you can choose the comfiest pajamas from among animal, graphic, and fruit prints.
Pros
Soft
Lightweight
Breathable
33 colors and patterns available
Bright prints
Machine washable
Cons
Some may find the shorts to be sheer
Price at the time of publication: $20.99
Ekouaer brings to you the best women's pajama sets for those who love a coordinated ensemble. With a blend of 95% viscose and 5% elastane, this soft nightwear 2-piece is what dreams are made of. The button-down top features a notch collar and a chest pocket with a relaxed fit. A chiffon drawstring and the elastic waistband allows you to customize how tight you would like the bottoms to be. From among a whopping 36 colors that also include some printed ones, you're sure to find the coziest pajamas for you!
Pros
Chiffon drawstring and elastic waistband
Available in 36 colors and patterns
Soft and lightweight pajamas
Breathable fabric
Wrinkle-free
Skin-friendly
Cons
Buttons might come undone easily
Price at the time of publication: $19.99
This classic pajama set by Latuza is made with 95% bamboo-derived viscose to keep you cool and 5% spandex for that tiny bit of stretchability. With a V-neck collar, the pajama shirt sits well and its accompanying boxer shorts have a comfortable elastic waistband. Both the top and bottom have a satin trim at the collar and leg openings that feels smooth against the skin. Quite roomy, we think these are nice pajamas to don even when you're just chilling on a weekend morning.
Pros
Lightweight
Breathable
Soft
Satin trim at openings
Relaxed fit
Available in 13 colors
Cons
Might not be wrinkle-free after wash
Price at the time of publication: $26.99
Avidlove's set of nightwear is soft and skin-friendly, making it suitable for even those with skin sensitivities. One of the best pajama sets for women you could wear to sleepovers, the composition includes 95% rayon and 5% spandex. The elastic waistband of the shorts also features a drawstring for a secure fit. With a matching V-neck top, you can rock these softest pajamas while you're relaxing around the house.
Pros
Skin-friendly
Elastic waistband with drawstring
Breathable
Lightweight and soft
Available in 25 colors and patterns
Cons
Price at the time of publication: $23.95
PNAEONG brings to you the best cotton pajamas that feel luxurious yet are both lightweight and breathable. A short-sleeved T-shirt and capri pants complete the set and you could even swap them for some cute shorts. Available in 24 bright colors and patterns, these printed pajamas can be super fun to choose and even more so when worn! With animal prints to some space-themed ones, you can choose comfortable pajamas that complement your personality.
Pros
Breathable
Lightweight
Capri pants and shorts available
Come in 24 colors and prints
Elastic waistband with adjustable drawstring
Cons
Colors might fade after wash
Price at the time of publication: $23.99
If you're the kind of person who needs to stay warm at night, try TIKTIK's thermal skin-friendly long sleeve pajama shirt. Made with a blend of 95% viscose and 5% spandex, this cozy set is moisture-wicking and allows you to drift off comfortably. The 4-way stretch makes these pajamas for young women size-inclusive and you can even customize your fit with the drawstring and elastic waistband. With these modal pajamas keeping you warm in the chilly weather and cool in the summers, what else could you ask for?
Pros
Moisture-wicking
4-way stretch
Skin-friendly
Elastic waistband with drawstring
Available in 34 colors and prints
Temperature-regulating
Cons
Might shrink after a wash
Price at the time of publication: $39.99
The best pajama sets which can spruce up your sleepwear are offered by U.S Polo Assn. Made with 100% lightweight cotton, this pair of night-clothes features a lace trim along the sides of the jogger pajamas. Not only does this keep you cool, it adds a flirty element along with the henley style T-shirt opening. The cuffs at each leg opening keep the pants secure and the drawstrings are tied in a bow for a cute look. We think these are the best ladies pajamas you can don for both style and comfort!
Pros
Available in 5 colors
Lace trim on the sides
Elastic waistband with drawstring
2 pockets and button closure
Breathable
Lightweight
Cons
The buttons might come undone easily
Price at the time of publication: $24.95
Saslax's high-quality pajamas are soft against the skin and breathable to keep you cool all night long. The fabric is both lightweight and skin-friendly, making for a cozy nighttime experience. As the tie-dye trend is coming back, what better way to celebrate it than with this gorgeous mint and long-sleeve pajama set? The top is roomy which is ideal if you don't fancy figure-hugging clothing. Without fading or wrinkling, these are great pajamas if you're looking for barely any upkeep with maximum comfort!
Pros
Lightweight
Breathable
Anti-wrinkle
Skin-friendly
Anti-fade
Cons
 Drawstring is only decorative
Price at the time of publication: $15.99
NANJUN's fancy pajamas are made with premium satin fabric and feature a button closure. They are luxuriously silky and retain shape and color when washed. With a relaxed fit, the top has a collar and chest pocket with thread detailing. Available in short-sleeved and full-length pants as well, you can easily swap the set out for various occasions. For all-day comfort, you can even purchase these fun pajamas to match with your best friends!
Pros
Soft and silky
Retains shape and color
Button closure
Breathable
Comfortable elastic waistband
Cons
Price at the time of publication: $19.99
PajamaGram offers women's classic pajamas that are as soft as butter owing to the brushed cotton jersey used in its make. The material has a smooth texture that aids in distraction-free slumber and you can choose from various playful options. Without wearing down or stiffening up after a wash, the set keeps its shape and requires barely any maintenance. This pajama for women is also resistant to fading, pilling, or thinning with the capri pants keeping you comfortable during the night eliminating dreaded night sweats.
Pros
Elastic waistband with drawstring
Ultra soft
Small chest pocket
Available in 13 bright colors and patterns
Retains shape
Anti-fade
Cons
Some may find the mid-weight fabric to be hot
Price at the time of publication: $39.99
These splendid pajamas are made for die-hard Disney fans and are made of 92% cotton and 8% polyester. You can now fall asleep donning your favorite character with a glittery gold slogan that signifies you are 'ready for bed'. The short-sleeved top with the elastic purple pants is breathable and prevents you from overheating in your sleep. Disney's unique pajamas for adults are the best kind of merchandise, don't you think?
Pros
Breathable
Soft
Lightweight
Elastic waistband
Graphic design
Retains shape
Cons
Some might find the low-waisted pants to be uncomfortable
Price at the time of publication: $22.35
MEROKEETY is one of the best pajama brands for aesthetic sleepwear and their 100% rayon sets are lightweight and breathable. With a soft and stretchable waffle knit, the shirt has a classic round neck for a good fit. You can customize the elastic waistband with a drawstring and this set offers flexibility for working out as well. We think these are the perfect pajamas as they can be dressed up or down!
Pros
Breathable
Side pockets
Can be dressed up or down
Stretchable
Available in 12 colors
Cons
Some may find the material to be thick
Price at the time of publication: $37.99
Eberjey's women's modal pajamas include 95% jersey fabric and 5% spandex. Not only are they soft and cool to the touch, they remain resistant to shrinking or creasing. With contrasting piping for a timeless look, the set looks very elegant and is ideal for bachelorette parties with your girls. With 8 color options available, these are nice womens' pajamas to remain fashionable even in your sleep!
Pros
Soft
Breathable
Anti-crease
Shrink-resistant
Available in 8 colors
Contrasted piping
Cons
Price at the time of publication: $138
Jones offers women's long sleeve pajama tops with a fancy collar, a chest pocket, and a button-down closure. With a 95% polyester make, this set has satin piping and a drawstring on the elastic waistband. Available in 8 solid colors and patterns, you can add these sets to your sleepwear wardrobe as they are cozy and can be worn to even run errands. With no pilling or shrinkage, Jones' beautiful womens' pajamas are easy to care for.
Pros
Collar with piping
Chest pocket
Elastic waistband with drawstring
Available in 8 colors and patterns
No pilling
Anti-shrinkage
Cons
Might not be warm enough for winters
Price at the time of publication: $32.95
LilySilk's awesome pajamas are made with 6A grade raw mulberry silk, which has a lustrous finish. The notched collar and silk-covered buttons give off an extremely luxurious look. As silk contains amino acids, it helps moisturize your skin while you sleep and is also temperature-regulating. Lightweight and wrinkle-resistant, these loungewear pajamas feature banded cuffs on the sleeve and pants ends.
Pros
Available in 9 colors
Soft
Lightweight
Breathable
Wrinkle-resistant
Chest pocket
Cons
Might not offer the best fit for tall people
Price at the time of publication: $188.5
Now that we've looked at some of the best women's pajamas you should add to your closet, let's learn how you can pick the right ones for yourself!
How To Choose The Best Women's Pajamas
Cotton should be your go-to material if you're looking for something lightweight. It is breathable and will keep you cool in warm weather conditions. It is also soft, durable, and has a tiny bit of stretch for flexibility. This fabric is also super easy in the maintenance category as it can be washed and dried in the machine without any extra care. Although cotton doesn't irritate the skin, it is also not moisture-wicking.
Silk is soft and temperature-regulating and keeps you cool when it's hot out and warm when it's cold out. However, this fabric is quite expensive and needs careful maintenance. As it is slippery, it might move around a lot in your sleep and can also crease easily.
Bamboo-derived viscose and rayon are also commonly used in sleepwear. They are generally lightweight, soft, breathable, and can even offer antimicrobial benefits. However, their production process is not the most eco-friendly so you might want to skip this fabric if you're looking to be sustainable in your habits.
Modal is quite popular in nightwear owing to how easy it is to care for. The fabric is soft, breathable, sustainable, and even wrinkle-resistant. It feels similar to silk without the hefty price tag and can also wick away moisture.
Polyester is quite sturdy and durable, which is why it is the most sought-after fabric. It remains resistant to fading and wrinkling, doesn't absorb moisture, dries quickly, and is easy to take care of. However as this is a synthetic fiber, it takes a longer time to break down, and might not be eco-friendly unless made from recycled materials.
This depends entirely on your preference as you can purchase pajamas that are true to your size. But a lot of women find that this might be very form-fitting and prefer something a lot looser for sleep purposes. You can size up or down according to how roomy you want your sleep clothes to be. You might also have to take other things into consideration such as wearing the pajamas for lounging around or even around your family members or friends.
Fortunately, there are a plethora of designs and styles offered in women's pajamas that you can pick what you fancy. Full-sleeved button-down shirts can be paired with full-length pants or shorts. Cute graphic or plain T-shirts can come with shorts or capri pants. Based on your personal preferences and what you find most comfort in, have your pick. A cotton nightgown is also roomy and flowy, perfect for hot summer nights.
You can keep an eye out for some features that you want in your nightwear. Good quality buttons, side pockets, chest pockets, and an elastic waistband with a drawstring can help dial up comfort.
Why Trust StyleCraze?
Priyam Gupta is a fashion enthusiast with a deep, driving passion for finding the best products in these categories and reviewing them. She dug deep into online stores for the best pajamas for women and curated the best options in this list. She took into consideration critical parameters like fabric, cut, design, look, and durability while examining the products and investigated user reviews to get more insight. As a result, the products on this list are top of their category in comfort and style.
Frequently Asked Questions
How often should you change your pajamas?
You should make sure to wash your pajamas after wearing them 2 to 3 times. This number can go up during the summers and you can clean them less in the winters.
How long should you keep pajamas?
You can keep your pajamas until they start to disintegrate or if the seams are coming apart. This depends on how durable the fabric is so if it's sturdy, you can keep them for longer. It might be ideal to swap out pajamas after 2 years.
Do bamboo pajamas keep you cool?
Yes, bamboo pajamas are quick drying, help wick moisture, and keep you cool throughout the day and night.
Are pajamas supposed to be worn with underwear or not?
Yes, you can wear pajamas with underwear for hygiene purposes, but it is not a necessity. It is preferred to not wear underwear with pajamas if you have a tendency to get too hot.
Is it okay to wear pajamas on airplanes?
Yes, it is okay to wear comfortable pajamas in the airplane, especially if you have a long flight at night.