The 10 Best Panasonic Hair Dryers For Every Woman
Flaunt a bouncy and voluminous look while ensuring your hair stays dry and frizz-free.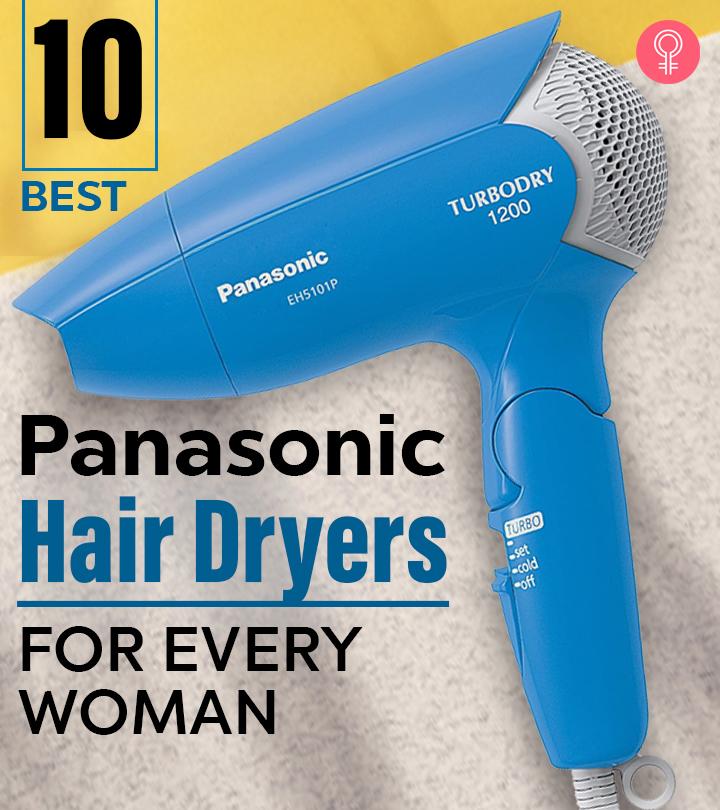 Try out the best Panasonic hair dryers if you want an amazing salon-like blowout. These hair dryers add body and volume to your hair while drying them. They smoothen the hair and add shine to the hair without causing any heat damage. It also ensures you have an easy blowdrying experience and hence, is recommended by most hairstylists. We have listed the 5 best Panasonic hair dryers for you to choose from. Keep scrolling to make your best pick.
10 Best Panasonic Hair Dryers
The Panasonic EHNA65K Professional Blow Dryer is built with advanced nanoe ionic hair dryer technology for frizz-free hair. The professional-grade design helps to dry the hair quickly. This hair dryer draws moisture from the air and transforms into micro-size ions that penetrate each strand. The whole process does less damage to the hair. The hair dryer is equipped with 3 attachments – quick-dry nozzle, concentrate nozzle, and diffuser attachment which are helpful to dry and style your hair. The advanced technology of the drier offers 2 speed settings and 3 heat settings to customize the heat levels and intensity of the airflow. You may check more about this product and a reviewer's experience of using it in this video. Also, several reviewers have expressed positive feedback on the product for its quick drying capabilities.
Pros
Advanced technology
Easy-to-clean filter
360 degrees rotating power cord
Convenient for traveling
Easy-to-use
Cons
None

The Panasonic Nanoe Moisture+ hair dryer is equipped with a double mineral treatment that makes the hair healthy and shiny. The three unique modes are suitable for all hair types. The scalp mode works at 60°C, and the hot air mode is at 125°C. The nano ionic technology generates negative ions, which dries the hair without damage, sealing moisture, and imparting shine.
This lightweight hairdryer has an air drift of 1.3 m3 per minute. The intelligent drying mode adjusts the temperature according to the room temperature. This product is equipped with a 1200 W motor, an a1.7m power cord, and a quick-drying nozzle.
Pros
Lightweight
Three operating modes
Quick-drying
Extra-long cord
Cons
The Panasonic Nanoe EH-NA67 Hair Dryer hydrates the hair and gives you salon-like styling results right at home. It comes with an oscillating quick-dry nozzle that provides even heating with no hot spots and dries your hair quickly without causing any damage to the hair and scalp. This styling tool also comes with a concentrator attachment or nozzle and a diffuser to ensure proper styling for curly, wavy, or straight hair. In addition, it features three heat settings: hot, warm, and cool, and two-speed settings. Many reviewers have praised the product for its user-friendly design.
Pros
Good for everyday use
Suitable for the whole family
Nanoe technology
Multiple speed settings
3 versatile styling attachments
Even drying
Cons
The Panasonic EH-KA2A-PP Hair Dryer is a unique hairbrush dryer that untangles your hair while drying them. It has a noise suppression feature that makes 62dB of low noise while in operation. The hairbrush slides generously through your tresses, drying the hair and leaving it smooth and silky. The thick roll brush makes it easy to create thick, large curls and helps in adding volume. This one-of-a-kind brush comes with two setting options: dry wind and cold wind.
Pros
Low noise
Hair brush dryer
Creates curls and adds volume
Easy to use
Cons
None
The Panasonic EHNA27 Compact Hair Dryer enhances the smoothness of the hair and reduces hair damage caused by frequent brushing. This hair dryer picks the moisture from the air to infuse the hair with moisture-rich particles, thereby increasing the shine and smoothness of the hair. It is equipped with a quick-dry nozzle for soft and strong airflow that helps you style your hair as desired. It is powered with 3 airflow settings – high, medium, and low. Its compact design makes it easy to carry it around in a bag.
Pros
Foldable
Lightweight
Enhances hair volume
Reasonably priced
Easy-clean filter
Advanced heat protection
Cons
Panasonic EH-NE23-W Hairdryer comes with a foldable handle for compact storage. It has three-speed/ temperature settings – Turbo, Set, and Cold. Different temperature settings allow drying different hair types with ease. The front attachment helps in delivering better and even airflow and this attachment can be detached when not required. This hair dryer has a 60 Hz frequency.
Pros
Powerful air flow
Price worthy
Efficient drying
Easy operation
Turbo boost function
Hanging loop
Cons
The air flow may be too hot for some users.
The Panasonic IonityEH-KE2A Twirl Dryer dries and volumizes half-wet hair effectively.  It is equipped with detachable blow and roll brushes. The three speed modes – dry, set, and cold– make your hair bouncy. This hair dryer is equipped with a pair of silicone brushes that detangle the hair smoothly. The ionic technology holds the hair on the curved edge for enhanced volume and shine. This twirl dryer features a 360°swivel cord and a 700 W motor. Reviews on various online forums have praised the product for its ergonomic design which offers a comfortable grip.
Pros
Lightweight
Easy to carry
Firm grip
Ergonomically designed
User-friendly controls
Cons
Panasonic EH5305P Low-Noise IONITY Hair Dryer is equipped with a 100 volts AC motor. It has three heat settings – turbo, set, and cold. Negative ion generation keeps the hair hydrated,  allowing you to style your hair as desired and provides shine and smooth hair. Online reviews have praised the product for its quick-dry nozzle that offers fast drying.
Pros
Hanging loop
Quiet operation
Foldable handle
Hair shine enhancement
3 heat settings
Easy-to-use
Provides salon-quality results
Cons
The Panasonic IonityEH-NE72 Blow Dryer is equipped witha2000Wmotor for fast-drying. The unique shine boost design blows hot air from the center and cold air from the sides. This feature keeps the hair shiny and smooth. The ion conditioning preserves the hair's natural gloss while drying.  This hair dryer is equipped with two temperature settings and three speed settings. It comes with a round nozzle diffuser, which helps you achieve the desired hairstyle. This product is lightweight, travel-friendly, and foldable.
Pros
Affordable
Lightweight
Travel-friendly
Foldable
Quick-drying
Cons
None
The Panasonic EH-NA9A-RP Hair Dryer is a 1200W hair dryer that releases negative ions. It has a UV care effect that protects the hair against UV ray damage. Apart from drying the hair, it also adds moisture and luster, making them look healthy and shiny.  It is equipped with 5 beauty modes to protect the scalp and hair while maintaining their health.
Pros
Nanoe technology
Suitable for everyday use
Suitable for the whole family
Even drying
Improves hair health maintenance
Ergonomic design
Cons
None
*The prices provided in this article are based on the latest available information. However, they may vary due to changes in pricing by the seller and/or promotional offers.
Why Trust Stylecraze?
Shiboli Chakraborti is a certified skin care coach and hair care enthusiast. She has channeled this passion for hair care products into researching and listing the best Panasonic hair dryers based on their features, durability, safety, and user feedback. She has also included a buying guide and the pros and cons of each product and addressed some common questions related to hair dryers.
Frequently Asked Questions
What is a Nanoe hairdryer?
Panasonic Nanoe hair dryers draw moisture from the air and infuse the hair with 1000+ moist particles.
Is a 2000W hair dryer good?
Yes. If you have long hair, a 2000W hair dryer is suitable for you.
Is ionic or ceramic hair dryer better?
Ceramic hair dryers are better than ionic hair dryers as ionic hair dryers emit negative ions that can make your hair rough.
How many watts hairdryer is ideal for the hair?
It depends on your hair length and volume. For average hair volume, a 1200 W hair dryer will be effective.
Which hairdryer is the least damaging?
The Panasonic EHNA65K Professional Blow Dryer is the least damaging hair dryer. It is built with advanced nanoe ionic technology. It provides frizz-free hair without damaging the hair shaft.
Do hairdryers use a lot of electricity?
No. A hairdryer consumes electricity varying from 1000 watts to 3000 watts. The average wattage of a standard-size hair dryer is 1500 watts. When operated for 12 minutes the power consumption is around 0.25 kWh. Hence in a month, its power consumption will be around 7.0 kWh.
Recommended Articles