10 Best Panasonic Hair Straighteners in India – 2023 Update
Achieve salon-quality tresses at your home without breaking the bank.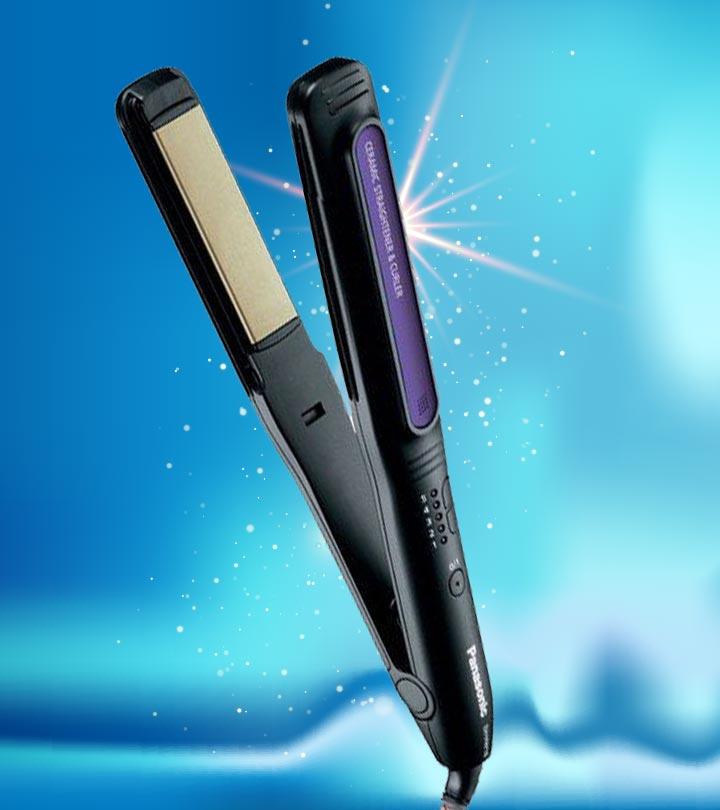 Hairstyling glamorize women and enhances their beauty.  Hair straightener is a must-have styling tool in the wardrobe for hair experiments. There are varieties of straighteners available in the market like ceramic, metal, thermal, ionic etc. Panasonic hair straightener are the most hair friendly straighteners for professional styling with intense care.
Top Picks
Panasonic Hair Straighteners
Here is the list of top 10 Panasonic Hair Straighteners:
1. Panasonic Compact 2 in 1 Multi-Styling Straightener:
This Panasonic straightener will give you silky-straight hair or loose curls that you always wanted. This heats up in just 60 seconds, which makes it quick and efficient. This is ideal for normal, stressed, colored and bleached hair. This is a hair straightener cum curler that is safe to be used on color-treated hair. It comes with a protection cap for covering the plates and convenient storage. This has Ceramic Coated Plate that is Smooth and durable. They glide effortlessly through your hair and give you shiny hair. The Swivel Cord is provided for Ease in handling and better flexibility.
This is a Basic straightener cum curler for hair styling. It is very light and compact that makes it travel friendly. This has a storage cap and ceramic coating on the plates for quick heating. This also allows proper distribution of heat. This is very easy to use and doesn't spoil your hair. This can reduce the fizziness and gives smooth and straight hair. This is a 2-in-1 product to make you look glamorous.

3. Multi-Styling Straightener Model number: EH-HW58
This Multi-Styling Panasonic hair straightener has 5 levels of temperature setting to suit your hairs' type and condition. This has a photo-ceramic coating on the plates to keep your hair moist. This also helps to stop the color from fading. This heats up very quickly and has Universal voltage.
This is a Multi-Styling Straightener that is the world's first Ion technology with platinum negative ions. This gives high lasting straightening (up to 50%) longer than any professional beauty salon. The accessories are very powerful that can even straighten the tough curly hair. This makes your hair voluminous, shining and healthy without causing any harm. It comes with 5 Temperature Settings, LED temperature level display and slim plate, of 24mm.

This makes your hair look silky, radiant and straight. This Panasonic is an advanced technology straightener that works very well on rough/ curly hair without damaging them. The Panasonic EH-HW18 is travel friendly yet affordable hairstyling product.

6. Panasonic EH-HW13 Hair Straightener Cum Curler:
This will help you create new hairdos. This Panasonic hair straightener has dual functions of both a straightener and a curler. This helps you create silky-straight hair or loose curls that you always wanted. This heats up in very short time. This tool is also very quick and efficient. This has a small and compact body for easy usage. It has a protection cap to cover the plates. The plates are slim and coated with Ceramic that helps in even distribution of heat. This is also very easy to clean and maintain.
7. Panasonic PA-EH-HW32-K Hair Straightener (Black) 
This Black colored Panasonic EH-Hw32 Hair Straightener is a 4-in-1 multi-styling straightener. This has 5 level temperature setting and photo-ceramic coating. This temperature setting will suit individual hair type. This comes with 2m long cable and Photo Ceramic Coating.
This is a multi-styling tool that gives shiny curls and straight hair. The Panasonic EH-HW11 hair straightener has heating plates that is coated with Ceramic. Panasonic EH-HW11 is very convenient to use and winds up to 180 degrees. This has 1.8 m long cord for smooth straightening experience and LED indicator for clear display of temperature settings. This has a very slim body to carry anywhere.

Panasonic EH-KA42 hair styler has four separate attachments that can be used interchangeably .this can give you curls, waves and straight hair.  EH-KA42 hair styler by Panasonic has 1.8 m cord for easy movements while styling your hair. The Panasonic EH-KA42 hair styling attachments works independently for hairstyles that you desire.

This is the best addition tool for your beauty kit. Panasonic EH-HW24 Hair Straightener is crafted for straight hair within minutes at home. This quickly heats the straightener really fast and gives effective results without extracting the natural moisture.

Hope you liked this article and got an better idea on Panasonic hair straighteners. Give your valuable comment below!
Recommended Articles
The following two tabs change content below.