10 Best Panini Presses – Reviews And Buying Guide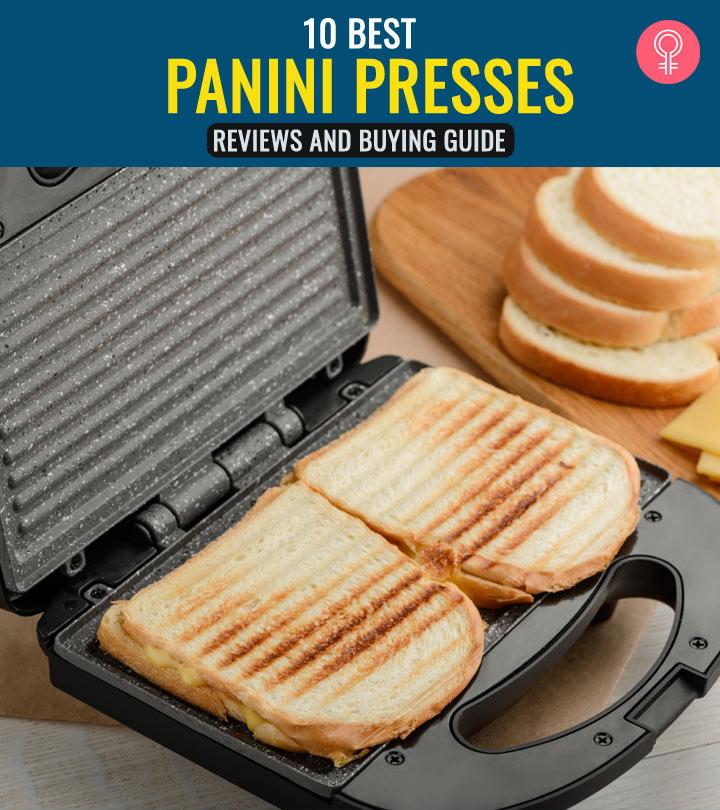 Any dish that is grilled has a delicious appeal of its own. You can eat a sandwich with some veggies on the side straight out of the fridge and go about your boring day. But when you eat a grilled sandwich with a side of grilled veggies, you keep thinking about how delicious it was till your next meal. If you are one of those people, a panini maker is what you need to brighten up your day with some grilled goodness. You can use it to make authentic paninis, grilled sandwiches, vegetables, subs, and even steaks! Have a look at our list of the best panini machines to pick one that best suits your needs.
10 Best Panini Presses Available Right Now
Hamilton Beach Electric Panini Press Grill is excellent for making hot and delicious paninis and grilled sandwiches at home. You can grill everything from a simple grilled cheese sandwich to a thick, juicy Reuben sandwich. The non-stick top and bottom of this grill do not require you to flip the sandwich, giving you perfectly toasted, warm, and crispy results. You can warm up personal pizzas, open-face sandwiches, and bruschetta with the help of the top lid lock. It is recommended to pre-heat this grill for about 6 minutes before use.
Key Features
Power and pre-heat lightindicators
Cafe-style floating lid
Upright storage for space-saving convenience
Pros
Cool-touch handles
Easy to use
Easy to clean
Well-constructed
Adequate surface area for large sandwiches
Easy to store
Value for money
Cons
Breville Duo Non Stick Panini Press runs on a 1500-watt heating element that heats up in no time. While its ribbed top plate creates symmetrical grilled marks on all kinds of bread, its flat bottom plate delivers even and quick heat. This makes it suitable for grilling thick artisan breads and toasting open-faced melts. The floating hinge of this panini press allows it to maintain even pressure no matter what the thickness of your sandwich. The Quantanium cooking surface of the heated plates is brilliant as it is non-stick as well as scratch-proof, making this panini press a great choice for your home.
Key Features
Quantanium surface
Flat bottom plate and ribbed top plate
4 height settings offered by the floating hinge
Pros
Easy to use
Hassle-free cleaning
Large enough to make two sandwiches
Easy to store
Cons
Chefman Electric Panini Press Grill can be used to make grilled sandwiches. With the press of a button. It can also be converted into an at-home grilling station that is great for a quick meal at summer parties or gatherings with family and friends. Its floating grill can accommodate sandwiches of any thickness, be it the thinnest grilled cheese or the most stuffed burger. The versatility of this grill allows it to accommodate a variety of foods like steaks, veggies, sandwiches, and burgers.
Key Features
Opens completely flat (180°)
Dishwasher-safe removable drip tray
Pros
Compact storage
Affordable
Flexible design
Easy to clean
Can be used as a grilling station
Cons
Price at the time of publication: $27.3
IMUSA Electric Panini Press is a truly multifunctional kitchen appliance as it can be used to create not just paninis and sandwiches but also yummy breakfast foods like pancakes and crepes. The large non-stick grilling plates of this panini press grill your sandwich perfectly throughout. This 1400-watt electric press has a floating top plate that is non-stick and easy to operate while cooking. The polished stainless steel exterior and cool-touch handles of this appliance give it a sleek look.
Key Features
Power and heat light indicators
Wrap-around cord storage
Security latch for easy upright storage
Pros
Dishwasher-safe and removable cooking plates
Large cooking surface
Easy to operate
Value for money
Durable
Cons
Takes time to heat up completely
iSiLer Panini Press Grill has a 1200-watt high-power output that offers uniform heating. Its dual cooking plates can be opened completely flat, thus creating more grilling space. This also efficiently cut your cooking time in half. This also makes it versatile enough to grill burgers, steaks, sandwiches, open face paninis, vegetables, and more. The Intelligent Temperature Control prevents overheating and your grilled food from getting burned. It also has a temperature-control knob that can be adjusted according to your needs.
Key Features
3-in-1 multipurpose uses
Oil outlets for grease draining
Power and pre-heating indicator lights
Pros
Can be used as a grill
Sleek design
Solid construction
Easy to operate
Easy to clean
Cons
Not a lot of surface area
Cuisinart Panini GR-1 Griddler And Sandwich Press has upper and lower non-stick and non-removable plates that provide even grilling and toasting. This small panini maker has a drip spout that drains away any extra grease from your food. It also has a floating hinge that can be adjusted to accommodate sandwiches of any thickness. It delivers perfectly grilled paninis and sandwiches. You can apply pressure to the handle to press and heat up the sandwich to your liking.
Key Features
Helpful indicator lights
Brushed stainless steel housing
Cleaning tool included
Pros
Heats up quickly
Easy to clean
Compact design
Value for money
Solid construction
Cons
No on/off switch
Non-removable plates
Not dishwasher-safe
Ovente Electric Countertop Panini Press Grill offers a 1000-watt cooking power to grill your food evenly. It creates aesthetically pleasing grill marks that look great for the presentation of any dish. This panini press is thermostatically controlled, which means it cycles on and off to maintain a cooking temperature that prevents burning and overheating the grills.
Key Features
Thermostatically controlled
Café-style floating lid
Includes a drip tray
Auto shut-off feature
Pros
l Inexpensive
l Easy to clean
l Heats up quickly
l Well-constructed
l Skid-free feet
Cons
Oster DuraCeramic 2-In-1 Panini Maker And Grill is coated with the innovative titanium-infused DuraCeramic non-stick coating that is long-lasting and does not flake or peel off. The safe and natural ceramic plates are free of PFOA and PTFE as well. This grill has two flat griddle surfaces that fold into a single compact design that can be used for a wide variety of cooking applications. It also has a floating hinge system that can accommodate sandwiches of a variety of thicknesses.
Key Features
Titanium-infused DuraCeramic non-stick coating
Includes 2 plastic drip cups and a griddle cleaning tool
Pros
Durable construction
Heats up quickly
Adjustable feet
Easy to clean
Compact design
Value for money
Cons
Deik Panini Press And Sandwich Maker is a 4-slice extra-large panini press that is suitable for a large family and small parties. This 1500-watt unit with advanced uniform heating technology grills your favorite dish in no time. It also has an adjustable temperature button that takes only 4 to 6 minutes to grill your food. Its floating hinge can be adjusted to accommodate thin and thick sandwiches, meats, and vegetables. It also helps to evenly press food of any thickness.
Key Features
Café-style floating hinge
Removable drip tray
Thermostat knob with "warm up' and "ready" lights
Pros
l Offers vertical storage
l Easy to clean
l Heats up quickly
l Large surface area
l Easy to operate
Cons
Proctor Silex Panini Press And Gourmet Sandwich Maker is designed from grilling everything from simple sandwiches to thick and juicy full-size paninis. This panini press perfectly heats the ingredients, melts cheese, and creates a mouth-watering crispy outer crust no matter how thick or thin your dish might be. It also has a floating lid that gently presses the bread down and leaves appetizing grill marks all over it. This panini press has a locking function that is handy for keeping the lid upright while making open-face snacks or cleaning the plates.
Key Features
Power and pre-heat indicator lights
Cafe-style floating lid that presses down evenly
Upright storage
Pros
Easy to operate
Easy to clean
Sturdy construction
Heats up very quickly
Value for money
Cons
No temperature-control dial
A panini press can transform the way you make quick meals. But before you buy one, check out all the factors that you need to consider to find the perfect one for your needs.
How To Choose A Panini Press – Buying Guide
The ridged plates of a panini press are known as the grill. The grill is what creates that lined texture on the sandwich. It may be on the top half of your panini maker or on both of its sides.
A griddle plate, on the other hand, has a smooth surface or a flat plate.
If you enjoy making pancakes on your panini maker, then a flat griddle panini maker will be the best option for you.
A floating hinge is a feature that lets you grill a variety of sandwiches of different thicknesses. It adjusts the upper plate according to the thickness of the food you put in it. This is quite a basic feature when it comes to panini presses, so most of them have it.
A drip tray can be made of aluminum plates or any other material to catch all the excess fat and juices that ooze out during your panini-making process. This is a convenient feature as it removes the extra fat, making your dish a bit healthier. Moreover, it makes cleaning up the grill a lot easier.
This feature allows you to decide how hot you want your panini press to be. It is convenient because you can adjust the toastiness of your sandwich according to your preference.
Many panini makers come with extra tools that make it easier to operate and clean the machine. It is important to understand what you want and how helpful these accessories can be to determine your choice.
Listed below are some tips that you can follow to make the best use of your panini press. Check them out!
Tips To Use A Panini Press
Always wait for the grill to heat up adequately.
Use butter or olive oil to get that crispy texture on your sandwich or panini.
Do not keep your sandwich in the panini press for too long to avoid burning.
Do not overcrowd the press with too many items to avoid excessive dripping and mess.
Wipe down your panini press with a damp cloth after you are done using it and while it is still slightly warm. This minimizes build-up and dirt on the grill plates.
A panini press can be a great addition to your kitchen because of many reasons. Check them out below!
Benefits Of Buying A Panini Press
It saves a lot of time. You can easily grill your favorite foods within minutes.
It is multifunctional. You can make a variety of foods with this handy machine – sandwiches, subs, burritos, and – of course – paninis!
Many panini makers have the flat-lay feature that you can use to create even more dishes like bruschetta, open-faced sandwiches, streaks, and grilled vegetables.
You can use a griddle panini maker to heat up leftover food like pizza or garlic bread. You can even use it to make pancakes and crepes for breakfast!
It is a compact and reliable alternative to the massive BBQ grills.
A panini sandwich maker definitely has the ability to get your creative juices flowing. You can create so many delicious foods, be it for breakfast, lunch, dinner, or snack time! It is a great appliance to have in a busy home as it not only grills the most crispy and scrumptious variety of dishes, but it also saves you a ton of time with its quick heating mechanism. Grab a handy panini press from the ones listed above to get started on your panini journey!
Frequently Asked Questions
What can you make in a panini press?
You can make a variety of dishes using the rectangular grill pan of a panini press – sandwiches, paninis, enchiladas, wraps, burritos, and subs. If your panini press opens all the way flat, you can more even more dishes such as open-faced sandwiches, bruschetta, grilled veggies, and steaks.
What is the best bread for paninis?
If your panini press has a floating handle, it can perfectly grill any kind of bread, no matter what the thickness or taste.
How hot does a panini press get?
Many panini presses come with a temperature adjustment knob, using which you can make it as hot as you desire. Usually, a panini press that does not have a temperature adjustment feature can get as hot as 375°F.
How do you season a panini press?
Non-stick panini presses do not need to be seasoned. You can only season a panini press if it is made of cast iron. You can season it by completely cleaning and drying it after the first use, then spreading a light layer of cooking oil on the cast-iron plates and heating it on the highest setting. After the oil has cooled for 10 minutes, let the grill cool down. Then, repeat the process.
How would you clean enamel plates?
Enamel plates can be easily cleaned with the help of a damp cloth while the panini press is still slightly warm.
Can apanini press grill both sides of the sandwich?
This completely depends on the panini press you choose. Many panini presses grill both sides, while there are also some that grill either the top or bottom half only.
What is the worst trait of a panini press?
When a panini press gets overheated or does not heat up uniformly, it can create very poor-quality dishes as they can turn out either burned or undercooked.
Do you need to butter the bread when using a panini press?
Buttering the bread before grilling it can create the perfect crispy golden texture. You can also use olive oil as a healthier alternative.
What can I use instead of a panini press?
If you do not have a panini press, you can wrap your sandwich or panini in aluminum foil and grill it on a hot pan to get similar results.
Recommended Articles