8 Best Papaya Face Washes Available In India
Indulge in the richness of organic formulas and achieve spotless, gleaming skin. India has among the harshest summers, and with the scorching heat comes a list of skin problems – including acne, redness, tan, skin irritation, and sunburns. These are serious skin issues, and regular skin care products laced with chemicals are not going to help. The solution? A papaya face wash. Papaya is rich in antioxidants and alpha-hydroxy acids. It helps soothe your skin and gently exfoliates dead skin cells. Its unique action helps reduce tan, adult acne, and irritation. Adding a papaya face wash to your daily skincare routine will make your skin feel clearer, younger, and radiant. Here, we have listed the 8 best papaya face washes available in India. Check them out and choose your pick!
Top Picks
8 Best Papaya Face Washes Available In India
The Bio Papaya Visibly Flawless Skin Face Wash by Biotique is a gentle exfoliating cleanser. It is infused with natural ingredients like banhaldi, neem, groundnut oil, and papaya. Banhaldi (or turmeric) is rich in antioxidants and has anti-inflammatory properties. It helps soothe and repair your skin. Neem helps fight acne and skin irritation. Groundnut oil helps moisturize and replenish your skin. The papaya extracts in this foaming face wash dissolve the dead skin cells on your skin. It brightens your skin, unclogs pores, and fades blemishes. The formula helps you attain a youthful and refined complexion with regular use. This face wash is also free from harsh chemicals that may otherwise damage your skin.
Pros
Paraben-free
Alcohol-free
Gentle on skin
Cruelty-free
Unclogs pores
Cons
May cause skin irritation
Price at the time of publication: ₹7.99
The AntiTan Papaya Face Wash by Khadi is a potent herbal cleanser. It is enriched with papaya, neem oil, and aloe vera. The papaya gently clears away the dead skin cells and reveals your skin's natural complexion. It revitalizes your skin and helps remove tan. The neem oil fights the acne-causing bacteria and prevents blemishes and pimples. It also soothes your skin and relieves dryness, redness, irritation, and itchiness. The aloe vera extract calms your skin and keeps it hydrated. When used regularly, this
tan removal face wash
leaves your skin bright and healthy with a natural glow.
The formula protects your skin from the sun and cleanses any impurities on your skin. It is also free from toxic ingredients that can otherwise irritate your skin.
Pros
Paraben-free
Artificial fragrance-free
Sulfate-free
Artificial color-free
UV protection
Removes tan
Mild fragrance
Cons
The Papaya Face Wash by Jovees is ideal for combination skin. It contains papaya extract, bilberry extract, grape leaf extract, cranberry extract, and watermelon extract. This face wash is formulated using nano-technology and is infused with nano-particles (sized 100-140 microns) for optimal results. This gentle cleanser is rich in antioxidants and vitamins A, B, and C that help reduce the early signs of aging. The face wash also reduces the appearance of dark spots, wrinkles, and skin pigmentation. It gently cleanses away impurities and dead skin to give you an even-toned complexion.
Pros
Pleasing fragrance
Gentle on skin
Reduces aging signs
Brightens complexion
Cons 
Price at the time of publication: ₹156
The Skin Fruits Fruit Infused Face Wash by Joy is formulated with active fruit boosters. This papaya face wash helps reduce pigmentation, fades spots, lightens blemishes, and leaves your skin toned and even. The papaya extracts provide gentle exfoliation and give your skin a youthful glow.
This face wash soothes your skin and protects it from the harmful UV rays of the sun.
It contains papain that works as an effective tan remover. It also removes dead skin cells and inactive proteins from your skin. This
fruity face wash
reveals fairer, clearer, and smoother skin with regular use.
Pros
Removes tan
UV protection
Pleasant fragrance
Reasonable priced
Cons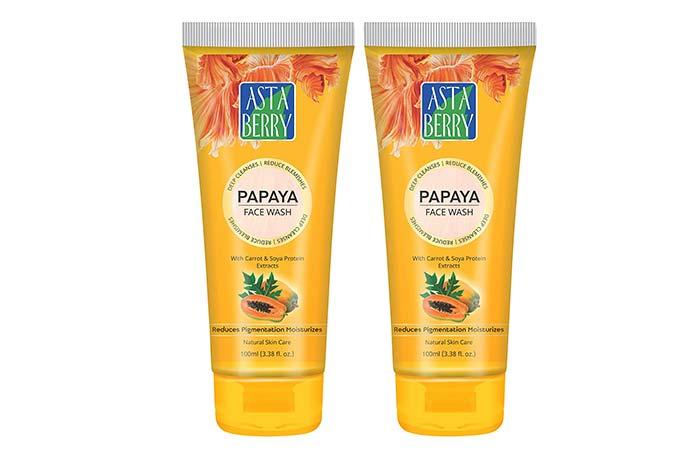 Unclog pores on your skin with the Astaberry Papaya Face Wash. It reduces pigmentation, blemishes, and other impurities from your face making it appear radiant. In addition, the face wash removes dead skin cells, eliminates acne scars, and brightens the natural complexion. This face wash is infused with carrot root extract, papaya, and soybean.
Pros
Suitable for all skin types
GMP certified
Dermatologically tested
Vegan
Cruelty-free
Cons
None
The Perfect Papaya Face Wash by Nature's Essence contains papaya extracts that improve your skin tone and reduce blemishes, dark spots, and pigmentation. The extracts gently cleanse away excess oil, dirt, and impurities from your skin. This mild exfoliating formula removes dead skin cells and detoxifies your skin. This face wash helps lower the melanin levels in your skin and reveals your natural skin tone.
Pros
Pleasant fragrance
Gentle on skin
Lowers melanin
Eliminates dark spots
Exfoliating properties
Reasonably priced
Cons
The Papaya Brightening Face Wash by Good Vibes is a deep cleansing
face wash ideal for dry skin
. It is infused with papaya extracts, soy protein, carrot extract, honey, grapeseed oil, and apple extract. The papaya helps fade the visible dark spots, acne scars, dark circles, and blemishes. Honey improves skin complexion and retains moisture. Carrot extract helps soften and moisturize your skin. Grapeseed oil gently clears away skin impurities. Apple extract smoothens your skin and keeps it supple. Soy protein improves your skin's elasticity and keeps it firm. This facial cleanser brightens your skin tone and gives a youthful glow. It removes the dead skin cells, dirt, and impurities. The formula does not strip away natural skin moisture. It instead combats dryness.
Pros
Reduces pigmentation
Reduces tan
Hydrating formula
Pleasant fragrance
Improves skin texture
Reasonably priced
Cons
May cause skin irritation
Price at the time of publication: ₹9.5
The Papaya clean Anti Blemishes Face Wash by Oshea Herbals is best suited for those with sensitive skin. It is infused with the goodness of natural papaya extracts, aloe vera, and vitamin E. The vitamin E repairs skin and fights against free radical damage.
Aloe vera helps soothe irritation and effectively moisturizes your skin.
Papaya extracts help lighten blemishes,
dark spots
, and pigmentation.
This face wash clears skin impurities and leaves your skin feeling super refreshed. It is dermatologist-tested and suits all skin types. It also is free of harsh ingredients that may otherwise damage or irritate your skin.
Pros
Gentle on skin
Dermatologist-tested
Paraben-free
SLS-free
Reasonably priced
Cons
None
Conclusion
Papaya gently exfoliates dead skin cells, unclogs pores, lightens blemishes, and eliminates tan. Using a papaya face wash regularly can give you that fresher appearance you have always wanted. Make the ideal choice from this list. Choose the right product that suits your specific skin type, and you will be happy with the results.

The following two tabs change content below.