11 Best Papaya Soaps For That Flawless Skin
Papaya is here to renew your skin, thanks to its nutrient-rich natural components.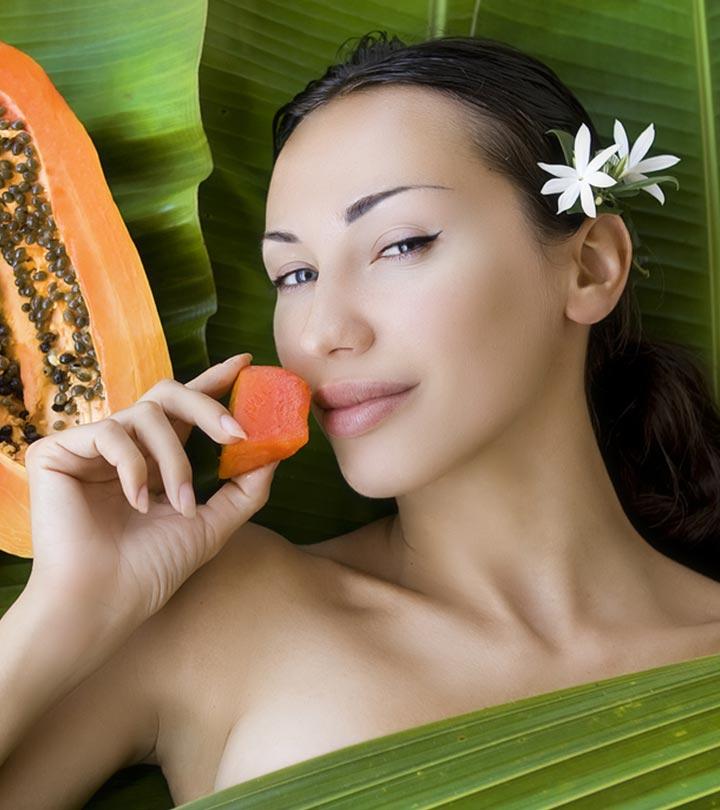 What if we told you that a simple soap can help you bid goodbye to your skin issues like dark spots, scars, blemishes, and acne? Yes, just choose the best papaya soap that suits your skin type, and you are ready to go! These soaps are enriched with many beneficial nutrients like vitamins C and A that effectively tackle skin issues like hyperpigmentation. Additionally, they boost the synthesis of collagen and promote the production of new skin cells. They also remove dead skin cells and have skin lightening and exfoliating properties. The high potency in antioxidants makes papaya soaps great products for those struggling with scars or blemishes since it also helps prevents dark spots that occur after a breakout. So, adding these soaps to your skin care regimen can take it up a notch.
However, the choice may become difficult with so many brands of papaya soaps available right now. Don't worry. This article will tell you everything you need to know about the papaya soaps on the market right now. Keep reading to know more!
11 Top Papaya Soaps For Bright, Radiant Skin
Pros
Exfoliates dead skin cells
Rejuvenates skin
Cruelty-free
Paraben-free
Contains no SLS
Suitable for all skin types
Cons
Contains artificial fragrance
Price at the time of publication: $9.95
If you've been waiting for a magical skin transformation, this papaya soap is all that you need. Look younger and more beautiful than ever with this papaya soap for skin lightening that contains natural ingredients like vitamins B3, snail extract, aloe vera, and ascorbic acid that reduce dark spots, rejuvenate dry and tired skin, and brighten your complexion instantly. This soap has over 3341 rave reviews on Amazon for being a great help in reducing acne scars. Specially formulated to resolve your skin issues, it gently exfoliates the dead skin cells on your face and body, and hydrates your skin.
Pros
Natural ingredients
Brightens skin instantly
Exfoliates dead skin cells
Reduces age spots
Offers deep moisturization to skin
Cons
May not be suitable for sensitive skin
Price at the time of publication: $9.98
Say goodbye to skin imperfections for good. This gluta papaya soap takes excellent care of your skin by maintaining it clean, radiant, and healthy. Its unique combination of papaya extract and other ingredients like pineapple fruit extract, coconut oil, palm oil, niacinamide, glutathione, vitamin B3 and collagen nourish your skin to give you soft and supple complexion. Its gentle ingredients work wonders on any skin type by treating spots, pimples, blemishes, and dryness.
Pros
Nourishes and rejuvenates skin
Moisturizes skin
Treats spots, pimples, blemishes
Offers soft, silky smooth skin
Cons
Contains artificial fragrance
Price at the time of publication: $5.98
Pros
Aids in recovery of healthy skin
Moisturizes and renews skin
Gentle exfoliator
Improves skin tone
Cons
Price at the time of publication: $6.31
Pros
Gluten-free
Cruelty-free
Soothes your skin
Long lasting moisturization
Cons
Some may find the scent to be unpleasant.
Price at the time of publication: $16.99
Be assured that you are doing something good for your skin when you bathe each time as this exfoliating papaya soap reduces skin pigmentation like age spots, freckles, acne scars, and uneven skin tone. This papaya soap with kojic acid and chemical-free ingredients like oatmeal, coconut oil, glutathione, and a blend of vitamins helps to lighten and brighten your skin complexion. It can also clear your scars off your acne-prone oily skin. An effective skin whitener, ensure that you wash off the soap completely and leave no residue behind to avoid possible skin irritation.
Pros
Chemical-free
Gives fairer and brighter skin
Reduces skin pigmentation
Evens out skin tone
Cons
May not be suitable for extremely sensitive skin.
Price at the time of publication: $8.79
Say hello to healthier and glowing skin instantly with this natural papaya soap. One of the top brands in the organic skincare market, it offers handcrafted soap prepared with papaya, cranberry fruit oil, beetroot powder, mango seed oil, aloe leaf juice, and essential oils like sweet almond, and jojoba. Its gentle formula with no artificial ingredients is safe to use on your body, from head to toe, and it thoroughly cleanses and nourishes your skin. It heals skin ailments and soothes your skin, making it an essential addition to your everyday bathing session.
Pros
No GMOs
Vegan and soy-free
All natural ingredients
Gives soft and smooth skin
Gluten-free and cruelty-free
Paraben and sulphate-free
Cons
Some may feel it doesn't sud up well.
Price at the time of publication: $9.99
Pros
Soothes itching
Promotes extra moisturization of skin
Helps relieve skin issues
Paraben and sulphate-free
Cons
Some may find the sandpaper-like texture of the soap too harsh.
Price at the time of publication: $9.75
Pros
Evens out skin tone
Deep moisturization
Gently exfoliates dead skin cells
Offers healthy and youthful skin
Cons
Contains artificial fragrance and colors
Price at the time of publication: $5.99
The triple strength lightening complex containing papaya extract, kojic acid, and glutathione in this papaya soap for skin lightening is a blessing right from the skin Gods. It refines your skin complexion by removing impurities and healing skin issues like blemishes, freckles, dark spots, acne scars and pimples. Its soothing formula lightens your skin tone, protects your skin from the UV radiation and leaves your skin soft and smooth. Whether you use it for your face or your body, you're sure to witness some amazing transformational results.
Pros
Provides protection from UV rays
Lightens complexion
Reduces blemishes, freckles, and pimples
Gives soft and smooth skin
Cons
May not be suitable for extremely dry skin
Price at the time of publication: $32.92
Make your beauty regimen effortless with this flawless papaya soap. Formulated with papaya extract, Q10 antioxidant, AHA collagen, and honey, this handmade soap lightens and softens your skin. It helps reduce fine lines, pimples, scars, and other aging marks on your skin after a couple of uses. It moisturizes your skin and promotes production of collagen. The sweet fragrance of papaya and honey is so relaxing that you will not want to step out of your bathroom.
Pros
Handmade
Makes skin radiant
Gives soft and smooth skin
Promotes collagen production
Sweet and pleasant fragrance
Cons
May not suit extremely sensitive skin
Price at the time of publication: $20.99
Now that you have read through the best papaya soaps, let's look at the factors you need to keep in mind while picking one for your body.
How To Choose A Papaya Soap?
Papaya soaps are natural but double check before you pick, especially if you have sensitive skin. Ensure that the soap does not have any artificial ingredients. These soaps will be gentler on your skin and the chances of developing any allergic reactions would be very low.
If you opt for a papaya soap with kojic acid, you could get additional benefits of lightening visible sun damage, age spots, or scars. Kojic acid has antimicrobial and anti-aging properties too, and hence, can promote youthful and radiant skin.
If you are allergic to perfume, ensure to pick a papaya soap with no artificial fragrance. Artificial fragrance may be overwhelming for some and also may trigger hay fever symptoms like cough, sneeze, and itchy nose if you're too sensitive to added fragrance.
If you have acne-prone skin, papaya soap can be a great option to clear your blemishes and scars. It is equally suited for dry and oily skin. A papaya soap is a natural, gentle soap but some may contain added fragrance that can cause irritation if you have sensitive skin. So, ensure that you pick one which is free of fragrance and other possible irritants.
You must have got a clearer picture about papaya soaps and which one you'd like to pick for yourself. Now, let us sum up the benefits of using papaya soaps for you.
Benefits Of Papaya Soaps
The enzyme present in the papaya soap called papain is a natural exfoliator. It removes the dead skin cells and gives your skin a healthier look and feel. It also evens out your skin tone and makes it brighter and softer when used regularly.
Papaya soap can help reduce blemishes and acne breakouts as it prevents clogging of pores. Papain also removes damaged keratin, an accumulation of which can lead to small bumps on your skin.
Papaya soap can smoothen your skin tone by dealing with hyperpigmentation. Since papaya soap gently exfoliates dead skin cells, it reduces the appearances of dark spots, hence lightening the tone of your skin.
Papaya soap can also relieve you of pain, skin irritation, itchiness, swelling, and redness in case of any wounds or insect bites. It reduces inflammation and promotes healing of the wound when you rub it on your skin.
Why Trust StyleCraze?
The author of this article, Kirtana Divakar, is a skin care enthusiast who loves trying out different beauty products. She carefully read user reviews on trusted online forums before curating this list of the best papaya soaps. The list comprises products that effectively tackle skin issues and remove dead skin cells. Not only are these papaya skin soaps cruelty-free, but you can also use them to treat every skin type.
Frequently Asked Questions
Is papaya soap good for the skin?
Yes. Papaya soap is rich in vitamins C and A. It can reduce irregular pigmentation and promote production of collagen. It can also help reduce dark spots, blemishes, and scars.
How often should you use papaya soap?
It should be used regularly as it can promote healthier skin by exfoliating dead skin cells, treating acne and also reducing hyperpigmentation.
What are the side effects of papaya soap?
You should avoid papaya soap if you are allergic to papaya or discontinue using it if you develop any allergic reactions like bumps, swelling, itching, or redness.
Does papaya soap lighten the skin?
Yes, papaya soap has various skin benefits and one of them is reducing uneven skin tone and lightening dark spots. It eliminates dead skin cells and promotes skin rejuvenation. Pick a papaya soap with kojic acid in it to do the trick.
Can papaya soap whiten underarms?
Yes, papaya soap can be used to brighten the underarms. It exfoliates the skin and promotes skin cell renewal.
Is kojic papaya soap safe?
Yes, a papaya soap with kojic acid in it is safe to use. It is effective at getting rid of the accumulation of dead skin cells.
Recommended Articles