11 Best Paraben-Free Foundations Of 2023
Cover up your skin imperfections while you protect your skin from the harm of parabens.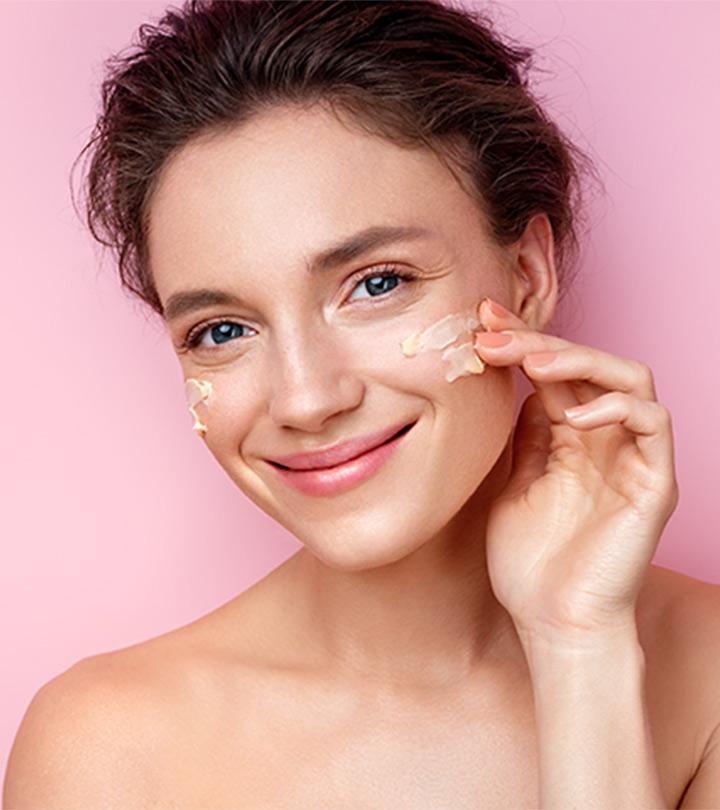 A foundation helps to cover all imperfections by hiding your blemishes. But prolonged exposure to foundations that contain paraben may harm your skin. Use a paraben-free foundation you save your skin from irritation.
Parabens are artificial preservatives found in many cosmetic products. They prevent bacterial growth and increase the shelf-life of the product. Studies show that paraben-infused products mimic estrogen and penetrate deeply into the skin's matrix.
Switch to paraben-free products today to keep your skin healthy and youthful. A paraben-free foundation can prevent irritation and redness and keep your skin soft. Though these products may not have a long-lasting shelf life, they are safe for your skin and prevent bumps or swelling. In this article, we have provided you with a list of the 11 ideal foundations that are suitable for all skin types. Scroll down and grab the one you would like to test out and give yourself a flawlessly beautiful makeup finish.
Go Clean And Green With The 11 Best Paraben-Free Foundations Of 2023
Catrice's HD Liquid Coverage Foundation is the most ideal foundation for oily skin people. This vegan, paraben-free foundation is ultra-light and high-coverage to provide a natural finish. The oil-free foundation covers blemishes while mattifying the skin to help create a smooth and even complexion that lasts up to 24 hours. The applicator for this foundation is that of a dropper. which is easy to use with either a brush or sponge. This foundation is ideal for daily wear, which you could build up for full coverage. Check out the review of this product for more information from the reviewer's experience.
Pros
Not tested on animals
Vegan
Oil -free
Sweat-proof
Alcohol-free
Semi-matte finish
Cons
Contains parfum (fragrance)
This foundation by Dermablend covers up blemishes and pigmentation for up to 16 hours. With maximum coverage, this cream foundation is dermatologist tested and transfer-proof. This foundation provides high-performance against skin conditions including birthmarks, burns, scars, hyperpigmentation, lupus, and vitiligo. The paraben and sulfate-free foundation also offers broad-spectrum SPF 30 protection. If you want to know more about the benefits of this product from the tester's experience, check out this quick review on YouTube.
Pros
Cruelty-free
Dermatologist-tested
Paraben and SLS-free
Broad-spectrum SPF 30
Glides on smooth and does not turn cakey
Cons
If you like your makeup without parabens and phthalates and want to incorporate a paraben-free liquid foundation to your routine, the Revlon PhotoReady Candid Finish Foundation is just the one for you. Get comfortable with this incredibly creamy, moisturizing, and protective formula, which has ingredients that will do your skin some good ol' justice. The foundation boosts a natural-looking, last-all-day look and keeps your skin hydrated through and through. The coverage of this product ranges between light to medium that is ideal for daily wear. You're promised full protection with its anti-pollution, antioxidant, and anti-blue light ingredients that are devoid of oils, fragrances, or synthetic dyes. Here's an honest review of the product as tested by the reviewer.
Pros
No phthalates, parabens, oils, or fragrance
Medium coverage that blurs out blemishes and pigmentation
Doesn't set into fine lines
Ideal for most skin types
Cons
Could oxidize, thus select a shade lighter
The Lux Liquid organic paraben-free foundation by BaeBlu is created to provide your complexion a fresh burst of radiance with its healthy coverage of everything organic. This vegan and natural liquid foundation is infused with an anti-aging formula to retain your timeless beauty. It blots excess oil and balances dry areas all the while restoring health back into your skin. With nourishing ingredients like aloe vera, shea butter, rice, rosemary, thyme, and oregano, the product will help smooth out fine lines, leaving your skin with a natural and youthful glow. This foundation comes with no harsh chemicals or any pore-clogging ingredients to provide a non-greasy and balanced result.
Pros
No harsh chemicals like parabens or gluten
Vegan paraben-free foundation
Fragrance-free
Organic ingredients
Helps masking redness under the skin
Cons
Those with sensitive skin may want to avoid this product as it may cause an allergic reaction.
The next foundation without parabens on the list is Wander Beauty's Wanderlust Powder Foundation. It's a silky smooth, lightweight powder foundation that covers any form of discoloration or redness without accentuating your skin's texture or creases. This natural paraben-free foundation  ranges from sheer to full coverage — depending on how you like your base makeup. It starts off feeling like a liquid foundation and dries into a powdery finish, absorbing excess oil from the skin to deliver exceptional results.. Its formula is deeply refined with ingredients like aloe leaf extract, hibiscus flower, honeysuckle, jojoba, and safflower extracts along with hyaluronic acid to retain the skin's moisture and suppleness furthermore.
Pros
Infused with plant-based ingredients
Dermatologist-tested
Oil-free
Powdery finish
Blurs pores, fine lines, texture
Locks in hydration
Provides even skin tone
Artificial fragrance-free
Cons
The Oxygenating Foundation is a paraben-free foundation for oily skin as it is an aloe-based gel product that allows your skin to breathe. Its exclusive ceravitae complex protects and heals your skin as you use it on the daily. The lightweight foundation goes on sheer but is buildable to your desired coverage. The aloe base protects the skin by removing dead cells and is a great match for sensitive, oily, or aging skin. It is certified vegan and cruelty-free that also helps boost elastin and collagen.
Pros
Lightweight gel based foundation
Vegan and cruelty-free
Rich in aloe extracts and special ingredient ceravitae
Buildable
Ideal for acne prone skin
Cons
This creamy and richly-hydrated foundation is the perfect paraben-free foundation for dry skin. With a thick, moisturizer-like consistency, this foundation is built with naturally derived ingredients to help even out skin tone. Infused with vitamins A and E, this plant-based hydration boost formulation keeps your skin supple. This foundation covers redness and locks in moisture to provide a radiant complexion. The formulation does not settle into fine lines or leave blotchy signs on the surface making it just the ideal foundation for dry and sensitive skin Check out the several positive online reviews of this product to help you make an informed decision.
Pros
Covers redness
Ideal for dry and sensitive skin
Locks in moisture
Little to no fragrance
Cons
May not be a full-coverage foundation
The Sunforgettable Tint du Soleil by Colorescience is a UV protection foundation that helps even out your complexion. Created with healthy ingredients, this cruelty-free foundation feels like a film of air once applied and adds a lightweight creamy hydrating formula. The product is not only free from parabens, but also from phthalates, synthetic ingredients like fragrances, talc, dyes, or mineral oils. It is clinically tested and proven to rejuvenate the skin and improve overall skin health. Peptide infused multivitamin complex formulation helps minimize visible fine lines, and fights against free radicals.
Pros
Free from harmful chemicals and minerals
Reef-friendly
Hypoallergenic and non-comedogenic paraben free foundation
Infused with peptides, multivitamins, and milk lipids
Cons
This hydrating foundation uses plant-derived pigments of rose and lotus to usher you in the world of all-clean, paraben-free makeup. The foundation comes in a compact case that is dispensed from an airless film. Providing a medium coverage, this product leaves a dewy, skin-like, smooth, and luminous finish, making it the perfect choice for setting the canvas to flex your makeup artistry skills. Formulated with coconut alkanes, shea butter, vitamins C and E, and grapeseed oil without any silicones or petroleum byproducts, this foundation is rich in antioxidants. The ingredients also help prevent signs of aging with added benefits of phyto-pigment juice boosts.
Pros
Includes skin-friendly ingredients
Free from parabens, phthalates, sulfates, fragrances, or petroleum
Blurs out fine lines
Hydrates skin with healthy vitamins and plant extracts
Cons
Its thick consistency may seem a bit cakey
This mineral based powder foundation seamlessly blends into your skin as a thin layer of pigment. You can use this long-wearing foundation as a compact powder or foundation as its mineral texture bridges the gap between liquid foundations and setting powders. The velvety formula seamlessly glides on the surface of the skin ending in a natural finish. It is infused with jojoba seed oil, sea fennel extracts, and avocado extracts. If you have oily or combination skin or someone who likes minimum effort base makeup, this paraben-free pressed powder is the one for you.
Pros
Can be used daily

Lightweight and natural finish
Can be used as compact powder or foundation alone
Brightens and tightens the skin
Infused with natural ingredients
Paraben-free
Cons
Some may find it too rosey
Triple-milled and processed, this mineral pressed powder foundation from Mirabella is infused with natural vitamins and minerals and offers full coverage for enhanced beauty. Light-diffusing mica and fine lines, scars, or sun damage diminishing ingredients are formulated in the making of this foundation, leaving out parabens and gluten. This foundation is made to give you the rich, flawless buildable texture while it enhances and compliments your skin's complexion. Suitable for most skin types inclusive of acne-prone, and sensitive skin, it is enriched with vitamins A, C, and E.
Pros
Infused with healthy vitamins and minerals
Provides full coverage
Protects and heals sun damaged skin or scars
Paraben-free powder foundation
Cons
Could feel a little on the drying end
*The prices provided in this article are based on the latest available information. However, they may vary due to changes in pricing by the seller and/or promotional offers.
These were some of the paraben-free foundation brands that have incorporated the disuse of such chemicals in their formulations, but read ahead to know more on how you can select your next foundation without parabens.
How To Choose A Paraben-Free Foundation For Your Skin
Ingredients
Go ahead and glance at the back of your chosen foundation or read through the list on their website. You'll know that common parabens like methylparaben, propylparaben, butylparaben, and ethylparaben are often used in most of your essential personal care products. Do avoid toxic ingredients such as these.
Look for natural alternatives
Parabens add more months to your beauty or self-care products. Thus, choosing a paraben-free makeup would mean to see if the products are packed with natural preservatives. They include vitamins, essential oils, botanicals, sodium benzoate, or plant-derived glycerin.
Thorough research
Google is everybody's best friend. Do a little digging about which companies swear off the use of parabens in their products, there are many brands that do follow the goal of clean and natural beauty.
Why Trust Stylecraze
Srijani Roy Chowdhury, the author of this article, is a makeup enthusiast and loves to explore different makeup products. After thorough research and reading many customer reviews on trusted platforms, she has curated the list of best paraben-free foundations. These foundations are skin-friendly, long-lasting, offer great coverage, and do not turn cakey.
Frequently Asked Questions
Are paraben-free foundations really safe?
Yes, paraben-free foundations are safe for every skin type. Paraben-free foundations are devoid of harmful chemicals and do not cause allergic reactions. However, go through the ingredients list to understand whether the formula is safe for your skin.
Are paraben-free foundations good for dry skin?
Yes, paraben-free foundations are good for dry skin. Some full-coverage paraben-free foundations with hydrating formulas help fight dryness and flakiness, and keep your skin soft, supple, and nourished.
Are paraben-free foundations good for oily skin?
Yes, paraben-free foundations are good for oily skin. Some water-based and non-oily paraben-free foundations impart a silky finish and do not clog pores.
Are paraben-free foundations good for acne-prone skin?
Yes. Paraben-free foundations do not contain harmful ingredients which makes them suitable for acne-prone skin. Choose paraben-free foundations that are dermatologically tested and hypoallergenic.
Recommended Articles