13 Best Paraben-Free Sunscreens Available In India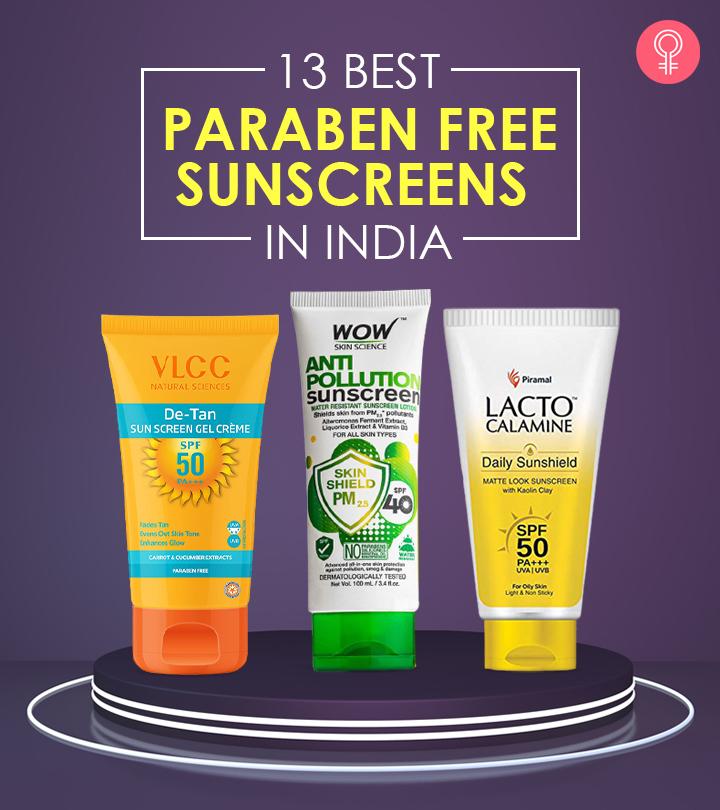 No matter what the beauty product, we want to avoid chemical additives. Chemicals offer short-term, quick results, but they can have detrimental effects on the skin over time. Parabens are used in beauty products mainly as a preservative to protect them from bacterial and microbial growths. But parabens can be harmful to the skin.
Parabens can increase cellular damage caused by UV exposure, which may lead to skin cancer. It can also trigger skin sensitivity and allergies.
Since using sunscreen is a must for us, switching to a paraben-free alternative loaded with mineral or physical blocking agents is advisable. Scroll through the list of the 13 best paraben-free sunscreens available in India and pick up a skin-friendly product for yourself.
13 Best Paraben Free Sunscreens In India
The Biotique Bio Morning Nectar Sunscreen is an ultra-soothing lotion with SPF 30+. The formula is a blend of Ayurvedic herbs like aloe vera, methi, honey, wheat germ oil, and safflower oil. This nourishing formula moisturizes the skin and adds a glow to the face while protecting the skin from UVA/UVB rays.
Pros
Ayurvedic formula
Suitable for all skin types
Brightens the skin
Lightweight
Moisturizing lotion
Can be used under makeup
Dermatologically tested
Sulfate-free
Cruelty-free
Cons
The trusted Lacto Calamine Daily Sunshield is a lightweight water-based formula ideal for oily skin. It is enriched with kaolin clay and lemon extract that absorb excess oil, reduce dark spots, and make the skin brighter. The lotion has SPF 50 PA+++, which offers broad-spectrum protection from harmful UVA/UVB rays. Its quick-absorbing formula leaves a matte finish on the face.
Pros
Lightweight
Dermatologically tested
Non-sticky
Fades dark spot
Brightens the skin
Quick-absorbing formula
Sulfate-free
Cons
This Re'equil sunscreen is free from oxybenzone and OMC and is ideal for oily, sensitive, and acne-prone skin. The lotion contains advanced SPF 50 PA+++ that protects the skin from the harsh sun. The filters restrict UV penetration for over six hours. Its non-greasy formula gives a matte finish and keeps the hormones balanced and allergies at bay.
Pros
Lightweight
Non-comedogenic
Clinically proven formula
Cons
The VLCC De-Tan Sunscreen Gel offers broad-spectrum protection from the sun with SPF 50 PA+++. It contains cucumber that hydrates, soothes, and removes tan from the skin. Aloe vera tones down inflammation and skin allergies, while antioxidant-rich carrot and vitamin C keep the skin healthy and vibrant. Saxifraga extract fades tan and dark spots, revealing a brighter skin tone. This gel-based cream leaves the skin moisturized and radiant.
Pros
De-tanning formula
Fades dark spots
Reduces inflammation
Hydrates the skin
Brightens the skin
Cons
Aroma Magic Sunscreen is a gel-based formula enriched with the goodness of aloe vera. The quick-absorbing formula contains SPF 20 and offers mild protection from the sun. Aloe vera keeps the skin purified, hydrated, and calm, while vitamins B5, C, and E fade wrinkles and fine lines. This mineral-based formula creates a barrier between the sun and the skin. Calendula, peppermint, and Roman chamomile oils soothe the skin and reduce acne.
Pros
Lightens scars
Reduces acne
Hydrating formula
Oxybenzone-free
Alcohol-free
Cons
Needs frequent reapplication
This WOW sunscreen lotion offers SPF 40 broad-spectrum sun protection and repels pollutants as small as 2.5 micrometers. The non-greasy, water-resistant formula gets absorbed quickly into the skin and nourishes the cells. Alteromonas ferment extract, vitamin B3, and licorice prevent skin darkening. Zinc oxide and titanium oxide act as physical barriers against harmful UV rays. The beneficial blend of plant extracts minimizes irritation and soothes sun-burnt skin, while the bioactives present in the formula prevent premature signs of aging, pigmentation, and skin darkening. The nourishing formula boosts skin health and heals it from within.
Pros
Non-greasy
Quick-absorbing formula
Anti-aging
Fades dark spots
Silicone-free
Mineral oil-free
Benzophenone-free
Dermatologically tested
Cons
Brinton Healthcare brings you the UV Doux Silicone Sunscreen Gel loaded with SPF 50 PA+++. The oil-free formula is water-resistant, has a matte finish, and protects the skin from all UVA/UVB rays. The lotion is fortified with octyl methoxycinnamate and titanium dioxide that deflect the UV rays and prevent sun damage. The long-lasting hydration provided by this formula makes the skin young, luminous, and strong against daily environmental aggressors. The sunscreen is hypoallergenic and soothing.
Pros
Oil-free
Matte finish
Non-comedogenic
Water-resistant
Long-lasting hydration
Hypoallergenic
Clinically proven
Dermatologically tested
Cons
Biotique's Ultra Soothing Face Lotion, infused with nutrient-rich carrot oil, is a lightweight sunscreen. It is blended with quince seed and aloe vera that keep the skin soft and supple. Carrot seed extract and lodhra bark provide nutrition and protection to the skin against harmful rays of the sun. The non-greasy sunscreen contains SPF 40 and provides UVA/UVB protection.
Pros
Suitable for all skin types
Non-greasy
Hydrating formula
Brightens the skin
Rich in nutrients
Cons
This formula from Mamaearth with powerful SPF 50 offers intense sun protection against UVA and UVB rays. A rich blend of organic ingredients like aloe vera and raspberry provide additional protection to the skin from UV damage. Additionally, aloe vera soothes dry skin and provides a natural glow. Raspberries rejuvenate the skin and reverse aging signs like wrinkles, fine lines, and dark spots. The gel-based formula is light on the skin and provides long-term hydration without any stickiness.
Pros
Lightweight
Anti-aging
Hydrating ingredients
SLS-free
Petrolatum-free
No artificial preservatives
No artificial colors
Non-sticky
Cons
Plum Sheer Day Cream is powered with SPF 50 PA+++ that protects the skin from UVA rays. It is infused with antioxidant-rich chamomile and white tea that heal skin damage caused by sun exposure and offer further protection. Chamomile acts as a barrier between your skin and the harmful UVA/UVB rays, keeping the skin soft and radiant. Ginkgo biloba fades wrinkles and fine lines, giving you younger-looking skin. The lightweight sheer formula creates microemulsions that help to distribute the sunscreen evenly on the skin. This results in a smooth, matte effect without any stickiness.
Pros
Non-sticky
Anti-aging
SLS-free
Silicone-free
Phthalate-free
Mineral oil-free
FDA-approved
Cruelty-free
Vegan
Matte finish
Cons
This revolutionary sunscreen from Organic Harvest protects your skin from sunlight and indoor blue light emitted by electronic devices. The lotion, powered by SPF 60 PA+++ and Blue Light Technology, gets absorbed into the skin quickly and does not leave any white cast. It is a nourishing and hydrating formula that is ideal for oily or acne-prone skin. The formula is infused with aloe vera that soothes sunburns, while rice bran oil keeps the skin moisturized. Kaolin clay and soybean oil cleanse and control sebum production while promoting skin health. This sweat-proof sunscreen lasts long.
Pros
Indoor/outdoor protection
Hydrating formula
Sulfate-free
Quick-absorbing formula
Organic ingredients
Does not leave white cast
Vegan
Cons
This Plum sunscreen is enriched with green tea and calendula extracts. These ingredients calm irritated skin, while niacinamide brightens the skin's. The SPF 35 in the formula keeps the skin protected from harmful UV rays, while antioxidant-rich green tea fights acne and heals breakouts. The lightweight gel-based product is good for acne-prone skin and leaves no white cast on the face.
Pros
Vegan
Non-comedogenic
SLS-free
Cruelty-free
Silicone-free
Phthalate-free
FDA-approved
Cons
This WOW Skin Science sunscreen is a daily broad-spectrum lotion with SPF 35 PA+++. It forms a transparent layer on the skin for protection against UVA/UVB rays and pollutants. The quick-absorbing formula contains no harmful chemicals and is infused with skin-nourishing natural actives. The lightweight, non-greasy lotion leaves no whitish streaks on the skin. It is infused with the goodness of carrot seed extract, raspberry extract, avocado oil, and vitamins A, C, and E. The formula neutralizes free radical damage and protects the skin from excessive dryness, dehydration, and photodamage. This sunscreen is pH-balanced and helps to repair the skin's lipid and moisture barrier. Avocado oil nourishes the skin and reduces tanning, while carrot seed diminishes the signs of aging.
Pros
Non-greasy
Non-chalky
Silicone-free
Mineral oil-free
Non-comedogenic
Oxide-free
No artificial colors
Benzophenone-free
Cons
Not suitable for oily or combination skin
Here are some points to keep in mind while buying a paraben-free sunscreen.
How To Choose The Best Paraben Free Sunscreen
1. Check The Label: Natural sunscreens contain minerals or physical sunscreen ingredients, like titanium dioxide and zinc oxide. These physically shield the skin from UV damage. Avoid chemical sunscreens that absorb the sun's rays. They have adverse effects on the skin in the long run, causing early signs of aging and skin problems.
2. Moisturizers: Along with sun protection, the lotion should contain hydrating and moisturizing ingredients like shea butter, hyaluronic acid, aloe vera, ceramides, and glycerin.
3. SPF Content: Pick a sunscreen that will provide optimal sun protection. SPF 30 or higher with broad-spectrum coverage is recommended.
Natural sunscreens contain minerals or physical sunscreen ingredients, like titanium dioxide and zinc oxide. These physically shield the skin from UV damage. Chemical sunscreens, especially the ones containing parabens, absorb the sun's rays, causing harm in the long run. So, take your pick from the above list of the 13 best paraben-free sunscreen available in India.
Recommended Articles
The following two tabs change content below.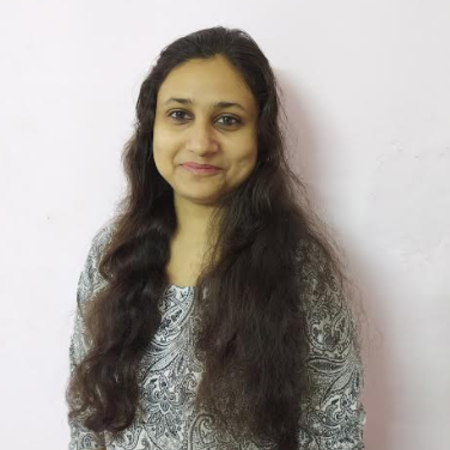 Shiboli has a master's degree in English literature from The English and Foreign Languages University, Hyderabad, and is a certified...
more