11 Best Pasta Pots Of 2021 – Reviews And Buying Guide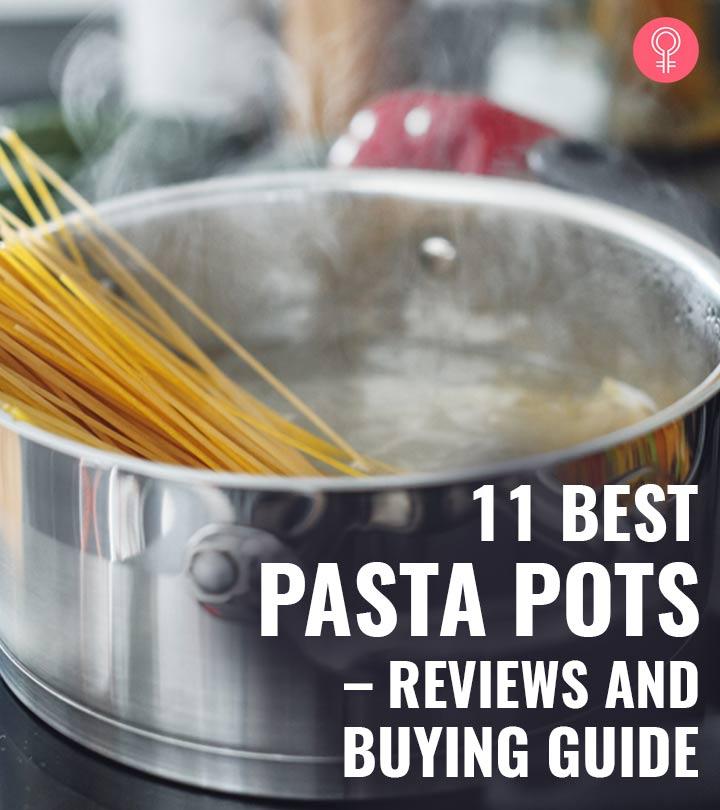 Cooking pasta at home is therapeutic for many people. But when the step that involves draining the boiling hot pasta comes around, everyone loses their cool. It is a stressful scene when you are trying to do it without burning yourself or accidentally dropping the whole batch of freshly boiled pasta into the sink. All in all, it is a risky and annoying situation to be in. All you need to solve this problem is a pasta pot that is specially made to eliminate this danger while cooking pasta. The pasta pots listed below have built-in strainers and other great features that will help you prepare your pasta in no time!
11 Best Pasta Pots Available Right Now
You can use the Gotham Steel Pasta Pot to prep, cook, bake, and serve pasta. This pot has twist-and-lock handles that keep the food compact while cooking and make it easy to strain the water without burning yourself. It also has 2 strainers of different sizes that can be used according to the food you wish to prepare. You can cook healthier meals at home more often thanks to the Gotham Steel Pasta Pot.  
Features
Twist-and-lock handles
5-quart capacity
Built-in strainer
Ti-Cerama inner coating
Tempered glass lid
Gotham Steel Titanium outer coating 
Pros
Multipurpose
Dishwasher- and oven-safe
Sleek design
Metal utensil-safe 
Cons
Lid handle gets hot
Not scratch-resistant
This Bialetti pasta pot has a unique oval shape that is suitable for cooking longer shaped pastas, like spaghetti, without having to break it. Since the lid of this pot locks in place, you can strain heavier foods, like ears of corn, without dropping them in the sink by accident. As the core of this pot is made of aluminum, it allows for quicker and more even heat distribution throughout the pot despite its oval shape. Hand-washing is recommended for the longevity of this pasta pot. 
Features
Oval shape
Twist-lock lid
18/8 stainless steel construction
Aluminum core
Strainer built into the lid 
Pros
Available in a variety of colors
Suitable for induction stoves
Easy to maintain
Strains quickly
Lightweight
 Cons
The Cuisinart 4-Piece Pasta Pot Set is large enough to cook pasta for your entire extended family! It is constructed with professional-quality stainless steel that does not react with acidic foods. The pot has an aluminum disk encapsulated between two layers of stainless steel in the base that helps to distribute heat evenly throughout the pot. This pot is very versatile as it comes with different components such as a deep pasta insert that helps you lift off and drain cooked pasta in one single swoop. The steamer basket that sits in the top portion of the pot allows you to steam vegetables that you can mix into your delicious pasta along with some pasta sauce.
Features
4-piece set
Aluminum encapsulated base
Stainless steel construction
Flavor-Lock Lid
12-quart capacity 
Pros
Easy to maintain
Dishwasher- and oven-safe
Easy to strain
Large capacity
Versatile usage 
Cons
May leave a black residue if not cleaned thoroughly
Cook N Home Stainless Steel Pasta Cooker comes as a 4-piece set that includes a 12-quart stockpot, a steamer insert, a pasta insert/pot, and a tempered glass lid. The tempered glass lid has a vent and is transparent, so you can actually observe your pasta being cooked in it. This pasta pot has riveted handles that provide durability and remain cool to touch. The deep steamer insert of this set can hold a large amount of vegetables, proteins, and pasta. The shallow insert can be used to steam fresh vegetables and toppings for your pasta. 
Features
Tempered-glass lid
4-piece set
Aluminum disc bottom
Stainless steel construction
12-quart capacity 
Pros
Dishwasher-safe
Can be used on induction stoves
Easy to maintain
One-pick easy straining
Long-lasting 
Cons
May form a residue if not cleaned thoroughly before use
Rachael Ray Hard Anodized Non-Stick Pasta Pot is the ideal pot for one-pot cooking. Its convenient pour spout is perfect for draining out water after boiling pasta. The same pot can be used to saute pasta sauce thanks to its non-stick coating. This pasta pot has a notable shape that frees up a good amount of space on the cooktop. You also do not need to break spaghetti noodles to fit into this pot. Due to its aluminum construction, this pot heats up evenly and does not have any hotspots. 
Features
Anodized aluminum construction
PFOA-free non-stick coating
Rubberized stainless steel handles
Shatter-resistant glass lid
Pour spout
8-quart capacity 
Pros
Dishwasher-safe
Cool-touch handles
Easy to maintain
Convenient design
Great for sauteing 
Cons
Cooks Standard Classic 4-Piece Pasta Pot Set is sturdy and lasts for many years. This set is constructed with stainless steel and includes a stockpot, a pasta insert/pot, a steamer insert, and a stainless steel lid. The deep riveted handles of these pots are durable and comfortable to hold as they stay cool. The deep steamer insert of this set can hold a large amount of vegetables and proteins. Pasta pot itself can be used to cook a variety of foods such as pasta, potatoes, pulses, and grains, and it can also be used as a strainer. This pasta pot set is oven-safe up to 500°F. 
Features
Made of 18/10 stainless steel
Aluminum disc bottom
Stainless steel lid
12-quart capacity 
Pros
l Solid construction
l Can be used on an induction stove
l Value for money
l Perfect for large batches
l Easy to maintain 
Cons
More water required than necessary to boil pasta
May stain
Imperial Home Store Chef Quality Pasta Pot Set includes two pasta pots that have built-in strainers on their lids for easy draining of water. This cooking pot comes with a lockable straining lid that ensures secure straining. Pasta will not stick to the interior of these pasta strainer pots due to their non-stick interior coating. 
Features
Set of 2 pots
6-quart and 2-quart sizes
Strainer on the lids 
Pros
Heatproof handles
Value for money
Lightweight
Heats up quickly
Offers quick straining
Non-stick coating 
Cons
All-Clad Pasta Pot is ideal for cooking pasta and can also be used for steaming and blanching many different kinds of foods, like vegetables and shellfish. The perforated insert that is included in this pasta pot makes it effortless to prepare meals. You can add meat, seasoning, and other ingredients to the insert, which is then simply lifted off when finished, allowing instant straining of food. This All-Clad cookware set has a sleek polished exterior and warp-resistant strength. It is compatible with all stovetops. 
Features
18/10 stainless-steel construction
Warp-resistant aluminum base
Perforated insert for easy draining
6-quart capacity 
Pros
Dishwasher- and oven-safe
Compatible with induction stoves
Easy to maintain
Durable
Lightweight 
Cons
Strainer not deep enough
Requires a lot of water to boil pasta
Tramontina Lock & Drain Pasta Cooker Pot is ideal for preparing pasta. It can also be used to cook hearty soups, stews, and vegetables. Its durable stainless steel construction has an attractive, fine satin finish with mirror-polished accents. Its Tri-ply base provides quick and even heat distribution for exceptional cooking. This pot can be used on gas, induction, electric, and ceramic glass cooktops.
Features
Tempered-glass lid
Tri-ply base construction
Made with 18/8 stainless steel
Lock & Drain insert
8-quart capacity 
Pros
Compatible with all types of stoves
Dishwasher- and oven-safe
Ergonomic design
Value for money
Cons
Not heat-resistant handles
Cannot be used on high heat
You can boil, steam, simmer, and cook food in the ExcelSteel Pasta Cooker. With this stainless steel multi-cooker set, you can create flavorful pastas, make savory meals, and craft flavor-enriched stocks and bases. This pot has the ability to give you an unforgettable cooking experience. 
Features
Encapsulated base
18/10 stainless steel
Silicone-covered handles and knob
Vented glass lid
12-quart capacity 
Pros
Value for money
Compatible with induction stoves
Heat-resistant handles
Multifunctional unit
Great for cooking large batches 
Cons
Gibson Casselman Pasta Pots Set consists of 2 pasta pots. These professional-quality pasta pots have a non-stick coating that prevents sticky messes. The lockable straining lids are perfect for straining pasta as soon as it is done boiling. You will not need to use a separate strainer and colander thanks to this ergonomically designed pasta pot. 
Features
Includes 2 pots
Lockable straining lids
Non-stick coating
6-quart and 2-quart pots 
Pros
Affordable
Modern design
Easy to clean
Lightweight
Heats up quickly 
Cons
Wondering why you should switch to using a pasta pot? There are plenty of reasons! Check them out in the next section. 
Why Should You Use A Pasta Pot?
Using a pasta pot has many benefits. These pots are specifically designed to make your pasta-cooking experience easier, especially when you are cooking large batches of pasta. Listed below are a few ways that a pasta pot makes your life easier:
Lower Chances Of Burning: When you cook pasta, you need to drain the excess water from the pot. This is risky when you are using an ordinary pot. Using a pasta pot that is specially constructed to drain the water instantly is less hazardous.
Cooks Pasta Evenly: Pasta pots are built with special durable materials that distribute heat evenly throughout the pot so that each piece of the pasta cooks through perfectly.
Multipurpose: Pasta pots can also be used to boil vegetables and cook rice. Some pasta pots are perfect for sauteing and frying vegetables too.
When you first start using a pasta pot, you must keep some useful tips in mind. Check them out in the next section.
Tips For Using A Pasta Pot
Always wash and clean the pot thoroughly before its first use.
Read and follow the instructions provided with the pasta pot carefully.
Try to place your pasta pot on a burner that covers the base of the pot completely.
Always use the amount of water that is instructed.
Add a pinch of salt to the water to enhance the flavor of your pasta.
Clean the pasta pot as per the instruction manual to maintain its long life.
Listed in the next section are some things that you need to consider when buying a pasta pot. Check them out! 
Things To Consider When Buying A Pasta Pot
When buying a pasta pot, the following points must be taken into consideration in order to select one that you will use the most.
It is best to decide beforehand how much you are willing to spend on a pasta pot. This can be decided by asking yourself how often you will be using the pot and what will be the quantity of each serving that you cook. Once you decide this, you can invest more in a pasta pot if you are an avid pasta cook or a low-end one if you only cook for 1-2 people.
The material of your pasta pot is an important aspect to consider. You must understand that while stainless steel is easy to clean and maintain, it is not the best conductor of heat, which means your pasta will take a longer time to cook in a stainless steel pot. On the other hand, aluminum and titanium are great conductors of heat, but they can be expensive.
If you have a big family or if you are someone who loves to cook for large gatherings, then you might want to invest in a large pasta pot that is sturdy and durable. On the contrary, if you like preparing fresh food for each meal, then a small pasta pot will be ideal for you.
Pasta pots can be used in a variety of different ways due to their various features. The strainer basket in a pasta pot can be used to boil and steam vegetables. The pot itself can be used for cooking many different dishes like stew, chili, soup, and rice. Basically, choose a pasta pot that can be used to prepare a variety of dishes. 
When you buy a pasta pot, you need to realize that though it can be a big investment, it will last you a long time and make your pasta cooking experience easier. You will thank yourself later when you look back and remember how much you used to struggle when draining the boiling hot water from the pasta. A pasta pot can also be the perfect gift for someone who loves cooking and eating homemade pasta. Refer to our pasta pot buying guide given above to get a clearer picture of what you are looking for in your pasta pot. And, grab one of the pots listed above!
Expert's Answers for Readers Questions
How can you keep pasta warm in a crockpot?
Simply grease the crockpot with a few drops of oil and put your freshly cooked hot pasta into it. All you have to do now is turn on the crockpot and select the "warm" setting to keep your pasta warm for as long as you desire.
How can you drain pasta without a strainer?
If you do not have a strainer, pick up the pasta with the help of tongs and place it in an empty container. You can also use a large spoon to pick up the pasta pieces and cradle the spoon against the wall of the pot to get rid of the excess water.
Recommended Articles
The following two tabs change content below.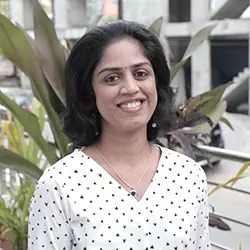 As Head Of Content Operations, Harini sets the tone and editorial direction for StyleCraze to deliver engaging, interesting, and authentic...
more