11 Pretty Pastel Nail Polishes That Suit All Skin Tones
Light, dreamy, and elegant shades that suit and flatter every undertone.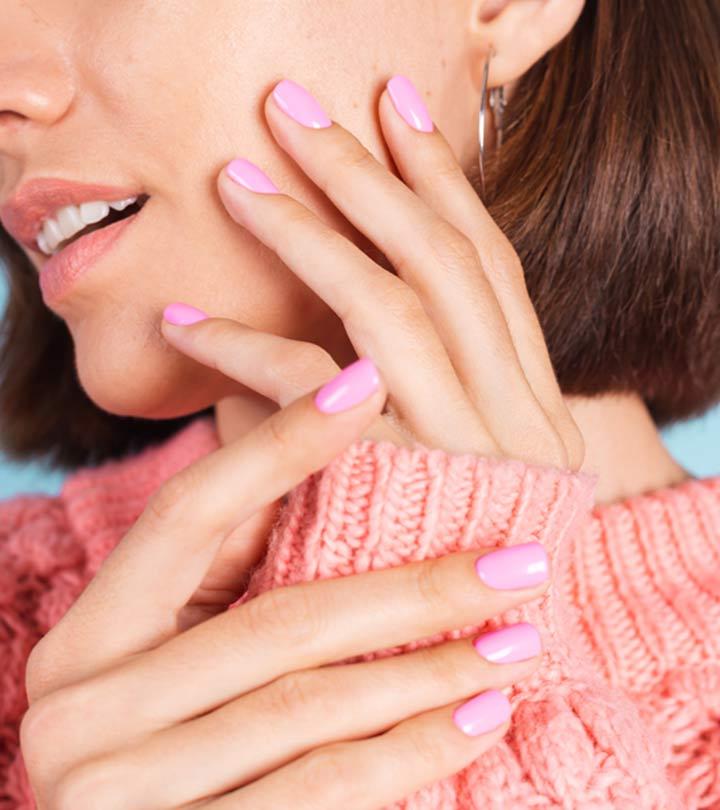 Nail color trends may come and go, but pastel nails never go out of style. Having pastel nails, especially during spring, may drastically change the way your hands look. What's more? You can always go for the best pastel nail polish colors regardless of the season. There are so many pastel shades out there that you will never get bored of trying new ones, and these colors compliment almost every skin tone. They usually have a very cool and warm undertone and are available in muted colors that look soothing to your eyes.
The pastel nail color range varies from soft and floral to earthy and warm hues. Do you want your nails to look pretty all the time? Ahead, we have curated a list of the 11 best pastel nail polish colors that will make your nails look stunning. These shades are worth trying, and you will instantly fall in love with them. Keep reading and take your best pick.
11 Must-Have Pastel Nail Polish Colors That Spruce Up Your Nail Paint Collection
Give this pastel nail polish set from Gellen a try, if you're on the lookout for shades that steal the show and stand out everywhere you go. The kit contains 6 muted and subtle hues with a gel-like glossy finish that enhances the color, ensuring that your nails look gorgeous and flawless. A shade for every mood, this kit has soft pink, cool lilac, plush blue, peach, vanilla, and light orange shades. It is made from natural resin and has no chemicals, making it a perfect addition to your nail paint collection. If this was not all, this spring color nail polish also comes with a convenient brush for hassle-free application.
Pros
Pleasant scent
Good tenacity
Mirror shine finish
Non-toxic ingredients
Cons
Formula may be prone to chipping
Price at the time of publication: $6.99
We're sure you're instantly going to fall in love with the shades of these pastel color nail polishes. This nail style set contains 6 sophisticated shades that include pastel green, soft blue, sheer pink, lovely lilac, beautiful peach, and popping yellow colors. Altogether, this kit has dreamy shades that apply effortlessly for nails that look beautiful and enchanted. For nail paint that lasts long, cure the polish under a UV lamp for 90-120 seconds and enjoy your pretty nails for over 3 weeks.
Pros
Oil-free
Long-lasting
Shiny formula
Non-toxic and safe ingredients
Cons
May cause an allergic reaction when it comes in contact with skin. Paint nails with caution.
Price at the time of publication: $13.99
Every nail enthusiast needs to own at least 1 pretty shade of pastel pink polish. If you've had no luck and have lost all hope, don't fret. This one from Essie Expressie is a subtle yet dreamy shade that will never let you down. The formula is quick-drying and glides easily, so you can count on this one when you're running late and need a quick fix up. What's more, it comes with an angled brush that makes application a breeze, and you can ensure a nail salon-like finish even if you are a novice. Suitable for all skin complexions, this one comes in 40 different shades and is seriously hard to resist.
Pros
No top coat needed
Vegan formula
Available in 40 colors
Has an angled brush
Cons

Some may find that the consistency is a bit too thick.
Price at the time of publication: $4.74
Embrace your wild side and bring out your inner diva with this bright pastel nail polish from DND. It comes as a set of 2, where one is a soak-off gel polish, and the other is a pastel orange nail paint. Together they ensure you have beautiful nails with a dashing orange hue that will last you for days. Suitable for professional use, people of all skin tones can use this one.
Pros
Lasts long
Saves time
Gives smooth coverage
Comes with a soak gel polish
Cons
Requires LED/UV light to dry
Price at the time of publication: $9.65
Get in with the spirit of springtime and indulge in 6 pretty pastel nail polish colors of the Kleancolor Nail Lacquers set. From stunning pinks and purples to breathtaking pastel blues, this set has got it all! Its long-lasting formulas are indeed trendsetters while lending a beautiful glossy finish to your nails. With high-quality ingredients that are nourishing and safe, you do not need to worry about the health of your nails. Just put on a base coat, top it up with another coat, and you are good to go.
Pros
Long-lasting
Chip-resistant
Safe ingredients
6 shades
Cons
Slightly runny consistency
Price at the time of publication: $9.97
The Eternal Hola Bonita Collection is a must-have beauty and nails essential in every smart woman's vanity. It comprises 4 pastel shades that are not unique but also long-lasting and chip-resistant. With pastel pink, purple, blue, and lavender colors, this is the ultimate set for anyone who wants beautiful, pretty nails. You can expect high coverage along with a superb gloss finish. The formula is also quick to dry, so you are good to go just in time. The best part about these nail enamels is that you can apply them on gel, acrylic, or natural nails and have a stunning effect regardless, of making them delicate.
Pros
Fast drying
No parabens
Mirror finish
Vegan and gluten-free
Cons
Price at the time of publication: $19.99
The perfect blue pastel nail polish can have you feeling all sorts of wonderful things, from happiness to pure bliss. The cool, pastel blue is formulated without toluene, DBP, and formaldehyde, making it a safe and suitable option. As far as durability is concerned, it lasts a long time, helps with nail maintenance, and is worth every penny. It has a semi-matte finish that provides full coverage and is easy to apply. The warm summer pastel color offers the best finish when applied with 2 coats of a nail growth base and coat system.
Pros
Semi-matte finish
Long-lasting
No UV lamp required
No base coat required
Cons
Some may find the brush to be slightly thick
Price at the time of publication: $9.49
When looking for a glitter nail polish that includes pastel colors, this one from Cirque colors is a pretty, sweet interesting choice. The feminine shade Lullaby is a multicolored pastel glitter nail polish. It makes your nails sparkling shiny and gives a festive look. The formula is non-toxic and is free from formaldehyde, toluene, DBP and formaldehyde resin, ensuring you are safe from allergic reactions. This is the perfect choice for vegan users. You can use it with a hold fast base and liquid laminate top coat for that extra premium finish.
Pros
Free of chemicals
Dries easily
Handmade product
Vegan
Cruelty-free
Cons
Slightly inconsistent coverage of glitters
Price at the time of publication: $12.5
ILNP Summer lovin' pastel teal holographic shimmer nail polish is all you need to shine with a pastel color. It has a stunning teal holographic hue that radiates somewhat pink to yellow color. Loaded with premium ingredients, this nail polish performs as one of the best pastel nail enamels. There are no animal derived ingredients in it, which makes it an ideal choice for vegans. Another benefit of using this pastel shimmer nail polish is that it gets off easily with the use of a good quality nail polish remover.
Pros
Chip-resistant
Non-toxic formula
Maximum coverage
Not tested on animals
Cons
Mixed shade of colors might not be pleasing to all
Price at the time of publication: $12.5
Your hunt for the perfect pastel peach is over with this Heroine New York City nail polish. It is that beautiful peach with a sheer shine and neon coral color to add to its beauty. Made with no toxic ingredients, this nail polish is kid-friendly. It comes with a robust quality cap and flat brush for an effortless and easy application. Its high-quality formula doesn't trouble you with any messiness and dries fast. With just 2 coats, the color settles on your nails perfectly well.
Pros
Lasts long
Cruelty-free
Vegan formula
No toxic ingredients
Cons
For some, the color may be too bright
Price at the time of publication: $12.0
Say hello to your all-new favorite nail polish from Color Club. This blue pastel nail polish is long-lasting and chip-resistant, making it an essential addition to your vanity bag. Easy to use, the formula dries effortlessly, and it comes with a smooth brush for easy application. Even with constant exposure to water, sanitizers, or soap, you will find that this one stays on for weeks to come.
Pros
Quick-drying formula
Vibrant color
Premium quality
Chip-resistant
Cons
May need frequent reapplications
Price at the time of publication: $9.99
Surely after having known so much about pastel nail colors, you must be tempted to buy a pretty pastel nail polish for yourself. But before that please give some time to the points given below to assist you in making a better purchase.
How To Choose The Best Pastel Nail Polish For Your Hands? 
With a variety of pastel nail polishes available in the market, choosing the best one for your nails can be a tedious task. Read the points given below that can assist you in choosing the best pastel nail polish for your nails.
This may seem like a no-brainer, but it is one of the most critical points to consider. While you can choose from stunning pinks and purples to beautiful pastel blues and yellows, you must pick colors that complement not only your skin tone and the ones that you most gravitate towards. If you're dusky, do not choose nail paints with white undertones, and if you have fair skin, select ones with highly pigmented colors, this will help your nails stand out.
Always keep an eye out for formulas that are quick-drying, chip-resistant, and long-lasting. A nail polish with all the above features will ensure your nail paint stays on for a long while protecting your nail's health and longevity.
Many pastel nail polish colors in the market come loaded with harmful ingredients like parabens, DBP, toluene, formaldehyde, and more. This may ruin and damage your nail's health, and hence, it is best to steer clear of them. Instead, opt for nail paints with natural and non-toxic ingredients.
How To Wear Pastel Nail Polish?
Follow the given steps to wear pastel nail polish –
Step 1 – Apply a base coat.
Step 2 – Add the first coat of your favorite pastel nail color and wait for it to dry completely.
Step 3 – Now top it up with a second coat of the same pastel color to get the most desired even coverage.
Step 4 – If you wish to give your nails that extra pop, use a jelly nail polish to top it off.
Why Trust StyleCraze?
Srijita De is our in-house makeup aficionado with a deep interest for discovering makeup trends. Since pastel nail colors are the latest fad, she recommends using these pastel nail polish brands. She spent hours browsing through many reviews and conducting her own research to deliver this handcrafted list. The products listed above have been selected based on their finish, texture, color payoff, and more.
Frequently Asked Questions
Are pastel nail polishes good?
Yes, pastel nail polishes are available in calm and soothing colors and look good on all skin tones.
How long do pastel nail polishes last?
Pastel nail polishes are chip-resistant and last up to 7 to 10 days.
How often should you use pastel nail polishes?
You may use pastel nail polishes every three to four weeks.
Do pastel nail polishes expire?
Yes. The shelf life of an unopened bottle of pastel nail polish is five to eight years. However, after opening the bottle, you should use it within two years.
Do pastel nail polishes give any smell?
Yes, most pastel nail polish has a sweet and fruity smell, which leaves a subtle smell after drying.
How much time to take pastel nail polishes to dry?
A pastel nail polish takes 10 to 12 minutes to dry completely.
Recommended Articles