13 Best Paul Mitchell Conditioners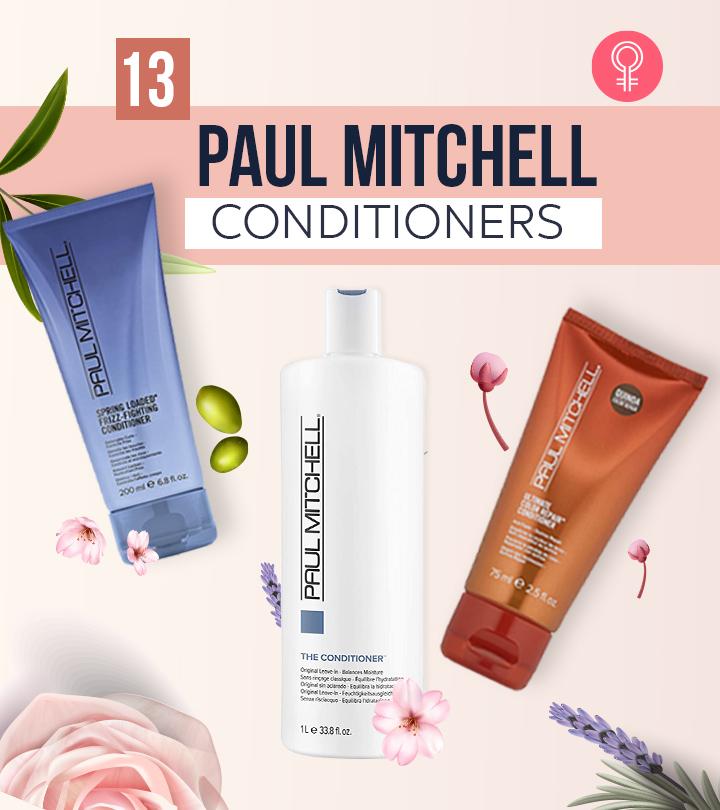 If you land your hands on the best Paul Mitchell conditioners, you will be blessed with smooth, soft, and tangle-free hair. Yes! These conditioners perfectly replenish your hair and let you have your dream healthy, gorgeous, and breathtakingly radiant hair. Knowing this, we have compiled a list of the 13 most amazing Paul Mitchell conditioners that you must have right now so you can say bye-bye to all your hair issues! What are you waiting for then? Go ahead and check!
How To Apply Paul Mitchell Conditioners
The conditioners from Paul Mitchell are primarily of two types:
Rinse-out Conditioner – This is the most common type of conditioner we are all familiar with. After cleansing your hair with shampoo, apply a small amount of conditioner to damp hair and massage. Let it sit for a couple of minutes before rinsing out.
Leave-in Conditioner – This type of conditioner is more suitable for dehydrated hair that needs an extra dose of moisture. It is applied to clean, damp hair, which is then combed through. Instead of rinsing, it is left on the hair to sink in and continue hydrating it.
Now that you know how to use a Paul Mitchell conditioner, let's take a look at the range of conditioners available from this brand.
Top 13 Paul Mitchell Conditioners
Suitable For: All hair types
Paul Mitchell The Conditioner is reputed to be amongst the earliest products launched in the original Paul Mitchell line. This is the original leave-in conditioner from Paul Mitchell. It has been formulated using Hawaiian awapuhi and soy derivatives that balance moisture content in your hair, improve the hair texture, prevent dryness, and reduce static. This versatile conditioner can even be used as a skin lotion to moisturize dry skin. Check out this YouTuber's review of this product.
Pros
Suitable for all hair types
Non-greasy
Provides intense hydration
Can also be used on dry skin
Leave-in formula
Reduces static
Improves hair texture
Helps balance moisture levels
Cruelty-free
Cons
None
No products found.
Suitable For: Medium to coarse, chemically-treated hair
The Paul Mitchell Detangler is a super-rich conditioner that helps with detangling, conditioning, and adding shine to your hair. It smooths and softens coarse hair and prevents it from drying out. The formula contains grapeseed oil that effectively combats tangles, leaving you with soft, silky hair. This conditioner is enriched with carrot extracts rich in beta-carotene, which protects the hair from damage caused by UV rays. You can also check this video out for a brief review of the product.
Pros
Intensely hydrating formula
Makes hair soft and shiny
Prevents UV damage
Lightweight
Non-greasy
Pleasant fragrance
Cruelty-free
Cons
None
Suitable For: Blonde, white, and silver hair
The Paul Mitchell Platinum Blonde Conditioner is perfect for removing brassy tones from blonde hair. It also softens dry strands and makes your hair shiny. The color-enhancing formula is violet-tinted, making it ideal for conditioning blonde, highlighted, white, or gray hair. You can apply it to natural blonde or color-treated hair without any worries. The moisturizing ingredients in the product keep your hair hydrated while intensifying its shine. If you need more convincing, feel free to take a look at this YouTuber's video on the merits and demerits of the product.
Pros
Keeps hair hydrated
Enhances shine
Cools brassy tones
Suitable for both natural and color-treated hair
Makes hair soft
Cruelty-free
Lightweight
Non-greasy
Cons
Suitable For: Damaged hair
The Paul Mitchell Super Strong Conditioner helps repair and condition damaged hair to make it soft, smooth and hydrated. The formula is safe for color-treated hair and enriched with UV protection to prevent sun damage. The conditioner is infused with an innovative Super Strong Complex that helps rebuild the internal structure of worn-out hair. It also includes extracts of soybean, cornstarch, and canola that leave your hair soft and smooth.
Pros
Safe for color-treated hair
Contains UV protection
Repairs damaged hair
Keeps hair moisturized
Paraben-free
Sulfate-free
Cruelty-free
Cons
Suitable For: Curly and wavy hair
The Paul Mitchell Full Circle Leave-In Treatment is an intensely hydrating leave-in conditioner that works well on curly hair. The formula does not weigh your hair down or leave behind any greasy residue. It moisturizes your curls, detangles knots, and makes your hair soft and smooth. If your curls are prone to frizz, this is the leave-in conditioner for you.
Pros
Lightweight formula
Calms frizzy hair
Provides intense hydration
No crusty residue
Vegan
Paraben-free
Gluten-free
Cons
Suitable For: Fine hair
The Paul Mitchell Extra-Body Conditioner helps in detangling and adding volume to fine, thinning hair. This nourishing formula contains panthenol and wheat-derived ingredients that thicken and repair hair. Panthenol boosts the body of the hair without weighing it down. Wheat-derived ingredients preserve hair health and prevent damage. The lightweight formula is gentle enough for daily use and safe on color-treated hair.
Pros
Lightweight formula
Leaves behind no residue
Keeps hair hydrated
Adds volume to fine hair
Repairs damaged hair
Safe for color-treated hair
Cons
Suitable For: Dry hair
The Paul Mitchell Instant Moisture Conditioner infuses your hair with intense moisture and a brilliant shine. The formula contains fortifying nutrients like shea butter, soy proteins, and the unique Instant Moisture complex. It deeply moisturizes each hair strand, leaving it strong and adding elasticity. The ingredients balance the moisture content and detangle knots to provide you soft, shiny, and manageable hair.
Pros
Improves hair elasticity
Strengthens hair cuticles
Provides UV protection
Pleasant fragrance
Gluten-free
Paraben-free
Cons
Contains alcohol
Contains silicone
Suitable For: Color-treated hair
The Paul Mitchell Color Protect Conditioner protects and preserves your hair color to help it last longer. It also offers detangling benefits and helps nourish color-treated hair, leaving it soft and moisturized. The formula is enriched with sunflower extracts that keep your hair safe from sun damage and prevent the color from fading prematurely. The conditioning ingredients in this product not only keep your hair hydrated but also enhance its shine.
Pros
Safe for color-treated hair
Helps repair damaged hair
Detangles knots
Keeps hair hydrated
Provides UV protection
Paraben-free
Vegan
Cons
Contains silicone
May make hair greasy.
Suitable For: Bleached, highly lifted, chemically treated hair
The Paul Mitchell Forever Blonde Conditioner is a lightweight formula that you can safely use without worrying about product buildup. It has moisturizing properties that help repair hair damaged due to frequent coloring and highlighting treatments. The formula contains a fortifying blend of KerActive protein, macadamia nut oil, and safflower oleosomes that hydrate and repair blonde hair, leaving it soft, smooth, and detangled. The conditioner is ideal for achieving salon-quality results at home.
Pros
Safe for daily use
Lightweight formula
Improves hair elasticity
Repairs damaged hair
Paraben-free
Gluten-free
Cons
Contains silicone
Contains alcohol
Suitable For: Frizzy hair
The Paul Mitchell Super Skinny Conditioner is enriched with an exclusive Super Skinny Complex that reduces the drying time of your hair. It helps you style your hair quickly and is useful for days when you are in a rush. The conditioner helps calm frizz and soften hair strands, making your hair smooth and silky. It contains thermal protectants and heat-activated conditioners that repair hair and prevent surface damage.
Pros
Helps calm frizz
Speeds up drying time
Repairs damaged hair
Enriched with thermal protectants
Paraben-free
Vegan
Cons
Contains silicones
Contains gluten
Suitable For: Curly and wavy hair
The Paul Mitchell Spring Loaded Frizz-Fighting Conditioner detangles curls and tames frizzy hair. It replenishes dry hair with intense moisture using jojoba oil and nourishing plant extracts. The conditioner helps control unruly hair and lends definition to your curls. The creamy, rinse-out formula leaves your curly tresses healthy, smooth, and beautiful. It has a playful, tropical fragrance, featuring notes of citrus, green apple, and mango.
Pros
Safe for color-treated hair
Paraben-free
Sulfate-free
Gluten-free
Cruelty-free
Pleasant fragrance
Cons
Contains silicone
Contains alcohol
Suitable For: Fine hair
The Paul Mitchell Invisiblewear Conditioner not only helps in detangling but also adds volume to fine hair. It intensely moisturizes and revitalizes hair to make it gorgeous, glossy, and shiny. This lightweight formula is enriched with velvet flower extract that softens hair strands and makes it perfectly manageable.
Pros
Lightweight formula
Paraben-free
Gluten-free
Color-safe
Vegan
Cons
May not be effective on all hair types.
Contains silicone
Suitable For: Color-treated hair
The Paul Mitchell Ultimate Color Repair Conditioner is enriched with a Quinoa Color Repair complex. This formula utilizes the high protein content of quinoa extracts to lock in hair color and repair damaged hair. This conditioner also contains the nourishing goodness of jojoba oil, soybean oil, and shea butter to provide softness and shine to your hair. The product also has vitamins that deeply nourish and hydrate color-treated hair.
Pros
Safe for color-treated hair
Detangles and hydrates damaged hair
Paraben-free
Cruelty-free
Made in the USA
Travel-friendly packaging
Cons
Expensive
Contains silicone and alcohol
Why Trust Stylecraze
Sakshi Bahal is a writer with expertise in hair care products. She has assembled a list of the best paul Mitchell conditioners to make your hair as silky and soft as it can ever get. She has dug up on every ingredient used in these products to keep you well informed before buying one for yourself. Her information is backed by reviews from professional hair care experts and hence, is trustworthy and speaks for quality.
Recommended Articles