The 11 Best Peach Nail Polish Shades Of 2023
This versatile pastel shade has the power to add that extra grace to any outfit.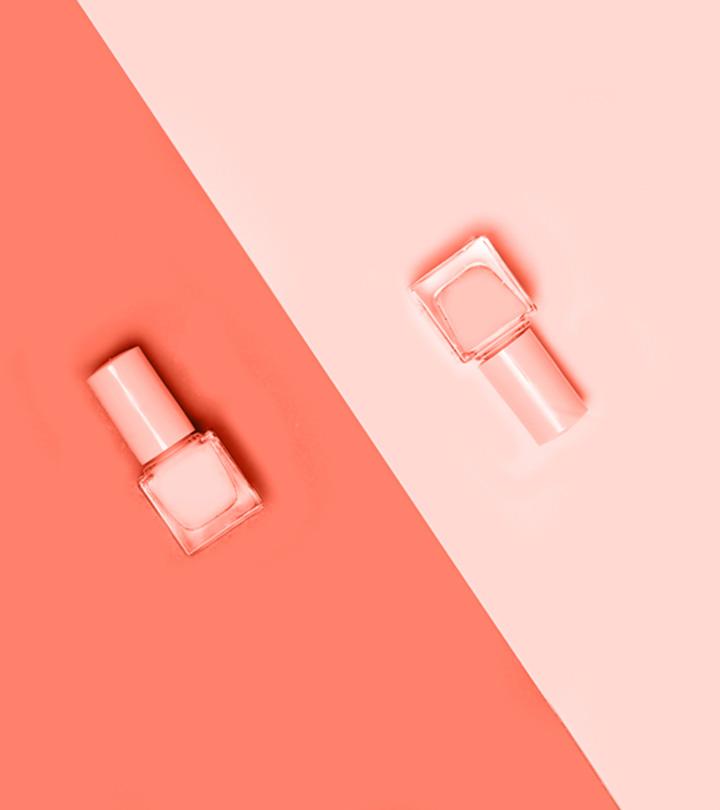 Peach can mean different things to different people, like, for some, it is more of a neutral pastel shade, and for some, a summery shade. Whatever your definition of peach, maybe, we're pretty sure you love nail paint shades of this color. The best peach nail polishes look pretty flattering on all kinds of skin tones. By the best, we mean peachy shades with a gold-orange undertone or the shades like a nude pastel that give your nails a subtle accentuation without being tacky. Whatsoever, peach nail polishes are always in vogue.
Well, finding the perfect shade for your skin tone could be a tedious task. And more so, because there are countless options to choose from. Peach is such a color that even a tiny hint of shade can make quite a difference. So here's a guide that you might not want to miss reading. We are talking about our specially curated list of some of the best peachy nail paint shades that you can find as you scroll through the page. Take a close look at all these nail polishes because here's where you can find the best nail-polish match for your skin tone. Read on to pick the best-suited peachy nail polish, and thank us later!
11 Must-Have Peach Nail Polishes Of 2023 That Will Be Your Next Best Friend
If you're a nail polish fanatic, we are confident you've already heard all there is to hear about Sally Hansen. Sally Hansen's Miracle Gel is the original no-UV-lamp-required gel nail polish that allows you to get an at-home manicure without breaking the bank. With this product, you are just 2 steps away from getting a perfect salon-like manicure. Apply 2 coats of this nail polish with a creamy texture, wait for 5 minutes, then apply a final layer of the top coat. With an application brush that glides over your nails like butter, this nail polish is no less than a collector's item. This peach cobbler shade is bright, with just the right amount of orange-warm undertones to suit all skin tones.
Pros
Long-lasting
Fast drying
Chip-resistant
Suitable for all skin types
Glossy finish
Warm shade
Cons
Requires nail prepping before application
Beginners may face difficulty in application
Price at the time of publication: $6.79
The Machu Peach-u shade is a part of OPI's Infinite Shine 2 collection. Formulated with ProStay Technology, this nail polish is chip-resistant and boasts of an ultra-rich color. This formula maintains its identity and shines for up to 11 days! Like any other OPI product, this nail paint is buildable. If you want a barely-there look, one coat should be enough. It is so minimal that it will suit every skin tone out there! If you want a more sleek, just-out-of-the-salon look, apply a double coat and let it work its magic.
Pros
Long-Lasting
Easy to apply
Chip resistant
Gel-like
High gloss
Suitable for all skin tones
Cons
Slightly expensive
Top and base coat recommended
Price at the time of publication: $13.0
This nail polish is for those who love a good manicure but never have the time to do so. The all-in-one peach nail polish uses a non-harmful and odorless formula. There is no need for a gel base or a top coat. All you have to do is apply a thin coat and cure it for a couple of minutes under a UV/LED lamp. This thin coat, once cured, will become stronger and offer a fresh and youthful appearance with a glossy finish. If you want a deeper shade, add another coat, and repeat the curing process. It is arguably the best alternative to a salon manicure that lasts as long as one.
Pros
Long-Lasting
Chip-proof
Smudge-proof
Buildable
Acetone-free
Solvent-free
Formaldehyde-free
Cons
Nail prepping recommended
UV/LED lamp needed
Price at the time of publication: $8.99
We would best describe Scarlet by Zoya as a neutral shade with peach undertones and a barely-there creme base. Despite its creme base, this neutral shade reflects light in a slight peach shade that is subtle yet charming on neutral undertones. It is super sheer yet buildable. This creamy peach nail polish adds a fleshy tone to your nails, giving them a clean, glossy, and healthy finish. Formulated using its 10-free formula, this Zoya product is free of toxic chemicals that your body is happy living without. It is also highly recommended for pregnant women or any health-conscious women worldwide!
Pros
Toxin-free
Long-lasting
Chip-resistant
Sheer yet buildable
Glossy finish
Paraben-free
Cons
Not highly pigmented
It may take a long time to dry.
Price at the time of publication: $10.0
Like all other Maybelline nail polishes, this Pretty In Peach shade comes in a compact, travel-friendly bottle. It is the perfect peach nail polish bottle to carry for your short summer weekend getaway! This Pretty in Peach shade is just what it says it is. It's the prettiest shade of peach that looks fantastic on anyone and everyone. This coral nail polish with cool undertones is just the right amount of brightness to complete your glam vacation look. With one coat, this product will give you a thin yet pigmented finish. You may apply an extra coat to make the polish thicker and brighter. This video gives you more information about the product.
Pros
Easy application
Dries quickly
Pigmented
Suitable for all skin types
Formaldehyde, DPB, and toluene-free
Cons
It may not offer long-lasting wear.
Price at the time of publication: $4.99
Alright, now that you've seen a few variations of peach nail polishes here's one you didn't see coming — a bright neon orange-toned peach creme nail color. It is ideal for when you want to experiment without going overboard or want everyday-wear paint. This product by China Glaze has a fast-drying formula and this revolutionary nail color system that allows for professional-level nail paint application. This neon peach nail polish not only adds a pigmented coat but also hardens your nails while leaving them with a shiny finish that flatters deep skin tones. The great coverage and non-thickening formula ensure that your product lasts for longer without drying up on your shelves.
Pros
Unique color
Fast-drying
Pigmented
Suitable for all skin tones
Long-lasting wear
Cons
May chip if not applied properly
Price at the time of publication: $7.7
If you love coral shades, this peach nail polish is a bright bottle of coral joy you should ideally have in your everyday makeup pouch. Get creative with your nail art designs with its high and glossy shine finish. This nail polish provides flawless coverage and outstanding durability. The brush spreads out evenly and fits every nail size for a streak-free application. This salon-quality peach shade provides you with all the supplies you need for your stylish at-home manicure and pedicure and it looks amazing on medium skin tones. Use peach nail polish for creating a summery manicure for a pretty day at the beach, or even a night out with the girls.
Pros
Easy-glide brush
Flatters all skin tones
Streak-free application
DBP, toluene, and formaldehyde-free
Cons
Some may find the shade slightly brighter than expected.
Price at the time of publication: $8.9
This ILNP product is the perfect combination of subtle, glamorous, and sophisticated. With a mix of peach and beige, this jelly-like nail polish is incredibly versatile. It offers a super holographic yet sheer look that is to die for with a single coat. You can add layers and marvel at how it builds into a deep holographic sparkle to wear on special occasions. This sheer formula can be your next go-to peach nail polish. With a million (or so) micro flakes in each bottle, this peach nail polish works its magic on fair skin tones with each coat you choose to apply.
Pros
Vegan
Cruelty-free
Long-lasting
Fast-drying
Streak-free application
Cons
Takes time in giving opaque results
Nail paint tends to get over quickly due to the sheer formula that takes multiple coats to build.
Price at the time of publication: $10.0
With fine and irregularly shaped specks, this pale peach nail polish leaves you with a unique spotted finish and opaque results just in 2 coats! It is long-lasting and incredibly easy to apply. This versatile nail paint is suitable for your boardroom meetings, girls' night outs, and even an experimental nail art DIY for a subtle pop of color. If you experiment and try hard enough, you could get the perfect marble look out of this little gem! Also, apply and reapply it all you want. The 4-free non-toxic formula is toluene, formaldehyde, formaldehyde resin, or dibutyl phthalate free!
Pros
Vegan
Handmade
Cruelty-free
Non-toxic formula
Long-lasting
Fast-drying
Buildable formula
Cons
Price at the time of publication: $14.0
Here's another Sally Hansen peach nail polish that came into our lives only to make it super bright. This peach shade is sophisticated, versatile, and looks good on everyone, not just because of the color but also because of its finish. It leaves your nails with a smooth, luxurious coat that passes off as no less than an hour at the salon. It is highly pigmented and adds a vibrant glow to your nails. This argan oil-infused formula is fast drying and comes with an easy-to-use application brush for a trendy manicure.
Pros
Long-lasting
Fast drying
Chip-resistant
Suitable for all skin tones
Gives a shiny salon-like manicure finish
Cons
Requires nail prepping before application
Beginners may have difficulty applying nail paint without streaking.
Price at the time of publication: $8.99
Oh, what can we say about this product? It has a tinge of neon, a little pastel, a bit of creme, and all of our attention! It gives your nails a glossy finish that stands out from the rest of the peach nail polishes in the market. This nail polish formula is 9-free, which means it is free from the many toxic ingredients found in most nail paints. Go ahead, use it on you, your kids (if you have any), your puppy (which you should most certainly have!). This Heroine NYC nail polish is 100% vegan and cruelty-free. The application is easy, and the formula is fast-drying, giving you a soft and feminine look.
Pros
Affordable
100% vegan
Cruelty-free
Long-lasting
Glossy finish
Rubberized premium cap
Cons
Recommended to be used in conjunction with top and base coat
Price at the time of publication: $12.0
Now that you have a long list of nail paints to choose from, here's a buying guide to help you make the selection process a little easier and faster! Here's a couple of things you need to keep in mind before you buy your next bottle of peach:
How To Pick The Best Peach Nail Polish
1. Season
Although we'd like to say that there are no rules in fashion, the truth is that there are a few. Bright colors with a satin finish usually belong in the summer and on some days even in spring! So, keep your orangy-peach tunes to your summer heat days and your neutrals for your shiver-worthy winters with a metallic sheen.
2. Neutral vs. bright shades
As mentioned above, each season brings with it its own color wheel, so it is important to keep in mind how specific colors work well or a particular season. But so do other things, such as your unique personality! Get a shimmery peach nail polish to give an edge to your nails or matte peach nail polish to simmer down the sassiness and look more professional. Know what you like and then head out in the market, or simply experiment! The Cirque Colors Speckled Nail Polish, in Stoneware, is a great place to start if you want something unique for your natural nail looks!
3. Condition of nails
Alright, this is for all the nail biters out there who love nail paints just as much as they love chewing on their nails. We urge you to curb the habit, and believe it or not; people tend to stop biting their nails if they regularly groom them. And a part of this grooming process is applying nail paint. For newbies, we'd recommend the ILNP, in Sandy Baby. It is sheer not to grab attention to your current nail condition, but buildable to allow you to show them off once you grow them out!
Why Trust StyleCraze?
Srijani Roy Chowdhury is a makeup aficionado who feels complete joy and satisfaction in bringing products that make you look your best. She feels that the right peach nail polish can add a subtle and classy touch to your nails. She carefully tried out several shades of peach nail polishes and put together this specially curated list of the premier ones available in the market. She has ensured this list consists of peachy shades with orange undertones to nude pastel, making it suitable for every skin tone.
Frequently Asked Questions
Are gel nail polishes better than regular nail polishes?
Not particularly. But they definitely need a more steady and practiced hand than regular nail polishes. Gel nail polishes tend to give an extra gloss and volume to the nail, which you only find in salon-manicured nails.
Do you need a basecoat and topcoat with every nail paint?
Not necessarily, yet it is always better to apply one if the brand recommends so. It makes the nails look better and keeps the nail polish on for longer!
What does peach nail polish mean?
Peach nail polish highlights the wearer's playfulness, energetic and sober nature.
Is peach nail polish good for fair skin?
Yes. Peach nail polish looks alluring on people with fair skin. The color complements the skin tone and enhances their overall appearance.
Is peach nail polish good for dark skin?
Yes. Light peach nail polish compliments dark skin. In addition, it offers a nice muted look to the nails that look enticing.
How long does peach nail polish last on nails?
Peach nail polishes last for a week or two, depending on the quality of the formula.
Recommended Articles