10 Admirable Peacock Rangoli Designs To Try In 2019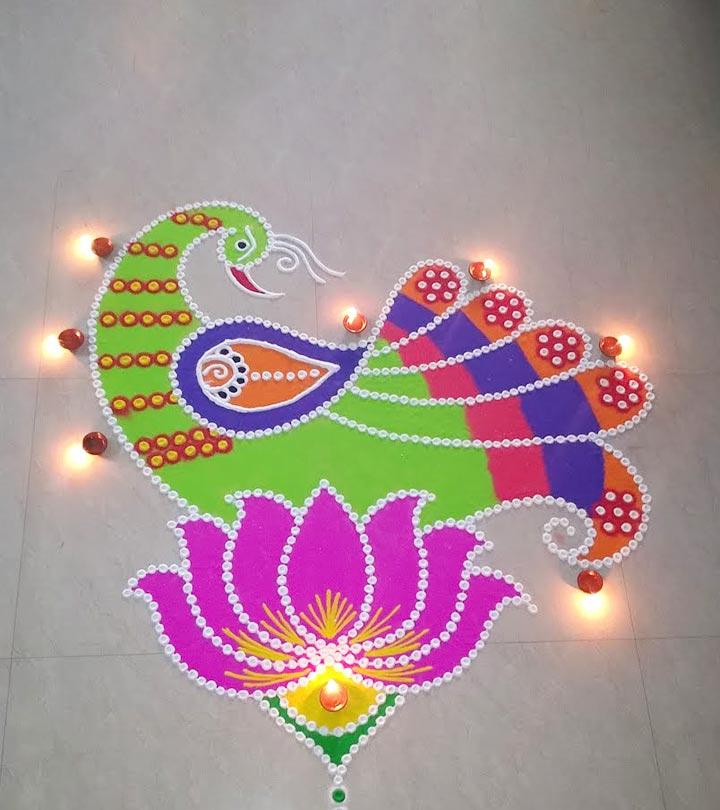 India's national bird, Peacock is most famous for its vibrant and colourful feathers made up of blue, green, yellow etc. It's a beautiful sight when the Peacock holds up his feathers in happiness. We Indians have taken inspiration for generations from this beautiful bird and this can be seen reflected in our Rangolis.
10 Best Peacock Inspired Rangoli Designs To Try In 2019
Here we have selected some of the best Rangoli designs inspired by Peacocks. We know many of you are not very accustomed to making Rangoli, so we have included some simple ones as well.
1. This is a very beautiful peacock rangoli design with the colourful image of a Peacock done on a white backdrop. We love the contrast of the colours created. The designs are done quite beautifully and do not have many details. So with a little practice, you can easily do this design.
2. This one is a more colourful design than the first one. The bright and bold colours used here like yellow, pink, green and blue make this very special. The design is quite extravagant and will need good skills to get a finish like this. The special feature here are the steel vessels filled with flowers.
3. Here's a beautiful and colourful of the rangoli peacock designs with bright colours. The bright blue used here makes it look quite unique and bright. Doing this style of Rangoli will surely get you loads of compliments. We love the unique style of design too.
4. This design is bright but the white designs on the borders make it very sober. The design is very apt for any house functions and will look quite beautiful with its bright colours. The bright contrasting colours used here are beautifully used.
[ Read: Pongal Rangoli ]
5. This one is a beautiful rangoli design depicting the beautifully colourful feathers. This design is simple yet will cover a large area. This design can be done at any corner of the house and it will surely get you a lot of compliments.
6. This one is a variation of the above one. The use of colours is different from the above and here we see more of orange, royal blue and purple. The main attraction here are the beautiful feathers recreated with colour and the actual flower used on the bough.
7. So all of you there who are thinking these designs are way past their skills- we present this design that is so simple even those with minimal expertise will be able to do it. This design uses bright colours but does not have any complex designs. This is another one of the favourites in the rangoli designs of peacock.
8. Well this is a unique rangoli of peacock. The bright yellow base and the blue peacock body seem to contrast each other. This design uses a lot of details which would be too difficult for a new artist but we simply love the different way the Feathers are presented and we love the roses used as the outer border as well.
9. Here we see two peacock designs done facing each other. The feathers are done with details and the whole back drop is kept very bright and beautiful. The border is done with white flowers to contrast with the bright colours used. This is also a perfect choice to be modfied with the addition of diyas as one of the peacock rangoli designs for diwali.
10. This one is very bright indeed and that's mainly because of the use of very colourful shades like green and blue. But unlike most of the colourful rangoli designs in this collection, the feathers are not done with great detail which makes it very easy for a beginner to try.
Which is your favourite among these? Let us know in the comments below.
Images: Google
The following two tabs change content below.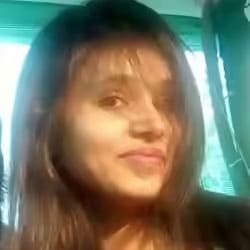 Jyotsana Rao is an engineering graduate from NIT, Nagpur, who discovered her love for writing during her undergraduate days. She is passionate about writing about everything related to beauty - makeup, fashion, hairstyles, skin care, or hair care. When this social media junkie isn't stalking the world of fashion and glamour, she loves spending her time traveling.