9 Best Pellet Smokers (2020) – Reviews And Buying Guide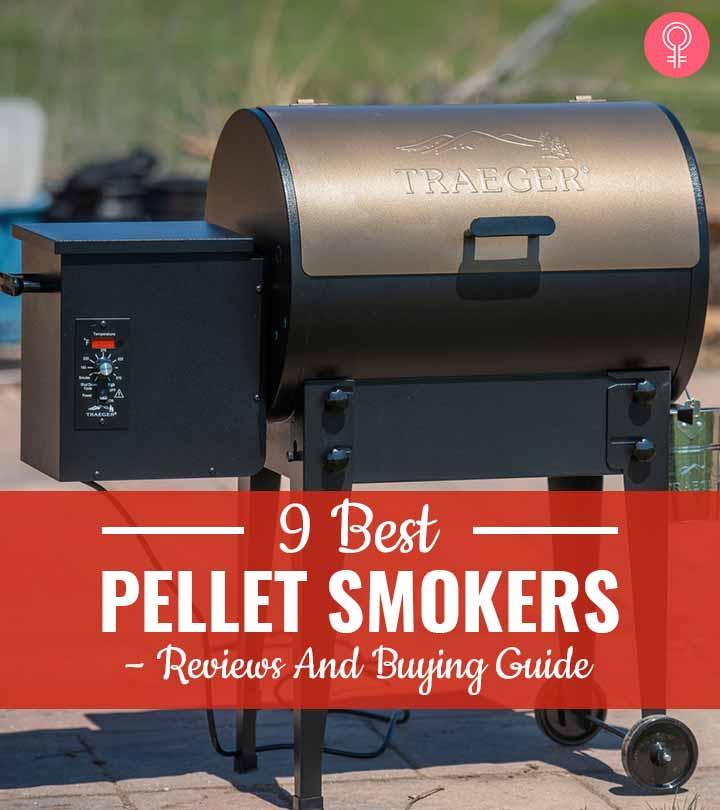 We all love the idea of having a barbecue set-up in our backyards, don't we? There is nothing better than having a convenient pellet smoker or griller to use any time you have friends come over! After all, you need all the right equipment to get perfectly grilled and smoked food while you host a barbecue, isn't it? If you are looking for a versatile and quick-cooking pellet smoker with quick post-grilling cleanup, you should have a look at the ones listed below. There is a wide range of pellet smokers that are fancy and have a whole lot of features to make them convenient to use. We have shortlisted some of the best pellet smokers that have everything you might be looking for. From amazing quality, outstanding performance, and top-notch features to the best reviews, we have put it all together. Scroll down to check out the 9 best pellet smokers available right now!
9 Best Pellet Smokers Available Right Now
The Z Grills 8-in-1 Wood Pellet Grill & Smoker is equipped with grilling, smoking, searing, roasting, baking, braising, char-grilling, and barbecue features. This pellet smoker gives an authentic wood-smoked flavor that is sure to enhance the taste of your dishes. It is efficient enough to cook for 20 hours per pound of pellets and has an accurate temperature that stays within 10° of the set temperature no matter what. It is easy to use with the automatic digital control, and it eliminates the process of adding starter fluid. It has a waste oil collector that enables easy and safe cleaning.
Features
Dimensions: 54 x 29 x 53 inches
Weight: 144 pounds
Cooking Temperature: 180°F to 450°F
Controller: Internal temperature sensor with digital control
Grilling Area Size: 374 square inches + 255 square inches
Total Cooking Area: 1060 square inches
Digital auto temperature control.
LED temperature display.
Waste oil collector.
Pros
Multiple cooking features
One-button start
Adjustable temperature settings
Suitable for beginners
Easy to clean
Portable cart with locking caster wheels
3-year warranty 
Cons
Assembling takes time
Temperature setting issues
Green Mountain Crockett WiFi Control Portable Wood Pellet Grill is affordable and highly portable as it can be folded and easily carried to set up anywhere. It comes with Wi-Fi connectivity that enables you to adjust and monitor the temperature and grilling process through an app on your phone. It features Sense-Mate, a thermal sensor that constantly monitors the grill's temperature. It also includes a meat probe, a peaked lid for rib racks, and a convenience tray. The pellet smoker is compatible with both 110V and 12V adaptors.
Features
Dimensions:5 x 20 x 14.5 inches
Weight: 57 pounds
Cooking Temperature: 150°F to 550°F
Controller: Digital
Grilling Area Size: 219 square inches
Thermal sensor to monitor grill temperature.
Touchpad controller.
Pros
Foldable and portable
Lightweight
Good temperature gauge
Wi-Fi-enabled temperature control
Reasonably priced
Cons:
No grease draining space
Small cooking area
Hot spots
Pit Boss 700FB Pellet Grill is a great investment! It covers the majority of your cooking needs. It has a plate-sliding design that offers real flame searing. Along with 700 square inches of cooking area, this pellet smoker grill also features porcelain-coated wire cooking grates that are super-easy to clean. This 8-in-1 grill's features include grilling, smoking, roasting, baking, searing, braising, barbecue, and char-grilling, which makes it convenient for multipurpose use.
Features
Dimensions: 47 x 53 x 27 inches
Weight: 126 pounds
Cooking Temperature: 180°F to 500°F
Controller: Digital
Grilling Area Size: 700 square inches
Porcelain-coated cast grid-irons.
Digitally controlled burn system.
Fueled by natural wood pellets.
Pros
Easy to clean
8-in-1 grilling range
Allows proper searing
Durable and sturdy
Stylish design
Easy to assemble and set up
Cons
No temperature adjustments
Heating issues
Traeger Grills TFB38TOD Renegade Pro Pellet Grill imparts an authentic wood cooking taste, which is way better than gas- or charcoal-cooked food. This versatile 6-in-1 pellet smoker grill is perfectly capable of carrying out various cooking techniques like grilling, smoking, baking, roasting, braising, as well as a barbecue. The Digital Pro Controller with Advanced Grilling Logic maintains the cooking temperature within +/- 15°F for precise and even grilling.
Features
Dimensions: 27 x 39 x 50 inches
Weight: 109 pounds
Cooking Temperature: Up to 450°F
Controller: Digital Pro Controller
Grilling Area Size: 380 square inches
Adjustable style of cooking – hot and fast or slow and low.
Powerful steel construction.
Porcelain grill grates.
All-terrain wheels.
Pros
Sturdy and durable
Easy to clean
Versatile grilling techniques
Even and precise grilling
Digital temperature adjustment
Electronic auto-start ignition 
Cons
Hopper is not useful
Takes time to assemble
Camp Chef's SmokePro Pellet Grill is perfect for grilling, baking, smoking, roasting, braising, and barbecue. It imparts a high-quality wood-smoked flavor to your food. With a lower cooking surface and an adjustable second level cooking surface combined, this pellet smoker has a large cooking surface. It heats up quickly and cooks meat evenly.
Features
Dimensions: 5 x 25 x 22 inches
Weight: 145 pounds
Cooking Temperature: 175°F to 400°F
Controller: PID digital controller
Grilling Area Size: 811 square inches
2 stainless steel meat probes.
Hopper and ash cleaning system.
Controller with 1 to 10 smoke settings.
Pros
Foldable front shelf
Comes with a side shelf
Slide and grill feature
Compatible with add-on accessories
Large grilling area
Convection style cooking
Cons
Not Wi-Fi-enabled
Temperature keeps fluctuating
REC TEC Grills RT-700 Portable Wood Pellet Grill is a heavy-duty stainless steel pellet smoker grill with Wi-Fi-control technology that enables you to control and adjust the cooking and grilling settings from your phone. It also has automatic lighting and shut-down features. The primary grilling area of this pellet smoker is 702 square inches, with an optional warming shelf.
Features
Weight: 200 pounds
Cooking Temperature: 200ºF to 500ºF
Controller: PID digital controller
Grilling Area Size: 702 square inches
Wi-Fi connectivity.
Includes meat probes.
5°F increments of temperature adjustment.
Two mesh non-stick grill mats.
Rollerblade style wheels.
Pros
40-pound hopper for up to 40 hours of cooking
Durable and sturdy
Wi-Fi-enabled controls
Large cooking capacity
Removable drip for cleaning purposes
6-year warranty 
Cons
Huge size limits portability
Expensive
Grilla Grills Silverbac Multi-Purpose Pellet Grill has a double-wall insulated barrel that is suitable for every type of temperature with added fuel efficiency. The PID digital controller displays temperature precision and smoke production mode that can be adjusted as per your requirement. Adjustable cooking and grilling setting make this pellet smoker extremely versatile and efficient.
Features
Dimensions: 51 x 47 x 22 inches
Controller: PID digital controller
Grilling Area Size: 900 square inches
Stainless steel internal parts.
Twin storage compartments.
Automated feeding system with a 20-pound hopper.
Adjustable style of cooking – hot and fast or slow and low.
4 bags of premium-blend pellet fuel.
Pros
Rigid powder-coated external body
Durable and sturdy
Double-walled cooking chamber
¼ inch extendable upper rack
Versatile cooking techniques
Comes with a grill cover
4-year warranty 
Cons
No wireless connectivity
Non-reusable dripping cup
Cookshack Fast Eddy's Pellet Grill is an old-school, extremely efficient, and sturdy pellet smoker that is best known for its precision in cooking. It has an amazing combination of a grill with a large smoking space and a small yet powerful direct grilling area. It is reasonably priced with high-quality construction and large capacity.
Features
Cooking Temperature: 180ºF to 600ºF
Material: Stainless steel
Grilling Area Size: 784 square inches
4-zone cooking – direct, indirect, cold-smoking, and warming.
22-pound capacity pellet hopper.
Precision control panel.
One layer lid.
Warming drawer below the cooking chamber.
Detachable bottom ash catcher.
Pros
Large capacity
Extremely heavy-duty
Durable and strong
High-temperature grilling space
Easy to use
Easy to clean
Versatile cooking features 
Cons
Difficult to adjust the controller
No Wi-Fi connectivity
Memphis Grills Elite Wood Fire Pellet Smoker Grill has some really amazing features that include dual convection heating with two built-in fans along with a double-wall construction for superior heat circulation and insulation. It also includes a direct flame insert that creates high heat for searing, and it can be removed to smoke at low temperatures. With the integrated Wi-Fi controller, you can adjust and monitor the temperature of the food from  your phone.
Features
Dimensions: 69 x 29 x 47 inches
Weight: 283 pounds
Cooking Temperature: 180ºF to 700ºF
Controller: Mobile app
Grilling Area Size: 844 square inches
24-pound hopper offers up to 62 hours of cooking time.
Stainless steel body.
Dual convection fan.
Double-wall construction.
Includes a Genie Multi-tool.
Pros
Easy to clean
Intelligent Temperature Control that monitors the grill temperature and food
Dual convection heating
Wide temperature range
Wi-Fi control
Durable
7-year warranty 
Cons
Wi-Fi connectivity issues
Not portable
Best Pellet Smokers – Buying Guide
If you are planning on buying a pellet smoker, listed below are some of the key features that you should consider, along with the advantages of and the precautions to be taken while using one.
What To Consider When Buying A Pellet Smoker
Cooking Surface Area: Depending on your use or the number of people you wish to host, ensure that the pellet smoker has a large cooking surface area. The ideal cooking space ranges from 300 to 1300 square inches.
Durability: Pick a pellet smoker that is built with high-quality and heavy-duty material, like rigid powder-coated stainless steel that promises durability and sturdiness. Also, remember that you want to buy something that retains and sustains heat to maintain a constant temperature.
Temperature Controls and Connectivity: Ensure that the pellet smoker has temperature adjustments and controls that you can change as per your needs. Also, it is way more convenient if the griller comes with Wi-Fi connectivity or a remote for better usage. An LED to display all these settings for quick and easy controls is also convenient.
Cooking Techniques: The pellet smoker pellet grill should support versatile cooking techniques like grilling, smoking, searing, roasting, baking, braising, char-grilling, and barbecue.
Cleaning: Cleaning the pellet smoker after cooking can be very annoying if it does not have the right features. So, to make your experience stress-free, ensure the pellet smoker has a detachable grease dripping management system or removable grease trays that are easy to remove and clean.
Price: If you are just a beginner and have no experience using a pellet smoker, we urge you not to invest in something expensive. But if you are a regular grill user, compare the features and price range before investing in an expensive pellet smoker.
Other Features: Apart from the aforementioned features, ensure that the grill has features like extendable warranty, built-in lighting, portability, extra foldable shelves, a sear box, a detachable drip collector, and multiple cooking racks or shelves.
Now, let's dive into how a pellet smoker works.
How Does A Pellet Smoker Work?
A pellet smoker works efficiently on natural wood bits or pellets to fire-up the grill. They are fed into a hopper, which carries it to the cooking chamber through an electricity-powered auger. The digital controller thus pedals the auger by adjusting the smoker's internal temperature, fuel, and oxygen supply to the firebox. The wood-burning fire in the firebox then circulates smoke throughout the grill to cook the meat evenly with a smoked flavor.
What Are Some Advantages Of A Pellet Smoker?
There are many advantages of using a pellet smoker:
They are convenient and easy to use with minimum effort and little fuel.
You can roast, bake, barbecue, grill, sear, and smoke food in a pellet smoker.
They create very little mess, which reduces the cleaning time.
Adjustable temperature enables perfect and even cooking as per your choice.
Some automatic Wi-Fi controllers allow you to grill at ease.
Precautions To Take While Using A Pellet Smoker
Here are a few things you should remember while using a pellet smoker for safety purposes:
Store or keep the wood pellets for the hopper in a dry place.
Never use your pellet smoker in the rain or near water.
Keep a constant check on the temperature to prevent burning or smoke.
Use the pellet smoker in a highly ventilated area or near a chimney.
Allow your pellet smoker grill to completely cool down before you clean it.
Always unplug the grill before cleaning it.
Ensure that the control knobs are turned to the 'off' position before plugging or unplugging the power cord.
Pellet smokers are taking the market by storm. Thanks to the amazing food that you can make with them, they definitely need to be picked over any other type of grill. We hope this list of the best pellet smokers gives you an overall idea of the various pellet smokers that are available in the market and allows you to pick the best one that suits your needs. Before picking one, make sure that you learn about all the essential features of the pellet smoker, check if it ticks all your boxes, and is within your budget.
Expert's Answers for Readers Questions
Are pellet grills suitable for smoking?
Yes, pellet grills are suitable for smoking food. In fact, many people prefer pellet grills over charcoal grills as they impart a comparatively more pleasant smoky flavor to the food.
Are pellet grills better than gas grills?
If you wish to infuse a smoky or woody flavor to your food, you should go for a pellet grill. At the end of the day, it boils down to what flavor you wish your food to have. Pellet grills are better to smoke meat low and slow, and for infusing it with amazing smoky goodness.
Can you use wood chips in a pellet smoker?
Yes, you can use wood chips in a pellet smoker. All you need to remember is that they should be placed in the center of a hot grill. Allow the chips to give off smoke before you start cooking.
Are pellet grills bad for your health?
It is claimed that wood pellet grills take longer to cook food than direct heat cooking, which reduces the chances of carcinogens being formed in the process. But, there is no standing proof that pellet grills are bad for your health.
Recommended Articles
The following two tabs change content below.

Latest posts by Harini Natarajan (see all)

Harini Natarajan
As Chief Editor, Harini sets the tone and editorial direction for StyleCraze to deliver engaging, interesting, and authentic content revolving around women's health, wellness, and beauty. She has over 14 years of experience in content writing and editing for online media. She specializes in the areas of Beauty, Lifestyle, and Health & Wellness and is proficient in Medical Sciences (Biology, Human Anatomy and Physiology, and Biochemistry). Her background in Biomedical Engineering helps her decode and interpret the finer nuances of scientific research for her team. Harini is a certified bibliophile and a closet poet. She also loves dancing and traveling to offbeat destinations.