The 12 Best Pepper Mills – Reviews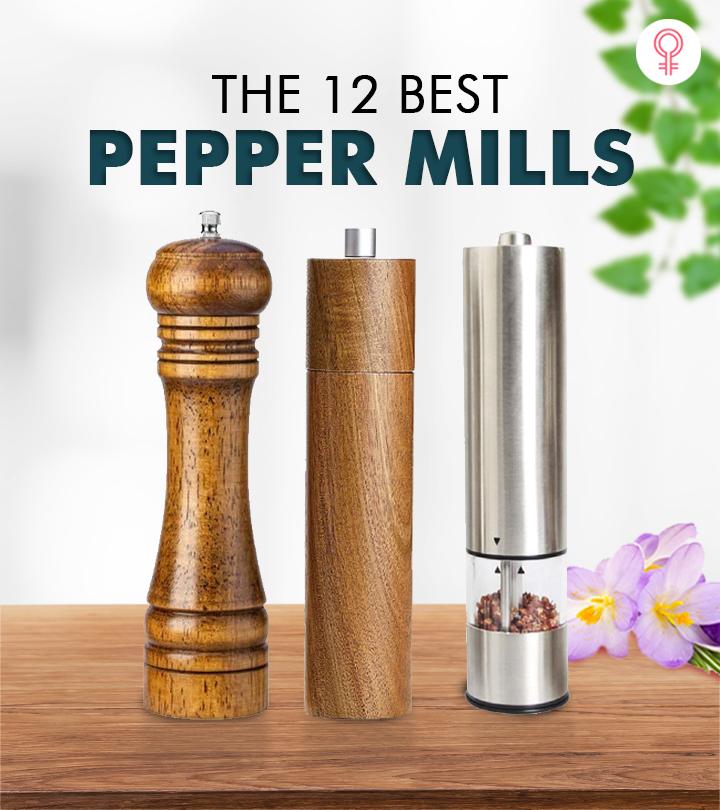 Gear up the spice meter with a pepper mill! You can get fresh and perfectly ground texture of peppercorns for every recipe. Peppermills enhance the flavor and aroma of dishes. They eliminate the hassle of using the traditional mortar and pestle and help you achieve the perfect coarseness. Check out our list of the 12 best pepper mills for effortless grinding of small spices and salts. Scroll down!
12 Best Pepper Mills
This pepper grinder grinds small spices easily. The adjustable ceramic mechanism lets you choose from fine to coarse texture grinding. It is lightweight, non-messy, and easy to handle. You can grind and sprinkle freshly ground peppers simultaneously. The transparent door shows when to refill and opens wide to facilitate easy spice filling. Its non-slip, oversized knob is easy to grip, and the long arm enables easy grinding.
Specifications
Dimensions: 6.5 x 4 x 2.62 inches
Weight: 4.8 ounces
Color: White
Material: Plastic
Pros
Non-slip grip
Long arm
Transparent door
Cons
This small and sturdy pepper mill lets you grind many ingredients – coriander seeds, mustard seeds, peppercorns, and salts (Himalayan pink salt, kosher salt, and sea salt). Its tight lid makes it convenient for storing ground spices and keep them fresh. The measuring mark enables you to control the quantity of spices. This stainless steel grinder with a glass body and non-corrosive ceramic blades is user-friendly and allows you to adjust from a fine to coarse grind.
Specifications
Dimensions: 2.56 x 2.56 x 5.12 inches
Weight: 8 ounces
Color: Silver
Material: Stainless steel
Pros
Non- corrosive
Sturdy
Value for money
100% money-back guarantee
Cons
None
This pepper mill has a rubberwood design with a concave arc shape, ensuring a firm grip. Its easy-to-unscrew top lid and large space make it convenient for filling the grinder with peppercorns. The carbon steel screw cover adjusts the thickness and fineness of pepper – clockwise rotation for powder and counter-clockwise for coarse grinding. The ceramic core keeps the pepper mill rust-proof and wear-resistant.
Specifications
Dimensions: 8.5 x 2.2 x 2.2 inches
Weight: 8 ounces
Color: Wood
Material: Wood
Pros
Wear-resistant
Bidirectional rotation
1-year warranty
Rust-proof
Cons
Makes a screeching noise.
This pepper mill features a non-slippery silicon base for stable grinding and comes in a set of two. The sealed cap prevents the entry of moisture inside the mills. You can check the texture of your spices through the transparent, glass body. The adjustable ceramic grinder grinds your spices fine or coarse, with just a twist. Its grinding mechanism is on the top, while the wide opening makes it is easy to refill and clean.
Specifications
Dimensions: 5.83 x 5.83 x 4.02 inches
Weight: 1.36 pounds
Color: Bronze
Material: Stainless steel
Pros
Easy to fill
Easy to clean
Non-slippery base
Lifetime guarantee
Cons
None
This versatile Turkish spice grinder is made of brass and grinds small seeds like pepper, coriander, cardamom, mustard, and cumin easily. It has a short handle, a detachable ornate holder, and a sliding pour hole. The ergonomic design is helpful for grinding and storing fresh spices. It has high-quality blades and a vibrant cast body for effortless functioning. You can grind the spices conveniently with the corrugated rollers and choose different grind sizes.
Specifications
Dimensions: 1.4 x 1.4 x 4.2 inches
Weight: 6.3 ounces
Color: Dark silver
Material: Brass
Pros
Durable
Adjustable grind size
Detachable ornate holder
Cons
None
This plastic pepper mill is lightweight, portable, and easy to use for daily cooking. Its refillable jar with a top opening lid ensures mess-free refilling. The bottom of the pepper mill is transparent. It catches the ground spices and serve as a handy measuring cup for easy sprinkling. The non-corrosive ceramic mechanism does not absorb flavors.
Specifications
Dimensions: 5 x 4 x 2 inches
Weight: 8 ounces
Color: Black
Material: Plastic
Pros
Easy to fill
No-mess sprinkle
Lifetime warranty
Value for money
Cons
Grind adjustable has no caliberation.
This stylish and classic pepper mill is crafted from beechwood and stainless steel. It is easy to adjust with a convenient twisting mechanism to get the desired spice fineness – counter-clockwise for coarse and clockwise for fine. Refilling is a no-mess process with a screw off top cap. It also locks the freshness of the pepper, keeps your spices fresh, and prevents entry of moisture or dust. You can clean it easily by wiping with a dampened cloth. It has a non-slippery base and an ergonomically-designed sleek body that prevents tipping and ensures a firm grip.
Specifications
Dimensions: 8.66 x 2.16 x 2.16 inches
Weight: 16 ounces
Color: Black
Material: Beechwood
Pros
Bidirectional twisting
Easy to refill
Easy to clean
Ergonomic design
Moisture and dust control
Firm grip
Prevents tipping
Cons
May comes with loose screws.
This pepper mill has an oak wood body with a convenient ceramic rotor and a screw cap. Its ergonomic features include adjustable rotor, rotary knob, and compact design. It can be used to grind peppercorn, salt, or fresh spices and enjoy hassle-free cooking.
Specifications
Dimensions: 5.7 x 4.7 x 2 inches
Weight: 3.52 ounces
Color: Wood
Material: Oak wood
Pros
Durable
Adjustable rotor
Corrosion-resistant
Ceramic burr
Cons
This pepper mill is ideal for both home and restaurant cooking with its sleek design and clip mounted option. The large storage capacity ensures you do not have to refill spices frequently. It fits in an apron pocket and can also be clipped on the wall. This product features a fast grinding steel mechanism and easy filling by turning the cap counter-clockwise. The grind size can be adjusted by a set screw on the bottom.
Specifications
Dimensions: 10 x 1.81 x 1.1 inches
Weight: 6.4 ounces
Color: Black
Material: ABS plastic
Pros
Portable
Unbreakable
Durable
Cons
None
Effortless grinding is no more a dream with this battery-powered pepper mill. Its one-push button lets you grind spices automatically, and the bottom cap maintains the freshness of the spices and keeps the table or countertops mess-free. The built-in LED lighting allows you to see the quantity of spices you need. The product has an adjustable coarseness option and works on the ceramic grinding mechanism. This refillable peppermill has a clear acrylic window to view and track its contents quickly. Its sleek and ergonomic design fits in your hand comfortably.
Specifications
Dimensions: 9.6 x 2.5 x 2.4 inches
Weight: 12 ounces
Color: Silver
Material: Stainless steel
Pros
Ergonomic design
Battery operated
One-touch button
Rust-proof
Cons
Pepper may get stuck in the holes.
The Delihom Salt & Pepper Mill Set is suitable for kitchen, restaurant/hotels, and dining tables. The 100% natural acacia wood body is highly durable and water-resistant. Its ceramic core and central aluminium rod are food-grade and rust-proof. You can adjust the coarseness conveniently by tightening or loosening the screw on the top. It is portable and accommodates a large filling. The jars are engraved with "S" and "P" so that you are never confused between the two. This set also comes with a custom-designed wooden spoon for refilling your pepper mill easily.
Specifications
Dimensions: 10.6 x 7.1 x 2.4 inches
Weight: 1.65 pounds
Color: Wood
Material: Acacia wood
Pros
Durable
Water-resistant
Rust-proof
Includes a wooden spoon
Cons
None
This stylish wooden pepper mill comes with a cleaning brush that ensures complete cleaning of the interior, so you get a fresh batch of spices every time. The adjustable ceramic grinding mechanism allows you to achieve the perfect coarseness or fineness by twisting it clockwise or counter-clockwise. Tightening the screw on the top lid keeps the spices fresh and moisture-free. It comes with a cleaning kit.
Specifications
Dimensions: 11.61 x 2.52 x 2.52 inches
Weight: 10.2 ounces
Color: Deep brown
Material: Natural oak
Pros
Easy to refill
Includes a cleaning brush
Ceramic core
Aluminum axis
Cons
Choosing the best pepper mill from many options is a difficult task, but understanding the features that are essential will make it easier. Let's head on to the factors to consider while purchasing a pepper mill.
How To Choose The Best Pepper Mill – Buying Guide
Grind Mechanism: Checking the grinding mechanism is essential for its long-term functioning. Look for a high-quality ceramic burr set so that the friction inside does not fail quickly. Ceramic and steel go a long way.
Coarseness: Many brands may promise 2-3 options, but the knobs or settings can malfunction. Check for three coarseness settings (fine, medium, coarse).
Capacity: The lower the storage capacity of the pepper mill, the more frequently you have to refill it. Choose one with a large capacity for a hassle-free grinding.
Material: Pepper mills are available in different materials, such as wood, stainless steel, hard plastic, and metal. The pepper grinder's weight depends on its material. Hence, pick one that is not only lightweight but also durable for long-term functioning.
Ease Of Use: Convenience is another factor to consider. Handles, manual knobs, or automatic one-touch buttons contribute to the ease of use.
Operation: Depending on the requirement, you can choose between a manual or an electrical pepper grinder. Manual pepper mills have bi-directional twisting, dial knob, or rotary handle. But a battery-operated pepper mill is automatic and ideal for quick and effortless grinding.
Pepper mills enhance the look of your kitchen or dining table and are effective for quick and even grinding. Choose one with a modern design and the desired features. Order your favorite pepper mill from our list and add simplicity to your cooking experience.
Frequently Asked Questions
What size pepper mill should I get?
It is convenient to use a cylindrical wooden pepper mill that is longer than the palm-size to ensure a good grip and ease of use.
What's the difference between a pepper mill and a pepper grinder?
Pepper mills work by pressing and squeezing the particles, just like a sieve. Pepper grinders grind whole spices into small bits due to weight and friction.
How do you refill a pepper mill?
Refilling a pepper mill differs from one design to another. Solid wooden jars are refilled from the top by unscrewing the lid, while some have wide door opening.
Is the pepper mill sharp out of the box?
Yes, pepper mills are sharp out of the box. If your pepper mill works on ceramic core or high-quality metallic grinding mechanism, you will get fine and even grinding.
Is the pepper mill easy to use?
Pepper mills are super easy to use – just twist it, or move the rotary knob in a circular direction, or turn on a one-touch button.
Does the pepper mill have adjustable coarseness settings? Does it achieve an even grind?
Yes, pepper mills have an adjustable coarse setting. In some, you can find up to three levels of coarse setting – fine, medium, and coarse. Also, pepper mills achieve evenly crushed particles depending on the size.
How do you refill a wooden pepper grinder?
Wooden pepper grinders are refilled from the top by unscrewing the lid. With some products, you also get a refilling spoon for convenient and mess-free refilling.
How efficiently will it grind a teaspoon of pepper?
The output of a pepper mill depends on the speed. The more the number of rotations or frequent twisting, the more even is the grinding of a teaspoon of pepper.
Recommended Articles