8 Best Peppermint Body Lotions Of 2023
Uplift your senses with the refreshing, relaxing, and cooling body lotions.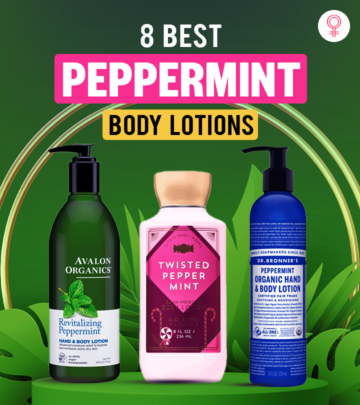 Given the fact that peppermint is like a Holy Grail for acne-prone skin, in this article, we are going to talk about the best peppermint body lotions available in the market. Peppermint contains antiseptic and antibacterial properties and is capable of reducing inflammation, brightening your skin, and clearing blemishes. Plus, its menthol content gives you a nice cooling sensation, and the scent of it revitalizes your sense too. Therefore, knowing its significance in skincare products, we have made a list of the top 8 peppermint body lotions that are worth trying. So, go ahead and check the list out.
8 Best Peppermint Body Lotions You Can Try
Uplift your senses with this Revitalizing Body Lotion by Sunaroma. This super-rich lotion has a creamy texture that melts into your skin. It is infused with three wonder ingredients – Tasmanian pepperberry, rosemary, and peppermint oils, rich in antioxidants and anti-inflammatory properties. They give your skin a refreshing and cooling sensation while relieving dryness and stress. The lotion soothes irritations, dryness, burning sensation and also has anti-allergic properties. This lotion is super gentle and is even suitable for sensitive skin.
Pros
91.7% plant-derived ingredients
Non-greasy
Artificial color-free
Paraben-free
Sulfate-free
Cons
Hot and humid summers can leave your skin dry and withered. This super hydrating Peppermint Body Lotion by Plant Therapy will help you with just that! Certified aromatherapists have carefully curated this lotion to bring you a 100% pure and effective formula. This lotion's rich and silky texture absorbs effectively into your skin and leaves it smooth and buttery- soft. The aloe vera extract in the formula keeps your skin super hydrated and fresh, while the shea butter and sunflower oil nourishes and locks in moisturization. The peppermint essential oil in the product has anti-bacterial properties and protects you from itchiness and acne. Moreover, its minty scent leaves you feeling refreshed all day!
Pros
Organic ingredients
Non-greasy
Long-lasting
Phthalate-free
Artificial fragrance-free
Artificial dye-free
Paraben-free
Sulfate-free
Cruelty-free
Cons
Price at the time of publication: $12.99
Do you have severely cracked and dry skin? Then this skin-loving body lotion by Nature's Answer is the perfect solution for you! The formula contains a blend of pure essential oils like peppermint, tea tree, lavender, argan, and citrus oils. Moreover, its advanced botanical fingerprint technology ensures that all botanical extracts used in the product are of the highest quality. The lavender and citrus oils stimulate your senses and rejuvenate your skin. The argan oil heals your skin and keeps it hydrated all day long. Peppermint and tea tree oils help soothe irritation, reduce inflammation, prevent acne, and leaves you feeling relaxed and calm. The lotion also contains other skin-friendly ingredients, such as sage, ginger root, and rosemary extracts. The therapeutic blend of such rich ingredients leaves your skin nourished, protected, hydrated, and pampered! This lotion does not contain any harsh chemicals and is safe for kids and those with sensitive skin.
Pros
Lightweight
Non-greasy
Organic ingredients
Non-comedogenic
Alcohol-free
Preservatives-free
Vegan
Cruelty-free
Non-GMO
Gluten-free
Cons
None
Price at the time of publication: $15.99
This Ultra-hydrating Foot & Body Lotion from J.R. Watkins is enriched with peppermint oil, shea butter, coconut oil, vitamin E, and cocoa butter to work wonders on your tired and dry skin. This body lotion is formulated with up to 99% natural ingredients and is super gentle on your skin. Peppermint oil soothes skin issues like itchiness, redness, and breakouts while calming and revitalizing it with a cooling sensation. Coconut oil is rich in antioxidants and protects and nourishes the skin. The aloe vera extracts in the formula hydrate your skin, soothe inflammations, and vitamin E relaxes the joints and muscles. This product keeps your skin soft, smooth, and healthy.
Pros
Quick absorption
Non-greasy
Formaldehyde-free
Mineral oil-free
Silicone-free
Petrolatum-free
Artificial dye-free
Paraben-free
Phthalates-free
Cruelty-free
Value for money
Cons
None
Price at the time of publication: $17.6
This Peppermint Vanilla Body Lotion by C. Booth is the perfect product for summers! It has a flirty vanilla and peppermint scent that uplifts your senses while moisturizing your skin. Peppermint oil has anti-bacterial properties that protect your skin from the summer heat, itchiness, rash, and inflammations. The formula is infused with glycolic acid that sloughs away the dehydrated, dull, and damaged skin to reveal healthy and fresher-looking skin. The finely ground mica in the formula adds a touch of shimmer to your skin and boosts your skin tone. The lotion is also enriched with a wide range of botanical extracts of apricot, orange, pineapple, lemon, coffee, and raspberry, which fortifies your skin with their benefits. The coffee seed extract improves your skin complexion and reduces skin issues like chicken skin.
Pros
Lightweight
Non-greasy
Cruelty-free
Paraben-free
Sulfate-free
Petroleum-free
Mineral oil-free
Value for money
Cons
Not long-lasting
Contains mica
Price at the time of publication: $48.85
Smell like Christmas with this sweet body lotion by Bath and Body Works. The enchanting blend of sugary snow, vanilla buttercream, and cool peppermint in the formula leaves you smelling like sweet peppermint candies! Peppermint also effectively protects your skin from inflammations and allergies. This lotion contains coconut oil and shea butter, which deeply hydrates and nourishes your skin. The vitamin E in this lotion protects your skin from environmental damages and free radicals.
Pros
Lightweight
Absorbs effectively
24 hours moisturization
Cons
None
Price at the time of publication: $9
This plant-based, all-natural organic Revitalizing Peppermint Hand & Body Lotion by Avalon Organics is one of the best peppermint lotions on the market. The potent blend of essential oils purifies and nourishes your skin while cleansing away any impurities. The peppermint essential oil, aloe vera, and quinoa protein in the formula work hand-in-hand to protect, hydrate, and replenish your skin. The shea butter, avocado oil, olive oil, and coconut oil lock in moisture and protect your skin from environmental aggressions. The organic oat extracts soothe any irritation and form a protective barrier on your skin.
Pros
Non-greasy
Organic
Synthetic color-free
Synthetic fragrance-free
Cruelty-free
Paraben-free
GMO-free
Phthalate-free
Vegan
Cons
None
Price at the time of publication: $19.95
The Peppermint Organic Hand & Body Lotion by Dr. Bronner is ideal for rough, dry, sensitive, or combination skin types. It does not contain any harsh or toxic ingredients and is gentle on your skin. The lotion is also highly emollient, and a pea-sized amount is more than enough to cover your whole body! It contains jojoba oil that soothes irritation and heals skin damages. The coconut oil, avocado oil, and organic hemp extracts in the formula moisturize and leave your skin supple and smooth. The refreshing scent of peppermint leaves your senses refreshed and calmed. Moreover, its anti-microbial purifies your skin, making it healthy and blemish-free.
Pros
Lightweight
Non-greasy
Organic ingredients
Fast absorbing
Value for money
Paraben-free
Phthalate-free
Vegan
Cons
Price at the time of publication: $9.99
Why Trust StyleCraze?
Shiboli Chakraborti is a certified skin care coach who writes well-researched articles backed by science. She has compiled this list of the best peppermint body lotion by ensuring that the products are suitable for acne-prone skin types. These products have been reviewed and endorsed by numerous users on several e-commerce websites. Shiboli has also created a buying guide to help you make the right decision.
Frequently Asked Questions
What happens if you put peppermint oil directly on the skin?
Putting peppermint oil directly on the skin causes irritation and skin rash as peppermint oil is very concentrated and must be diluted before use.
Is peppermint lotion good for the skin?
Yes, peppermint is an anti-inflammatory ingredient that soothes iriritation and inflammation and reduces blemishes to brighten the skin. It also has antibacterial properties that prevent minor skin infections.
What are tea tree and peppermint lotion good for?
These ingredients have anti-fungal and antibacterial properties that soothe the skin, prevent breakouts, and reduce inflammation, irritation, and redness.
How many drops of essential oil do you put in lotion?
Add 15-20 drops of essential to 30ml of lotion.
Should you use body lotion every day?
Yes, a body lotion moisturizes the skin and protects the skin barrier to keep your skin plump and healthy.
Recommended Articles