15 Best Peptide Serums For Smoother And Healthier Skin In 2023
Up your skin care game, improve elasticity, and firmness with lightweight serums.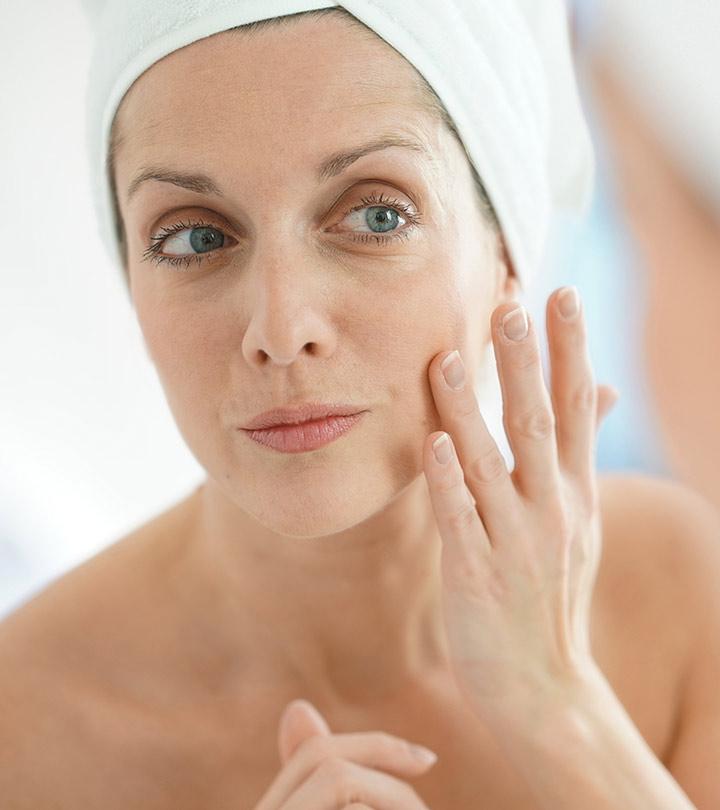 Have you ever wondered how some people manage to look young and glowing even in their 30s and 40s? If yes, we have got a revelation for you! The key to maintaining such a healthy and youthful glow is using the best peptide serums. Peptides have been changing the skin care game, and they make you fall in love with your skin all over again.
As you age, your skin starts losing its glow and elasticity. Thankfully, peptide serums are here to your rescue. These serums are enriched with antioxidants and anti-aging ingredients that help keep your skin healthy, firm, and supple. This article is for you if you are fascinated by the benefits of using peptide serums and are looking forward to incorporating one into your skincare routine.
Go ahead and pick one from our curated list of the 15 best peptide serums now. Scroll down!
Go wrinkle-free with Olay in just 2 weeks! It corrects fine lines, makes skin firm, provides intense hydration, and speeds up the rate of skin renewal. Suitable for all skin types, it is lightweight, fragrance-free, and helps boost skin resilience. Apply it before your daily moisturizer, and you are all set to glow all day long. The brand claims to offer visible results within 2 weeks of usage.
Pros
Non-comedogenic and non-greasy
Guarantees positive results in 2 weeks
Suitable for all skin types
Lightweight and fragrance-free
Cons
Price at the time of publication: $20.99
Who would have thought that one drop of Hyaluronic Acid Serum with Peptides & Vitamin C by 180 Cosmetics can make the skin look younger again? With effective ingredients such as hyaluronic acid, peptides, and vitamin C – the skin-plumping combo assures instant wrinkle filling, hydration, and an even skin tone. Multiple reviewers have noticed visible results with smoother skin and reduction of fine lines. So quit opting for painful procedures to get youthful skin, when this remarkable wrinkle-reducer serum is out there for you!
Pros
Enriched with peptides, vitamin C and Hyaluronic acid
Instant wrinkle filler
Detoxifies and heals skin
Deep moisturizer
Cons
Not suitable for dry or very dry skin, unless used with a daily moisturizer
Price at the time of publication: $17.92
Eva Naturals makes sure you feel the heavenly touch of nature on your skin. Enriched with aloe vera, witch hazel, and jojoba oil along with hyaluronic acid, vitamin E, and peptides, this skin-smoothing formula is the best remedy to counter aging skin. It helps soothe your skin, and the peptides heal it from within. Witch hazel and jojoba fight skin discoloration; you'll love how this natural serum makes your skin soft and supple. If you want to know more about this peptide serum, make sure to check out this YouTuber's detailed review of the product to learn more about the reviewer's experience.
Pros
Natural ingredients for anti-aging effects
Increases collagen production
Heals skin and fights discoloration
FDA-approved and cruelty-free
Paraben and alcohol-free
Suitable for all skin types
Cons
It does not moisturize the skin
Price at the time of publication: $27.95
Enhanced and improved, the Foxbrim Naturals' Boost Peptide Complex Serum acts like an antidote against those unwanted wrinkles. This plant-based, age-defying formula increases the production of collagen, making your skin healthier and more supple. Packed with superior-quality organic ingredients, this collagen builder from nature's abode is a must-have for those who prefer organic skincare products. The brand claims that visible results may be seen after a month of consistent use. If you want to know more about this popular face serum, make sure to go through this brief video to learn about the tester's experience.
Pros
A plant-based optimum quality serum
Get rid of unwanted wrinkles
Heals and repairs skin
Non-comedogenic
100% natural, vegan and cruelty-free
Cons
May not be effective on deep wrinkles
Price at the time of publication: $38.95
Skip those painful botox procedures for this natural botox! If sappy skin and fine lines are keeping you away from the mirror, then you need a dose of Asterwood Naturals' Matrixyl 3000. Argireline peptide, also known as the natural botox, tightens the skin, making it look healthier. At the same time, Matrixyl 3000, stimulates collagen production in the skin. The serum also packs a punch of vitamin C to get rid of those adamant sunspots. So all in all, it's a combo that you need to bring back the natural glow.
Pros
Contain natural botox – Argireline peptide
Increases collagen production
Vitamin C decreases sunspots
Fragrance, paraben, and sulfate-free
Non-greasy serum
Cons
Not effective on deep wrinkles
Price at the time of publication: $38.99
Six critical skin-building ingredients work towards making your skin look timeless! This potent hydration booster serum, Matrixyl Synthe'6 by Timeless Skin Care fights, tightens, and restores your skin's youthful glow. Within a few weeks of using this serum, you can notice the dryness of skin being replaced by soft and supple skin. Bid adieu to fine lines and wrinkles with this power-packed formula. This face serum contains anti-aging benefits. To know more about the reviewer's experience and learn the merits and demerits of the youth-restoring product, take a look at this video.
Pros
Non-greasy
Slows down skin aging
Promotes deep skin hydration
Paraben, dye, and fragrance-free
Absorbs faster than other serums
Cons
Price at the time of publication: $16.89
Unlike other serums that contain chemicals, paraben, or alcohol, Peptide Complex Serum by QRxLabs is formulated using concentrated chamomile and other healing natural ingredients like organic jojoba seed oil, Gotu kola, and horsetail extracts. It helps stimulate collagen production to slow down the aging process and eliminate the fine wrinkles. This all-natural collagen booster works like a dream post chemical peelings and helps reduce inflammation too.The brand claims to deliver visible results in four weeks.
Pros
Organic-based serum
Rebuild and boosts collagen
Ideal for post chemical peeling
Reduces inflammation
Cons
Not recommended for very sensitive skin
Price at the time of publication: $14.95
Sometimes, all that your skin needs is moisture. Hyaluronic acid is the best solution to retain natural moisture and promote supple skin. Ebanel's Hyaluronic Acid Serum For Face is a lightweight and hypoallergenic serum well-known for three main functions. It fills in the wrinkles, gives a firmer texture, and lifts the skin with the benefits of Hyaluronic acid, eight peptides, aloe vera, jojoba oil, and stem cell extracts. Packed with the goodness of nature and science, it's the best combo your skin can get!
Pros
Moisturizes skin
Packed with natural ingredients
Fills wrinkles and fine lines
Non-comedogenic and hypoallergenic
Non-greasy serum
Cons
Hyaluronic acid can make skin dry. Patch test recommended.
Price at the time of publication: $21.99
The power of anti-aging now in a bottle! Visio Elan Aria Radiant Triple Peptide Firming Serum is crafted not only to boost collagen and elastin but also to heal, repair, and firmness of your skin. 99% vegan with a dash of honey; watch your skin go from flaky to flawlessly youthful or younger skin within weeks. Since it's non-comedogenic, this professional-grade, skin-firming serum is suitable for all types of skin and visible results have been noticed by multiple reviewers.
Pros
Eliminates saggy and dull skin
Contains honey and other natural ingredients
Suitable for all skin types
Paraben and cruelty-free
Cons
Price at the time of publication: $38.95
Here is a skin elasticity-enhancer serum that will make you skip the daily makeup routine and flaunt that flawless natural skin. Its collagen-boosting ingredients are dermatologist-tested and proven to reverse the visible signs of aging. Being a non-cosmetic serum that gently exfoliates, witness how your skin radiates a youthful glow. Microderm Glo's Peptide Complex Serum has a rich mixture of Hyaluronic acid, aloe vera, 3x Active peptides, Japanese green tea, and honeysuckle to help your skin look younger in just three weeks. So, give this skin elasticity-restoring formula a try and go makeup-free this 2023!
Pros
Boosts collagen production to reverse aging
Dermatologist-tested
Airless pump bottle for easy application
Restores elasticity and firmness
Cons
Price at the time of publication: $35.99
Is dull, dry, and cracked skin, making you look older? Lack of moisture can lead to early signs of aging. This lubricating collagen-boosting serum with anti-aging antioxidants like Pycnogenol, vitamin C, and green tea helps your skin regain its natural tone and texture. Plus, the water-soluble vitamin Panthenol (Provitamin B5) provides intense hydration that infuses the skin with moisture to restore softness.
Pros
Provides intense hydration
Restores skin texture and vibrancy
Eliminates dullness and wrinkle lines
Lubricating serum with anti-aging antioxidants
Cons
Greasy for those with oily skin
Price at the time of publication: $23.49
Aging is not the only cause for all the blemishes, dryness, skin discoloration, sun spots, and wrinkles. Fast-paced lifestyle and erratic diet are also to blame. Curb those skin problems before it's too late with Paula's Choice Peptide Booster Serum that increases collagen synthesis and hydrates your skin simultaneously! It contains eight concentrated peptides with hydrating amino acids that have proven to yield outstanding results for all types of skin. They target all the problem areas, and you'll see a difference within weeks. The brand claims to offer visible results after 4 weeks of usage.
Pros
Eliminates blemishes, discoloration, and sunspots
Repairs and rebuilds skin layer
Silky gel consistency absorbs quickly
Cons
Not recommended for deep wrinkles
Price at the time of publication: $55
When it comes to skincare products, we all tend to be extra cautious. Many opt for natural or organic products since they do not cause side effects. So when it comes to anti-aging why shouldn't the treatment be organic too? Copper Peptide Face Serum Collagen is composed of 100% copper with amino acids, stimulates collagen production, rejuvenates, and hydrates your skin naturally. It is mild and protects your skin against the harmful UV rays. This formula targets everything from dullness, acne scars to fine lines, making it an all-natural skin defender against aging and is recommended by multiple reviewers!
Pros
Rejuvenates skin cells
Hydrates and detoxifies the skin
Protects from UV radiation
Increases collagen production
Cons
Copper may not be suitable for all skins so a patch test is recommended
Price at the time of publication: $30.99
We all know that dreaded moment when we wake up to see those deep forehead lines! But fret not, Peptide Complex Serum with Matrixyl 3000 by Rejuve Naturals is the magical serum that customers can't stop raving about. Get rid of the smile lines, crow's feet, and deep forehead creases with six powerful active peptides like Matrixyl 3000 to restore younger-looking, soft, firm, and smooth skin.
Pros
Restores moisture and firmness
Eliminates dullness and discoloration
Vegan and cruelty-free
Free from fragrance and paraben
Cons
Not recommended for sensitive skin
Price at the time of publication: $16.95
There are several serums in the market that target different types of skin aging problems, but The Ordinary Buffet + Copper Peptides 1% focuses on the overall health of your skin. From maintaining normal immune function, collagen synthesis, and fibroblast production to anti-inflammatory responses, this peptide infusion facial serum guarantees convincing results, all thanks to the 1% concentration of pure Copper peptides. So quit buying multiple serums when this is the answer to all your skin aging problems.
Pros
1% pure copper concentration eliminates all skin aging problems
Boosts and rebuilds overall skin health
Cons
Skin rejuvenation is gradual
The serum is expensive
Price at the time of publication: $40.0
Peptides are rich in anti-aging properties and serve a host of benefits for catering to different skin issues. There are a variety of peptide serums available on the market and you must choose the right one according to your needs and skin type. Given below is a list of factors to consider before deciding on the best peptide serums for your skin.
How To Choose The Right Peptide Serums
Although peptides mix well with most other skin care ingredients, only some selected ingredients pair best with peptides. For brighter skin, either combine it with a vitamin C or niacinamide serum. You may also use it in combination with a hyaluronic acid serum for hydrated skin. Avoid combining peptides with skin-exfoliating acids like AHAs and BHAs as this could significantly decrease their efficiency. The other good ingredients to look for in peptide serums are aloe vera, witch hazel, jojoba oil, seed oil, chamomile, Gotu kola, and horsetail extracts. Always prefer non-comedogenic and hypoallergenic formulas in peptide serums. Opt for dermatologist-tested products with proven efficacy to combat fine lines and wrinkles.
Always pick peptide serums rich in natural and herbal ingredients rather than chemical serums. Avoid using peptide serums that contain harmful ingredients such as parabens, alcohols, sulfates, mineral oils, and other harmful ingredients.
There are different types of peptide serums available on the market. Some help in boosting collagen production while others help in reducing pigmentation. There are some peptides that work as a botox. First, understand the requirements of your skin, ensure which type of peptide works the best for your skin and make your buying decision accordingly.
Keep an eye on the percentage of peptide content in the serum to determine its effectiveness. For this, you can check if the peptide is mentioned in the first few ingredients list or not. If it is mentioned near the end, it has very little peptide content and will produce the mildest outcomes.
Your skin type plays a role in the type of peptide serum you choose. Some are made to help sensitive skin, mature skin, or melanin-rich skin. You may choose the best serum by considering your skin type and any particular areas of concern associated with it such as fine lines and wrinkles, hyperpigmentation, inflammation, and redness. Your skin type may also respond better to different serum consistencies; for example, oily skin does well with a gel-based serum, while dry skin may benefit from an oil-based serum that repairs the skin's barrier.
How To Pick The Best Peptide Serum
Your skin is unique, and not every serum will suit your skin type. So, if you are still wondering how to pick the right and the best peptide serum for yourself, read along:
There are two common types of peptides you should look out for – Palmitoyl Oligopeptide and Palmitoyl Tetrapeptide-7.
Palmitoyl Oligopeptide helps firm sagging skin, which in turn helps in wrinkle-smoothing and fine lines treatment. However, the effects begin to show only after four weeks and may vary across skin types and ages.
Palmitoyl Tetrapeptide reduces skin inflammation and eliminates any radicals that cause harm to the skin.
Peptide serums are better than peptide creams, although both have the same ingredients.
Peptide creams are moisturizing but heavy on the skin and may clog the pores. Peptide serums, on the other hand, absorb quickly into the skin.
Keep an eye out for active ingredients such as Hyaluronic acid and vitamin E that play a crucial role in boosting collagen production and repair the skin.
Why Trust StyleCraze?
Medha Deb is a skincare enthusiast who loves trying out and reviewing skincare products. She relies on peptide serums to prevent wrinkles and fine lines and believes they are a must-have for anyone fighting the early signs of skin aging. She has carefully researched the products and reviewed user feedback to help her readers pick the best ones. These peptide serums are super handy and are a must-have in your skincare routine.
Frequently Asked Questions
Which peptides are best for skin?
Two types of peptides are commonly used – Palmitoyl Oligopeptide and Palmitoyl Tetrapeptide-7. The former helps smooth the wrinkles and also even out the skin texture, while the latter reduces inflammation. These two are generally used in most of the anti-aging serums.
What does a peptide serum do?
Our skin produces collagen that helps maintain the firmness and moisture of your skin. So when the production of collagen breaks down, it leads to early signs of aging. Here's where a peptide cream comes handy as it helps boost collagen production. The peptide serums also contain amino acids, which are great hydrating agents, making it look fuller, firmer, and flawless.
Do peptides really work on skin?
Yes, absolutely. The effect may vary across skin types and ages. But a peptide serum with active ingredients such as Hyaluronic acid or vitamin E can be the best remedy to cure skin-related problems.
Can I use a peptide serum every day?
Yes. Use peptide serum daily once or twice, depending on your skin care needs to get a youthful appearance.
How long does a peptide serum take to work?
A peptide serum usually takes around one to three months to offer visible results. Some users witness results after three or four months of regularly using it.
When should I use a peptide serum?
A peptide serum goes best after a cleanser and a toner. Wash your face well and nourish it with a toner. Then apply the serum for maximum benefits.
What are the side effects of peptides?
Peptides in skincare usually do not have any side effects. However, when exposed to higher quantities, they may increase your appetite, elevate blood sugar levels, and retain fluid in the body.
Can I use vitamin C with peptides?
Yes, vitamin C and peptides complement each other. If used together, they increase your skin's collagen production and combat aging signs rapidly.
What can peptides be mixed with?
Mix peptides with vitamin C, hyaluronic acid, niacinamide, or antioxidants. Do not mix it with alpha hydroxy acid (AHAs) as the ingredient may reduce the benefits of peptides.
Recommended Articles