The 5 Best Perfume Gift Sets For Women To Try Out In 2023
There's no better gift for your lady than a fragrance that smells like a dream.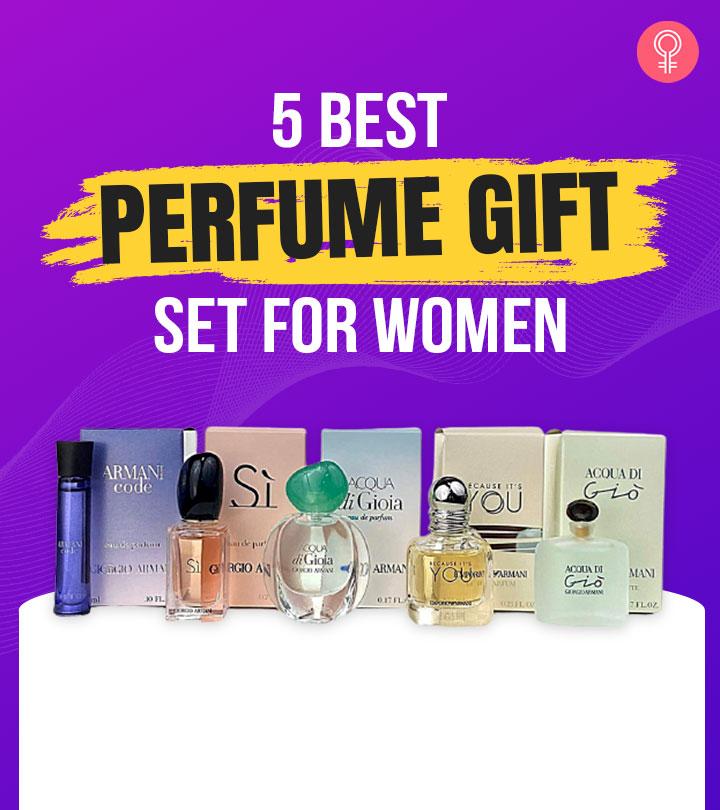 A lot of people think of perfumes as a bit risky present because of the fact that it's an intimate and personal choice that not everyone can be sure of. So giving people the best perfume gift sets would require you to spend more time, effort, and research into their preferences. While floral perfumes are preferred by the majority of women, others like woody, spicy, musky, or citrus aromas. Even if you don't agree with the person's preferences, you may still introduce them to something new that they would most likely enjoy. Sometimes getting gifted with new fragrances can make people feel special.
Since the varieties available in the market can confuse you, we've compiled a list of top-rated perfume gift sets for ladies to save you the trouble of sniffing multiple scents.
Top Picks
5 Best Perfume Gift Sets For Women In 2023
The 4 pieces Mini Gift Set For Women comprises four 0.52 ounce bottles of different scents – Daisy Eau So Fresh, Daisy, Daisy Love, and Daisy Dream. One spray of these perfumes to your neck, wrists, and the behind of your ears will offer a long-lasting fragrance that can stay all day. These scents' sweet and spicy fragrances will surely set the mood for a romantic date and make you feel confident while attending parties. The bottles are small and hence can be carried along while traveling. These perfumes come in concentrated form; hence, a little goes a long way. You can check out this YouTuber's review of the product if you require more convincing.
Pros
Soothing fragrance
Travel-friendly
Ideal for gifting
Value for money
Cons
Price at the time of publication: $99.94
Tresor, Hypnose, La vie est Belle, and Miracle are the 5 fragrances that make up the Lancôme La collections De Parfums 5-Piece Set. They have pleasant floral fruity fragrances made with a blend of peach, bergamot, nectarine, pear, jasmine, Turkish rose, and cedar. These compact bottles are easy to carry while traveling and their pretty designs add elegance to your vanity. You can carry these bottles in your purse during parties or other festivities, and their fragrances will make you an irresistible presence in every room you walk in.
Pros
Exotic
Travel-friendly
Elegant packaging
Ideal for gifting
Cons
None

Price at the time of publication: $73.99
The Versace Variety 3 Piece Mini Gift Set features three exquisite fragrances that include Bright Crystal, Crystal Noir, and Yellow Diamond – perfumes that any woman would love to possess. They are made with a blend of white lilacs, guava, jasmine, orchid, lotus, cedarwood, musk, azaleas, and vetiver. The small bottles have the perfect size to fit into your travel kit.
Pros
Refreshing
Pleasant fragrance
Premium look
Travel-friendly
Cons
Price at the time of publication: $33.8
Giorgio Armani Acqua Di Gio 5 Piece Gift Set comes with five exotic fragrances, viz, Si, Code, Because it's you, Aqua di Gioia, and Aqua di Gio. This is a great little gift set for your friends and family. They come in cute little bottles, and the fragrances last all day. The bottles fit in purses easily and are convenient enough to carry around during events and parties.
Pros
Classic fragrance
Suitable for various occassions
Ideal for gifting wife/girlfriend
Cons
Price at the time of publication: $60.25
Pros
Alluring
Long-lasting
Value for money
Perfect for romantic dates
Ideal for gifting
Cons
Price at the time of publication: $58.71
The five products mentioned above are sure to uplift your senses. However, you must consider a few factors while you shop for the perfect perfume gift set.
What To Look For Before Buying The Best Perfume Gift Sets For Women – Buying Guide
Of course, this is the most crucial feature when it comes to perfumes. There are woody, spicy, floral, citrus, and many more scents you can choose from. But remember that fragrances react with the pH levels of our skin and create a unique scent. So, we recommend that you find out what kind of perfumes your special someone prefers and choose a set accordingly.
Go for travel-friendly miniature bottles that are easy to carry in a purse. Make sure they are not too small; they should last you at least a couple of weeks or months, depending on the usage.
Check the concentration of the perfumes included in the gift box. The higher the concentration, the longer it will last. While Parfums or pure perfumes have the highest concentration of 20%-30%, Eau De Parfums, with their 15%-20% concentrations, are the most common options available on the market. Eau De Toilettes have the lowest concentration and last for a couple of hours.
Since you are gifting these perfume sets to someone, the bottles should be eye-catching and elegantly designed. They should enhance the look of one's vanity kit with their presence.
Some sets contain ten miniature scents, while some contain three. If you are giving it to someone who likes to experiment and explore different fragrances, go for the set that offers more variety. But, if you know her taste, stick to three or four scents that she would approve of.
Why Trust StyleCraze?
The author of this article, Baishali Bhattacharya, is a certified image consultant and a certified makeup expert. She loves reviewing lifestyle products and swears by the importance of wearing the right fragrance. Her love for this domain motivated her to experiment with the best perfume gift sets for women. To save her users time and energy, she has extensively gone through several reviews on brand websites and conducted in-depth research to curate this list of some great-smelling perfume gift sets. These sets contain a wide range of fragrances suitable for every occasion.
Frequently Asked Questions
Is perfume a good gift for a woman?
Women love enticing fragrances. A good aroma stays in a woman's memory and is a great gift.
What is the most popular women's fragrance of all time?
Women love exotic floral fragrances. Therefore, the Versace Variety 3 Piece Mini perfumes are among the most popular women's fragrances. These aromas are ideal for all occasions.
Is perfume an intimate gift?
Yes. Every person has different fragrance preferences. One must know the person's choice before buying perfumes. So, it is an intimate gift.
Is it okay to give perfume as a birthday gift?
Yes. People who prefer smelling good love it when they receive perfumes as birthday gifts. However, gifting perfumes can get tricky if you do not know the person's preferences well.
Is perfume a good Christmas gift?
Yes. Winter fragrances with warm and spicy notes are an excellent gift for Christmas.