35 Best Perfumes For Women That Will Make Heads Turn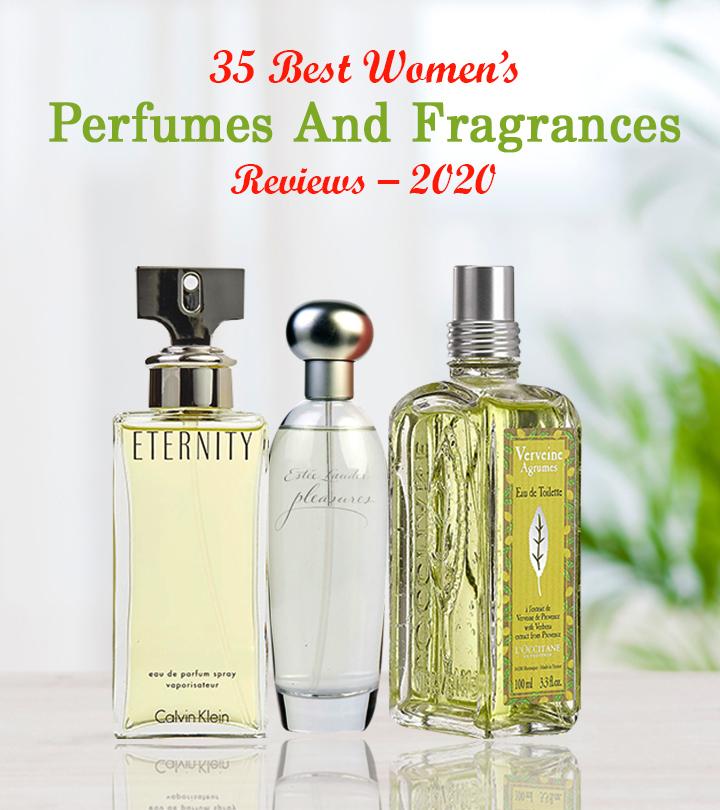 One of the most elegant ways to create a lasting impression is fragrances. The best perfumes for women can do this trick for you. They can help you make a statement about your personality without uttering a single word. They create memories and even identity for yourself. Perfumes are extremely personal, and as the marketing director of Diptyque puts it, people wear fragrances to feel a certain way.
Whether it is a grand wedding party, a get-together with friends, or a romantic date night, a good perfume can set you apart from the crowd. But if you find it hard to choose a fragrance that will suit you, we are here to help. In this article, we have curated a list of 35 fragrances from different brands loved by women worldwide. So, swipe up to grab your favorite!
35 Best Perfumes For Women – Reviews Of Top Fragrances Of All Time
Review
Dolce & Gabbana Light Blue Eau De Toilette is an irresistible fragrance that is reminiscent of happy summers. It evokes the sensuality of a Mediterranean woman. This fruity, floral perfume reflects confidence and femininity, making it a captivating and timeless fragrance. This essence of sunny summers comes in a rectangular, frosted glass bottle with a sky blue cap.
The top notes ring with the presence of cedar, apple, and bluebell, intensified by a heart of bamboo, jasmine, and white rose. The dry-down lingers with redolent citrus wood, with hints of amber and musk. Light Blue was introduced in 2001 and is among the most popular perfumes for women. Before buying, have a look at this video for more details.
Review
If playful and sweet is your signature style, Viva La Juicy should be your new signature scent. It's like couture in your daily wear – an alluring fragrance that makes sure you are unforgettable. The gourmet floral fragrance lures you in with notes of juicy mandarin and wild berries. It deepens with gardenia, honeysuckle, and jasmine in the heart. Amber, caramel, vanilla in the dry-down leave behind a lingering spell that makes you the star of any party. Watch this video to know more about the product.
Review
Calvin Klein Eternity Eau de Parfum, one of the best perfumes for women, was created by Sophia Grojsman and released in 1988. The intense fragrance is an ode to the enduring values of love, family, and peace, designed as a tribute to Calvin Klein's marriage. The romantic floral fragrance has a timeless charm.
It opens with refreshing top notes of freesia and mandarin. The heart notes offer a vibrant floral bouquet of violet, rose, and lily-of-the-valley, while sandalwood, musk, and heliotrope give the earthy base an enigmatic layer. Overall, it is a lighthearted scent that you can wear every day to add a captivating touch to your ensemble. 
Review
If light floral fragrances are more your style, Pleasures from Estee Lauder should be right up your alley. It is reminiscent of flowers after a spring shower, and it shows in the refreshing blend of lilies, peonies, pink rose, and jasmine that reveals itself in layers throughout the day. The sheer, elusive, and luminous nature of Pleasures has made it the best-selling fragrance ever since it was first launched in 1995. This video will give you more insights into the product.
Review
Jessica Simpson's Fancy Love is the perfect feminine composition that is floral and delicate. It smells of sweet, creamy roses along with grass notes. It is the ideal fragrance to wear during summer and spring. We also love that it is quite inexpensive and wallet-friendly. The bottle is pretty, simple, and clean-looking and will look lovely on your dresser. It is a favorite perfume among fans of whimsical smells.
Review
Shalimar By Guerlain Eau De Parfum is an ode by Jacques Guerlain to the legendary romance between Emperor Shah Jahan and his wife Mumtaz Mahal that was symbolized for generations by the Taj Mahal. The fragrance is named after the gardens of Shalimar that Shah Jahan built for his wife.
The top notes of this perfume bring a whiff of freshness with bergamot, mandarin, lemon, cedar, orange, and citrus notes. The heart notes feature a delicate blend of iris, jasmine, rose, patchouli, and vetiver. The base notes of this classic fragrance are a spicy symphony of vanilla, tonka bean, sandalwood, musk, civet, and incense. 
Review
Burberry's signature fresh scent perfume is a classic choice for any lady! It is a beautiful blend of peach, apricot, vanilla, and musk with hints of cedar, pear, sandalwood, and musk. You will love the softness of this as it is great for day wear.
It initially smells fruity with a touch of musk but mellows down into a unique, woody, musk-like smell. Anyone can tell that you are wearing Burberry because this is their signature scent. It is one of the best fragrances for women.
Review
The signature perfume from Roberto Cavalli will make sure that you don't go unnoticed, no matter where you go. It is the perfume of choice for joyful, free, independent, and confident women who are inherently glamorous. The sensual fragrance is a blend of floral, oriental, and amber notes. From opening notes of pink pepper and African orange blossom to base notes of vanilla and tonka bean, the scent lingers and enthralls for a long time.
Review
Harry Fremont created Romance By Ralph Lauren in 1998. It is reminiscent of romantic love and joyful, intimate moments. The perfume is a sensual blend of the essence of velvety woods, extravagant florals, and seductive musk.
The scent starts on a softly seductive top note, featuring rose, yellow freesia, lemon, chamomile, and ginger. Lotus, white violet petals, carnations, and lilies form the floral heart of this fragrance. White musk, oakmoss, patchouli, and exotic woods add a touch of warmth to the base notes. The overall effect makes for an unforgettable perfume.
Review
Versace Bright Crystal Absolu is a gorgeous fragrance that is a longer-lasting version of the original Bright Crystal (one of the most famous jewel fragrances in the world). It smells like peonies and rose with the incredible vibrancy of yuzu and pomegranate seeds, creating a unique, fresh, and classy scent. This is the only perfume you need for special occasions.
Review
One of the most popular new fragrances from the house of Marc Jacobs, 'Daisy,' is everyone's favorite for a reason. It is young and fresh and will make you smell like a meadow in full-bloom spring. This one is amazing for daily wear or the times you want to feel extra feminine. The fragrance emphasizes not only on that floral note but also on a medley of fresh fruits. Yum, right? We highly recommend trying this one, especially if you are new to perfumes.
Review
Good Girl By Carolina Herrera Eau De Parfum takes inspiration from a vision of the modern woman – one who is elegant yet sexy, bold yet enigmatic. In a refreshing bid to show the world what the power of femininity looks, smells, and feels like, this perfume is encased in a bottle shaped like a sensuous stiletto – the sexiest shoes a woman can own.
This fragrance is a gorgeous medley of oriental scents. The top notes consist of coffee and almond, which give way to the heart notes infused with exotic jasmine sambac and tuberose. The base notes have a distinctive aroma with sandalwood, vanilla, cocoa, and tonka beans. 
Review
Gucci Guilty Eau De Toilette comes in a monolithic gilded bottle that has G's on the front. This fragrance is a seamless blend of mandarin and blossoms with spicy and warm notes. The floriental nature of the perfume is sensual and distinct, tempting, and seductive. This is perfectly suitable for a sophisticated lady. This luxury perfume has top notes of mandarin orange and pink pepper, heart notes of geranium, peach, and lilac, and base notes of patchouli and amber.
Review
Givenchy Very Irresistible Eau De Toilette captures at its core a long-worshipped symbol of elegance and femininity – the rose. This refreshing scent features fruity top notes of green apple and pear, with rose heart notes that give it a burst of floral goodness. The patchouli and vanilla at the base create the ideal fusion of spicy and sweet for the finale.
The rose notes in this perfume are made more alluring by the aromatic accord of the star anise, which adds a zing of freshness to this sensual fragrance. This is one of Givenchy's best-rose scented perfumes and is ideal for daily wear as well as office-friendly. 
Review
Victoria's Secret Bombshell women perfume is an all-time favorite and the perfect summer fragrance for women of all age groups. The smell of peonies combined with passion fruit and vanilla orchid is nothing short of divine. It is a subtly sweet smell that is not offensive to even the most sensitive of noses. The bottle is also very well-designed and looks gorgeous and expensive. It is among our top favorite wallet-friendly perfumes that all ladies absolutely need to try.
Review
If impromptu adventures and unplanned getaways are your thing, Wonderlust might just be what you want in a perfume. This oriental gourmand fragrance embodies an endless thirst for travel and discovery. It is a luxurious blend of citrus notes, like bergamot and mandarin, with floral accords of jasmine. The lingering trail of cashmere and sandalwood in the base notes make this perfume the perfect pick for your next date night.
Review
"A decadent burst of seduction" – doesn't that sound like an irresistible scent? That's how the Kenneth Cole White For Her EDP describes itself. It is a sensual fragrance reminiscent of warm, sexy, clean, sun-kissed skin. Captivate your beloved with this fantastic fragrance that is a bewitching blend of mandarin, watermelon, jasmine, rose, lotus, amber, vanilla, and musk. A whiff should be enough to convince you that this Eau de parfum deserves to be celebrated as one of the best perfumes for women.
Review
Giorgio Armani Si Eau de Parfum Spray was designed keeping in mind the modern woman: strong yet feminine, elegant yet enigmatic. She represents the soul of Italian chic. The top notes tantalize your senses with a heady fusion of cassis and black currant extracts. At the heart of this fragrance lies an accord of May rose, neroli absolute, davana, and osmanthus. The base contains patchouli, ambroxan, and a blend of woody notes as a pleasing finish.
Review
Cartier La Panthere Eau de Parfum is the ideal choice when you want something sophisticated yet indulgent. It is the perfect choice for evening wear, as long as you don't mind a touch of boldness in your fragrance. The delicious base notes of musk blend intoxicatingly with fruity top notes of rhubarb and strawberry. Hints of rose and gardenia in the heart keep the spell of mystery intact.
Review
Elizabeth Arden Fifth Avenue Eau de Parfum is an ode to the most famous street in the world – New York's Fifth Avenue. This modern, fresh, floral fragrance celebrates the intelligent and successful woman who has a sense of style and is confident about feeling good in her skin. If that describes you, spritz on some Fifth Avenue and embrace its alluring warmth and richness right away!
Review
Coco Mademoiselle is one of the most sophisticated and chic scents out there. It is citrusy and sharp, yet subtle, and it gradually transforms into this mesmerizing floral scent with just a tiny hint of musk and vanilla. Oooh! Isn't that majorly appealing? Its beautiful bottle will look chic on your dresser. If you love the smell of patchouli, this all-time classic fragrance is for you.
Review
The signature fragrance from Coach takes its inspiration from New York City – specifically, its chic downtown style and spontaneous energy. The long-lasting scent has an aromatic freshness that makes it a modern classic. The bright and sparkling top notes of raspberry eventually reveal a heart of creamy Turkish rose that slowly transforms into a sensual base of suede musk and sandalwood.
Review
If you like fresh and subtle smells, you need to try this oriental perfume that is a blend of sweet and fresh notes. It is a beautiful blend of green tea, bergamot, jasmine, freesia, rose, and orchid. The base of this Viktor & Rolf creation is what makes it so unique – musk and patchouli with a touch of milky, powdery notes that will leave you hooked. Although a tad pricey, it is perfect for night outs and special occasions when you are feeling kind of fancy.
Review
Nothing screams luxury like a vibrant and captivating whiff of My Burberry Black, a more recent addition to the My Burberry collection. The floral-oriental composition encapsulates the charm of a London garden at dusk, where heavy rain meets the warm flora. The intoxicating scent is perfect for special occasions.
The enchanting perfume for women opens with top notes of sun-drenched jasmine, peach nectar, and a dash of rose. The heart of the fragrance features the iconic rose note with a candied twist. The base notes have a cozy, earthy appeal where amber and patchouli allow the lighter accords to flourish with sensuality. 
Review
Mon Guerlain is a modern tribute to the femininity of today – a free-spirited, strong, and sensual woman. The fresh oriental fragrance was inspired by Angelina Jolie and launched in 2017 as the creation of Delphine Jelk and Thierry Wasser.
The alluring scent features top notes of pear, mandarin, and bergamot. The middle notes are a sumptuous celebration of Indian sambac jasmine, neroli, and Carla lavender from Provence, Italy. Vanilla, iris, and sandalwood lend a lingering sensuality to the base notes of this popular women's perfume. 
Review
Want to get hold of spring in a bottle? Miss Dior Blooming Bouquet captures this essence beautifully. It is soft and floral and smells of pink rose, peonies, bergamot, and musk. This fragrance is timeless and can be worn by women of all age groups – from teenagers to stylish grandmas. A little dab of this perfume will last you through the day and is sure to bag you a bunch of compliments when your friends get a whiff of it. It is the best ladies' perfume.
Review
Amazing Grace is one of the most popular Philosophy fragrances. It is a mild scent that smells subtly floral with a clean undertone. This is one of those scents that is very comforting and makes for a great everyday perfume for spring or summer. Its citrus smells are quite distinct and ideal for younger women.
Review
Mon Paris By Yves Saint Laurent Eau De Parfum is a sparkling fragrance launched in 2016 and inspired by Paris – the city of intense love. The irresistible scent is the creation of Olivier Cresp, Harry Fremont, and Dora Baghriche. What you get in the end is an impulsive and passionate journey to Paris.
The composition opens with fruity top notes of strawberry, raspberry, pear, and Calabria bergamot. The floral heart notes that follow consist of datura flower, peony, Chinese and Sambac jasmine, and orange blossom. The dark chypre base has white musk, ambroxan, and patchouli from Guatemala and Indonesia.
Review
If you are on the hunt for a classy evening wear perfume, Hermes 24 Faubourg is the only perfume you need. It is excellent for older women as it settles into a soft, warm, and powdery floral smell that oozes luxury and class. Its distinct orange blossom scent is what makes this fragrance stand out.
Review
This is one of the most refreshing scents to wear on a hot day. It is a splash of lemonade with a spoonful of grapefruit and sunshine. It is the perfect fragrance for young women if you like an uplifting and happy smell. Also, it is priced quite reasonably. It is free of artificial smelling notes and smells so natural.
Review
Tiffany & Co Eau de Parfum is a celebration of the divine sparkle that we all know and love in the Tiffany diamonds. Those diamonds, of course, are the inspiration behind this sophisticated, feminine scent. The top notes of crisp mandarin are followed by fresh iris flower in the heart. The perfume ends in a warm trail of musk and patchouli that leave you mesmerized.
Review
If clean, woody fragrances are your style, Miu Miu's signature scent is perfect for you. The innovative fragrance offers delightful touches of fruit, spice, and florals. The long-lasting scent offers moderate sillage and is ideal for wearing on long days when you want a fragrance with good staying power.
It opens with top notes of bergamot, lily of the valley, and lemon. The heart notes are a refreshing aromatic blend of peach, jasmine, green notes, black currant, and rose. The warm base notes of white musk and Akigalawood add an enticing layer and lend it the versatility to be suitable for various occasions. 
Review
Nirvana is a contemporary collection of fragrances from the design house of Elizabeth and James. Each fragrance in the Nirvana line is a reinvention of classic notes, infused with new and unexpected combinations. Nirvana Amethyst, their latest fragrance, is similarly rebellious and indulgent, with a note of mystery.
The luxurious Eau de parfum is infused with refined tobacco. Honeysuckle, musk, and cedarwood come together in a delicate balance, creating a magnetic allure that simultaneously enchants and seduces whoever it hits. Like the rest of the Nirvana fragrances, Amethyst is a symbol of the ultimate state of happiness.
Review
An aromatic citrus fragrance that instantly summons warm summer days to mind – that's Jo Malone's Lime Basil & Mandarin Cologne for you. It is fresh and zesty and manages to strike the perfect balance between juicy notes of mandarin and lime with earthy notes of white thyme and basil. Patchouli, vetiver, and amber add a warm woody touch that elevates it further.
Review
If you are in the market for something light and fresh that lasts all day without being overpowering, Glossier You is a perfect choice. This modern fragrance claims to be a "skin smell enhancer." The warm and creamy base notes of ambrox, musk, and ambrette transform and come across smelling slightly different on different people. The best thing about it is that it wears evenly, so you sense the same smell on the first spray and through the rest of the day.
Shopping for the perfect perfume can be an intimidating and overwhelming experience. The rush of aromas that hit you when you enter a store may feel disconcerting and send your olfactory senses into a tizzy. Check out the guide below for some immensely useful pointers to help you choose the best fragrance a little more effortlessly. 
How To Choose And Buy The Best Perfume
For starters, it helps to familiarize yourself with scent families. You may have come across buzzwords like fresh, floral, fruity, oriental, citrus, spicy, and woody.These words can act as a starting point for testing out fragrances from a particular family.
Citrus or floral fragrances will appeal more to you if you like light, fresh fragrances. Oriental or spicy scents could be your choice when you are trying to make a bold statement.
Once you have found your preferred choice of scent type, you can find notes that appeal the most to you (such as rose, jasmine, vetiver, or bergamot).
There are three markers for a good fragrance: it should match your personality, it should be long-lasting, and it should have a harmonious blend of complementary scents.
For balance and longevity, remember that essential oils perform better than synthetics. If you are looking for a perfume with good staying power, always choose perfume oils and eau de parfum over eau de toilette and eau de cologne.
Do not wear perfume or any other scented body product when you go perfume shopping as it will impact how your chosen scent develops after some time.
Try the fragrance on your skin and see how it develops and whether it matches your personality. But avoid testing more than 3 or 4 scents at a time.
If you are still confused, it is a safe bet to try perfumes that have stood the test of time and been around for generations. After all, it is impossible to go wrong with a classic. 
Why Trust StyleCraze?
Sakshi Bahal, the author, is a makeup enthusiast and loves reviewing products to help her readers find the best one. She has carefully gone through online reviews, feedback, and brand websites to curate this list of the the top 35 perfumes for women. These classy perfumes mesmerize your senses and the list includes a mix of floral, woody, spicy, and other fragrances to suit your mood and fancy.
Recommended Articles