11 Best Period Panties That Work For Heavy And Light Flows
Stay comfortable and leak-proof with the right period-care essentials at hand.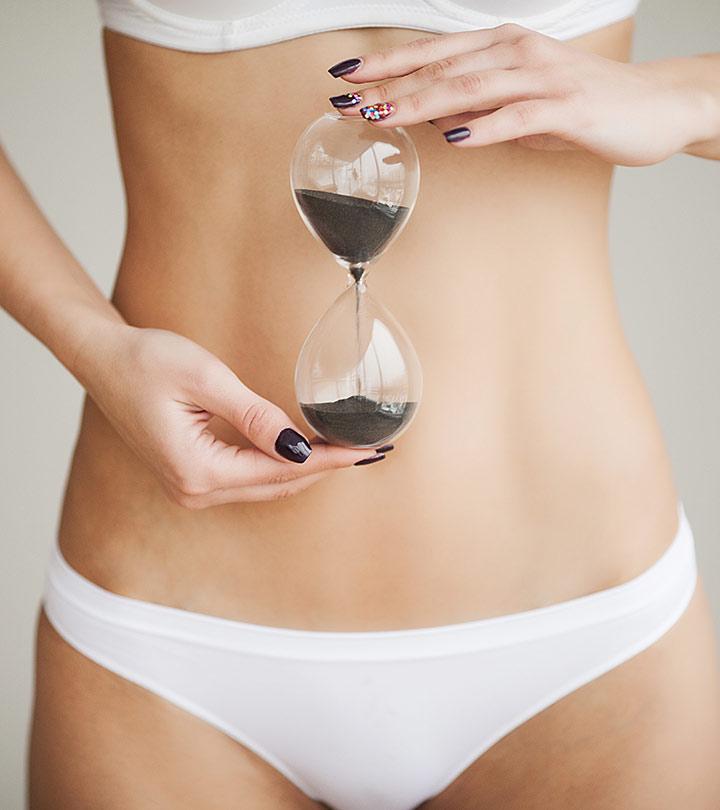 Menstruating women can relate to the experience of slipping pads during the heaviest period flow. The best period panties are specially designed to hold the sanitary napkins in place and do so firmly. This is why, when compared to tampons, pads, and menstrual cups, period panties are the most comfortable option. These are wide enough and not too tight on your skin. Here are the 11 amazing period panties that work for heavy and light flows!
What Are Period Panties And Do They Really Work?
Period panties are panties with a body-hugging fit that soak all the menstrual blood and prevent leakage without causing irritation. Period panties are more like diapers that feel like normal underwear. They have a special layer of fabrics and materials that prevent the menstrual blood from seeping through.
There are two types of period panties – panties that need to be used with pads or tampons and standalone panties that are specially designed to soak menstrual blood and prevent leakage.
There are panties available for different sizes and medium to high flow for better absorption. Some panties are designed to deal with light flow and leakage, while some panties can replace tampons and are super absorbent. The layer of special fabrics pulls the liquid away and traps the blood inside the panties, which results in zero leakage. Period panties can hold up to three teaspoons of liquid at a time and offer great protection.
Here are the 11 best period panties you can try out.
11 Best Period Panties
This set of menstrual briefs from Yoyi fashion offers relief during the days of heavy flow. These briefs are to be used with pads to prevent leakage and spills. Women who get heavy periods or are experiencing postpartum bleeding can use these leakproof, easy to clean, and comfy briefs that can protect from overflow. The body-hugging briefs do not irritate the skin. They are made of a nylon, cotton, and spandex blend for better support and comfort. To understand the nuances of the product in detail, you can check out this review.
Pros
Come with a water-resistant lining for better moisture absorption
Leakproof
Body-hugging and comfortable
Cons
Should be used with pads or tampons and not on their own
Price at the time of publication: $17.79
These period protective panties are specially designed for days with heavy flow, so you can get extra protection from leakages and overflow. If you have to deal with heavy blood flow during the initial days, wear these panties with your menstrual cup, pad, or tampon to prevent leakage. They are available in two colors (Black and Nude) and offer the perfect fit for all sizes from XS to 4XL.
Pros
Extended front area protection
Offers great bedtime protection when used with tampons, cups or pads
Cons
Don't offer full leakage prevention from the front.
Price at the time of publication: $18.54
Pros
Absorbency is equal to 2 tampons
Breathable
Lightweight
Leakproof
Moisture-wicking, highly-absorbent fabric
Hypoallergenic
Easy to wear for hours
Body-hugging
Cons
Lace on the side might irritate the skin if the panty is too tight.
Price at the time of publication: $39.95
If you worry about leakage and stains while you are on your period, try the Funcy Menstrual Period Panties. These panties are black and work well for heavy bleeding days or postpartum bleeding. It has a water-resistant lining that uses three layers of regenerated cellulose fiber to prevent leakage. The protective brief must be used with tampons, pads, or menstrual cups.
Pros
Broad and long hemline prevents side leakage.
Leakproof
Moisture absorbent
Mid-rise design protects the abdomen
Relieves dysmenorrhea
Cons
Stains if not worn with pads, tampons, or menstrual cups.
Price at the time of publication: $19.79
These leakproof briefs are great for medium to light flow during periods. You can combine these panties with sanitary wear for maximum protection and leakage prevention. These are sporty briefs that you can wear for workouts, sports, and rigorous activities while on your period. The briefs are for girls who perform sporty activities and are active sleepers. You can also check this video out for a brief review of the product.
Pros
Back and front protection
Feels like regular underwear
Breathable
Cons
No extra protective layer or absorbent lining to prevent leakage.
Price at the time of publication: $35.9
Pros
Breathable, comfortable, and light fabric
Leakproof
High absorbency
Suitable for sensitive skin
Cons
Should be used with pads, menstrual cups, or tampons
Price at the time of publication: $13.5
These leakproof briefs are not only super absorbent but also stylishly designed. They are made using cotton and spandex and are great for menstrual cycle heavy flow, postpartum bleeding, fecal and urinary incontinence, postnatal recovery, and weak bladder control. The panties are designed to hold sanitary pads and prevent leakage. The inner lining is made of cotton fiber and polyester, which provide leakage protection in the center and rear of the underwear. 
Pros
Leakproof
Breathable
Hypoallergenic
Moisture-wicking fabric
Cons
Must use along with sanitary napkins, tampons, panty liners, maternity pads, or incontinence pads.
Price at the time of publication: $15.99
Pros
Offers food front to back coverage
Extended crotch lining prevents leakage
Improved 2 layer core helps on heavy flow days
Cons
Slightly tight around the thighs
Need to be used with pads, cups, or tampons.
Price at the time of publication: $23.99
These fancy period panties are ideal for teenage girls and women and offer great protection against unexpected leaks during periods. The leakproof layers on the front and back catch and absorb leakage. They have a built-in absorbing layer up to 20ml capacity. You can wear them directly for light days, spotting, postpartum bleeding, and stress leaks. 
Pros
Ultra-soft
High absorbency
4-layered protection
Cons
Need to wear it with menstrual cups, pads, or tampons if you have regular/heavy flow.
Price at the time of publication: $24.99
Pros
Machine washable
Soft and strong
Reusable
Easy to wash
Breathable
Cons
None
Price at the time of publication: $16.98
These disposable period panties come with a built-in pad and offer up to 12 hours of leakproof protection. They absorb 3X more than any pad or tampon and are made with a special spandex thread that offers a comfortable and curve-hugging fit. The pad is sewn into the panties, and it stays in place without shifting and protects against leakages. You can use these panties during your menstrual cycle, menopause, postpartum, mild incontinence, and while traveling.
Pros
Comfortable
Breathable
Hypoallergenic
Biodegradable
Cons
Don't offer full back coverage for protection while sleeping.
Price at the time of publication: $9.49
Before purchasing a period panty, there are certain things you need to know. A single panty doesn't work for everyone, and thus, you need to analyze certain features, like the fabric, size, leakproof ability, and certain other things that are mentioned below.
Important Things You Should Consider Before Buying Period Panties 
Period panties are generally made of cotton. Premium cotton-based panties offer more comfort and prevent leakage. Panties with double or triple cotton layering offer better absorption and thus are great for preventing stains. Most period panties are made with 90% cotton and other blends like spandex or polyester for better stretchability.
Most of the period panties are highly leakproof. They come with double or triple absorbent layers that prevent leaks and stains. However, the panties that are to be worn without tampons, cups, or pads are more leakproof and offer better absorbency.
Most of the period panties, be it thongs, briefs, hipsters, or normal panties, are available in a range of sizes, from XS to 4XL. Choose the size that keeps your pad in place and fits your body without hurting or irritating your skin.
The period panties are available in different styles. From printed to plain panties and from lacy thongs to classic briefs, there are plenty of patterns and styles available. Pick one that you feel comfortable in.
Most period panties are machine-washable as well as perfect for hand wash. These panties are generally reusable, and thus, you can reuse them after washing.
Here are answers to a few more questions.
Which Type Of Panties Should Be Used In Periods?
While you are on your first period, you can choose panties with a double or triple lining that prevents leakage and can be worn without any menstrual cup or pad. For light to medium flow, you can stick to these panties. However, if you have a heavy flow during your periods or are recovering from postpartum bleeding, try the extra­absorbent panties that can be worn with pads, tampons, and menstrual cups to prevent leaks and stains. These panties are generally eco-friendly and body-hugging and offer a great fit. 
What Are The Benefits Of Period Panties?
Most period panties are eco-friendly. The ones with absorbent layers prevent the use of pads and tampons.
You can bleed freely without worrying about leakage or stains while wearing period panties.
Most period panties fight odor and prevent the foul smell from going out.
Period panties offer extra protection as compared to normal underwear. Also, if you are wearing a pad or tampon, using it with a period panty will give you peace of mind.
Period panties can absorb more liquid than normal panties. If you experience leakage after wearing a tampon or a pad, the period panties will absorb the leaked blood and prevent stains.
Period panties are ideal for traveling and help keep the pads in place. These are body-hugging, flexible, and versatile panties that will help you sleep, workout, or play sports conveniently.
Why Trust StyleCraze?
With the help of extensive research and analysis, we have compiled a comprehensive list of the best period panties. We have also read many customer reviews to understand how effective they are and have gone through several product details to ensure that the listed items are safe for use. These items on the list are comfortable and will keep your sanitary napkin in place.
Are period panties reusable?
Most of the period panties are reusable. They are made using cotton and are used along with tampons, menstrual cups, or pads. You can use them after cleaning. Some period panties are disposable. These panties arrive with an inbuilt pad and are for one-time use.
How often do you change period panties?
Consider the period panties as panty liners. Change the period panties as often as you change your panty liners. Most period panties can absorb up to 20 mL of liquid, so if you often get heavy flow on the first few days of your periods, change the panty after 4-5 hours for better hygiene. If you are wearing a pad or tampon, you don't need to change the period panty every 4-5 hours; you can change it at the end of the day.
Can you swim in period panties?
Wearing only period panties in the pool is not recommended as it can absorb water and cause stains and leakages in water. If you want to swim during periods, wear a tampon or a menstrual cup and double your protection with a highly absorbent period panty. You can also wear a leakproof swimsuit to prevent any leakages. The best option is to wear a menstrual cup with a period panty.
Can you wear period underwear with a heavy flow?
Yes, period panties are good for days with heavy flow. These panties keep you comfortable and offer a 12 to 14 hours protection during heavy flow days.
How do you clean period panties?
Soak the period panties in cold water and rinse them well using a mild detergent. Wash them in the machine using the gentle cycle.
Are period panties FSA/HSA eligible?
Yes, period products including period panties are FSA and HSA-eligible.