The 7 Best Permanent Makeup Machines of 2022
Get your favorite natural makeup look with these easy-to-use and effective PMUs.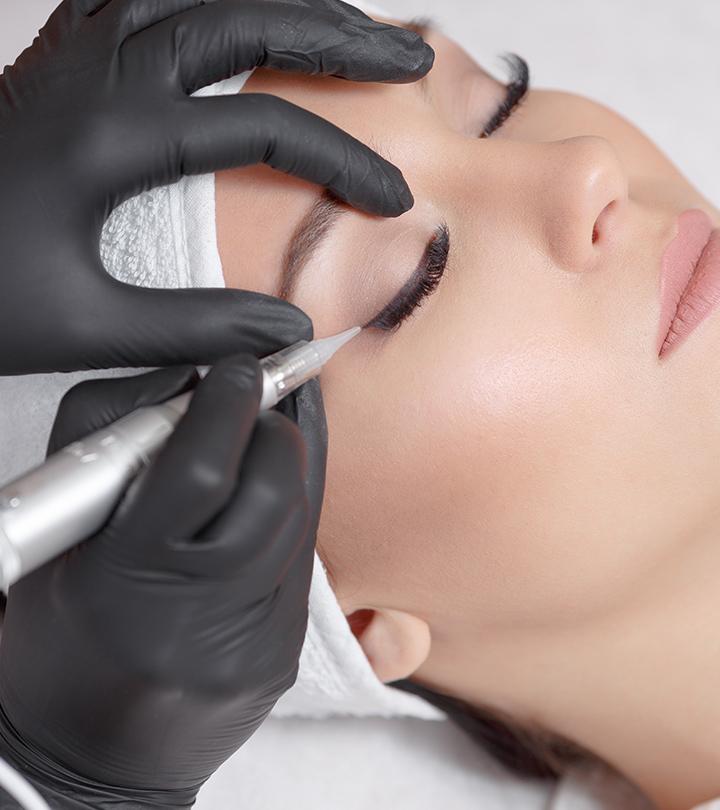 Pulling off the perfect winged eyeliner or blending the makeup perfectly every time can feel impossible. But not if you have the best permanent makeup machines. We often buy loads of makeup items and tools to ensure precise application. But the truth is, even the professionals sometimes overline their lips, and it can be tricky to ace the makeup game always. So, if you want to get a flawless look for every party you attend, you need some better and more permanent options.
Also, why spend so much on numerous makeup items when one device can do the trick? A permanent makeup machine has a sleek pen-style look similar to a tattoo machine. It is used to implant pigments into the first layer of the skin to add a permanent soft and glowy look. This device is a revolutionary creation that allows you to sleep an extra hour in the morning yet look flawless without spending hundreds of dollars on beauty products. It is also ideal for those with blemishes and facial hair. Swipe up for more information!
Top 7 Best Permanent Makeup Machines in 2022
This tattoo machine has a powerful custom motor and an advanced gear system. It operates quietly and without any vibration. With WJX brand cartridges needles and a patent shell design, the ink will absorb faster into the skin, and you can increase the amount of ink stored in the machine. It is made using LPG PC medical-grade needles that are safe and reliable. This machine is compatible with all cartridge needles and is used all over the world by some of the best tattoo artists. If you are still unsure, check out this honest unboxing review.
Pros
The cartridge comes with close-mouthed tips
It has medical-grade needles
It is a well-rounded rotary tattoo machine that has been specially designed for accuracy and better grip
Suitable for fine and precise work
Cons
The needles may not be not durable
This stylish permanent makeup machine does not make too much noise and is strong and stable to work with. Even when used for a prolonged period of time, this machine doesn't heat up. It has an anodized silver surface with aircraft aluminum alloy ensuring a perfect finish once done. The battery has a working life that lasts 2 times longer than most other machines and comes with a pen cap for safety.
Pros
Cons
Device may heat upon continuous usage
This permanent makeup machine has a foot pedal and is easy to use. It has short circuit protection, which means that any voltage fluctuation will cause the machine to stop to protect you and the user. It has an adjustable speed controller making it even more convenient to use. The handpiece has an adjustable scale that will help you control the depth of the cartridge. It can be used to cure acne scars, wrinkles, blemishes, and even for eyeliner lining. Functional and versatile is how we describe this permanent makeup machine. Check out this review for a closer look at the product.
Pros
It has a foot pedal and short circuit protection
Has HD screens and a touch button
Suitable for acne scars, wrinkles, fine lines, blemishes, and lining.
Low vibration and easy to work with
Cons
This tattoo machine is designed with a space aluminum alloy frame and a powerful motor. The motor runs seamlessly, making little to no noise. This machine is compatible with all other tattoo power supplies and is designed to give you the feeling of an actual pen. It can be used for tattooing, permanent makeup, and lining.
Pros
This permanent makeup machine has an adjustment handle that allows safe sterilization under steam
It has a 10W motor that does not make too much noise
Anodized finish
Makes little noise
Runs seamlessly
Suitable for tattooing and permanent make up.
Cons
This permanent makeup machine has an aluminum pen and a DC cord cable. It is a professional rotary tattoo pen that has been crafted with an aluminum alloy holder and a strong, stable Japanese motor. It has an anodized finish and offers a clean and crisp finish. It runs smoothly and does not make a loud noise when in use.
Pros
Crafted from aluminum alloy and has an anodized finish
Features a Japanese motor
Has strong power and low noise
Suitable for tattooing and permanent makeup.
Cons
This rechargeable wireless machine is great at eliminating wrinkles, covering blemishes, and aiding in skin rejuvenation. It is suitable for all skin types and can be used on sensitive skin as well. It is designed to give its user the closest feel to an actual pen and aids in faster healing. It has an electronic, automated microneedle with a guide that adjusts needle depth and can be used at home. Safe and functional is how we describe this permanent makeup machine. This video review will help you understand more about the product.
Pros
Rechargeable
Electronic automated micro-needles
Nanoneedle for spot removal and skin rejuvenation
Nano silicon for pit repair.
Suitable for tattooing, fixing skin blemishes, and permanent makeup.
Cons
Does not come with instructions as to how to use the needles
This permanent makeup machine comes with a lithium battery and an AC/DC adapter. It can last for upto two hours and works efficiently. The machine has adjustable speed and works without making too much noise. The needles are crafted using aluminum alloy and are used by makeup artists all over the world. Lightweight and functional best describes this tattoo machine.
Pros
Needles made from aluminium alloy
Wireless pen that works on lithium battery or AC/DC adapter
Speed varies from 8000 to 1600 RPM
Suitable for tattooing and permanent makeup.
Cons
Lasts for only two hours on a complete charge
Why Trust StyleCraze?
The author, Chaitra Krishnan, is a makeup fanatic who believes that permanent makeup is not just a trend but an innovation that is here to stay. She consulted makeup experts and went through hundreds of reviews to pick out the best permanent makeup machines available right now.
Frequently Asked Questions
What are the types of permanent makeup?
There are many kinds of permanent makeup, such as micro-needling, permanent eyeliner lining, lip blushing, freckle tattooing, scar camouflaging, and permanent blush.
How long does permanent makeup last?
Permanent makeup like any other tattoo will begin to fade over long periods of time. Although they generally last 3 years some permanent makeup can last up to 5 years but in 10 years most permanent makeup would have faded. That's why periodic touch-ups are recommended. These will make the permanent make-up look fresh and neat.
Is permanent makeup safe?
Yes, permanent makeup poses little to no threat to its wearer however they do carry the same risks that tattoos do. They can damage the skin and cause other complications such as allergic reaction, skin infection, the development of nodules of inflamed tissue and in some cases bloodborne diseases. These diseases include Hepatitis and Tetanus if unclean needles have been used. That's why it is important to pay close attention when picking the tattoo artist of your choice.
How can I use a permanent makeup machine?
A permanent makeup machine is used the same way as any other pen. You can follow the steps below:
• Screw in the pointy knob tightly.
• You can choose the depth of the needle by twisting the lower end.
• The most suitable depth would be approximately 1.6 mm.
• You now come to the power supply, which can be opened with a fast click.
• You can fast-click on it again to change your space.
• Lastly, to turn it off, you must press on it for a couple of seconds.
Who would want to have permanent makeup?
A working professional in the field of glamour may want to have a permanent makeup look. However, a person suffering from any sort of skin condition should completely avoid using it.
Is it possible to do permanent makeup at home?
Although the concept of permanent makeup is not as simple as applying regular mascara, it can be done at home. Ensure to learn the right way of using it as you do not want to have something that lasts for so long not look very good.
Are these permanent makeup tattoos truly permanent?
Yes. Using the tool the right way does make permanent makeup tattoos permanent.
Recommended Articles: