40 Best Personalized Gift Ideas For The Special People In Your Life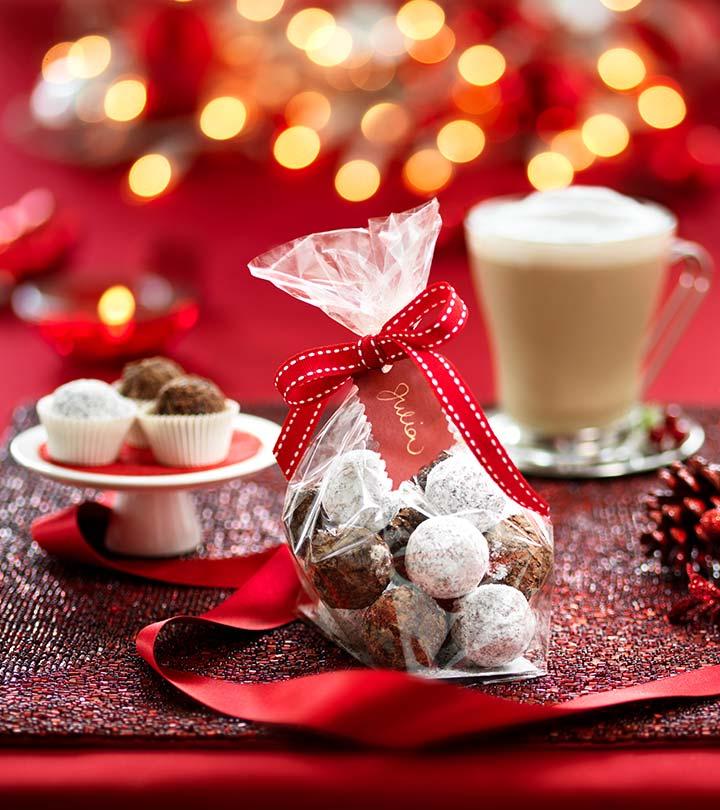 Personalized gifts are a great way to make someone feel special. Whether it's a friend who's getting married, your sibling who just graduated, or your mum who you feel like thanking for no specific reason, personalized gifts are more thoughtful and appreciated. Personalized gifts mean a lot as it takes time and care in choosing the right one. Besides, nothing's stopping you from buying these for yourself. Self-care, anyone? Let's look at 40 best-personalized gift ideas that will help you make someone's day.
40 Best Personalized Gift Ideas
1. Personalized Thermos With Name
This thermos is a double-wall vacuum insulated and available in sizes: 20 oz and 30 oz with free engraving. This cool tumbler can keep your drink warm for about 24 hours and cold for around 36 hours! It is a spill-proof thermos, and the engraving is here to stay. It is available in over 10 colors, including blue, black, white, and pink, and you can get these for your entire tribe!
2. Personalized Sequin Pillow
A custom-made throw pillow is a superb present for anyone who loves being home and waking up late. So, if you have a friend who prefers to stay indoors, this sequin pillow with their favorite photograph can be an ideal birthday present. This custom gift idea is made of reversible sequin and a soft suede and comes with stuffing. The size is 16″X16″. The flip technology does writing and designing on the mermaid sequin pillow easily. All you need to do is run your fingers across the sequin to get a picture or pattern. It is the perfect addition to the home or bedroom.
3. Personalized Photo Luggage Tags
Has the travel bug bitten one of your loved ones? This luggage tag is perfect for someone who is always on the move but also keeps getting confused with baggage at the airport. What could be better than a picture of them or their name on their luggage tag? Make their life simpler by gifting these luggage tags. It comes in a pack of 12, and each tag holds a 2.5″X3.5″ photo or drawing insert. These tags can be easily attached to any suitcase or bag by looping them through the handle.
4. Personalized Makeup Bag
Gift this cute customized makeup bag to your bestie with her name on it. There's no way she's not gonna love you! This cool, customized gift idea helps you keep all your essential makeup products in one place. The bag is made of a poly-cotton blend with textured linen and soft canvas feel. An image is embedded in the fabric, so the bag stays soft. It can be machine washed and dried.
5. Inspirational Bracelet
Personal gifts like Friendship bracelets never get old, and this bold, modern, and totally cool bracelet with an engraved slogan could be a great present to mark your friendship. Make a pact to wear them forever! Since it is made of stainless steel, it will never rust, stain, or corrode. The edges are rounded, which is why it will never scratch your wrist. It is adjustable and fits most wrist sizes.
6. Best Friends Necklace
Are you and your bestie going to be living in separate cities, states, or countries? These matching necklaces that fit like a jigsaw puzzle will remind you of each other all the time. These awesome personalized gifts are a great way to commemorate your friendship and live with the belief that nothing will ever come between you two. The necklaces are made of alloy, are 1X1.5 inches long, and come with a jump and key rings. You can gift this to your friends for their birthday or Christmas.
7. Personalized Heart Keyring
Know a friend who's just moved into a new house? Or has bought a new car? This heart-shaped keyring with their name on it will be a great accessory to keep their new purchase safe and secure. It has a chrome-plated base and is encased in urethane, which offers durability. It is the best personalized gifts.
8. Personalized Shorts
This makes for a cool, personalized gift idea. You can customize these adorable booty shorts with your friend's name and gift it to her. You can also add a slogan or word. It is available in a variety of sizes (small to X-Large) and various colors, including black, white, and pink.
9. Personalized Photo Magnets
These photo magnets are the perfect anniversary, birthday, or holiday present! Print the photos and gift away. They are very durable and will not fall off the fridge even if you slam the door. They come in packs of two, and each display holds five 4 x 6 photos. The front-loading pockets make it easy for you to insert pictures even if they are on the refrigerator. You can stick these magnets on the fridge, locker, or cabinet.
10. Personalized Leather Journal With Name
Making journals is not everyone's thing, but if you have a friend who likes to write her thoughts down, record recipes, or just doodle, this personalized leather journal with their name embossed on the cover is a fantastic gift idea. It has a vintage feel and is available in classy, earthy colors.
11. Personalized Water Bottle
This stainless water bottle is an amazing customized gift idea for birthdays, weddings, and parties. It is fully customizable, and you can add text and images of your choice. Whether it's a short hike up a hill or a day out with friends, a bottle that has your friend's name on it is going to liven up her day. This bottle is microwave and dishwasher safe.
12. Personalized Moon LED Lamp
Gift this enchanting moon lamp to your friends to let them know that you love them to the moon and back! This lamp is designed in accordance with NASA satellite images to make it look true to nature. It comes with a stand, is battery-powered, and lasts up to 8 hours once fully charged. It uses eco-friendly and non-toxic PLA, which makes it safe for kids as well. You can change the color of the light to yellow or white, depending on your mood. Customize it with photos or words and watch your friend squeal with delight.
13. Personalized Calendar Keyring
A calendar with a special day marked to make your loved one remember and never forget what that day meant. It comes with a keychain, so they are always going to have this on them. One of the best-personalized gifts, isn't it? This stainless steel and engraved gift idea come in a gift box.
14. Personalized Apron
Know someone who is obsessed with cooking or baking or just being in the kitchen? This apron with their name on it is going to make their happiness know no bounds. Perfect for your mum, dad, sister, friend, cousin, or anyone else who is into food. It is made of poly-cotton with straps around the neck and the waist that are adjustable.
15. Personalized Name Letter Art
Here's an extraordinary personalized gift idea! Choose images and words of your choice and get the perfect frame with the right balance of colors and textures. If your loved one enjoys nature, a framed sign with nature-related photographs that form alphabets of their name can be a great gift that they can hang on their wall or display on their coffee table. These awesome custom frames are available in different colors.
16. Personalized Clock With Photo
You can hang this wall-mounted frame in any room. Whether it is Valentine's day, a wedding anniversary, a birthday, or a holiday present, you can never go wrong with this clock that has your loved one's photo. It is battery operated and made of durable material. The frame is made of glass and is waterproof and easy to clean.
17. Personalized Jigsaw Puzzle Photo Frame
Get this cool jigsaw puzzle photo for your friend or a close one. Turn their pictures into a fun-filled jigsaw puzzle and watch them have fun piecing it all together. Even more, fun if the project is timed! This makes for an amazing gift for birthdays and anniversaries. The photo can be horizontal or vertical. The puzzle comes in a flip-top box with the image printed on top.
18. Personalized Mobile Cover With Photo
With everyone having iPhones these days, things can get confusing if you're hanging out in a group. Who knows when you might just pick up someone else's phone and walk off? Or, if you have an absent-minded friend who's capable of doing that, this cover with her photograph on it is going to make life much easier for her. This cute customized gift is available for iPhone 7 and 8. It is durable, and the case protects the phone speakers and redirects sound.
19. Personalized Laptop Case With Photo
This sturdy laptop case is perfect for the Apple MacBook Air 13-inch laptop. It can have your favorite pictured moments on it. If it's your BFF's birthday, get a picture of the two of you on it! This cool custom gift is easy to use. The rubberized feet pads keep the laptop stable. It allows maximum heat dissipation and disbursement and protects your laptop from scrapes and scratches.
20. Personalized Watch With Photo
Customized watches are a great gift idea for anyone who's always in a hurry but never on time. It could also be the perfect present for someone who loves accessories. And with their photo on the dial, what's not to love? This strap is made of genuine leather and has a buckle closure. It is water-resistant up to 30 meters. The material is durable and scratch-resistant.
21. Personalized Engraved Wooden Photo Frame
One can never go wrong with a photo frame. This engraved wooden photo frame can be a special present to your loved ones with their most flattering photograph in it. It has a glass insert and a laser engraved wooden frame with a black oak finish. It also has an easel that is attached to the back of the frame. You can choose to frame photographs in the landscape or portrait modes.
22. Personalized Sparkly T-Shirt
If your BFF loves bling, what better than to get a personalized in-trend t-shirt for her? Get two of these with your favorite quotes imprinted on them and sport them together. Most fun present ever! The T-shirt is made of 100% cotton and is available in a range of colors like black, white, blue, and red.
23. Personalized Mouse Pad
A lot of people don't prefer trackpads, especially if they are gamers or artists. A customized mouse pad with your best friend's name on it with a lovely design will make their day. You can also customize the mouse pad by monogramming it with the initials of the person you are gifting it to. This mouse pad has a polyester surface with a natural and biodegradable rubber base, which is comfortable on the hands and wrists for long hours. It comes in a colorful gift bag.
24. Personalized Comforter Cover
This is an ideal gift for a newly married couple. This comforter cover can have their names on it, and it comes with two matching pillow covers. This cute customized gift is machine washable and has a hidden zipper enclosure. This made-to-order cover is made of 100% polyester.
25. Personalized Mug With Photo
Whether your friend loves coffee, tea, juice, or even just plain water, this funky mug with their photograph on it is going to make them feel loved. This mug is made of BPA-free material, holds 15 oz of hot or cold liquid, and comes with a secure spill-proof lid. It displays photos up to 10" X 4".
26. Personalized Passport Holder
Do you know someone who's going to be traveling overseas for the first time? This darling passport cover with their name on it can make all the difference. Make their maiden abroad trip even more special by gifting them this customized passport holder. It'll keep their passport safe, and they'll be thinking of you on their travels! This personalized gift is handcrafted and made from eco-friendly leather. It fits all standard passports.
27. Personalized Pen Set
There is no way anyone who is into vintage items is not going to fall in love with this pen set that has their name engraved on it. This pen set is perfect for your friends, parents, grandparents, or favorite uncle. This set includes one case, one rollerball pen, and one ballpoint pen in black ink. It is made of high-quality rosewood.
28. Personalized Pen Stand With Clock
A customized pen stand with a clock is one of the best-personalized gifts ever. It is perfect for anybody who works at their desks for long hours and needs to keep a constant tab of time. It is made from red mahogany wood and features a clock, a photo frame, and a refillable pen. You can insert a photograph of them and get their name engraved. It is a wonderful gift for someone who has graduated or got a new job.
29. Personalized Chocolate Drop Labels With Photo
What can be better than giving chocolates to your loved ones? Chocolates with drop labels that have their photograph! There couldn't be a more apt birthday, Christmas, or wedding present for someone with a sweet tooth. These awesome custom gifts fits Hershey's Kisses and has a matte finish.
30. Personalized Photo Wall Art
Art lovers, take notice! This super cool photo wall art allows you to print your favorite person's picture directly on handcrafted wood pallets. If you're bored of gifting a traditional photo frame, this is an ideal alternative. It comes with jute rope, which makes it easy to hang on the wall. It is eco-friendly, heat and water-resistant, and available in nine different sizes.
31. Personalized Business Card Holder
One can hardly ever go wrong with gifting a business card holder, especially if your friend, cousin, sibling, or mum is always on the go. This personalized leather card holder with their name engraved on it is as classy as it can get. You can also monogram the initials of the person you are gifting it to. This is one of the best-monogrammed gifts that is made of genuine leather, stainless steel, and felt. It holds up to 12 standard business cards.
32. Personalized Tote Bag With Name
Are you throwing your BFF the best ever bachelorette party? Think no further. These charming tote bags can be customized to fit all your friends' names. You can also include a wedding date! They will surely use these absolutely adorable bags later and think of all the good times. The bags are available as singles, a set of three, or a set of six.
33. Personalized Coasters With Name
So, a loved one is getting married and moving to a new place? They are definitely going to need and want these customized coasters with their monogram in their new set-up, especially because they're gonna keep the polish on the furniture intact. These coasters are made from high-quality bamboo and are durable. They can be used for any kind of cups, mugs, and glasses.
34. Personalized Wrapping Paper With Photo
Yep, these baubles are still trending, and what's a better way to wrap your friend's present if not in this cute wrapping paper with their photograph on it? This is one of the best ways to ensure your gift stands out from the rest. The paper is thick and wide, so it is great for any gift size. It comes in appealing and vibrant colors and stunning patterns and customized with a photo of your choice, which will make the recipients bounce with joy.
35. Personalized Jenga
Jenga is so much fun to play and can be the perfect birthday present for your friend. Imagine how special it is going to make them feel once they unwrap it and see their name all over the wooden blocks! Worth going the extra mile, right? This awesome custom gift includes 54 wooden blocks, a wooden case, and 1 wooden die. The blocks stack to about 10″ tall, and individual blocks are 3″ X 1″ X 5″.
36. Personalized Candle Tins
Whether it's a wedding or a party, these personalized candle tins make for great gifts. The set includes 12 candle tins in organza bags. Each tin has a diameter of 2 inches and a height of 1 inch and can hold a 2-ounce candle. They are available in two color variations – black and pink. You can personalize the text to include your wedding date, monogram, or a thank you message for the guests.
37. Personalized Love Crystal
This is a sweet anniversary present for your best friend and her beau. Commemorate their favorite and most important day with this love crystal. It is an amazing opportunity to turn their precious memories into a stunning keepsake. The photograph is laser engraved and does not fade at all. It also comes with free matching laser crystal keyrings. It is a special personalized gift that you can gift your spouse.
38. Personalized Cocktail Glass
Whiskey or cocktail glasses are rarely ever a bad idea unless the person you are gifting them to doesn't drink. Get funky quotes, one-liners, or even names and monograms embossed on them. They are made by Libbey Glass, and each glass holds 11 oz and is 3.5" tall. The glasses are dishwasher safe, and the engraving is permanent. This makes for a wonderful gift for birthdays, anniversaries, or parties.
39. Personalized Slippers
Your BFF is getting married, and you cannot contain your excitement! Keep calm and surprise her with these fantastic, oh-so-cool bride slippers. She's gonna love you for making her wedding so special. They are made of cotton and towel fabric with rubber soles and metallic embroidery.
40. Personalized Towels
This matching towel set with customized names is an endearing present for your favorite couple. Gift it to your parents or grandparents – they're gonna totally love it! If you are planning to hit the beach with your friends, this is the ultimate thing to carry and show off your girl tribe! It comes in a set of two and is made from 100% Turkish cotton. It is available in different sizes: hand towel, washcloth, bath towels, and a six-piece towel set.
A personalized gift not only lets your loved ones know how much they mean to you but also enhances the joy and makes occasions special and memorable. Spread smiles by giving your loved ones any of these personalized gifts. Let us know how they liked it in the comments section below.
Recommended Articles
The following two tabs change content below.

Latest posts by Harini Natarajan (see all)

Harini Natarajan
As Chief Editor, Harini sets the tone and editorial direction for StyleCraze to deliver engaging, interesting, and authentic content revolving around women's health, wellness, and beauty. She has over 14 years of experience in content writing and editing for online media. She specializes in the areas of Beauty, Lifestyle, and Health & Wellness and is proficient in Medical Sciences (Biology, Human Anatomy and Physiology, and Biochemistry). Her background in Biomedical Engineering helps her decode and interpret the finer nuances of scientific research for her team. Harini is a certified bibliophile and a closet poet. She also loves dancing and traveling to offbeat destinations.