11 Best Petroleum-Free Lip Balms For Dry Lips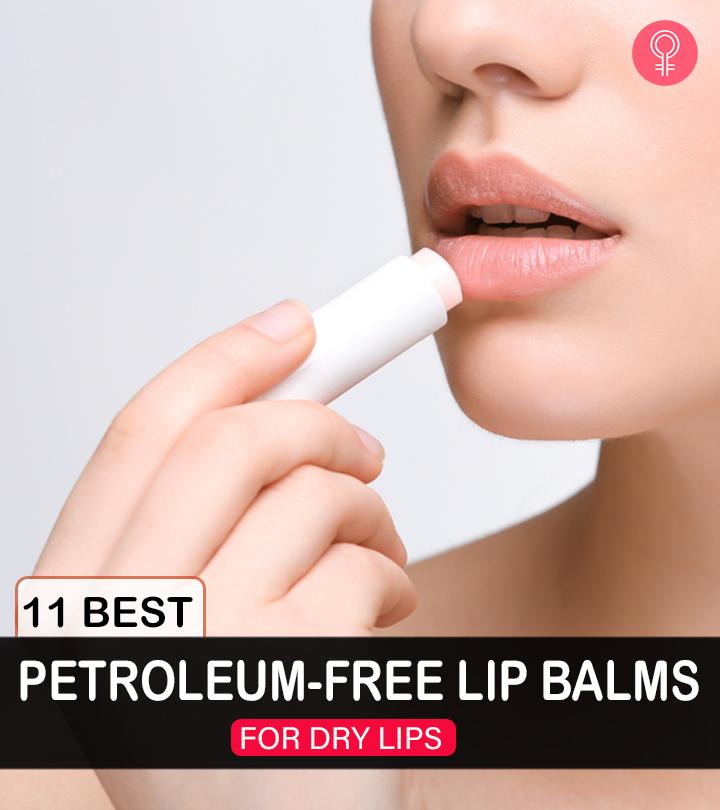 Dry, dehydrated lips are painful and often demand optimum care. A hydrating, nourishing lip balm is the ideal solution. But most traditional lip balms contain petroleum to soften lips. It is a toxic ingredient that could damage lips sooner than you realize. An alternative? A petroleum-free lip balm.
Petroleum-free lip balms are usually infused with natural ingredients with organic extracts that protect the moisture barrier of your lips. They also add some sass to your pout, leaving your lips feeling softer, smoother, and plumper. Here, we have listed the 11 best petroleum-free lip balms available online. Check them out!
11 Best Petroleum-Free Lip Balms
The eos Organic Lip Balm contains 100% natural organic ingredients to hydrate your chapped lips. It is packed with soothing shea butter and jojoba oil that deeply hydrate and moisturize lips. The cute egg-shaped packaging is fun to use, and the semi-thick consistency wraps your lips with optimum moisture. The bursting strawberry sorbet flavor refreshes your look, leaving a nice aroma. The long-lasting nourishing ingredients act as a beauty editor to enhance your overall look. 
Key Ingredients: Shea butter and jojoba oil
Pros
100% organic natural ingredients
No chemicals
Hypoallergenic
Gluten-free
Paraben-free
Dermatologist-tested
Cruelty-free
Deeply hydrating
Cons
Not suitable for very dry lips
The La Lune Naturals Organic Lip Balm is made with 100% natural ingredients like sunflower oil, organic beeswax, coconut oil, vitamin E, rosemary extract, and organic calendula that moisturize and hydrate dry lips. Beeswax, when combined with the healing properties of coconut oil and sunflower oil, helps soften lips. It also heals dry, cracked lips, and keeps them from getting chapped. This non-toxic, non-GMO, chemical-free lip butter is perfect for all and safe for all ages. It is available in four rich flavors to choose from.
Key Ingredients: Sunflower oil, coconut oil, vitamin E, and beeswax
Pros
100% natural ingredients
Non-toxic
Non-GMO
Gluten-free
No harsh chemicals
No added fillers
No soy
Safe for all ages
Safe for sensitive lips
Cons
The Australian Golden Lanolin Lip Balm is made of pharmaceutical-grade lanolin to hydrate and nourish your chapped lips. Lanolin is a natural emollient that seals moisture and prevents water loss. This naturally hydrating lip balm soothes, relieves, and protects dry lips naturally and leaves a juicy appearance. It can also be used on skin patches, cuticles, nasal passages, and for treating cracked heels or chapped cheeks.
Key Ingredients: Lanolin
Pros
No additives
No artificial colorants
No preservatives
Baby-friendly
Waterproof
Can be applied to other dry body areas
Cons
Leaves a whitish look
Sticky feel
The Eminence Citrus Lip Balm improves the overall tone and texture of lips. It contains sunflower seed oil blended with organic shea butter and lemon balm that nourishes dry, cracked lips. The sunflower seed oil is rich in vitamins A, D, and E that revitalize lips. The emollient shea butter and beeswax seal moisture and prevent water loss. The fatty acids provide a protective shield and regulate the natural moisturizing barrier. The lip balm is loaded with papaya, which is a mild exfoliator that removes dead skin cells. It leaves lips appearing toned, plumper, brighter, and younger.
Key Ingredients: Sunflower seed oil, shea butter, and lemon balm
Pros
Gently exfoliates
Suitable for extremely dry lips
Effective moisturizer
Cons
Unpleasant smell
May cause allergic reactions
The Korres Lip Butter is a rich, buttery balm that melts on the lips and leaves them with a shiny, hydrated, and plumper appearance. This natural lip balm is made of guava extract, shea butter, and sunflower seed oil that make chapped lips deeply moisturized, supple, and kissably soft. The guava extract is rich in vitamin C and antioxidants that reduce fine lines and wrinkles on dehydrated lips. The sunflower seed oil is packed with essential fatty acids and vitamin-rich oils that hydrate and deeply nourish your lips. The emollient shea butter is known for its high moisture content – it protects the skin's natural oil barrier. This dermatologically-tested natural lip balm makes your lips look younger for a long time.
Key Ingredients: Guava extract, shea butter, and sunflower seed oil
Pros
Paraben-free
Phthalate-free
Silicone-free
No harmful chemicals
No preservatives
Dermatologically-tested
Cons
Quench your lips with the ultra-hydrating and protecting jane iredale Lip Drink Lip Balm. This mouthwatering moisturizer is made of a variety of waxes and oils to provide an antioxidant-rich protective shield. It contains avocado oil, green tea, and coffee extract that are rich in antioxidants and anti-inflammatory properties. They help heal and replenish chapped lips. The broad-spectrum SPF 15 protects your lips from UVA and UVB sun damage. The refreshing lemon fragrance leaves a rejuvenated feel.
Key Ingredients: Avocado oil, carrot seed oil, and blackberry extract
Pros
Fresh lemon flavor
Reef-safe
Hypoallergenic
Non-comedogenic
Cruelty-free
Paraben-free
Non-GMO
Phthalate-free
No Talc
No Synthetic ingredients
No mineral oil
No harmful chemicals
Provides sun protection
Cons
The First Aid BeautyUltra Repair Intensive Lip Balm is enriched with the goodness of shea butter, jojoba oil, and grapeseed oil. This natural lip balm contains honey that seals moisture. This rich buttery lip balm provides long-lasting hydration to chapped, dry lips. It brings even the driest of lips back to life and heals minor burns and cuts. The balm works especially well as an overnight treatment, owing to its thick consistency. You will wake up to soft, conditioned, and healthy-looking lips.
Key Ingredients: Honey, beeswax, and colloidal oatmeal
Pros
100% natural ingredients
Paraben-free
Sulfate-free
Cruelty-free
Gluten-free
Safe for sensitive skin
Allergy-tested
Long-lasting hydration
Nano-free
Grease-free
Cons
None
The Kiss My Face Sport Lip Balm protects your lips with SPF 30. It also works well for soothing, smoothening, and hydrating your lips. It contains avobenzone 3%, homosalate 8%, octinoxate 7%, and octocrylene 2% that protect the soft, delicate lip skin. Its SPF protects the lips from UVA and UVB sun damage. The beeswax with coconut oil helps deeply hydrate dry, cracked lips. The rich tree-nut oil in shea butter soaks your delicate lip skin and creates a soft barrier that seals in moisture.
Key Ingredients: Sunscreen protectors, shea butter, beeswax, and coconut oil
Pros
Cruelty-free
Long-lasting
Broad-spectrum SPF30
Water-resistant for 80 minutes
FDA approved
Cons
May cause a burning sensation
Not suitable for children
The Emu Joy Banish Moisturizing Lip Balm is a boon to super-thin, delicate lip skin that gets dry and chapped easily. The lip balm is formulated with skin-quenching aloe, cocoa butter, coconut oil, and jojoba oil that soften, smoothen, lubricate, and heal dry, cracked lips. The signature ingredient is emu oil that hydrates the deeper layers of the skin and has a powerful moisturizing property. It can easily penetrate the seven layers of the skin to protect and nourish dry, flaky lips. The natural ingredients of the Banish Lip Balm are suitable even for the extremely delicate skin of newborns.
Key Ingredients: Emu oil, beeswax, aloe vera, and cocoa butter
Pros
Unscented
Unflavored
Gluten-free
Paraben-free
No harmful chemicals
Wheat-free
Dairy-free
Alcohol-free
Infused with AEA-certified emu oil
Hypoallergenic
Long-lasting effect 
Cons
May not suit sensitive lips
May not have a soothing smell
 The Healthy Host Lip Care with beeswax and peppermint essential oil keeps your lips healthy and nourished. It is loaded with natural oils and a delightful peppermint fragrance to keep your lips fresh for long. It also contains organic soybean oil, sunflower oil, olive oil, avocado oil, cocoa butter, shea butter along with vitamin E that hydrate and moisturize the lips. They also heal chapped lips and protect them from environmental aggressors. This all-natural lip balm can be used as a lip primer for added moisture.
Key Ingredients: Natural oil, beeswax, and nut butter
Pros
100% natural ingredients
Tastes great
Gluten-free
No chemicals
Can be used as a primer too
Cons
None
The Dirt All-Natural Lip Balm uses traditional beauty secrets to nourish and hydrate chapped lips. It is packed with all-natural ingredients like coconut oil, beeswax, and ghee (clarified butter). The ingredients are rich in fatty acids, and vitamins A and E that seal hydration and smoothen lips. The antioxidants help protect the delicate skin of your lips from environmental aggressors. The essential oil of lavender leaves a rejuvenating feeling.
Key Ingredients: Coconut oil, beeswax, and ghee
Pros
No harsh chemicals
Cruelty-free
Paraben-free
Gluten-free
Alcohol-free
Soy-free
Corn-free
100% natural
Long-lasting
Non-greasy
Skin-friendly
Soothes irritation
Cons
 Now that you are well acquainted with the best petroleum-free lip balms for chapped lips,let us check what you need to look for in one before making a purchase.
Tips To Choose The Right Petroleum-Free Lip Balm
Check for ingredients like lanolin, beeswax, organic shea butter, coconut oil, and avocado oil that provide deep moisturization and help seal hydration.
The lip balm should be grease-free but moisturizing.
Choose a lip balm that contains a mild exfoliant to remove dead cells from dried lips. Exfoliation also helps you reap all the benefits of your lip balm more intensely as the formula is absorbed into your lips with ease.
The lip balm must be free from all harsh chemicals.
Petroleum-free lip balms add extra nourishment and shine to your pouts. They help protect your lips from aggressors and keep them from drying out. Pick your favorite lip balm from this list and start using it today. We bet you will thank us after seeing your kissably soft lips!
Recommended Articles
The following two tabs change content below.