10 Best Pilates Rings To Lower Back Pain And Postural Issues
Improve your body stability without any injuries with the proper exercising tool.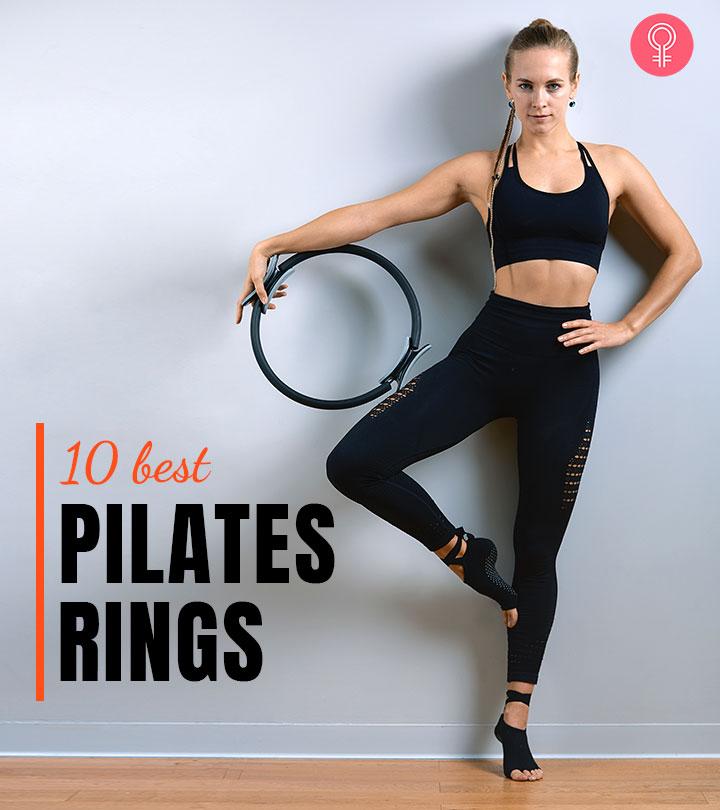 Be you a newbie to the world of pilates or a pilates expert, you should try out the best pilates rings. Pilates is an excellent way to correct muscular imbalances, postural issues, and improve your flexibility by engaging every core muscle. In fact, it also lowers back pain and decreases your risk of falling and injuring yourself. Moreover, your pilates ring is an affordable and perfect way to strengthen the muscles.
We have listed below the top pilates rings in the market recommended by experts. Scroll down for more information!
The 10 Best Pilates Rings
The Prosource Fit Pilates Resistance Ring creates gentle resistance for a variety of toning exercises for the arms, legs, and core. The ring is ideal for Pilates and improves balance and posture. It is flexible and strengthens the core. The ring is great for rehab and also for beginners to slowly build strength. It is made from steel and covered by durable rubber. This allows the 14-inch ring to withstand pressure and heavy use. It also comes with soft foam handles that are padded from the inside. The outside of the ring is also padded and allows for a comfortable firm grip. The ring comes in different colors – black, blue, purple, and pink.
Pros
Improves balance and posture
Great for rehabilitation and building strength
Made from durable rubber
Padded ring for better grip
Can withstand pressure and heavy use
Comes in 4 colors
Cons
The Amazon Basics Pilates Ring is ideal for Pilates practice and resistance training. It also becomes a handy tool for a wide variety of exercises, whether at home or the gym. The ring can be used to help strengthen the arms, chest, legs, back, abs, and core. It is made from glass fiber and rubber that offer reliable strength and performance. It has two curved handles (on the inside and outside, on 2 sides) that allow for an easy hold. You can also hold it between your knees for inner and outer thigh exercises. The sleek black ring coordinates well with other workout equipment. This video gives you more information about the product.
Pros
2 curved handles for easy hold
Versatile exercise ring
Helps strengthen abs and core
Reliable strength and performance
Cons
The Nayoya Pilates Ring is an ultra-lightweight, portable, and super handy fitness accessory. It can be used by men and women to help strengthen and tone the arms, shoulders, chest, and inner and outer thigh muscles. The ring provides hip comfort. It can be used for physical therapy and rehabilitation. It comes with two dual-sided foam padded handles. The handles provide comfort for the inner and outer portions of the ring during workouts. They also help maintain a non-slip grip. The ring weighs less than 1 lb and takes up very little space.
Pros
Great for rehabilitation and physical therapy
Portable and ultra-lightweight
2 dual-sided foam padded handles for comfort
Strengthens the arms, shoulders, and chest
Cons
The Allsome Pilates Ring is made with self-recoverable foam that feels smooth. It provides sturdy resistance and offers faster results. This 14-inch sturdy pilates ring can be used for sculpting any body parts. Its design has a smooth and polished finish that protects your skin. You can use it on your upper arms, inner or outer thighs, chest, and abs. This lightweight ring comes with a high-quality bag to help you carry it to the gym easily.
Pros
Improves body balance and posture
Provides sturdy resistance
100% noise-free
PVC-free
Odorless
Portable
Cons
None
Ida Dell Pilates Ring enables you to train like a professional and is suitable for all fitness levels. This ring provides strong and consistent resistance while you perform any kind of exercise. It helps you to strengthen your core, works on your arms, thighs, and legs, and improves your body posture. It is made of premium-quality fiberglass that provides great resistance. The handles are made of high-density foam for safe and comfortable training. This 13-inch ring is equipped with dual-grip, ergonomic handles. Its foam padding is soft but strong and prevents the ring from sliding.
Pros
Increases flexibility
Sturdy resistance
Dual-grip handles
High-density foam padding
Durable
Lightweight
Comfortable grip
Portable
Cons
None
ProBody Pilates Ring helps you tone down the stubborn body fat in your arms, inner and outer thighs, buttocks, and neck. It also helps you improve your muscles. It can be used at home and while traveling. This 14-inch pilates ring is suitable for beginners. It is lightweight and portable and comes with a pouch so that you can easily carry it with you.
Pros
Portable
Lightweight
Suitable for beginners
Made of premium-quality materials
Inner and outer padded grips
Cons
The Meaben Pilates Ring is a compact and portable equipment. The ring is small, lightweight, and effective. It is easy to carry and store. The ring is made from high-quality PP and EVA material. It is also non-toxic, high density, and durable. It won't crack easily even after strenuous exercises. The ring is designed according to the human body curvature and is ideal for core workouts and toning of the abdominals, thighs, legs, and arms. It also helps improve posture and strengthen mobility. It is equipped with no-slip soft handles that provide comfort for the ankles, legs, and the arms. This Pilates ring is ideal for both beginners and seasoned trainers.
Pros
Small and lightweight
Made from non-toxic and high-quality PP and EVA material
Does not crack easily
Designed according to the human body curvature
No-slip soft handles
Cons
None
The Zamons Portable Pilates Ring is portable and lightweight. It works well for those wanting to develop muscular strength, increase body awareness, improve endurance, and correct posture. It has a large capacity grip and is equipped with non-slip padded handles (both in the inside and outside). This makes the ring comfortable and easy to use. It has a non-slip coating that protects your grip from sweat during workouts.
Pros
Portable and lightweight
Perfect for developing muscular strength and correcting posture
Non-slip padded handles for comfort while using
Non-slip coating protects your grip from sweat during workouts
Cons
None
The Balanced Body Pilates Ring is a great equipment for resistance training. The tool allows you to do mindful movement and exercise your arms, legs, and more. Since the ring is designed for resistance training, it is made from flexible plastic with a rubberized shell. It features ergonomic handles for optimum comfort. The ring is ideal for men and women of all ages and is perfect for use at home, a small fitness studio, or the gym.
Pros
Sturdy
Easy to use
Made from flexible plastic with a rubberized shell
Equipped with ergonomic handles for optimum comfort
Ideal for resistance training
Cons
None
The Fitsy Pilates Ring is a great piece of equipment. It delivers results and elevates your fitness routine whether in a Pilates class or in the living room. The ring targets almost any area of the body and is ideal for sculpting problem areas like the outer and inner thighs, upper arms, abs, and chest. It is equipped with 360° grip foam-padded handles that make training both inner and outer thighs much easier. The padded handles also provide comfort while doing strenuous exercises. The ring is strong yet flexible and durable.
Pros
Targets every area of the body
Equipped with foam padded handles for comfort
Made from strong yet flexible material
Durable
Cons
None
Why Trust StyleCraze?
Aditi Naskar, the author of this article, is a certified expert in health and wellness. Her interest and zeal for fitness motivate her to conduct a thorough investigation on some of the top pilates rings available in the market. Pilates being a popular and in-demand fitness activity, Aditi has compiled a list of the best Pilates rings that are affordable and help you strengthen your muscles and improve your flexibility.
Frequently Asked Questions
How do I choose a Pilates ring?
Look for a Pilates ring that is sturdy yet comfortable. Some factors that you should consider are:
Portability – The ring should be easy to pack and carry around. This will allow you to workout anywhere and anytime during the day.
Resistance – A Pilates ring with higher resistance will help greatly with a successful exercise routine. Pick a ring that is sturdy and durable.
Handles – A Pilates ring with a padded handle is more comfortable to use. It will be an added bonus if the handles are anti-slip as well.
What exercises can you do with a Pilates ring?
You can do an array of exercises using a Pilates ring. The ring can be used to sculpt your muscles and burn fat in your arms, thighs, and chest. Specific rings can also target other areas of the body to burn excessive fat.
What size Pilates ring is best?
The best and most common size for Pilates rings is 14 inches.
Does the Pilates ring help the pelvic floor?
Yes, Pilates ring is ideal for specific strength and muscle-building training of the pelvic floor, which aids in the stabilization of the spine while also improving coordination and stability.
What muscles does a Pilates ring work?
A Pilates ring works on the thighs, calves, ankles, torso, palms, and arms.
How long after starting Pilates will you see results?
After starting Pilates, you should notice improvements in your body within 3 to 8 weeks, depending on how frequently you work out.
Does Pilates reduce cellulite?
Yes, you can reduce cellulite with Pilates if you pair it with appropriate cardio exercises.
Recommended Articles