9 Best Pilates Spine Correctors Of 2023
Improve your spine posture and strength with the right tools and regular workouts.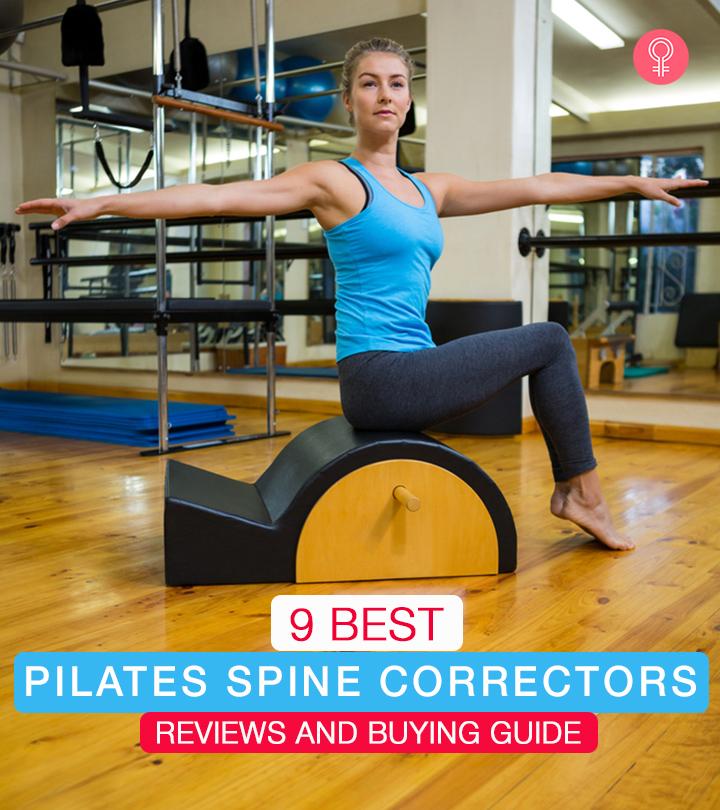 Working continuously in front of laptops or watching TV, or constantly sitting in a posture may cause poor spine curvature. As a result, you may experience pain in the back, shoulder, or neck. This is when the best pilates spine corrector would be helpful to improve your spine posture.
The corrector strengthens your spine, loosens the shoulders muscles and abdomen muscles, aligns your spine, and reduces tightness. This equipment is also helpful in managing mobility issues, arthritis, and osteoporosis.
This listicle brings you the 9 best pilates spine correctors that will help you get relief from pain and regain a fit and healthy spine. Keep reading!
Top Picks
9 Best Pilates Spine Correctors – Reviews
Note: Use Pilates spine correctors only under the guidance of certified instructors.

Pros
Ergonomic design
Lightweight
Durable
Shallow and steep angles
Cons
Price at the time of publication: $175.0
Pros
Cons
Price at the time of publication: $265.0
Pros
Portable
Best for back stretches
Lightweight
Sturdy
Cons
No support under the barrel
Not durable
Price at the time of publication: $181.99
Pros
Adjustable parts
Detachable
Asymmetrical shape
Longer lower arc
Cons
Cannot support tall and large body frames
Price at the time of publication: $147.99
The Bbhhyy Pilates Spine Corrector is mainly recommended for those with a sedentary lifestyle, post-childbirth posture correction, and poor posture balance. This pula massage bed is great for pilates and yoga. The front part is curved while the back is soft, making it ideal for back strengthening exercises. The detachable ergonomic design allows flexibility during workouts, enhances muscle endurance, and improves stability. It can be used for spinal adjustment exercises and rehabilitation training.
Specifications
Dimensions: 37 x 17.72 x 13.78 inches
Weight:5 lbs
Material: Expanded polypropylene
Pros
High density
Stable base
Sturdy
Durable
Cons
Not effective for core strengthening
Price at the time of publication: $144.99
The Pilates Spine Corrector by PilatesEquipment.Fitness is made of wood and offers perfect stability. The barrel has a high-density foam padding with an outer cover of newly developed leather that feels comfortable and does not rub hard against the skin. There is a hole under the barrel to insert a wooded pole for added support and durability. The pole also acts as a handle for support and easy transportation. This spine corrector is also recommended for legs and thigh muscle workouts.
Specifications
Dimensions: 38 x 34 x 18 inches
Weight:20 lbs
Material: Wood, Foam, and Leather
Pros
Strong wooden frame
Non-sliding leather cover
Comfortable cushion
Added support
Cons
The Universal Pilates Spine Corrector is made of pinewood, leather upholstery, and metallic handles. The wooden structure is sturdy and stable and sturdy and helps to elongate the spine and improve your posture. It is big and is best suited for those with a lean and tall body frame. The upholstery is easy to clean, water-resistant, and is available in a variety of colors.
Specifications
Dimensions: 32 x 19 x 16 inches
Weight: 35 lbs
Material: Upholstered wood
Pros
Stable and sturdy
Resistant
Easy to clean
Leather upholstery
Color options
Cons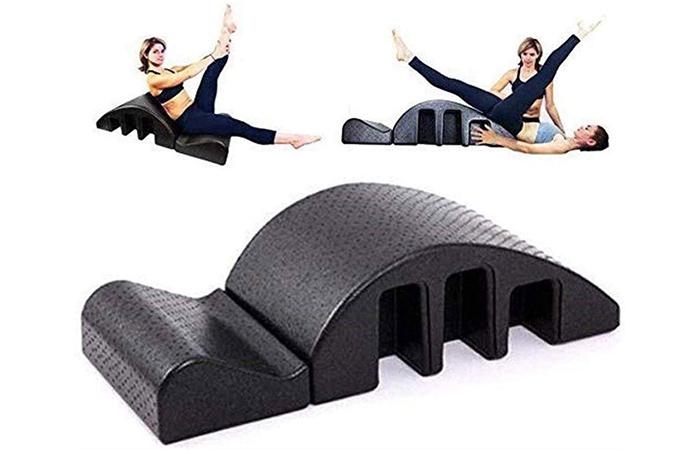 The Spine Supporter Pula Massage Table is a great exercise tool for improving spine health. The equipment is contoured to match the body line and is best for stretching. The front and the back are detachable to help you customize the tool as per the training needs. It enhances balance and endurance, rectifies and improves posture, and helps you regain the correct spinal curve.
Specifications
Dimensions: 38 x 15 x 10.2 inches
Weight:30 lbs
Material: High-density EP
Pros
Lightweight
Convenient to carry
Easy to use
Detachable parts
Cons
Not stable during workouts
Real Relax Pilates Spine Supporters develop flat abdominals, a strong back, long, lean muscles, and flexibility. The surface of the pilate spine supporter is smooth, and it is made of expandable polypropylene material. The asymmetrical shape of the pilates has a one-side gentle curve and another side deeper curve. The design of this pilates device supports different body types and different uses. Go through this video to learn more about the Real Relax Pilates Spine Supporters.
Specifications
Dimensions: 2 inches x 15.4 inches x 10.6 inches
Weight: 3.75 pounds
Material: Foam
Pros
Lightweight
Highly energy-absorbent
Thermally stable
Ergonomic design
Cons
Price at the time of publication: $99.99
These are the top 9 pilates spine correctors that are available on the market. This equipment has several benefits. Let's take a look.
Benefits Of A Pilates Spine Corrector
A pilates spine corrector
Helps align the curvature of the spine and corrects the posture.
Strengthens the core muscles and tones the back and shoulder muscles.
Helps in rehabilitation training after spinal cord surgery, childbirth, low muscle tenacity, and other injuries.
Opens up the chest and strengthens the core.
Helps improve flexibility by easing joint stress.
The pilates spine corrector is best for all age groups across all demographics for stretching and strengthening exercises. However, before you buy one, here are a few factors to consider.
Things To Consider Before Buying A Pilates Spine Corrector
Density: The material should have a high density. This ensures that the tool can bear the weight and is durable.
Dimensions: The pilates spine corrector must be able to support your body frame. Hence, check the dimensions before buying.
Stable Support: It should have a stable and robust base or frame. This will allow the equipment to stay in one place while you exercise. A stable support also helps take off pressure from the cushion padding.
Concave Bottom Design: A concave bottom design helps contour your back and align your spine.
Detachable Design: A detachable design is better as it allows you to perform other muscle endurance exercises.
Comfort: A sturdy frame with a padded top and soft seat with handles provides the best comfort. Make sure you choose a durable, comfortable, lightweight, yet stable pilates spine corrector.
Why Trust Stylecraze
Aditi Naskar, the author of this article, has a diploma in health and fitness. She compiled the best pilates spine correctors after extensive research and evaluation of user feedback on trusted online sources and brand websites. These products eliminate pain and enhance the posture of your spine.
Frequently Asked Questions
Is pilates good for your spine?
Yes. Pilates eases back pain and strengthens the abdominal and pelvic floor muscles.
How do you use a pilates spine corrector?
You have to lie on the pilates spine corrector and perform exercises. However, it is suggested to use it under expert guidance. Otherwise, it might cause serious spinal or back injuries.
How often should you do pilates to see results?
Pilates should be practised as often as your lifestyle allows. Even a short 10-minute workout done correctly a few times a week can benefit you greatly.
Do chiropractors recommend pilates?
Yes. If you experience lower back discomfort, your chiropractor will advise you to try pilates since it will help you build core strength and balance any weak or tight muscles.
What happens if you do pilates every day?
Pilates will help build solid muscles, strengthen muscles, balance your physique, promote excellent posture, and teach you to move quickly and gracefully.
Should you do pilates if your back hurts?
Yes. Pilates can help relieve light to moderate lower back pain.
How long does it take for pilates to change your body?
It differs for every person, but generally speaking, it requires up to 12 weeks for pilates to improve your physique and cause noticeable changes.