10 Best Pillow Mists That Really Work For A Peaceful Sleep
Get a sound sleep with mild and esthetic fragrances to calm your senses.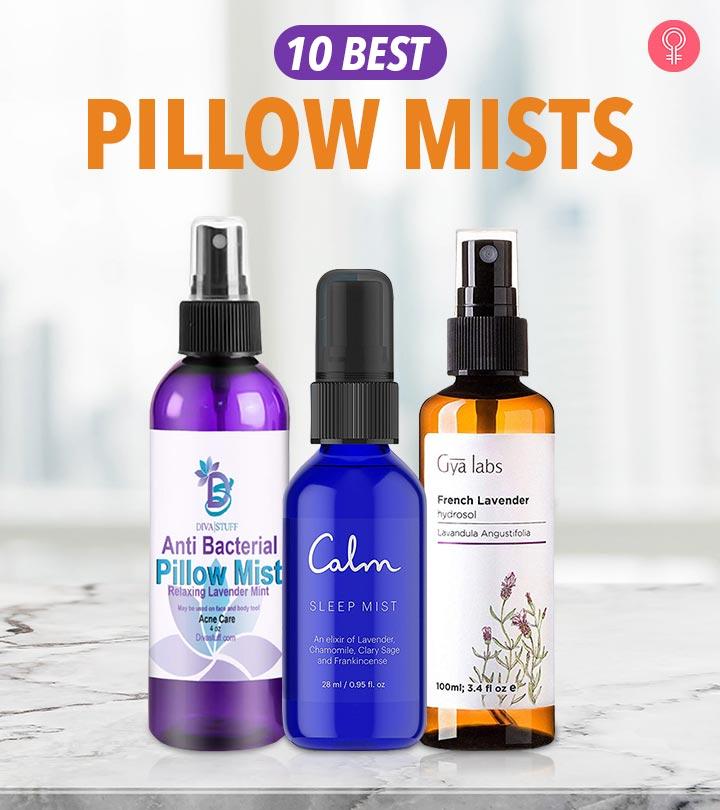 Sometimes, the bane of your deep sleep can be unstable room temperature, sound, and rays of light peeping from somewhere. In order to keep your mind calm and peaceful enough to fall asleep, getting the best pillow mists can be the perfect solution. Before you plop on your bed, make sure to spray these therapeutic sprays or mists so that the pillows feel like heaven when you go to sleep.

What Are Pillow Mists?
Pillow mists are water-based mists infused with essential oils that relax your muscles and promote peaceful sleep throughout the night. Individuals struggling to fall asleep can use pillow mists. They calm and relax the mind, reduce anxiety, and improve sleep quality.
How Do Pillow Mists Help With Sleep?
Pillow mists are infused with essential oils that make use of the same principles as aromatherapy. Studies show that aromatherapy can improve sleep quality (1).
Pillow mists are great for restless sleepers as they calm down frayed eyes and help people fall asleep. These mists are generally made of herbal tonics and oils that create a calming sleep environment.
What Are The Benefits Of A Pillow Mist?
A pillow mist is a great natural remedy for restless sleepers to fall asleep.
It works as a personal diffuser that promotes sleep.
The scents of essential oils in the mist are calming and relaxing and trigger sleep. These oils have a sedative effect and alleviate stress and anxiety as well.
10 Best Pillow Mists
Alleviate your mood with the ASUTRA Lavender & Chamomile Organic Essential Oil Blend Aromatherapy Mist. This mist is great for the face, body, pillows, rooms, and linens. The mist is made using gentle lavender and chamomile herbs that calm your mind and relax your body. You can also use this mist as a room or body spray. You may also use it on your sheets for creating a calming environment.
Pros
Formulated with non-toxic and eco-friendly ingredients
Made from gentle and soothing lavender and chamomile essential oils
Free of toxic substances
Cons
The scent might fade away quickly.
Price at the time of publication: $14.99
The Calm Sleep Mist Pillow Spray is a great smelling mist. It is made using pure essential oils of lavender, frankincense, chamomile, and clary sage. Lavender is known to instill deep relaxation and peace, while frankincense opens the breathing passages and calms your mind. Chamomile reduces anxiety and induces calmness, and clary sage reduces stress and anxiety and relieves pain. It is safe to use and has been evaluated by the Cosmetic Product Safety Report (CPSR), an independent safety assessor.
Pros
All-natural
Paraben-free
Sulfate-free
Phthalate-free
No synthetic colors and fragrances
Cons
The scent is more like that of a perfume.
Price at the time of publication: $19.99
The Diva Stuff Anti-Bacterial Pillow Mist promotes clear skin, kills acne-causing bacteria, and improves sleep quality. Just like your hands, your pillow may spread germs and bacteria to your facial skin. But you can prevent it with this anti-bacterial mist. It also comes with the therapeutic and acne-eliminating effects of tea tree water and peppermint water. Tea tree water is naturally antiseptic and popular as an acne treatment, while peppermint water is known to cool the skin and combat bacterial growth.
Pros
Contains natural ingredients
Fights acne-causing bacteria
Made using a calming fragrance of lavender, tea tree, hydrosol, and herbal water
Cons
May not suit extremely sensitive skin.
Price at the time of publication: $11.99
If you love the calming and soothing fragrance of lavender oil, the RELAX Lavender Pillow Spray is worth giving a try. Spray the beautiful floral aroma into the air and breathe in the soothing benefits. The mist is made using French and Bulgarian lavender essential oils – both are known to reduce nervous tension and feelings of restlessness. The mist may also relieve feelings of anger, anxiety, and agitation. This lavender spray has a calming effect to slow down the overactive mind.
Pros
Acts as a natural sedative and sleep aid.
Leaves the room with very sweet floral earthy aroma.
Comes with a 30-minute guided sleep audio to make you fall asleep faster.
Cons
Mild fragrance and impact
Price at the time of publication: $22.99
Immerse yourself in the deep and soothing fragrance of lavender with this exotic lavender floral water mist. The mist spreads a nostalgic, floral aroma and is slightly mellow, like the blooming lavender fields. The calming scent of this mist gently whisks away anxiety and restlessness.
Pros
Relieves dry, irritated scalp and dandruff problems
Nourishes hair and refreshes scalp
Induces peaceful sleep
Cons
Short-lived fragrance that fades quickly.
Price at the time of publication: $9.99
Grab the Luna Lifestyle Premium Lavender Aromatherapy Spray and get a relaxing sleep. This spray works as a room spray or as a pillow mist. This spray contains 100% pure lavender oil to provide you with a deep sense of relaxation and peace. The spray also contains of coumarins that are known to soothe muscle pain, lower blood pressure, and act as a sedative for those with body tension or sleep problems.
Pros
Provides the optimal environment for restful, deep sleep
Toxin-free free
100% natural mist
10% of all profits are donated to philanthropic efforts
Cons
Can be too strong and intense.
Price at the time of publication: $13.95
With the ultimate fragrance of lavenders and the goodness of clary sage, this awesome mist is can offer deep sleep and rejuvenation. The Marpac Yogasleep Premium Aromatherapy Linen And Pillow Spray is a blend of natural lavender, vanilla, and clary sage. The fragrance is delicate and highly satisfying. This mist comes in travel-sized bottles.
Pros
Refreshes your body, mind, and bedsheets
Unique blend of aromatherapy oils
Has sedative, calming, and relaxing effects.
Cons
Price at the time of publication: $9.99
The Soothing Sleep Mist Lavender Pillow Spray contains lavender and clary sage essential oils and is Amethyst crystal and Reiki charged for a good night's sleep. The mist is perfect for calming jangled nerves and anxiousness anytime. You can spray it on your pillows to relax your mind and body.
Pros
Antimicrobial
Can also repel pests including, fleas, spiders, and mosquitoes
No chemicals, dyes, or alcohol
Not tested on animals
Made using 100% pure essential oils of lavender and clary sage
Amethyst Crystal and Reiki charged
Cons
Doesn't last for more than an hour.
Price at the time of publication: $24.99
The ThisWorks Deep Sleep Pillow Spray can help those dealing with insomnia. The mist helps reduce anxiety, soothes muscles, and aids sleep. It contains a superblend of proven actives from nature, botanical oils, and 100% natural essential oils, each aligned with a phase of the 24-hour body clock. If you need more convincing, feel free to take a look at this YouTuber's video on the merits and demerits of the product.
Pros
Paraben-free
Pthalates-free
Non-GMO
Sulfate-free
No synthetic dyes and fragrances
No propylene glycol
Mineral oil-free
Petrolatum-free
Made using high profile botanical oils that are skin-friendly
Cons
Price at the time of publication: $30
Sleep tight and deeper with the Victoria's Lavender Pillow And Linen Spray. This mist is made of pure lavender essential oil and is handmade in Oregon. It is made using pure lavender oil and offers long-lasting fragrance. Simply spray it on pillows and sheets to relax your mind and body and fall asleep naturally.
Pros
Can help fight inflammation
Has antibacterial properties
You can also use the spray to freshen your room.
Therapeutic grade essential oil
Cons
Fragile and poor packaging.
Price at the time of publication: $25.99
Before you pick any of these pillow mists, you may want to know the precautions you need to take.
Precautions
It is important to use the spray mist carefully. Do not spray it directly into your eyes or face. Do not spray too much of this mist on your pillows; use it moderately. Keep the mists away from children and flammable objects.
Pillow mists are a simple way to boost your sleep quality. These mists are inexpensive and yet offer important benefits. Ensure you do not use them on your body as they are not meant for that purpose.
That was our round-up of the 10 best pillow mists on the market. Take your pick and say hello to a relaxing and sound sleep.
Why Trust Stylecraze
Pratyasha Ray reviews home and kitchen products keeping the requirements of her readers in mind. In this article, she listed the best pillow mists for deep sleep. She has described the best features of each pillow mists along with their pros and cons. These pillow mists have a light, non-overpowering fragrance that would ensure you have a sound sleep. She has also included the benefits of pillow mists for your convenience. She has also answered a few queries regarding the products.
Frequently Asked Questions
Can I use a pillow mist as body spray?
Not all mists claim to be safe on sensitive skin. If the mist bottle mentions it is safe for use on skin, you may proceed. Otherwise, strictly limit it to linen and pillows.
Why does lavender smell bad?
Not everyone finds the smell of lavender pleasing and appealing. The smell of lavender can trigger a feeling of aversion and distaste in some people. Lavender doesn't necessarily smell bad, but some people may not find it as relaxing as others.
Do essential oils help you sleep?
Essential oils have pleasing and aromatic scents, and aromatherapy is used as a healing technique to treat sleeplessness and insomnia. Aromatherapy treatment creates a soothing and relaxing environment that helps people fall asleep.
Are pillow mists safe?
Yes, pillow mists are safe as they contain non-toxic and clean ingredients.
How to use pillow spray?
The safest way to use a pillow spray is to gently spray the product three to four times on your pillows, linen, and pajamas while ensuring that the spray does not enter your eyes.
What are the benefits of pillow mist?
Pillow mists help you fall asleep faster, reduce insomnia and anxiety, and improve your overall health. The scents relax your body while helping you feel calm after a tiring day.
Can you use pillow mist as a body spray?
No, do not use pillow mist as a body spray. Pillow mists would not be very effective on the body, and they may contain ingredients that are not suitable for your skin.
Can you use pillow mist during pregnancy?
Yes, you can use a pillow mist during pregnancy, breastfeeding, or postpartum.
Does pillow mist cause acne?
No, pillow mist does not cause acne if used carefully. Do not spray the product on your skin directly.
How long before bed should you use pillow spray?
Use a pillow spray 30 to 40 minutes before going to bed.