The 5 Best Pillow Talk Lipsticks To Try In 2023 + Buying Guide
Let your lips steal the thunder with ultra-nourishing and subtly unique nude shades.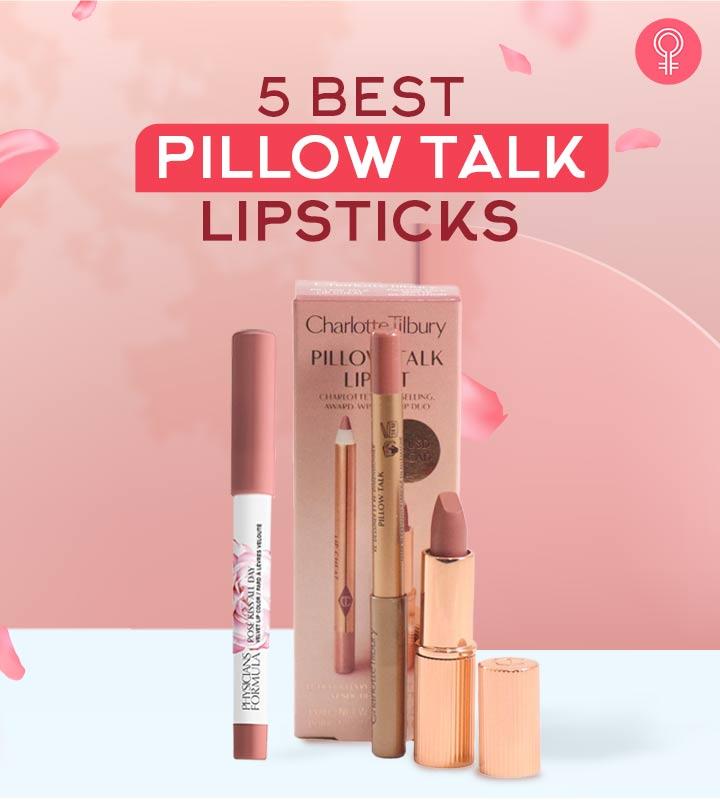 While the classic reds always have a special place in your makeup vanity, you might also want to check out some pillow talk lipstick shades. Yes, regular reds and plums might seem safer for any skin tone, but why not give subtle nudes a try? For instance, the gorgeous shade "pillow talk" that made headlines in the fashion world through the Charlotte Tilbury pillow talk line!
Pillow talk is a dusty nude pink color that is classy, romantic, and complements your olive, wheatish, medium, or dark complexion. Multiple brands have their version of this chic shade, and to make sure you invest in the ideal one, we have curated a list of the 5 best pillow talk lipsticks you can buy online. Scroll down to check them out.
Top Picks
5 Best Pillow Talk Lipsticks
Dazzle your lips on the go with this value-added mini Charlotte Tilbury Pillow Talk Lip Kit. It features the iconic lip cheat pencil and best-selling Matte Revolution lipstick, giving you a nude pink look. The gentle formula is enriched with Lipstick tree or achiote tree and orchid extract, which protect, soften, and hydrate your lips. The lipstick texture is super smooth, glides smoothly on your lips, and dries to a matte finish! The cheat lip liner offers you an illusion of fuller-looking lips, while the lipstick leaves your lips looking plump and juicy.
Pros
 Paraben-free
 Glides smoothly
 Long-lasting
 Hydrates the lips
 Cruelty-free
Cons
None
Indulge your lips in a creamy, satin finish with this Glo Skin Beauty Lipstick! It features a unique blend of antioxidant-rich ingredients like vitamin A, vitamin C, vitamin E, and green tea extract, which protect your lips against UV damage and leave them super soft. This bullet-shaped lipstick comes with a luxurious magnetized cap, which tightly seals your lipstick and prevents any accidents in your purse.
Pros
 Made of natural ingredients
 Softens the lips
 Goes on smoothly
 UV protection
 Paraben-free
 Talc-free
 Cruelty-free
Cons
None


Pro Tip
Outline and fill your lips using Glo Skin Beauty Precision Lip Liner Pencil to make your lipstick last longer.
Price at the time of publication: $28
The IT Cosmetics Pillow Lips Lipstick makes your lips plumper and delivers high-impact color payoff in one smooth glide! This lipstick is enriched with shea butter, hyaluronic filling spheres, collagen, and beeswax, which helps minimize lip wrinkles while providing comfortable wear that lasts longer. The sturdy design of the lipstick holders allows you to sculpt your lips effortlessly. Unlike regular lipsticks, the lightweight formula does not feel heavy on your skin and ensures casual yet stunning wear.
Pros
 Long-lasting
 Highly pigmented
 Minimizes lip lines
 Lightweight
 Non-drying
Cons
None
Why carry multiple makeup products in your pouch when you can get your hands on this Physician's Formula Rose Kiss All Day Velvet Lip Color! The unique formula adds a sheer touch of rosy color that looks impeccable on your eyes, lips, and cheeks. The ultra-bendable lipstick is enhanced with a 360-degrees total defense complex, which repels blue light, sun rays, and pollution, leaving your lips healthy and protected! It is enriched with rosewater, which helps calm, soothe, and hydrate your lips, and plum and goji extracts provide adequate nourishment. The color stick does not contain any harsh ingredients, making it perfect for individuals with sensitive skin types.
Pros
 Hypoallergenic
 Moisturizes the lips
 SPF protection
 Vivid color payoff
 Non-drying formula
 Glides seamlessly
 Ideal for sensitive skin
 Paraben-free
 Sulfate-free
Cons
None


Pro Tip
Pair this lip color with Physicians Formula Mineral Wear Diamond Lip Plumper Gloss to add hydration and shine to your lips.
Price at the time of publication: $6.57
Add a soft splash of color with the Melted Matte-Tallic Lipstick by Too Faced! The long-lasting formula features highly saturated color pigments and delivers a rich, brushed hue. This transfer-proof lipstick imparts a luminescent glow with a flawless metallic matte finish that brightens your overall look.
Pros
 Lightweight
 Long-lasting
 Highly pigmented
 Fragrance-free
 Non-drying formula
 Budget-friendly
Cons
None
These are some of the best pillow talk lipsticks currently doing the rounds in the fashion world. However, before you invest in one, let's go through some factors that you should consider. Here are a few features to consider when choosing the right pillow talk lipsticks:
How To Choose The Best Pillow Talk Lipstick
The very first step in choosing the right pillow talk lipstick is determining the kind of skin tone you have. Light pink, nudes, and mauve colors work best for lighter skin tones, while dark and bold colors work best for medium to dark skin tones. Choosing the wrong lipstick color for your skin tone can leave you looking dull or flushed out.
There are different formulas like liquid, cream, or gel. For example, creamy lipsticks are less likely to dry your lips but can wear off easily, whereas liquid shades stay put for longer, but can feel very drying during hot summers. Choose the right formula that you feel comfortable with.
All lipsticks come in various finishes from satin, matte, glossy, creamy, and metallic. Make sure to check the type of finish to get the look you want to achieve.
If you have very dry lips, it is ideal to choose a lipstick with moisturizing ingredients like plant extracts, vitamin E, or conditioning oils. Also, stay away from harsh ingredients like parabens and sulfates, which can damage your skin in the long run.
When it comes to liquid lipsticks, make sure the applicator in the lipstick is ideal to provide you with a precise and well-sculpted application.
Like every other cosmetic producst, lipsticks also have an expiry date. Most of them have a shelf life of 2 to 3 years, thus, carefully check the expiry date before buying a lipstick.
Be it a late night out or a midday brunch, pillow talk lipsticks dazzle up your makeup look! No matter your skin tone, the pillow talk shades complement your complexion with a natural flare. While choosing the right pillow talk lipstick for yourself, it is always better to select the ideal ones for sensitive skin. You should also check out lipsticks enriched with hydrating ingredients that do not dry your lips out. However, you should avoid pillow talk lipsticks that do not glide seamlessly and are prone to spills.
Why Trust StyleCraze?
The author of this article, Srijani Roy Chowdhury, is certified in makeup artistry and loves reviewing different makeup products. She has curated this list of the best Pillow Talk lipsticks after carefully reading online reviews and trying some of these lipsticks herself. Her well-researched article ensures good-quality products that are must-haves for your lipstick collection. These pillow talk lipsticks are lightweight, highly pigmented, and stay on your lips for long hours.
What color is pillow talk lipstick?
Pillow talk is a nude shade with dusky pink or berry undertones, which surprisingly matches any skin tone.
How long does Charlotte Tilbury's pillow talk lipstick last?
As it contains a blend of triglycerides, oils, and waxes, the Charlotte Tilbury pillow talk lipstick can last for up to 10 hours.
Why is pillow talk so popular?
Pillow talk became popular when the famous cosmetic brand Charlotte Tilbury released its pillow talk line. Many brands have come up with similar versions of gorgeous pillow talk shades.
Is Pillow Talk lipstick warm or cool?
The original Charlotte Tilbury Pillow Talk lipstick is a warm-toned color.
Is Pillow Talk universally flattering?
Yes, the Pillow Talk is a universally flattering nude shade. It looks great on all skin tones and can be worn every day.
Is Pillow Talk similar to Velvet Teddy?
The MAC Velvet Teddy is a very similar color to the Pillow Talk shade. However, the Pillow Talk is more pink and the velvet teddy is a bit brown.
Is Pillow Talk a nude lipstick?
Yes, the Pillow Talk is nude lipstick.
What's the difference between Pillow Talk and Pillow Talk Medium?
The Pillow Talk Medium is just a tad bit more dusty looking and darker than the original Pillow Talk.
The following two tabs change content below.