14 Best Pillows For Side Sleepers For A Sound Sleep – 2023
Achieve a sound sleep with these amazing pillows made with breathable fabric.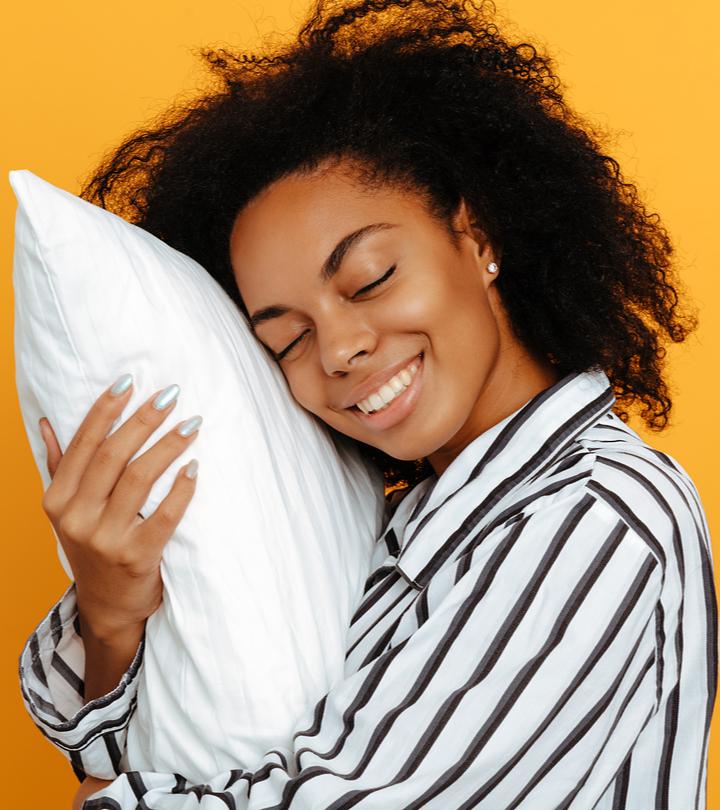 Sleeping is necessary to keep you healthy. Some people sleep on their backs, some on their sides, and some on their stomach. If you are a side sleeper, you must get the best pillows for side sleepers that allow you to sleep comfortably without any hassles.
If you are a side sleeper, a thin pillow is a big no-no as it cannot align the spine properly. If your spine is not aligned properly, you can feel stiffness in your muscles and may not feel energized during the day. Sound sleep at night can remove your stress completely. It makes you feel revitalized for the coming day. And, if you're tossing all night, your pillow might be the culprit. The chances are that you experience ultra-tired or groggy mornings if you can't sleep well. A side sleeper needs to sleep on a thick pillow that can fill the gap between our head and neck.
Pick soft, firm pillows to support your muscles, and get some good quality sleep. These pillows may be made of memory foam that releases muscle tension and supports spine alignment. Don't lose your sleep with the wrong pick. Keeping all the problems of side sleepers in mind, we have listed the ideal pillows for side sleepers. Check them out below! Have a good sleep and say goodbye to a tired morning. Keep scrolling to read more.
Drift Off Into Dreamland With The 14 Best Pillows For Side Sleepers In 2023
Made ultra plush with high quality materials like 100% cotton and without allergens and chemicals, these pillows are worth every buck. Beckham Hotel Collection's pillows are tailored by experts to ensure maximum comfort no matter what position you choose to sleep in. With Innovative Cooling Technology that regulates temperature for hot sleepers and the no-shift construction that keeps you in place, rest assured that you'll fall asleep in minutes. The down alternative retains lesser heat, is stain resistant, bounces back easily and is a great choice if you're looking to upgrade from memory foam pillows. For sleep that is deep and restful, choose Beckham Hotel Collection's top-rated pillows for side sleepers. This video review will help you understand more about the product.
Pros
Natural fiber pillow
Resistant to fading and staining
Machine-washable
Protects from dust, mildew, and mold
Regulates temperature
Safe for those suffering from asthma, allergies, or respiratory issues
Cons
Price at the time of publication: $50.44
Utopia Bedding vows to get you your good night's rest with their poly fiber-filled high-quality pillows. The plush fiber fill gives you maximum comfort so you can doze off immediately after a long day. You also get the most amount of support possible owing to the gusseted edges. Made with a poly-cotton blend, the material is soft and breathable while also being super easy to clean. Professionally stitched, this supportive pillow is highly durable and resistant to wear and tear so you can get all those snuggles all year long. Super versatile, these are some of the most comfortable pillows for side sleepers or any type of sleeper, really. If you are still unsure, check out this honest review.
Pros
Supports any sleeping position
Resistant to wear and tear
Breathable material
Easy to wash
Supports head and neck
Cons
Price at the time of publication: $51.0
Coop Home Goods is ready to turn all your sleepless nights around with their adjustable pillows. If you love a good firm pillow, or you sleep sprawled on your back or cooped up on the side, and if you can't help snoring or tossing and turning all night, say hello to your new buddy! Filled with cross-cut memory foam and microfiber, The Original Pillow adjusts itself to your position and size to align your spine and give you the best sleep of your life. When you sleep properly, you can drift off faster, sleep in comfort all night, and wake up with all the energy in the world. We think Coop Home Goods has one of the best firm pillows for side sleepers.
Pros
Vegan
Cruelty-free
Hypoallergenic
Medium-firm fill
Adjustable
GREENGUARD Gold and CertiPUR-US-certified
Resistant to dust and mites
Cons
Price at the time of publication: $78.0
The Everlasting Comfort Adjustable Pillow is designed with diced and scented green tea memory foam. The antioxidant properties of green tea keep your pillow fresh, neutralize odor, and promote hygienic sleep. This pillow delivers optimum neck and back support, promotes spine alignment, and helps manage snoring. It features premium zippers that enclose the memory foam and protect it from dirt, moisture, and debris. The pillowcase is made of bamboo-derived rayon that is easy to wash. It is also infused with Everlasting Comfort Japanese Icy Cool Fibers that keep the pillow cool. Additionally, the pillow comes with an extra bag of green tea memory foam that allows you to customize your pillow height to your comfort.
Pros
Hypoallergenic
Neutralizes odor
Retains shape
Provides firm support
Suitable for all types of sleepers
High-quality zippers
Machine-washable
Customizable height
CertiPUR-US-certified
Promotes spine alignment
Cons
None
Price at the time of publication: $59.99
In life, everyone needs support from their friends and family, and also their pillows. Viewstar's Hotel Luxury Pillows are silk-filled to give you flexibility and comfort as you wind down for the night. No matter how you sleep— on your side, back, or your stomach, these godsend downcluster fine fiber pillows will cradle your head and neck the right way. And if you detest pillows that are too soft or too hard, you'll be happy to know that these pillows for side sleepers have the perfect balance. The gusset design with side piping ensures the pillow doesn't deform over time and the down alternative specially treated filling holds you in place during the night.
Pros
Breathable fabric
Doesn't lose shape
Medium-firm
Silk filling
Offers maximum support to head and neck
Cooling effect
Cons
Might be too big for traditional pillow cases
Price at the time of publication: $29.74
Some of us sleep in weird positions at night and are attacked with muscle pain and low energy in the morning. While we don't have control over this, using a wedge pillow for side sleepers that aligns your spine can be of major help. Elviros offers a unique design with a neck cavity that fits your neck's contours and offers enough support and comfort. The center cavity comes with a hole in the middle to help relieve pressure and avoid disc problems. An arm rest on the sides allows for reduced pain in your arms and wrists, with the lower arc shape adapting to your body to make breathing easier. We think you owe yourself a good night's rest with the best memory foam pillow for side sleepers. Click this video to learn more about the product.
Pros
Medium-firm
Soft and breathable
Supports all sleeping positions
Aligns spine to reduce back issues
Reduces pressure on the neck, shoulders, and arms
Air passages for easy breathing and reduced snoring
Cons
May have a peculiar smell
Price at the time of publication: $49.99
There's no better sleep companion than your favorite pillow! Jollyvogue's pillows are made of hypoallergenic polyester and filled with microfiber for just the right amount of fluffiness. The 100% polyester material is comfortable and as it offers optimum support to your neck and head, you'll notice a reduction in your migraines and neck pains. One of best down pillows for side sleepers, these also make for a stylish statement to your home decor owing to the brown piping and are also easy to wash and maintain.
Pros
Medium-firm
Breathable fabric
Easy to clean
Retains shape after wash
Suitable for pregnant women
Hypoallergenic and skin-friendly
Cons
Price at the time of publication: $24.99
You can customize how soft or high you want your support with Snuggle-Pedic's memory foam pillow for side sleepers. It was developed by a chiropractor, so rest assured your muscles and joints are going to be pain-free and you'll be on your way to energetic mornings. With Kool-Flow Technology, this bamboo pillow regulates temperature to prevent you from getting too hot at night. The high-quality memory foam filling is soft enough for comfort but firm enough to release pressure from your neck and shoulders. Snuggle-Pedic's side sleeper cooling pillow can also be used for those who sleep on their stomachs or backs. Talk about versatility!
Pros
Comes with a bag of memory foam for adjustment
Breathable and micro-vented cover
Regulates temperature
Offers optimum support to head and neck
Retains shape
Allergy-friendly
Cons
Pillow might get lumpy over time.
Price at the time of publication: $49.99
Royal Therapy's orthopedic pillow for side sleepers is made with a blend of rayon and bamboo. The adjustable foam pillow adjusts to the contours of your neck, head, and shoulders to provide even support and relieve pressure in a uniform manner. With reduced discomfort due to proper spinal alignment, you'll be able to sleep better through the night with minimized tossing and turning. Being made with hypoallergenic and non-toxic materials, the fabric is breathable while also being resistant to bacteria and dust.The heat dissipating technology allows the Royal Therapy Queen Memory Foam Pillow to eliminate heat build-up while you sleep peacefully. Don't worry about re-puffing your pillows anymore— these neck support pillows for side sleepers hold their shape.
Pros
Aligns spine
Hypoallergenic
Regulates temperature
Relieves pressure build-up
Resistant to dust and bacteria
Adjusts to contours of neck and head
Cons
The adjustable foam might cause the pillow to be uneven.
Price at the time of publication: $49.99
Coisum's contour pillow for side sleepers is made with firmer memory foam for extra support. This helps cradle your head to reduce neck and shoulder stiffness. To keep your head stable throughout the night, the slope comes in handy and the armrests on both sides provide pain relief in hands and wrists. With temperature sensing, you won't need to wake up in the middle of the night just to turn your pillow over to the cooler side. The breathable cover is easy to clean and is also skin-friendly. With no harmful chemicals, these extra firm pillows for side sleepers with neck pain also make for the perfect gift.
Pros
Breathable material
Firm memory foam for support
Provides pain relief
Temperature-regulating
Keeps head stable all night
Provides arm support
Cons
Might have an odd smell initially
Price at the time of publication: $59.99
 Made with 38% bamboo fiber and 62% polyester, this 100% memory foam pillow helps correct your sleeping posture for maximum comfort and pain relief. Sagino's foam contoured pillow evenly distributes the pressure in your head, neck, and shoulders so you can wake up every morning feeling refreshed. One of the top pillows for side sleepers, this Sagino pillow reduces headaches, muscle soreness, and insomnia to prevent frequent waking up during the night. The high contour design makes it a good pregnancy pillow for side sleepers as it protects the shoulders, and the low contour helps back sleepers with a neutral spinal alignment. Owing to its orthopedic properties, we think this is high in the list of therapeutic pillows for side sleepers.
Pros
Maintains spinal alignment
Reduces soreness and tightness in muscles
Suitable for all types of sleepers
Breathable and skin-friendly fabric
Medium-firm
Comes with pillowcases
Cons
Some may find the pillow too small.
Price at the time of publication: $49.9
For the ultimate recharged sleep, pick Zoey Sleep's Cured Side Sleeper Pillow filled with shredded memory foam so you can adjust the height and softness. No more waking up sore as the curved surface aligns your neck and spine correctly to release muscle tension, insomnia, and migraines. This snore-relief pillow has a luxurious and breathable cover with soft inner lining, making it one of the most comfortable pillows for side sleepers. As the cover allows for easy passage of air during the night, Zoey's pick is a good anti-snore pillow for side sleepers as well.
Pros
Doctor-recommended
Breathable outer cover
Soft inner lining
Adjustable softness and height
Releases muscle tension
Aligns spine and neck
Cons
Might have a chemical odor
Price at the time of publication: $79.99
For an improved sleep quality, you've got to give Honeydew's handmade Scrumptious Side Sleeper Pillow a chance. Its innovative shoulder cut-out and the adjustable filling allow you to customize height and firmness levels. This way, you can properly align your spine to reduce the pressure in broad shoulders and neck while you sleep. Even though this side sleeper contour pillow is soft, it won't flatten or deform over time like others. The copper-infused foam not only cools you off at night, but also provides antibacterial properties. A win-win in every department, we think!
Pros
Cooling and antibacterial foam
Adjustable filling
Contoured to align spine
Relieves pressure in neck and shoulders
Doesn't flatten with use
Soft yet supportive
Cons
Some may find it expensive.
Price at the time of publication: $129.99
Made especially for side sleepers, Comfyt's Side Sleeper Pillow features a shoulder recess to cradle your head and provide support to your neck. One of the most supportive pillows for side sleepers, this orthopaedic technology absorbs and distributes pressure evenly for muscle relief and improved blood circulation. With a gel layer on one side, you can feel cool and comfortable as you sleep, which sounds wonderful especially for the summer months! The luxury bamboo pillow case is soft, skin-friendly, and wicks away moisture. Spinal alignment is a great benefit of memory foam and as this high-lofted pillow adjusts to your body's contours without losing shape, it lasts you a long time. What's not to love about this curved pillow for side sleepers?
Pros
Skin-friendly
Aligns spine
Retains shape
Cooling gel on one side
Moisture-wicking pillowcase
Distributes pressure for muscle relief
Cons
The pillow might be too high for some.
Price at the time of publication: $44.38
As we've gone over some pillows for side sleepers out there, let's gain some knowledge on the kinds of pillows available.
Types Of Pillows For Side Sleepers
Memory foam pillows or shredded foam pillows are soft when exposed to body heat and they easily adjust to the pressure in your neck and head.
Pillows filled with buckwheat are quite firm and may be too hard or uncomfortable for some people. However, they allow the free passage of air to reduce instances of snoring.
Pillows that are filled with feathers are light and airy while also being durable and cool. Feather pillows also prevent you from sinking too deep into the pillow despite the softness.
These are soft and fluffy and are made of the feathers of ducks and geese. As they are also lightweight, you won't feel too much pressure when you lie down.
These pillows, like the name suggests, are an alternate option to the above as they use synthetic materials that are hypoallergenic. This is a good pick if you struggle with allergies or respiratory issues.
Now that we've looked at some of the best pillows for side sleepers on the market, let's get into how you can choose the right one for you.
How To Choose The Best Pillow For A Side Sleeper
Also known as 'loft', this feature should range from anywhere between medium to high to give enough support and cushioning for your head, shoulders, and neck. A pillow that is too soft may cause your head to sink and can also lead to migraines. On the other hand, pillows that are too firm may increase muscle soreness instead of performing the opposite. An ideal would be to purchase a pillow with adjustable filling so that you can customize the thickness.
The pillow you choose must be stable under your head and lie evenly under your head and neck. Look for a pillow that isn't too soft or hard and preferably comes with shoulder and neck contours so that you stay in place all night. Some pillows even have arm rests on the sides to reduce pressure on arms and wrists.
A few materials that are used as fillings for pillows can compress with use and may cause your pillow to become flatter or even uncomfortable. When faced with these kinds of pillows, you'll have to regularly re-puff them to give you proper support. Look out for materials like solid foam and latex that hold out better and retain their shape without deforming with time.
Ensure that the pillow you choose is durable and resistant to wear and tear. Another quality to look out for is temperature regulation wherein the pillow absorbs your body's heat and keeps you cool throughout the night. Pillows with gel filling can help immensely in this regard. Pillows that come with soft pillow cases made of organic cotton or polyester fiber are great picks. The pillow you choose should be breathable, easy to clean, dust mite-resistant, and preferably made with organic materials. It should also have moisture-wicking, antibacterial, and anti-microbial properties that are required in a perfect pillow for side sleepers.
We've bought our favorite pillow, so now what? Let's learn how to use it for a good night's rest!
How A Side Sleeper Should Use Their Pillow
Ensure that your mattress is medium-firm, or use a mattress cover to adjust its softness or thickness. Use a medium-firm pillow under your head as well.
Turn to your left side, keeping your shoulders in line with your ears and your chin in a neutral position. Do not tuck your chin into your chest or keep your head down.
Lay your hands and arms underneath your neck and face. Even better if you could place them parallel to the sides.
If you struggle with lower back pain, you can place a pillow between your knees for better spinal alignment. This would serve as a makeshift lumbar support pillow.
Finally, lift up your knees towards your chest as this will help relieve pressure in your back. Now all that's left for you to do is drift off into dreamland!
After you've gotten your hands on the best pillow, let's look at some tips to make your side-sleeping experience more pleasant.
Tips For Side Sleepers
Invest in a good quality mattress with optimum cushioning. This helps relieve pressure in the back, hips, and spine and distributes it for a comfortable sleep. Look for a mattress that isn't so soft that your body sinks into it, rather, a medium-firm cushion that adjusts to the contours of your body would be ideal.
To improve alignment of the spine and to reduce the pressure on your hips and lower back, consider sleeping with a knee pillow or any pillow in between your knees. Use moldable materials like shredded foam for comfort. Additionally, the pillow can also be placed beneath your legs for the same purpose.
If you aren't pleased with your bed, invest in a topper for your mattress that can reverse how hard or soft it feels. This can reduce the pressure on your joints and muscles.
Why Trust StyleCraze?
Aditi Naskar is a health & fitness enthusiast. She believes that getting a good amount of sleep is very important to stay healthy. She understands that those who are side-sleepers need the right pillow to sleep comfortably. After conducting in-depth research, she has curated a list of the best pillows for side-sleeping. The products in the list will help you get deep sleep to get energized for the day ahead.
Frequently Asked Questions
What pillow types are best for side sleepers?
Down and down alternative pillows can provide comfort but it might not be enough for spinal alignment. Foam pillows whose filling can be adjusted are firmer and also feature cut-outs to provide support to the neck, shoulders, and spine.
Do side sleepers need a soft or firm pillow?
A medium-firm pillow is ideal for side sleepers because a pillow that's too soft can cause the head to sink, leading to muscle soreness. A pillow that is too firm might lead to tight muscles and migraines.
What's the difference between a side sleeper pillow and a back sleeper pillow?
A pillow designed for side sleepers tends and needs to be firmer for proper spinal alignment. Back sleepers can use softer pillows without any discomfort.
How firm should a pillow be for a side sleeper?
Choosing a medium-firm pillow can relieve muscle tension for a side sleeper as pillows that are soft can compress and those that are too firm can cause muscles to become sore.
Are wedge pillows good for side sleepers?
Wedge pillows that contain memory foam can provide comfort to side sleepers. They can also help alleviate shoulder pain and soreness.
Recommended Articles: