The 11 Best Pillows For Stomach Sleepers (2023) + Buying Guide
Sleep on your belly all night long with these comfortable and cozy pillows!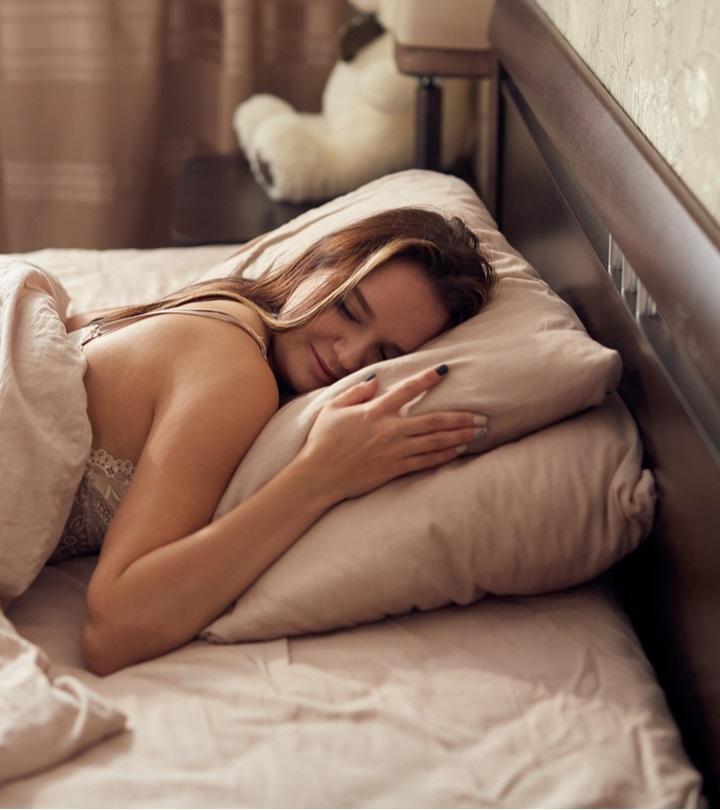 Sleeping on the stomach is the most relaxing position, say some. But in contrast, it is considered the most unhealthy position. However, it is hard to change the sleeping position overnight. This is where the best pillow for stomach sleepers comes in handy. They can minimize the side effects and keep you healthy.
On-stomach sleepers keep their neck in a single position throughout the night and may wake up with stiffness or neck ache. In addition, you can also experience jaw and back pain in this position. Using the proper pillow helps attain proper neck alignment and prevent the chances of waking up with stiff muscles in the morning.
Choosing the right pillow for proper spine alignment as per your sleeping posture can get demanding. So, we have mentioned here a list of the 11 best pillows for stomach sleepers for your convenience. Read on and enjoy peaceful sleeping by getting one of these pillows for yourself.
11 Best Pillows For Stomach Sleepers For A Good Night's Sleep
Amazon Basics has designed their own range of thin pillows for stomach sleepers. Crafted to be more soft rather than firm, these pillows are ideal for side as well as stomach sleepers. Made of an alternative to traditional filling, the pillow is plush, cozy, and hypoallergenic. Meanwhile, the shell is made of smooth 100% microfibers for an even finish and ultimate softness. Each purchase consists of 2 standard-sized pillows. Watch this YouTube video for a quick review of the Amazon Basics Down Alternative Pillows.
Pros
 King size option
 Machine washable
 Ideal for folks with allergies
Cons
Price at the time of publication: $33.37
Another hypoallergenic hit, AiAngu's cotton pillow is designed to give you the fluffiest companion to cradle your head and belly as you slip away into dreamland! This luxury pillow comes in a Queen or King size and has a zipper that allows you to add or remove extra filling in order to adjust the height according to your preference. The pillow cover is made of 100% breathable, skin-friendly cotton as well. Pro-tip: for better use, wash these pillows every 3-4 months and avoid enzyme-containing detergents or fabric softeners, which can compromise the pillow filling.
Pros
 100% cotton
 Good for those with allergies
  Adjustable pillow height
Cons
 May be too firm for those with neck pain
Price at the time of publication: $33.99
You can stop your tossing and turning with DreamyBlue's memory foam pillow for stomach sleepers. Made with their very own proprietary formula consisting of a shredded blend of memory foam, DreamyBlue strikes that blissful sweet spot right between soft and firm pillows, which most stomach sleepers struggle to find. Their pillowcase is made with the highest grade of rayon fabric derived from bamboo extracts and is hypoallergenic (now, that's a bonus!). The company also provides an extra bag of filling with each purchase. So, if you're a pillow stacker or a side sleeper who needs some extra firmness, you've got yourself a bargain! For an honest review of the DreamyBlue Premium Pillow, click here.
Pros
 Lifetime warranty and replacement
 Gold standard pillow
 Adjustable pillow height
 Unique shredded memory foam
Cons
 Contains some down filling
Price at the time of publication: $22.97
Looking for a cooling pillow for sweltering summer nights? In that case, let us introduce you to the magic of Bluewave Bedding! Their range of gel memory foam pillows are designed to absorb the excess heat radiated by your body whilst the ventilation holes in their pillow enhance air circulation, keeping you refreshingly cool as you snooze the night away. Additionally, they've specially designed their pillow's height to lie less than 3 inches to provide support sans the extra loft for the stomach, back, and petite side sleepers.
Pros
 Body temperature regulation
 Ultra-slim pillow
 Spinal alignment
 Removable and washable covers
Cons
 May be too firm for those with neck pain
Price at the time of publication: $39.95
Blissbury understands just how bulky and hot traditional pillows can get, which is why they've created the best stomach sleeper pillow with a 2.6" slim and flat design with a premium filling of memory foam to give your spine the coziest of cradles. The pillow also contains cooling gel particles and air circulation holes to get rid of excess heat. Additionally, their inner lining of cotton jersey and outer covering of bamboo function to "wick" any sweat away from your body and facilitate the natural ventilation of air.
Pros
 Stylish design
 Optimum thinness
 Infused with cooling gel
 Carry bag for convenience
Cons
 Chemical odor takes a while to dissipate
Price at the time of publication: $39.99
Made with 100% polyester fiber filling imported from Germany, Lunaoo's bed pillows are highly elastic and provide a fluffy firmness that isn't easy to deform. Supremely comfortable and soft, each purchase comes in a set of 2 easy-to-clean pillows made of high-quality materials that are friendly and cool to the skin throughout the night. Additionally, the superior polyester material is supple and rebounds within 5 seconds, which makes it the best pillow for stomach sleepers with neck pain as it means you won't need to restlessly re-fluff your pillow at all odd hours of the night.
Pros
 Non-toxic and safe
 Retains shape through the night
 Skin-friendly fabric
 Machine washable
Cons
 Insufficient support for some:
Price at the time of publication: $26.99
Searching for the best pillow for stomach and side sleepers? Lofe is here to grant you sweet dreams! Their larger-sized pillows are only 2.5 inches thin, making them ultra-thin and suitable for stomach sleepers. Each pillow is made with a premium memory foam filling that is soft, pliant, and helps relieve tension in your back and neck, thereby preventing neck cramps. Additionally, the filling is infused with a cooling gel and possesses ventilation holes for improved air circulation. The pillow covers are made of luxurious bamboo and are machine washable.
Pros
 Ergonomic
 Hypoallergenic
 Cooling design
 Convenient for travel
Cons
 Not suitable for those looking for loftier pillows
Price at the time of publication: $39.8
Crafted with premium-grade gel fiber filling and encased in a luxurious white satin case, Pillow Guy's down alternative range is the perfect solution for a high-quality stomach sleeping experience for those who suffer from allergies or atopy. The pillow is equipped with a hidden zipper that allows for easy and quick washes. Additionally, the MicroOne technology regulates the size of microscopic pores in the fabric, which stops bed bugs and dust mites from gate crashing into your sweet dreams. Bonus? Free US shipping and a 30-day trial period, where, if you're unsatisfied with their product.
Pros
 Hypoallergenic
 Water-resistant
 Pest-free technology & dust mite resistant
 Breathable
Cons
 Insufficient loft for some
Price at the time of publication: $119
This 2.4" low-loft pillow is the perfect height for stomach sleepers who require neutral spine alignment when they snooze. The core of NOFFA's design is made with high-quality memory foam that molds exceptionally well to the shape of your shoulders, neck, and head, and helps to reduce any pressure sustained by your axial skeleton whilst sleeping. Its thin size makes it a wonderful layering pillow if you happen to feel like switching your sleeping position to the back or side. It's also a convenient squeeze into your suitcase during travel.
Pros
 Machine washable
 Suitable for all ages
 Gorgeous design
 Zero pressure on muscles
Cons
Price at the time of publication: $28.99
You can expect a blissful night of sleep indeed with Oakias's Cotton Gusset Pillows! Designed with a superior brand of microfiber filling, these bad boys are pros at fluffing up and providing exceptional support to all the problem areas a belly sleeper's position will knot up, such as the neck and back. The breathable cover of cotton material is light, breezy, skin-friendly, and machine washable.
Pros
 Premium quality
 Used by side and back sleepers too
 Soft yet supportive
Cons
 Needs 2-3 days to fully expand
Price at the time of publication: $22.99
Pillow Guy is back to ease the nights of stomach sleepers with its soft pillow range of Queen and King sized pillows. Identical in dimensions and specs to their down alternative, the only difference is that this hypoallergenic pillow comes with a down filling made of white goose feather clusters. However, this pillow is also chemical and toxin-free, and its pillow protector is crafted with the finest cotton to give your face the softest cradle. PS. This range, too, comes with free shipping in the US and easy returns!
Pros
 Satin cover
 Breathable
 100% cotton
 230 thread count
Cons
Price at the time of publication: $159.99
Armed with our list of the best pillows for stomach sleepers, you can now blissfully catch those zzzs without compromising the health of your spine alignment through the night. But before you rush off to get your own restless-sleep-proof stomach sleeping pillows, take a peek at our handy buying guide for pro-tips on how to choose the best belly sleeper pillows the internet has to offer.
A Belly Sleeper's Buying Guide To The Perfect Pillow Pal!
How To Choose A Pillow For Stomach Sleepers
Multiple factors need to be considered by belly sleepers when looking for a pillow that can ensure full-body support and optimal spinal alignment. It may sound rather yawn-inducing (ironically enough), but pillow talk like size, shape, loft, and moldability are all essential features to assess when shopping for a soft pillow for stomach sleepers. Don't get distracted by discounts, deals, and tall claims from pillow marketing campaigns. Instead, focus on the following makings of a pillow (keeping into mind your own needs), and you won't spend a restless night in bed fighting buyer's remorse.
In a nutshell: good support equals good spine alignment. Many factors influence the degree of support your pillow can provide, such as firmness, loft, and size. Your head, shoulders, and neck will always require adequate support for a good night's sleep. This aids in preventing the accumulation of tension in your axial muscles, thereby avoiding the aches and cramps most stomach sleepers struggle with.
Don't get intimidated by the terminology. Loft simply refers to the height of the pillow. This, as discussed earlier, is an essential consideration as it impacts the degree of support your pillow can provide. Usually, pillows come with a high, medium, or low loft. All of which can be adjusted with the addition or removal of fill. We generally prefer a low loft, aka. less than 3-inch height pillow, for stomach sleepers. The 3–5-inch height (read: medium loft) can also provide support for belly sleepers; however, this is contingent on additional factors like one's head circumference and personal preferences. A pillow with too high (read: thicker pillows) or too low a loft simply stresses the muscles of your shoulder and neck. Bottom line? Mind the loft!
Pressure on one's spine and neck is the root cause for the cramps most belly sleepers fight. An ergonomic pillow for stomach sleepers will cradle the axial skeleton, thereby aligning and alleviating the pressure in your spine, neck, and head. Certain materials such as memory foam and latex are exceptionally competent at relieving pressure by contouring into your neck and head's shape.
Pillows may range from firm to soft. When choosing what firmness level is best for you, you must also consider your BMI and personal preferences in addition to your sleeping position. Provided that the head and neck are optimally supported, a medium-firm to soft pillow is the most beneficial to a stomach sleeper. Another point to keep in mind is that filling greatly influences pillow firmness. Memory foam, down, and down alternative pillows are usually soft. Meanwhile, latex and buckwheat pillows are often firmer.
Traditionally, pillows possess a square or rectangular shape. However, the construction and materials determine just how well your pillow will retain this shape. A filling like down (as well down alternative) will compress quite easily, causing the pillow to lose its shape over the course of the night, and requiring you to frequently fluff it in order to regain lost support and comfort. Latex, meanwhile, is more likely to maintain its shape during the night, delivering consistent support for belly sleepers. Memory foam tends to compress easily as it's designed to contour to your body shape; however, it regains its shape once the pressure is moved.
Material quality matters. After all, it determines the very lifespan of your pillow! A pillow, on average, should provide at least 3 years of consistent support. Pillows of lower quality will need replacement much quicker as they are more inclined to lose their shape and support. Latex and down pillows usually have long lifespans, whilst materials like low-density polyfoam and polyester tend to degrade a lot quicker.
This simply describes how easily the pillow can take your shape as you sleep. Since belly sleepers need to re-fluff and shape their pillows more often through the night to ensure their neck and head are adequately supported, the moldability of your pillow is definitely a key point to assess during your purchase.
Price will mostly be based on what construction and materials are utilized. A flat pillow for stomach sleepers can come at a varying range of prices. Budget pillows can cost as low as $10 or $20, while luxury candidates start from $150 and above. This wide range in price makes it essential for shoppers to decide on a budget from the get-go. However, do keep in mind that whilst materials of high quality may cost more at purchase, they don't need to be replaced as often.
Which Pillow Fillings Are Best For Belly Sleepers?
Pillows can be built with many different fillings, the names of which are often confusing and intimidating. But worry not; we've listed below the most common types of pillow materials (with their pros and cons!) that one may encounter while on the search for the best pillow for stomach and side sleepers. Here's a quick breakdown:
1. Buckwheat:
A buckwheat pillow is filled with buckwheat seed husks. The open shape of the husk facilitates airflow and aids in the regulation of temperature. When utilized as a pillow filling, the malleability of buckwheat is what makes it a winner. It naturally conforms to your body shape, providing optimal support and relieving pressure. The loft of buckwheat pillows can be adjusted by removing or adding more seed husks. However, some belly sleepers may find such pillows rather firm. Additionally, the husks make a distracting rustling noise with every movement.
2. Memory Foam:
A viscoelastic foam which responds to pressure and heat, memory foam conforms seamlessly to the shape of one's neck and head. For belly sleepers, such a pillow can aid in relieving tension and optimizing spinal alignment. Certain memory foam pillows possess a solid core of memory foam, while others combine a shredded blend of memory foam to allow adjustment of loft. However, memory foam pillows have the potential for retaining gasses; hence, belly sleepers with sensitive noses may want to look for other options.
3. Feather:
Filled with the superficial feathers of geese or ducks, feather pillows usually compress easily and mold into your head and neck shape. They are also lightweight and soft, which is always a plus for stomach sleepers. The cons? Feathers are usually insulating by nature, which can lead to the retention of heat. Additionally, these pillows aren't the best at retaining their shape. Hence, you'll often find yourself fluffing said pillows over the course of the night.
4. Down:
The pliant under-feathers of geese and ducks is what makes down. Such a filling is much softer than regular ol' feather pillows. They're also wonderfully malleable, allowing belly sleepers to reshape their pillow with ease. Some down pillows allow for adjustable loft by supplying extra filling. The only downer? Their easy compression means they don't keep their shape well; ergo, they may need frequent fluffing.
5. Latex:
Harvested from good ol' rubber trees, natural latex is durable, breathable, and uber supportive as a belly sleep pillow. But these pillows contour moderately to the shape of your shoulders, neck, and head, which is why some belly sleepers find latex pillows rather dense and heavy.
6. Polyfoam:
Polyfoam (polyurethane foam) is a relatively affordable filling for pillows. Efficient at pressure relief but providing moderate moldability, polyfoam isn't as welcomingly breathable as the other listed materials. Additionally, the foam usually lacks durability and is prone to sagging over time.
Why Trust Stylecraze?
Shreya Vishwanathan, the author, is an advocate for good body posture and health. How you sleep affects your body, especially if you sleep on your stomach. She recommends using these pillows to improve your body posture while offering the support and comfort you need for sound sleep. She went through many products, searching their reviews on various forums, to bring you this list. Each of these pillows was selected based on their benefits, such as cushioning, material, size variations, and more.
Frequently Asked Questions
Is It Bad For You To Sleep On Your Stomach?
In a nutshell? Yes. While it can aid in reducing snoring and sleep apnea, your spine and neck are not aligned in a neutral position. This can tax your muscles and affect your sleep quality.
Should You Use A Pillow If You Sleep On Your Stomach?
According to Mayo Clinic, if you happen to be a stomach sleeper, try keeping a pillow right under your pelvis when you're sleeping on your belly. This should help support your hips, keeping your spine optimally aligned.
Are Memory Foam Pillows Good For Stomach Sleepers?
Yes. Experts advise that memory foam pillows can aid in relieving tension whilst promoting spinal alignment for those who prefer to sleep on their stomachs.
Are Pillow Top Mattresses Good For Stomach Sleepers?
Pillow tops are essentially extra padding layers sewn on the top of your mattress to boost its plushness. Such soft layers of additional comfort may help in providing extra support and cushioning to a stomach sleeper's neck and spine.
Are down pillows good for stomach sleepers?
Yes. Down pillows are fluffy and light sleeping partners that offer maximum comfort in every sleeping position. They feature breathable fabric that relaxes the stomach of the stomach sleepers.
How high should a pillow be for stomach sleepers?
Stomach sleepers generally prefer pillows between one to three inches in height. However, many like higher pillows, so a thickness between three to five inches is also suitable.
Where should I put my pillow if I sleep on my stomach?
Place the pillow below your pelvis, on your lower abdomen, so it hits your mid-thigh. This position aligns your hips and spine and helps you sleep peacefully.
Recommended Articles